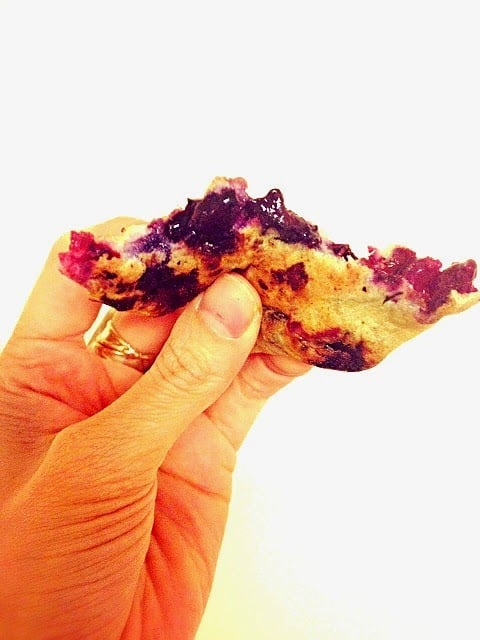 Sounds crazy right?  Like it can't be done?  Like there must be hidden sugar in here somewhere?  Like there is a catch?The way I see it-When there's a will, there's a way.  Detox diets can be restricting, but…It can be done.  And it can be done and taste delicious!  Isn't that what life is all about?Why should you deprive yourself right?  Why can't you enjoy whatever lifestyle you choose, right?  Or whatever lifestyle chooses you…
Why can't your food taste good gluten-free, sugar-free, dairy-free, nut-free, soy-free yada, yada, lots of free's-why the heck not?
In this recipe I used sugar-free vanilla extract, Liquid Stevia (the real kind you get at health food stores, not the kind that is cut with additives-don't be fooled by marketing!  Read ingredient labels).
I also used dessert spices like Nutmeg and Cardamom.
And I also used fruit, because fruit sweetens up everything, naturally!  I played with two versions, one was with low-glycemic fruit like berries and the other with Cherries which is higher in natural sugars.
And I played with two recipe versions as well.  Both blew my mind, but I wanted to give you guys the recipe options.  The first few times I made this, I used 2 jumbo organic eggs.  And that made these taste like fried dough!  I was in heaven.  Then a few times later when I had only large organic eggs in the house, I used 3 eggs, and that made them taste like Pancake Cake!  Also totally divine.  If I had to choose between the two I wouldn't be able to.  They are both equally delicious.  So the decision falls on you guys, whatever you are in the mood to have the day you make these is the way it will go…However, I do recommend you trying both recipes on separate occasions, because I wouldn't want you guys to miss out.  The only difference in these two recipes is the amount and size of eggs used.
Optional usage of maple syrup, which yes, although a sweetener that has sugar, it is at least a natural sweetener which is considered a healthier sugar source.  (Yes, there are good sources and not so good sources.  Ex. maple syrup, honey, brown rice syrup which are considered healthy sources vs. highly processed white cane sugar, agave (yup! Agave is super processed), brown sugar-get it?)  And you don't need the maple syrup at the end if you don't want it.
Just the other day I ate them cold out of the fridge with nothing on them whatsoever.  Man, they were damn good!
WHAT YOU WILL NEED:
1/2 cup Sweet Rice Flour + 2-3 additional Tbsp.
1/2 cup Brown Rice Flour
1/2 cup Quinoa Milk or favorite non-dairy Milk (Recipe HERE)
1/2 cup water
2 jumbo eggs or 3 large eggs (see tips below)
1/2 tsp. Xanthan gum
3 generous shakes Nutmeg
2 generous dabs Cardamom
10-15 drops of Liquid Stevia (see tips)
2 tsp. Vanilla extract (sugar free if you can find it)
1 package blueberries or a 2-3 cups cherries
2 Tbsp. Ghee (see tips)
optional toppings: gluten-free rolled oats
DIRECTIONS:
1. Mix eggs with hand mixer in a separate bowl and set aside.
2. In a separate bowl mix Sweet Rice Flour, Brown Rice Flour, Xanthan Gum, Nutmeg, Cardamom.
3. Add eggs to dry flour mix and mix at medium speed till gooey.
4. Add non dairy milk and water and mix at a low speed (because it will splatter).  Eventually get it to a higher speed and mix till smooth.  Your batter at first will be somewhat lumpy, and that is ok.  Continue mixing till smooth.
5. Add vanilla extract and liquid stevia till well blended.  Then add fruit of choice.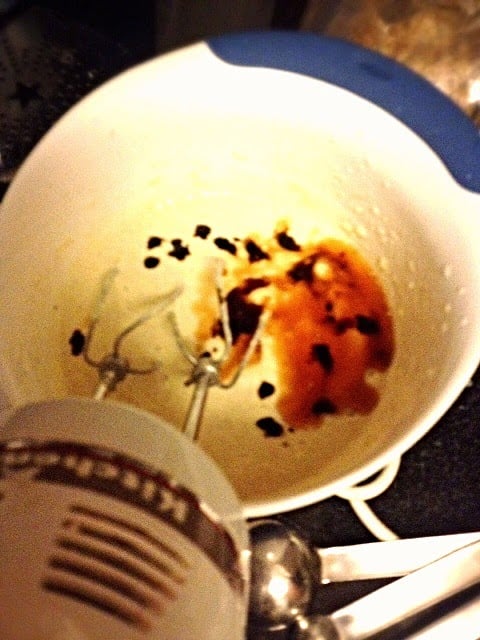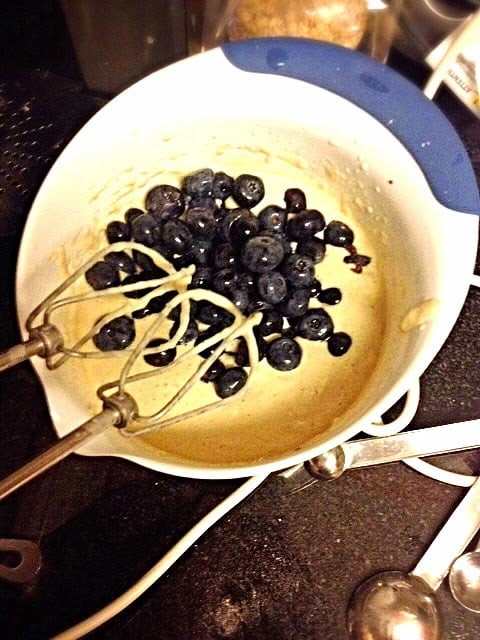 6. Heat pan with gluten free cooking spray and Ghee-don't use all at once, just lightly coat the pan-and keep re-coating the pan as you continue to make your pancakes.
7. Create dollops of batter in pan and spread with spoon to flatten.
8. Add gluten-free oat toppings if desired (raw gf oats).
9. Cook pancakes on each side till lightly browned-watch these like a hawk because they burn quickly. You can pat them down with your spatula if needed.
10.  Remove from heat, let cool and enjoy!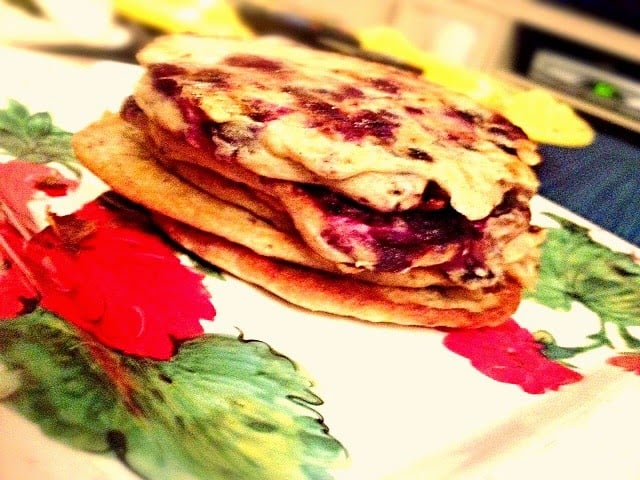 I made these so many times, I snagged a few shots…
TIPS:
-2 jumbo eggs will make your pancake fluffier
-3 large eggs will make your pancake cake-like
-Fruit choices can be raspberries, blackberries, strawberries, cherries, blueberries, green apples
-Ghee is another word for clarified butter.  It's a healthier source of butter and can be found in specialty supermarkets and health food stores in the dairy section
-I use Flours and Xanthan gum by Bob's Red Mill because I just like his brand
-You can use any non dairy milk you want like Quinoa, Hemp, Oat, Coconut, Almond, Cashew, Flaxseed milk…
-About those non dairy milks, if you can help it, make it homemade!!  There is a radical difference in taste, consistency and there are no additives added, and that is huge.
-How do you make homemade non-dairy milks?  Pretty easy…Usually it's just 1 cup of seeds or nuts with 3 cups of water-blend the crap out of it and then drain it with a nut bag.  Buy a nut bag here, you will have it for life!  Best thing I ever bought!  You can use a Cheesecloth as well, but it doesn't work as well with hemp seeds because too much passes through.
-When you can strive for organic!  I always use organic eggs that are fed a vegetarian diet, without hormones and antibiotics.  I also use organic blueberries and cherries.