This Chocolate Zucchini Vital Proteins Collagen Smoothie is loaded with hidden veggies, body-boosting nutrients and tastes like chocolate and berries.  Hair, skin & nail growth-boosting and gluten-free, dairy-free, and Paleo.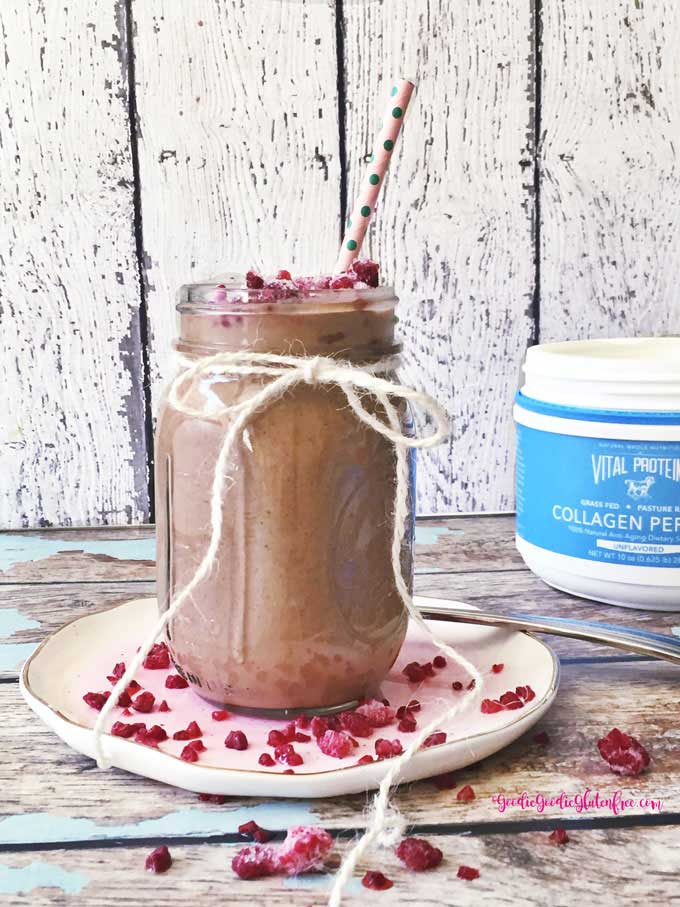 The only time I'll ever say it's ok to have chocolate every day is in your smoothie.  It makes breakfast awesome!  And if you're a chocoholic like me, chocolate for breakfast is totally going to be your jam too.  This Chocolate Zucchini Vital Proteins Smoothie is all the rage, healthy and hits the jackpot with superfood nutrients.  But what I most like about this smoothie is the Collagen from Vital Proteins that's added for that extra boost of healing for healthy skin, hair, joints, and bones!  I'm so serious!  I now get excited to add the collagen every morning because of all the benefits I have experienced!!  We all have rituals.  This is one of mine.
Vital Proteins gifted me a huge lot of their products to try but that's not where I first heard of Vital Proteins.  I first heard of Vital Proteins when I went to the Indie Beauty show way back in August of 2016.  I was worried though.  I was worried it wasn't gluten-free or Celiac safe.  Even though I spoke with one of the reps at the show who was Celiac, I wasn't convinced a powder like this would even be ok.  I don't love most protein powders because they just don't agree with me but I was stuck on Vital Proteins.  I saw a lot of bloggers and coaches promoting Vital Proteins and I sat on the sidelines.  Recently Vital Proteins went through a gluten-free certification process and only at that point did I decide to try their Collagen Peptides and WOAH!  RESULTS.
I started with a teaspoon and edged my way to a full scoop after a week or two.  I know my body so I go slow – this is something you may want to pay attention to when you try it.
I had heard it really helped with hair, skin, and nails.  And I could use all the help I could get in the skin and hair department.  My hair drastically grew, I was super shocked!  My skin, all the redness, and scarring started to disappear!  While it's not fully healed (because, duh), this has been the best my skin and hair have been to the point that I get complimented.  And I attribute most of this healing to Vital Proteins.
You can put your collagen protein powder in anything from pancakes and brownies to smoothies, coffee, and green juices.  I recently put it in my overnight oats.  It was totally delicious.  But I, for the most part, add it to my smoothie daily.  Just blend it on in.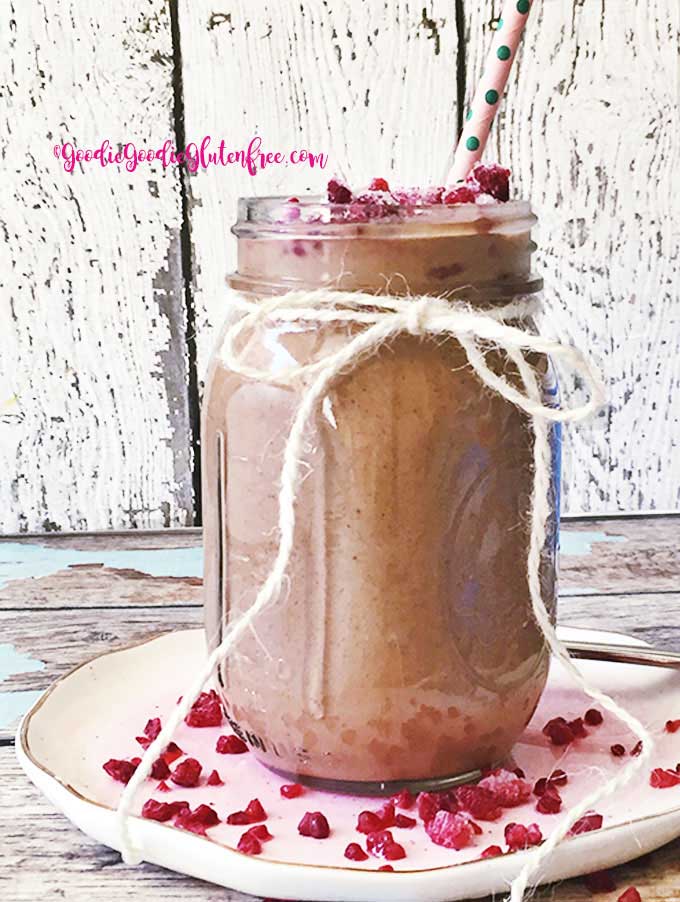 Vital Proteins is AMAZING I really cannot say enough good things, and they are coming out with lots of new products that are awesome.  I really love this brand.  I only blog about brands I'm super passionate about and I am pushing this product onto everyone I know because of the amazing results.  I'm like OMG mom, sister, friends, co-workers – Yo, you guys NEED Vital Proteins!  Wanna look younger?  Want your skin back?  Want your hair back?  This is your answer!
As an alert for my Celiac Sista's – Note that the Beauty Green uses Barley Grass, and while the grasses are Celiac safe, many Celiac's do have an issue with grasses.  I stay away from grasses.
When it comes it Vital Proteins I stick with unflavored.  That way I add the flavoring.  That's how I roll but they have tons of naturally flavored ones too like vanilla, cocoa, and matcha.
COLLAGEN BENEFITS:
Because after all, what is Collagen?  Why do we use it?  What's the hype and all that jazz?
I'm gonna tell you.
What is Collagen?
A.  Collagen is an abundant protein in the body and is a key constituent of all connective tissues.  Collagen provides the infrastructure of the musculoskeletal, essentially for mobility and skin elasticity.  As we age we lose the elasticity in our skin, joints, and bones.  Using a product like Vital Proteins Collagen Peptides helps to restore that natural structure you once had.
What are the benefits of Collagen Peptides?
Improves the health of skin and hair
Helps to promote healthy joints, ligaments, tendons, and bones by reducing joint pain and degeneration
Aids in healing 'Leaky Gut'
Reduces wrinkles aka look younger and glow!
Improves digestion
Promotes healing of injuries
Reduces Arthritis pain
What is Vital Proteins Collagen Source?
A.  Our Collagen Peptides are sourced from grass-fed, pasture-raised bovine hides from Brazil.  Our Marine Collagen is sourced from wild-caught, Non-GMO Red Snapper off the coast of Hawaii.
Do Vital Proteins use any fillers, artificial sweeteners or binders?
A. Vital Proteins believes in providing clean, natural nutrition without the use of fillers, binders, or artificial sweeteners.
Why do Vital Proteins choose grass-fed cattle?
A.  Our Collagen is produced exclusively in Brazil.  The Collagen is primarily derived from Nelore breed bovine hides.  The cattle industry in Brazil is still based on grass systems, where the cattle are pasture-raised.  This constitutes an important advantage for Brazilian cattle.  Since the cattle were pasture-raised and grass-fed, this eliminates the risk of rBGH in their feed.  Brazil also has a law that prohibits the addition of hormones to feed.  The hormone rBGH is typically injected into dairy cows to make them produce more milk.  The Nelore breed is not a dairy producing cow and is strictly used as a beef breed.  Based on these factors, the collagen is derived from bovine hide without the use of hormones like rBGH.
Is the product vegan?
A.  No.  Their collagen and gelatin are sourced from chicken/fish/beef.  However, there are two products that use vegan ingredients.  They are Spirulina and Beauty Boost.
Benefits of collagen are from my knowledge and Vital Proteins website.  FAQ are also from Vital Proteins website.
Ready to make beautiful music together?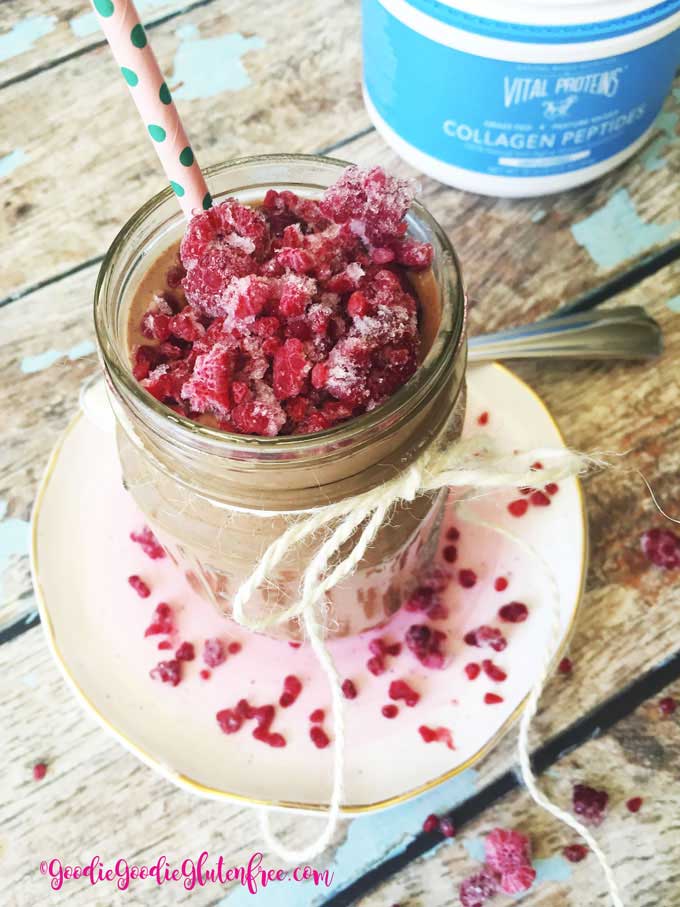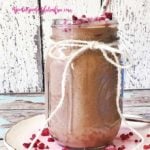 Print Recipe
Chocolate Zucchini Vital Proteins Smoothie
This Chocolate Zucchini Vital Proteins Collagen Smoothie is loaded with hidden veggies, body-boosting nutrients and tastes like chocolate and berries.  Hair, skin & nail growth-boosting and gluten-free, dairy-free, and Paleo.
Ingredients
1

small

zucchini

peeled, chopped

2

tbsp

chia seeds

1

scoop

unflavored collagen

I use Vital Proteins

1

cup

mixed berries

frozen

2

tbsp

raw cacao powder

2

drops

liquid stevia

I like Nu Naturals

1 1/2-2

cups

unsweetened coconut milk

or almond milk

1/8

tsp

vanilla extract

1/2

tbsp

flax seeds

1

tbsp

hemp seeds
Instructions
In a high-speed blender mix the milk with the frozen berries until well blended.

Then add remaining ingredients and blast until WELL blended. Don't use all the milk at once. Start with 1 cup and keep pouring until you get your desired consistency

Once fully blended add 1 cup of ice and blast again. Best served super icy! Top with crushed frozen raspberries and a straw.
Notes
If you are using frozen fruit and veggies you will need closer to the 2 cups of plant-based milk. But if you use all non-frozen you will need less milk.//  And if you use a combination of frozen vs. not frozen, the ration of milk will be less as well. // Pay attention to the thickness as you make your smoothie and use less liquid if you like a creamy smoothie. //