Gluten-Free Coconut Cookie Popsicles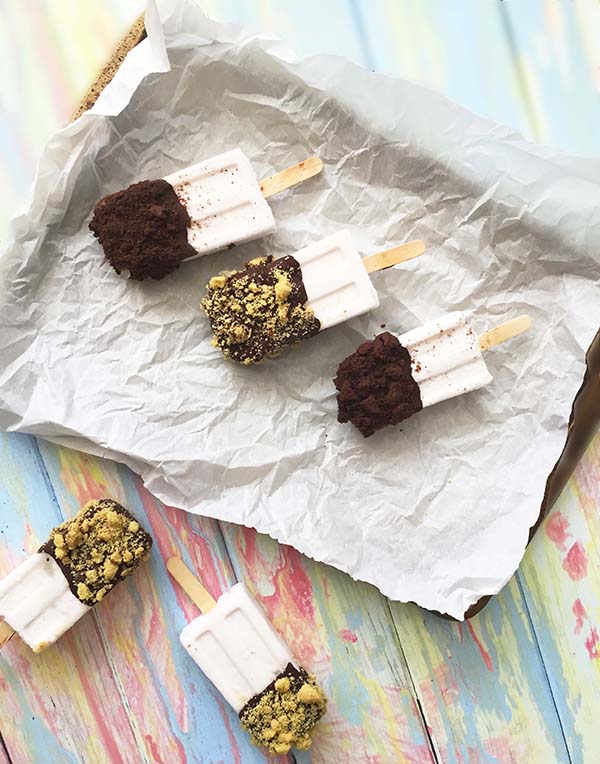 Author:
Julie Rosenthal @ goodiegoodieglutenfree.com
1 cup unsweetened or sweetened coconut yogurt
½ cup raw coconut water
¼ cup water
¼ tsp. uncut stevia
1 box of Ginny Bakes cookies or ½ of 2 boxes if you want to mix the flavors
2 bars of gluten-free chocolate or ½ bag of gluten-free chocolate morsels
Base of popsicles: Blend all ingredients together in a high speed blender till well blended and pour mixture into popsicle molds with sticks and freeze for 5 hours or longer.
Once the popsicles are frozen solid, remove from the freezer and prepare to take them out of their mold. Simply run warm water around the mold in the sink, to loosen the pops from the molds.
Once the pops come out store in a zip lock container in the freezer.
Then begin the chocolate shell and cookie crumble preparation.
For Chocolate: On the stove in a double boiler on low to medium heat, melt the chocolate, occasionally stirring until fully melted.
Add cookies of choice into each ziplock bag and seal. Crush with a hammer until desired cookie crumble consistency is achieved. Once crushed add each batch to paper plates.
Since the popsicles can melt quickly, only take one out at a time from the freezer when adding the melted chocolate.
With a spoon drizzle large portions of the melted chocolate onto the pops and roll the pop in the cookie crumble. The chocolate will harden quickly.
Put in the freezer to fully dry.
Once dried, wrap the pop in parchment paper and store in a freezer container and repeat process with all other popsicles.
Keep the popsicles stored in a container in the freezer until ready to eat.
If you cannot tolerate coconut yogurt, feel free and try it with other plant-based yogurt options or dairy Greek yogurt.
Recipe by
​Goodie Goodie Gluten-Free
at https://goodiegoodieglutenfree.com/gluten-free-coconut-cookie-popsicles/