The Fudgiest Chocolate Popsicle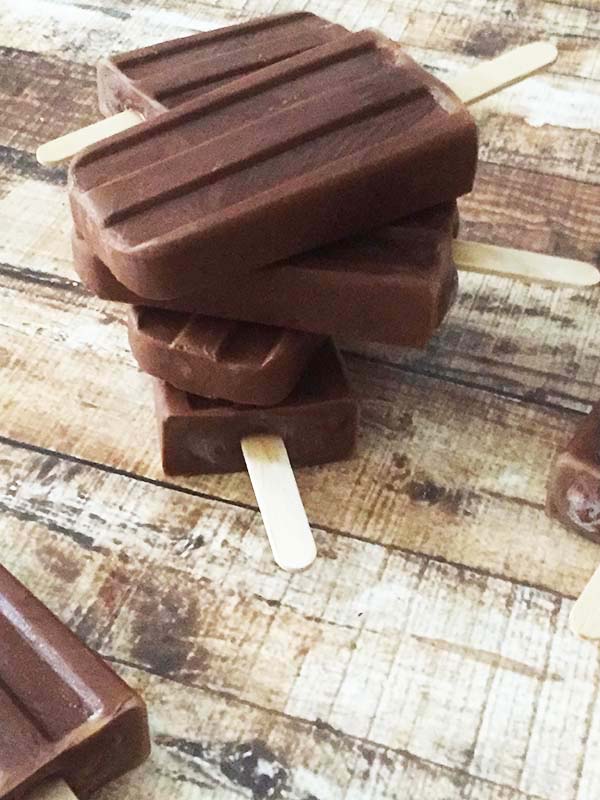 Author:
Julie Rosenthal @ goodiegoodieglutenfree.com
1 medium ripe avocado
½ cup unsweetened cocoa powder (make sure it's gluten-free)
¼ tsp. Sea Salt
½ tsp. pure uncut stevia powder (sweet leaf)
2 T. pure maple syrup
2 cups unsweetened hemp milk
(homemade is more suitable because it's thicker)
Mix all the ingredients in a high speed blender or Nutribullet until well blended. Do not add more then 2 cups of liquid.
Using a measuring cup pour mixture into popsicle molds and freeze for 6 hours or overnight.
Once popsicles are ready to come out of the freezer run the mold part under warm to hot water to loosen them and then pull them out of the molds.
Store them in a ziplock bag OR plastic container in the freezer for up to 3 months.
Homemade hemp milk is better to use because it is thicker. When it comes to maple syrup, use pure grade, it is more expensive, but a healthier option with zero added ingredients. Make sure your unsweetened cocoa powder is gluten-free. Make sure the Stevia Powder you decide to use is Pure Uncut Stevia, which means there are no other added ingredients like maltodextrin or dextrose. I like Sweet Leaf. Sweet leaf is sold on Amazon and at Whole Foods in powder form and liquid form.
5. Liquid form and powder form of Stevia are different in baking. This recipe calls for powder form.
Recipe by
​Goodie Goodie Gluten-Free
at https://goodiegoodieglutenfree.com/the-fudgiest-chocolate-popsicle-recipe/