Chocolate Coconut Cream Gluten-Free Fudgesicles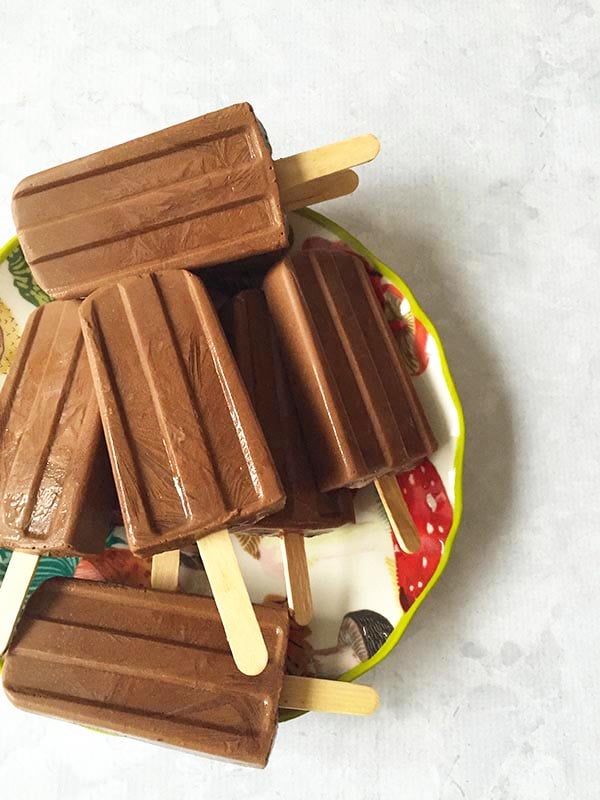 Author:
Julie Rosenthal @ goodiegoodieglutenfree.com
⅔ cup Full Fat Culinary Coconut Milk
1 cup Lite Culinary Coconut Milk
¼ ripe avocado (from a medium size avocado)
½ cup of unsweetened raw cacao or cocoa
¾ cup water
Optional: Liquid Stevia to taste
Add all ingredients into a high speed blender like a Nutribullet or a Vitamix and blend well.
Pour mixture into a liquid measuring cup, and pour into popsicle mold. Add sticks to the mold once you close the lid. (Favorite popsicle mold)
Gently shake the popsicle mold on the counter to even out the mixture in each mold.
Freeze for at least 6-8 hours. The longer the better.
Makes 10! Enjoy!
If you use a small avocado, you will want to use ½ avocado flesh.
If you want to use a sweetener other then Stevia, then use 1-2 tablespoons of real maple syrup, but know that would not be candida diet friendly. If you feel that your mixture is too thick, add more water, but keep in mind it is meant to be creamy. If you do not have enough mixture for 10 popsicles, then add more water. My favorite brands of Liquid Stevia are Sweet Leaf, Nu Naturals Alcohol Free Stevia, and as a treat I love the NOW Chocolate Liquid Stevia.
Recipe by
​Goodie Goodie Gluten-Free
at https://goodiegoodieglutenfree.com/chocolate-coconut-cream-gluten-free-fudgsicles/