Nectarines & Cream Ice Pops (Dairy-Free, Vegan)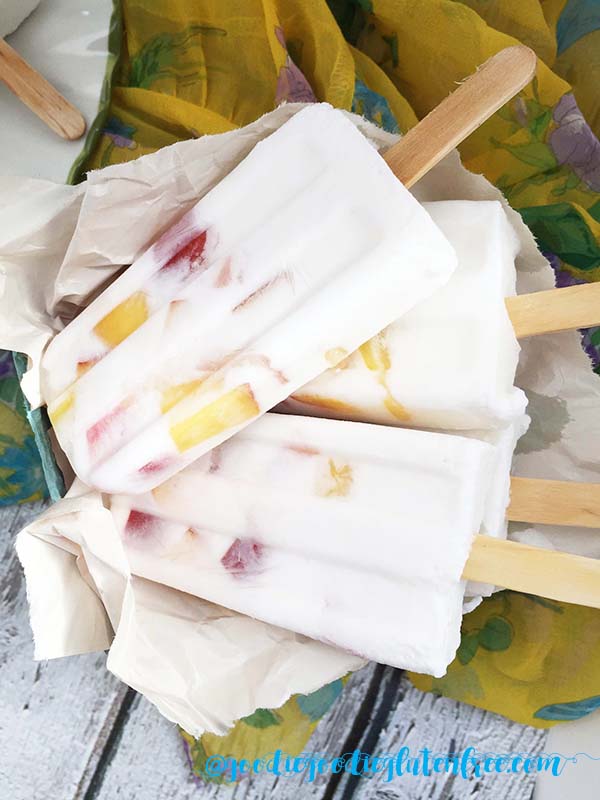 Author:
Julie Rosenthal @ goodiegoodieglutenfree.com
1 cup unsweetened coconut yogurt ( I use Anita's)
1 cup of filtered water
3-4 drops of plain liquid stevia ( I like Nu Naturals)
2½ - 3 cups of ripe yellow nectarine slices and chunks
optional: 1 tsp. vanilla extract
optional: 2 tablespoons pure maple syrup (If you use maple syrup, reduce yogurt by 2 tablespoons and eliminate the stevia)
In a blender, combine the coconut yogurt, filtered water and liquid stevia. **If using maple syrup and vanilla add it here too. Blend well and set aside.
Cut nectarines into ¼ inch to ⅛ inch slices and chunks and set aside.
Pour yogurt mixture into a measuring cup and pour a small amount into the bottom of the popsicle mold about ¼ cup full. Then add a few pieces of the fruit into the mold and push down allowing the yogurt to cover the fruit. Repeat with yogurt mixture and pour in ¼ cup full and then add more nectarines and push fruit down with your fingers. Keep repeating these two steps until the mold is full. Repeat with all other molds.
Cover the mold with the lid, add sticks and freeze overnight, or for at least 6 hours.
Once the pops are ready, remove from the freezer and run hot water over mold to loosen the top lid. Pull lid off, and continue to run hot water down the sides, and bottoms of each mold to loosen the pops from the molds.
Store pops in a zip lock bag in the freezer for up to 4 months.
Serves 10.
1. To make this treat more sweet, you can add 2 tablespoons of pure maple syrup along with 1 teaspoon of vanilla extract to these popsicles and blend in step 1. Note that if you use maple syrup, it will no longer be a sugar-free sweet. Also note that if you use maple syrup you do not need to use stevia.

2. If you are allergic to coconut, feel free and use unsweetened dairy Greek yogurt or any other plant-based yogurt alternative. You have the option to use unsweetened or sweetened. Or you can use unsweetened and add additional sweetener. Go with your tastebuds. If you use a vanilla flavored yogurt, do not add vanilla extract to this recipe.

3. If you want this to taste more like pie, use the maple syrup and vanilla extract in the mixture and also add crushed raw or toasted gluten-free oats into the molds along with the fruit. Try using about ¾ cup of gluten-free oats. Then dip the frozen pops into melted coconut oil or maple syrup and coat in crushed oats.

If you use a vanilla flavored stevia, you can eliminate the vanilla extract.
Recipe by
​Goodie Goodie Gluten-Free
at https://goodiegoodieglutenfree.com/nectarines-cream-ice-pops-dairy-free/