Grain-Free Fajita Salad - Flavorful, spicy, tangy, and sweet with just the right amount of lemon and ground turmeric.  Paired with sweet sauteed onions makes this fajita salad, a salad to remember.  Gluten-free, Dairy-free, Paleo, and Nut-free too!
Grain-Free and Gluten-Free Turmeric Fajita Salad is something I never planned on posting.  After all, I just threw a bunch of ingredients into a bowl.  Half of the ingredients were my own, while half were leftovers from a restaurant.  But I realize these are the kinds of meals we need the most help with.  Realizing that leftovers can be beautiful meals.  Here's how to do it...
Let's say you order a salad from a restaurant.  You'll then take that salad and add a bunch of other stuff you've made to it making it a complete entree salad of your desire with all the nutrient fixings!
INGREDIENTS FROM THE RESTAURANT
Mesclun salad
Grilled chicken
Raw onions
Balsamic vinegar
HOME INGREDIENTS
Grape tomatoes
Ripe avocado slices
Turmeric
Sea Salt
Fresh lemon juice
Siete Cassava Flour Tortillas
HOW TO MAKE AN EASY GRAIN-FREE FAJITA SALAD
When you are dining out make sure to have a bag on hand of extra superfoods, nuts, seeds, and dried fruit to add to your salads
Dining at home?  Order a salad, and then add all the salad toppings you want to use are at your disposal
Always add ripe avocado
Make sure whatever you order has no dressing or sauces.  Get it dry
Then create your own fajita salad dressing with the simplest of ingredients like olive oil and lemon, salt and pepper, apple cider vinegar and oil, balsamic vinegar, and oil
And for a thicker dressing mash avocado with lime juice and coconut yogurt
Serve it with 2 Siete cassava flour soft tortillas
Have a protein ready such as chicken, steak, tofu, shrimp, etc - If you don't feel like making the protein order that from the take-out restaurant
Either prepare your greens at home or get them from a restaurant and assemble your meal rather than creating the entire meal
CHOP your greens.  Grab the chopper here.
THE PART YOU HAVE TO COOK
On medium heat in a saucepan add olive oil and your choice of cooked shredded protein.  I used grilled chicken
Add fresh lemon juice and the sliced red onions and sautee with the protein
All at once you'll add the turmeric (up to ¾ tablespoon) and blend it into the lime juice
Plus a few dashes of sea salt
This is the fajita salad tastes like the way I used to remember it, only with better for you ingredients.  Grain-free does not have to be hard.
OTHER LUNCH RECIPES
READY TO GATHER YOUR INGREDIENTS?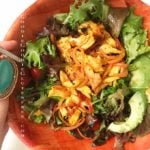 Print Recipe
Grain-Free Fajita Salad
Grain-free, Spicy, just the right amount of lemon tangy turmeric, and sweet grilled onions, making this salad a fajita to remember!  And a great way to introduce salads or more greens into your life.  Gluten-free, Dairy-free, Paleo and Nut-free too!
Ingredients
1

large/entree

salad from the diner that includes grape tomatoes, mesclun greens, sliced raw red onions and grilled chicken

salad from the diner

½

whole

avocado

ripe

1

tablespoon

balsamic vinegar

2-3

teaspoon

olive oil

extra virgin

¾

tablespoon

turmeric

ground, organic

1

whole

lemon

squeezed

2

teaspoon

pink salt

Himalayan

¼

teaspoon

pepper

to taste, add more if needed

2

whole

Cassava flour tortillas

cooked
Instructions
Heat the saute pan with cooking spray and some avocado or olive oil on medium-high heat.

Shred the already cooked chicken and add it to the saute pan. Also, add the red onions to the saute pan.

Drop in the balsamic vinegar into the pan (stand away it may splash onto your clothes)

Combine the chicken, the onions and all seasonings and blend together until well mixed. Then set aside and turn off the heat.

Chop greens and tomatoes with a large knife or a salad chopper and put into a large bowl.

In a separate bowl add the chicken and onion mixture and mix in the avocado until you have a chicken salad consistency. You can use your hands.

Add to salad, serve immediately and enjoy! And don't forget your Cassava flour tortillas!
Notes
I love Cassava flour Tortillas by Siete because they are so clean and certified gluten-free.  You can find them at whole foods, amazon, Thrive market and more.  If you cannot have Cassava flour be sure to check out their other ones, they have almond flour tortillas, chickpea flour tortillas, coconut flour and cashew flour tortillas.
Health and goodness,