This yummy healthy Cantaloupe Green Smoothie is creamy, thick, and tastes like a milkshake but dairy-free, nut-free and banana-free!  Using cantaloupe and avocado for taste, texture, sweetness, and creamy factor, parsley as a pop of green and plant-based milk.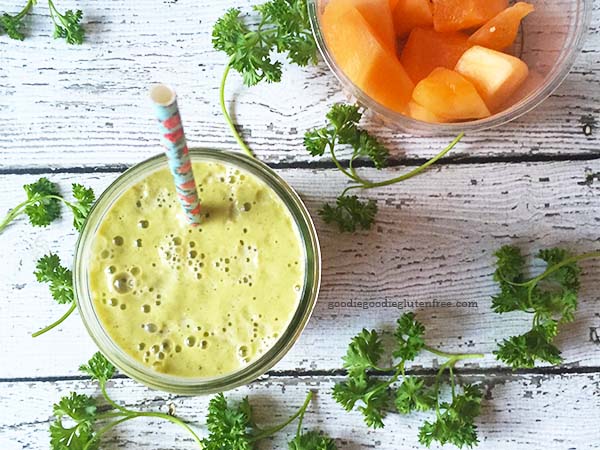 Using Cantaloupe in my dairy-free green smoothies is one of my favorite fruits to use!  Cantaloupe makes smoothies so creamy, sweet & delicious!  It took me a long time to realize that smoothies could be made with other fruit besides bananas!  What a revelation!  And a perfect solution to being banana-free.
WHY YOU SHOULD ALWAYS ROTATE YOUR FOODS DURING GUT HEALING:
When I first started making smoothies way back I was a banana lover.  Eating at least 2 bananas a day, plus all the other fixings like a nut and seed butter for protein, spinach, non-dairy milk, and tons of superfoods.  So I thought, heck yeah!  I'm super healthy.  Let me load in the bananas.
What I didn't realize was that for someone who is healing Leaky Gut, and has to watch their sugars, 2 bananas a day, every single day was actually not so healthy.  And someone who is healing their gut would and could develop food sensitivities to bananas or foods on consistent repetition.  By May 2014 I completely eliminated bananas due to a severe food sensitivity that landed me on Benadryl every single time.
Rotation is key.  A concept I was not familiar with.
Eliminating banans made me think of other creative options.  Enter Cantaloupe.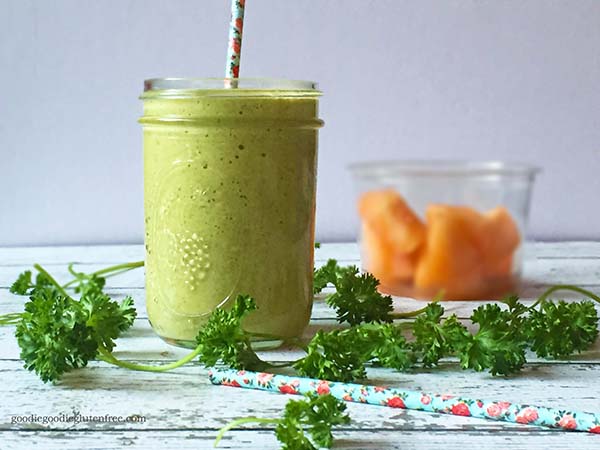 BENEFITS OF CANTALOUPE IN SMOOTHIES:
In comes melon.  Hello Honeydew, Cantaloupe, and Canary melon!  These three, let's call them the 3 musketeers are the bomb in smoothies!
Melons add sweetness without adding sugar
Low in sugar, and low glycemic
Create thickness and texture in smoothies
Loaded with beta carotene and vitamin A
Crammed with vitamin C
Melon is refreshing and filling
Cantaloupe and other melons hide the taste of leafy green in smoothies the same way a banana, pineapple or mango would sans high sugar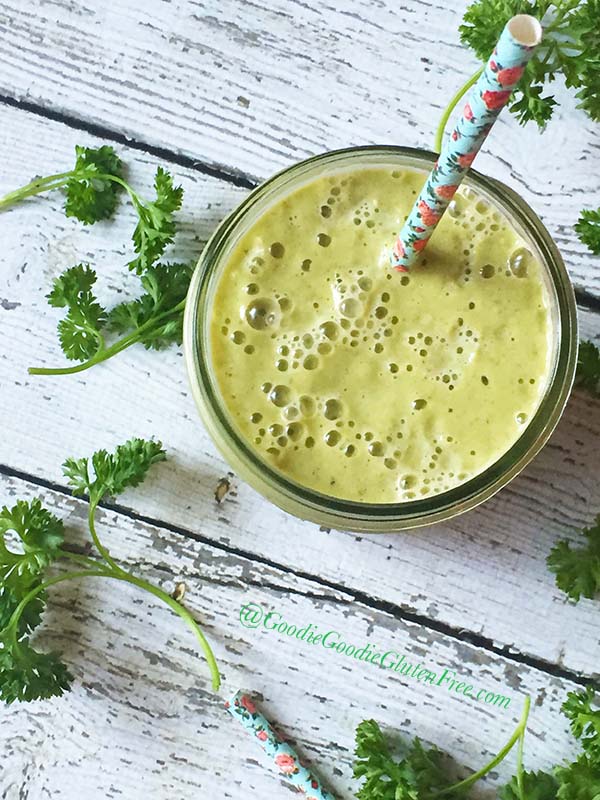 BENEFITS OF SMOOTHIES:
Loaded with vitamins
Reduces sugar load
Loaded with nutrients
Gives your digestive tract a break
Loaded with vegetables
Loaded with fiber
Can even be used as a breakfast meal replacement
I prefer to drastically reduce the sugar sources without compromising taste.  Why?  Because when you drink sugar it floods your bloodstream faster then when you eat it, giving you WAY too much sugar in your system too fast which leads to a sugar-rush, and a sugar-crash, plus too much sugar in our bodies is not good for us. Our body is not meant to process that much sugar on a daily basis.
In this smoothie, I chose to use parsley as my green because parsley is so ridiculously loaded with vitamin C, that it packs a super powerful punch to your smoothie!  Parsley contains more vitamin C than a barrel of oranges!  And you don't need to use a lot.
You guys, it's not just a garnish at Passover.  This green is beyond delish! My tastebuds have changed so much that I actually request additional garnish and eat it plain!  Need help choosing greens in the smoothie department?  This handy list of smoothie veggies should help!
Tigernut Milk which you will see in MANY of my recipes is a nut-free non-dairy, paleo, AIP milk alternative.  It's actually one of my favorites.  It is certified paleo, gluten-free, and is prebiotic which means it is good for your gut!
I like to make it homemade, and I happen to have a tiger nut milk recipe that is really easy to make.  Or you can use your plant-based milk of choice.
MY BLENDER CHOICES:
I'll always use either a Nutribullet or a Vitamix because to me they are the best high-speed blenders and extractors! These blenders blast all the nutrients together and give you a lump-free smoothie.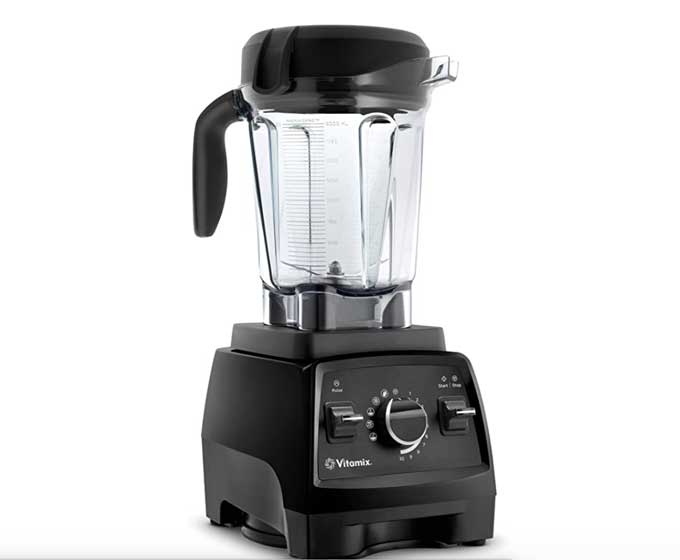 Ready to make beautiful music together?
Want more cantaloupe?  Try these recipes too!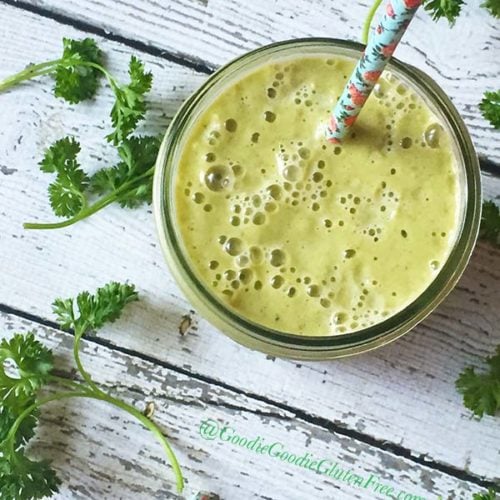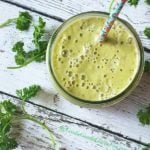 Print Recipe
Healthy Cantaloupe Green Smoothie (dairy-free)
This yummy healthy Cantaloupe Green Smoothie is creamy, thick, and tastes like a milkshake but dairy-free and banana-free!  Using cantaloupe and avocado for taste, texture, sweetness, and creamy factor, parsley as a pop of green and plant-based milk.  Paleo, vegan, gluten-free, and dairy-free.  
Ingredients
1

cup

unsweetened tiger nut milk

½

cup

spring water

1

cup

chopped cantaloupe, ripe

1

large handful

curly parsley

2

tablespoon

hemp seeds

1

tablespoon

ground flax seeds

1-2

drops

liquid stevia

1

cup

ice

1

teaspoon

optional: cod liver oil
Instructions
Blast all the ingredients together (except ice) in a high-speed blender till well blended.

Then add the ice and blend again.
Notes
I like to make my tiger nut milk homemade.  Here's the tiger nut milk recipe.
Tiger nuts are actually not a nut but a tuber root veggie that is certified paleo, gluten-free, and vegan.
If you want to buy the tiger nut milk, then look for the brand Organic Gemini which is sold at Whole Foods and other various places.  Check their website for other locations.
If you don't want to use tiger nuts, then use your preferred plant milk.
If you don't like flax seeds, you can sub in chia seeds.
Don't be afraid to grab that large handful of parsley! : )
SMOOTHIE BOOST OPTION:
Love & Banana-Free Green Smoothies!