Lover's Lane Smoothie - This delicious vegan cacao maca smoothie tastes like a dark chocolate milkshake and is perfect as a holiday sweet!  Along with cacao, Maca root is the second amazing superfood ingredient in this dessert smoothie.  It's an adaptogen that combats stress, and enhances endurance, fertility, and strength.  When combined with chocolate, the taste is (gluten-free) malted, and deeply decadent!  Dairy-free, paleo, and vegan too!
*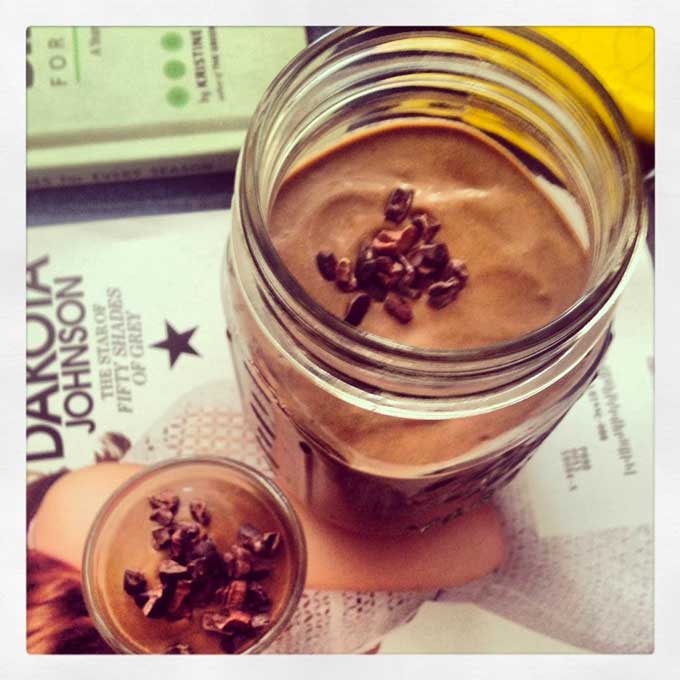 It's only natural that a dessert smoothie named Lover's Lane has chocolate in it.  Chocolate or Cacao in its natural form is an aphrodisiac, as is its counterpart ingredient, Maca root.   The two ingredients combined create a magical silky, creamy, malted taste and texture that will have you drinking this for dessert daily!  If you're looking for a creamy, decadent dessert smoothie loaded with cacao you are in the right place.
Did you know that Maca and Cacao are considered superfoods?
WHAT ARE SUPERFOODS?
Superfoods are foods and powders (made from foods) that have a higher nutrient profile than other foods.  These foods and powders can be used in very small amounts to get an incredible nutrient-dense profile from only using a small amount in their daily diet.
WHAT SUPERFOODS ARE USED IN THIS DESSERT SMOOTHIE?
Coconut
Maca Root
Cacao
Chia seeds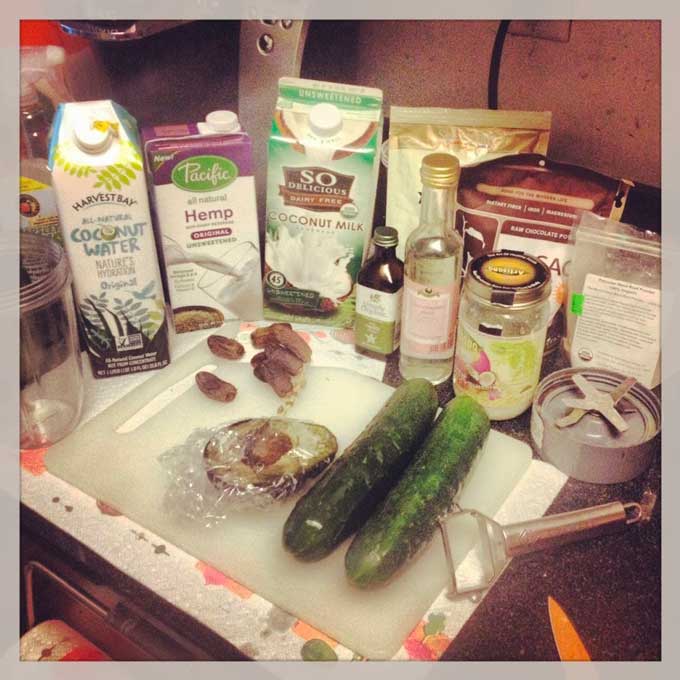 WHAT IS CACAO?
Cacao is the original form of chocolate without any additives, milk, or sugar.  Chocolate in its actual form, without adding anything to it is extremely bitter and incredibly rich.  Once you add sugar, spices, and dairy is when it tastes sweet.  The benefit of cacao in its raw, unprocessed state is that it is filled with beneficial nutrients such as iron, dietary fiber, magnesium, calcium, zinc, and potassium.  It releases feel-good hormones and can act as a mild mood booster as well.
WHAT IS MACA ROOT?
Maca root powder has a light eggshell color to almost a light yellow.  It tastes like malt and combined with chocolate, tastes like a chocolate malted milkshake.  That's why it's called a Lovers Lane smoothie.  Therefore, a proven aphrodisiac that enhances your serotonin levels, while at the same time combating stress!
This Superfood of the Incas is a nutrient-dense ancient medicine that has been prescribed for centuries by holistic Native American Healers. Its properties are to Enhance libido and fertility in both men and women and increase athletic energy, stamina, and endurance.  Maca improves mental clarity, focus, and eyesight sharpness, plus it provides faster muscle recovery time and helps the body heal itself.  In addition, aids in treating menopausal symptoms and supports the immune system.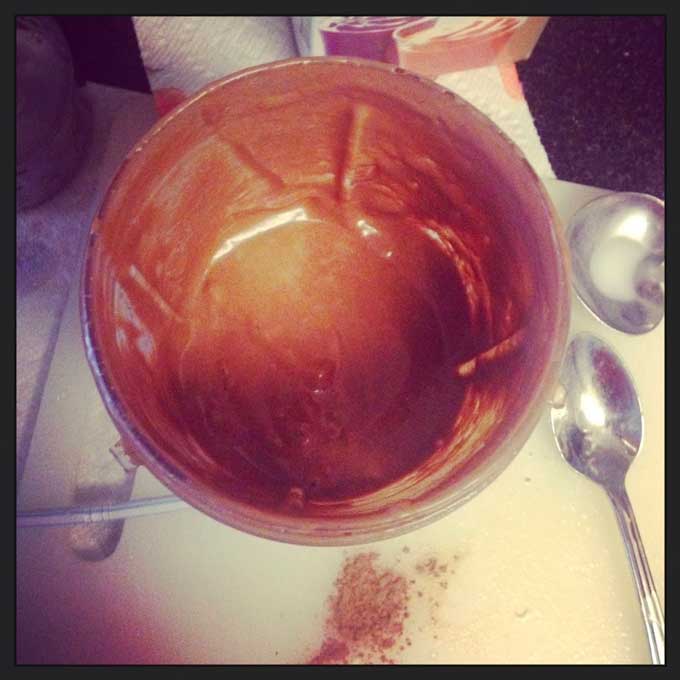 DESSERT SMOOTHIE TIPS
Raw cacao vs cocoa powder:  Cocoa powder does not have the dense nutritional value that Raw Cacao has.  Cocoa is the finished heated process of Cacao.  Cacao in its original form provides ALL the nutrients.  Once heated at high heat the nutrients are lost and what is left is the flavor and consistency. Cocoa powder is the processed version of Raw Cacao.
Rose Water:  You can omit this ingredient but the flavor is light and lovely.  I purchased my culinary rose water on amazon.
Vanilla Extract vs. Vanilla beans:  Vanilla beans can be opened up and pure vanilla can go directly into the smoothie, while vanilla extract usually has other ingredients in it, but is also easier.
Avocados: Ripe only.  You can also stick with non-organic avocados because they are protected by their hard skin so you will not be harmed by pesticides.
Cucumbers:  Should be organic if you use the peel.  If you are peeling it you can use a regular cucumber.  Chop, dice, or slice.  You can use half fresh, half-frozen.  If you use all frozen cucumbers prepare to use additional liquid so that the blender can break it down.
Superfoods:  Make sure yours are certified gluten-free.

Happy Hour Tip or Evening Nightcap:  If you want to add in some liquor I suggest 1-2 Tbsp. of Gluten-free Vodka or Gluten-Free Spiced Rum.

Garnish:  Add the raw cacao nibs last.  Just a sprinkle on top for a festive drink.
READY TO GATHER YOUR INGREDIENTS?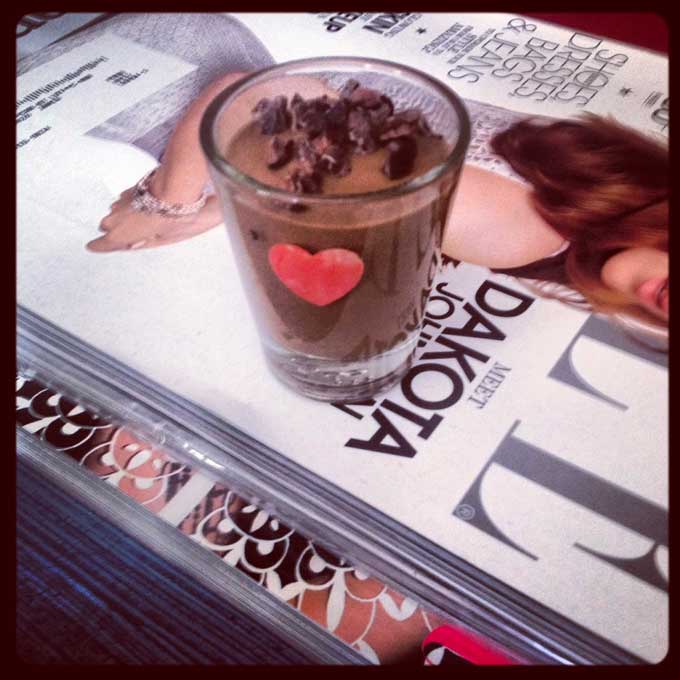 MORE DESSERT SMOOTHIE RECIPES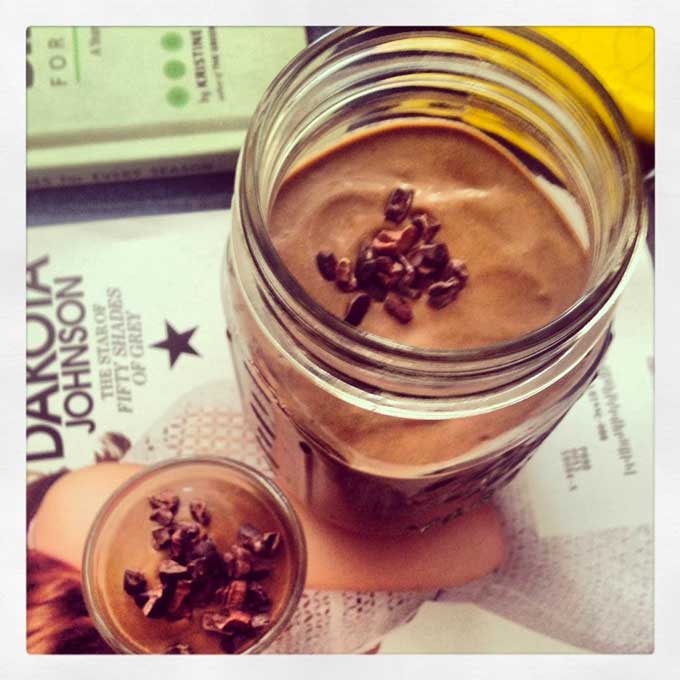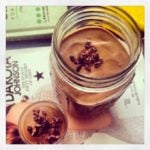 Print Recipe
Lovers Lane Chocolate Smoothie
This delicious vegan chocolate maca smoothie tastes like a decadent chocolate milkshake! Maca is an adaptogen that combats stress, and fatigue. Enhances endurance, fertility, and strength. Dairy-free, and gluten-free too. 
Servings:
1
16oz smoothie
Ingredients
1

cup

unsweetened coconut milk

¼

cup

organic coconut water

1

tablespoon

chia seeds

1

cup

heaping cup of chopped frozen cucumbers

peeled, chopped

1

tablespoon

coconut butter

butter part only

2-3

tablespoon

raw cacao powder

½

small-sized

avocado, ripe

2

whole

Medjool dates

1

teaspoon

vanilla extract

2

teaspoon

maca root powder

3-4

whole

ice cubes

⅛

cup

raw cacao nibs for garnish on top
OPTIONAL ADD-INS
¼

piece

frozen banana

2

teaspoon

rose water

culinary
Instructions
Add milk, coconut water, and chia seeds to a blender, stir with a fork, and let sit for a minimum of 5 minutes. This helps the mixture thicken.

Then add frozen cucumbers to the mixture, close the lid, and blast until you have a slushy mixture. If you've decided you want to add banana, here is where you would do it.

Stop the blender and add the coconut butter, avocado, raw cacao powder, Medjool dates, vanilla, and maca root powder, and blast on high until you have a very creamy smoothie.

Add the ice, and the rosewater and give it one more blast on medium. Pour into a glass and enjoy.
Notes
If this smoothie is too thin, add more avocado
If this smoothie is too thick, add more milk
If you need more of a chocolate fix add up to ¼ cup of raw cacao
If you cannot use the milk in this recipe, choose milk that works for you.

If you want it extra frosty place it in the freezer for 20 minutes before consuming.
Love and health,