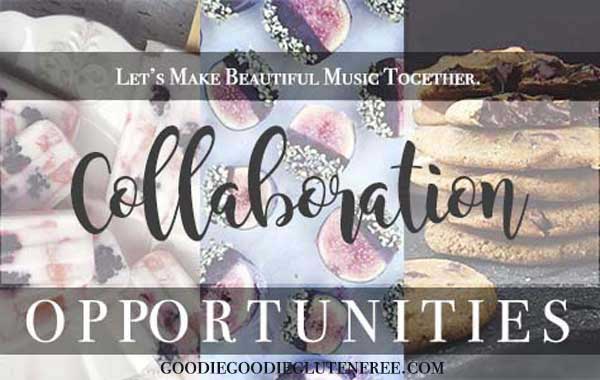 Goodie Goodie Gluten-Free is a food and wellness blog dedicated to promoting a healthy gluten-free and allergy-friendly lifestyle by inspiring a whole approach to eating and living.
I love, let me repeat LOVE working with brands I use on the regular, trying out awesome products that are new to me who's mission and goals are aligned with my own.  I'm a health advocate on top of a Celiac advocate and I want to create a sense of community for those who aim to live a healthy, happy and positive lifestyle.  Brands and events can play a huge roll in this as well.  Let's collaborate and spread the love!
Please note that I only work with companies and brands who are compatible with the ethos of my blog and/or who have a least some products that are suitable for Celiacs.  This goes for food, skin care, beauty, lifestyle and wellness products.  Certified Gluten-Free is always a bonus and manufactured in a gluten-free facility rocks too!  If your product is not certified gluten-free or not manufactured in a gluten-free facility – let's chat more.
I'm always open to new partnerships & opportunities to collaborate!  I offer a range of services that include:
Sponsored Posts: Interested in promoting content that is relevant to Goodie Goodie Gluten-Free?  I'd love to help spread your message!
Recipe Development: I love creating healthy/clean recipes that are gluten-free, dairy-free, soy-free, refined sugar-free, and (mostly) plant-based.  I can also create recipes to suit specific diets (raw, vegan, plant-based, gluten-free, dairy-free, egg-free, peanut & tree nut-free, coconut-free, Paleo, Anti-Candida, low sugar, sugar-free, Whole 30 and any other elimination).  I would love to develop easy, unique and delicious recipes for your brand/product.  Each recipe is accompanied by high-quality food photography and will not be posted on my site unless desired by you.
Interviews: Do you have a podcast or publication that is geared towards healthy, clean, gluten-free, allergy-friendly living, living with Autoimmune Disease, Chronic Illness and conditions, chronic inflammation, mind/body/spirit or Celiac Disease?  I'd love to be a guest!  I'm always open and honest so that readers and listeners can get the most support for what they are going through.
Guest Posts, Guest Blogging, and Articles: Do you have a blog, publication (online or print) that you need health articles for?  I can write articles for your publication relating to health, nutrition, wellness, the gluten-free lifestyle, Celiac Disease, Autoimmune Disease, Chronic Illness, chronic inflammation, spiritual self-care, spirituality, healthy living, and well-being.
Product Reviews/Giveaways:  Do you have a healthy and delicious product that my readers would be interested in?  I can give your product an honest review on our website or host a giveaway on my social media platforms.  I can also review your product on social media platforms as well as food photography/content creation.  This goes for food, beauty, lifestyle and wellness products.
Restaurant Reviews:  Do you have a gluten-free restaurant or bakery in the New York City area that needs more exposure toward the gluten-free community?  I'd love to help!  I only ask that your restaurant or bakery have a dedicated gluten-free kitchen or a separate area for gluten-free and take dedicated precaution towards the issue of cross-contamination.  I can dine at your restaurant or bakery and give an honest review of this site with high-quality food photography and promote your establishment through various social media platforms.
Event Coverage:  Do you have an event, expo or retreat that needs coverage from a wellness blogger?  Is your festival, conference, expo or retreat related to holistic health, wellness, nutrition, spiritual self-care or gluten-free health?
Since 2015 I have been working with events and expos on social media and this site.  Below you'll find my social media promotion and blog reviews for the following events:
Email me to discuss potential promotion for pre-event, during and post-event recap.
*****
If you have any questions or wish to discuss an upcoming project or idea, you can contact me (Julie) directly at goodiegoodieglutenfree (at) Gmail (dot) com.
You can also find me on Instagram, Facebook, Twitter, and Pinterest.