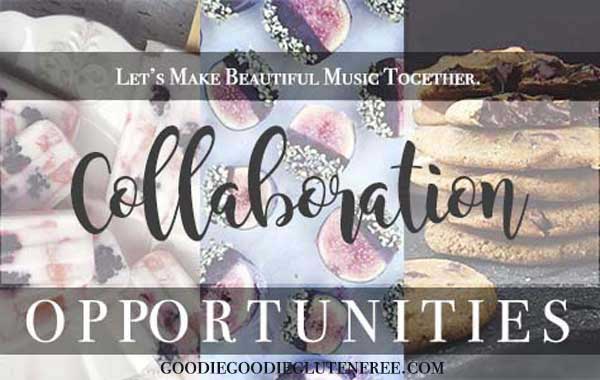 DO YOU WANT TO COLLABORATE GOODIE GOODIE GLUTEN-FREE?
Goodie Goodie Gluten-Free is a food and wellness blog dedicated to promoting a healthy gluten-free, dairy-free, and allergy-friendly lifestyle by inspiring a whole approach to eating and living.
Julie loves working with brands she uses on the regular, trying out awesome products that are new and products that are old loved favs as long as the mission and goals are aligned with the mission of Goodie Goodie Gluten-Free.
She is a health advocate, Celiac advocate & allergy-friendly advocate and she enjoys creating a sense of community for those who aim to live a healthy, happy and positive lifestyle.  Brands and events can play a huge roll in this as well.  If this sounds like your brand then we need to do a collaboration and spread the love!
Please note that Julie will only work with companies and brands who are compatible with the ethos of her health blog and health clients and/or who have products that are safe for Celiac's.  This goes for food, skincare, beauty, lifestyle and wellness products.  Certified Gluten-Free is always a bonus and manufactured in a gluten-free facility rocks too!  If your product is not certified gluten-free or not manufactured in a gluten-free facility – let's chat more to see if there is a fit.
Julie is always open to new partnerships & opportunities for collaboration with brands! 
COLLABORATION / MY SERVICES
Recipe Development
Need a freelancer to develop gluten-free + dairy-free + allergy-friendly recipes for your food brand or health brand?  I am available to develop and test recipes using your products.  We will work together to brainstorm recipe ideas based on your brand's needs that your audience is sure to love, then I will get to work in the kitchen!
Food Photography 
Need a freelancer to style and shoot recipes for your food or health brand?  Nothing saying yum like a beautiful high-quality photo of your products and foods.  I am available to shoot photos featuring your products.  You will receive 5-7 high quality edited photos along with their unedited photo and will not be posted on my site unless given permission by you.  Look around my site and below for examples of my work.
Brand Ambassadorships
Have a product or service you think the Goodie Goodie Gluten-Free audience would love?  I can create a blog and/or social media content with beautiful photography featuring your product.  We will work together to get your brand noticed in the health and celiac communities.  I would love to represent your brand and spread the love.
Sponsored Posts
Do you want your brand or product featured in one of my original recipes on my blog?  Your product will be highlighted throughout the post with any information you would like to say about your brand, complete with high-quality photography!
Product Reviews/Giveaways
Do you have a healthy and delicious product that my readers would be interested in?  I can give your product an honest review on our website or host a giveaway on my social media platforms.  I can also review your product on social media platforms as well as food photography/content creation.  This goes for food, beauty, lifestyle and wellness products.
Guest Posts

If you have a blog, print publication or online publication I would love to write a guest blog for you including an original recipe or any other content that aligns with my brand.
*****
If you have any questions or wish to discuss an upcoming project or idea, you can contact me (Julie) directly at goodiegoodieglutenfree (at) Gmail (dot) com and request my media kit and pricing.
You can also find me on Instagram, Facebook, Twitter, and Pinterest.
Portfolio below