Wondering if the Institute for Integrative Nutrition (IIN) is the right school for you?
A few words to describe my journey at IIN:
-Life-changing

-Inspiring


-Empowering
-Powerful
-Rocked my world


-Fun


-Taught me how to be a healer
-Made me realize I was smart
-Made me realize I could do more in the world in order to help people
-Made me LOVE health, nutrition, and wellness
And lastly, IIN gave me powerful healing tools to not only heal others but take an integrative and holistic approach to my own healing as well.  Because of IIN, my passion is wellness, I embody it.  It is part of my lifestyle now.

Life after IIN:
I knew that IIN was the start of a beautiful new beginning and that I was planting the seeds to pave a new path.
People ALWAYS want to know this part.  It's juicy, I know.  So I'll tell you my life didn't open up to opportunity immediately and I didn't become a health coach with oodles of clients so quickly.  It all took time, and for some can take years to build.  But what IIN did do for me was it opened up a path of possibility for my own personal healing with chronic illness, celiac, and gut healing.  And IIN gave me a huge community of friends and colleagues I could go to for life, in addition to more resources than I could ever need to create my brand and my website.
IIN gave me the confidence to enroll in other programs and even further my education beyond a bachelor's degree.  I am trained in holistic health, nutrition, spirituality, and design.  And I don't plan on stopping.  I absolutely love this field, especially because I have been living with Celiac Disease and chronic health conditions for life.  To know that I get to be a team player in my own healing is extremely rewarding and IIN expanded that for me.  I already had that team player vibe, I had been doing it for years, but IIN opened me up to a health and wellness world I knew nothing about that has literally saved my life and completely changed my life.
Food is medicine.  Wellness is medicine.  Spirituality is medicine.  Because of these three things I helped myself heal.  From healing comes creation.
-I went from being a fashion designer to a health coach, recipe developer, and wellness blogger
-I went from being a gluten-free blogger to a health blogger, had two website makeovers, 2 wellness photoshoots, and learned a lot about website design, code, and graphic design in the process
-I published my very first 48-page ebook on juicing called Blender Juices
and I did it all:  the writing, the photography, the graphics, the book
-I am almost at 10K on Instagram, and showing up consistently for my community and website
-I've received two certifications in Angel Tarot, Angel Oracle led by Doreen Virtue and Radleigh Valentine - I use this method in my coaching
-I got certified by Gabrielle Bernstein in spiritual coaching and completed Spirit Junkie Masterclass levels 1, 2
-I lost 75% of my hair, and now it's completely back (2018-2020)! (self-care yo)
-I became a huge team player in my healing and because of IIN I believe I have managed my healing in a more effective way, as well as have healed faster
-I now know exactly what to do when I have a flare with any of my conditions
-I develop recipes for all types of gluten-free, allergy-friendly, and vegan brands
-I was invited as a guest to Nitika Chopra & Healthline's event Chronicon
-I am studying to become a Holistic Nutritionist, and further education sounds fantastic!  (This is from a gal who graduated college and said never again am I going to school)!
-My food photography and recipes been featured on various social media channels in the wellness industry such as Well and Good, Pop Sugar, Nutribullet, Banza, Lily's Chocolate, Nutsdotcom, Organic Living Superfoods, Anita's Yogurt, Go Raw, Vital Proteins, The Feed Feed, Nu Naturals, Himalayan Sea Salt, Bobo's, Love Grace Juice, Evolution Fresh Juice, Rule Breakers, Organic Gemini, Otto's Cassava Flour, Parsley Health and the Institute for Integrative Nutrition.
-I merged my fashion and art background into my website, the colors, the graphics, the design, the copy.  And if you need help doing your site or don't know what to blog about?  Let's schedule a blog coaching session!

As a graduate, passionate ambassador, and alumni affiliate of IIN, I have an opportunity for you.  I get to give a few select followers of Goodie Goodie Gluten-Free a truly gorgeous saving off their total tuition!   If you reference my name Julie Rosenthal when you inquire about signing up you'll get savings off total tuition OR we can chat on the phone and talk about any questions you may have.
(When you sign up through my link I get an incentive that doesn't cost you a thing but helps my blog.)
How much?  Want the details?  Reach out to me via email - goodiegoodieglutenfree at gmail dot com.  Make sure your subject says IS IIN FOR ME?
For now, check out this FREE guide about IIN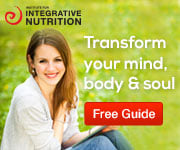 This program can be done anywhere, and the curriculum can be accessed 24/7 through the IIN App.
The Integrative Nutrition Health Coach Training Program teaches you how to work with clients one-on-one, and run group programs and workshops in settings such as corporations, spas, health clubs, doctor's offices, schools, and more.
Integrative Nutrition covers cutting-edge and holistic concepts along with modern health issues that you won't always find in a traditional nutrition program.  Here are just a few topics you will study: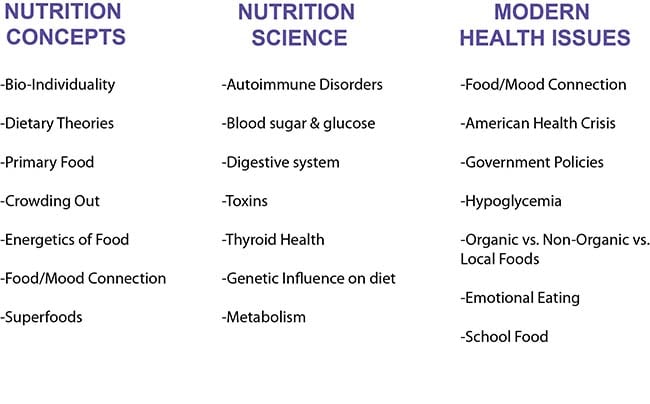 Just a few of the experts:
Walter Willet, MD: Chair of Nutrition, Harvard School of Public Health  -Chair of the Department of Nutrition at Harvard's School of Public Health as well as the author of Eat, Drink and Be Healthy; The Harvard Medical School Guide to Healthy Eating. Andrew Weil, MD: Director of Integrative Medicine, University of Arizona - The best selling author whose books include: Spontaneous Healing and Eight Weeks to Optimal Health. Dr. Weil is a Harvard Medical School Graduate and world-renowned expert on medicinal herbs, mind-body interactions, and healing systems.  He also started the Integrative Medicine Program at the University of Arizona. Deepak Chopra-World Leader in the field of Mind-Body Medicine  -A holistic healer and author of more than 50 books translated into over 35 languages.  Deepak is a fellow of the American College of Physicians and one of Time Magazine's "Top 100 heroes and icons of the century and the "poet-prophet of alternative medicine".
Wanna know more?!  Email me at Goodiegoodieglutenfree (at) Gmail (dot) com and I'll answer any of your IIN related questions!
Already sold?  What are you waiting for?  Call IIN and mention my name Julie Rosenthal Ambassador Savings to get your savings at (877) 730-5444.
Have more questions?  Check out the review I wrote on IIN here.
Save