BLENDER JUICES EBOOK
BLENDER JUICES IS AVAILABLE FOR IMMEDIATE DOWNLOAD NOW!
PURCHASE BLENDER JUICES AND DOWNLOAD YOUR OWN COPY TODAY:
$12.99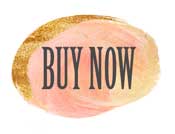 It's finally here!  This ebook includes raw vegan juice recipes that are easy for anyone to make.  All recipes are free of gluten, dairy, eggs, nuts, refined sugar, ginger, allergy-friendly and also free of avocado, banana, corn, vanilla, and mint.  Each juice is crafted with love for Celiacs and gut healers as well as healthy juice lovers and newbies.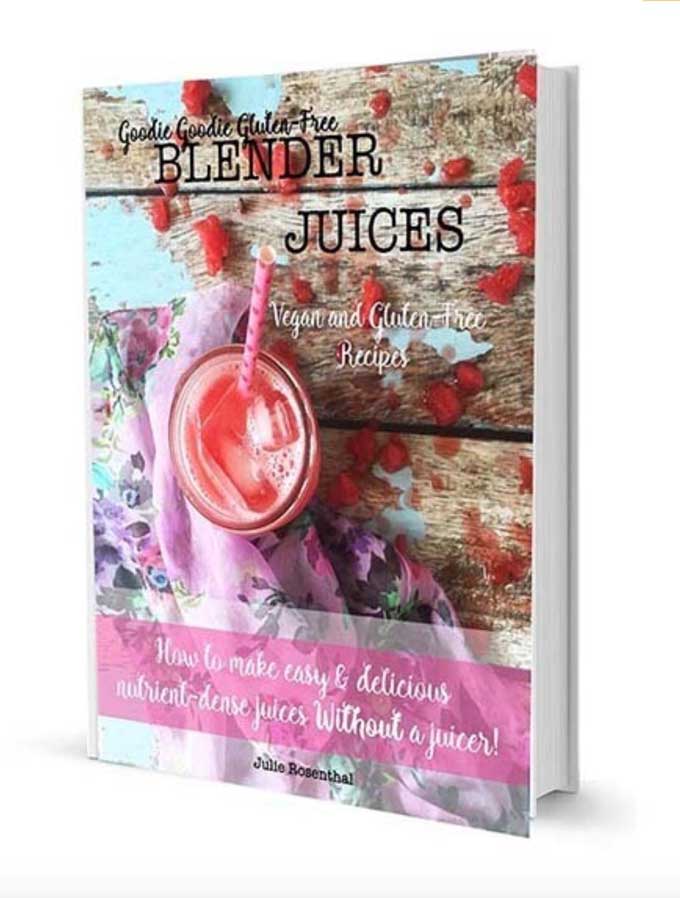 HERE'S WHAT YOU'LL FIND IN BLENDER JUICES:
45+ pages of information
Over 20+ easy to follow recipes
Introduction into nutrient-dense whole foods, vegan juicing
Large full-color high-resolution photos
Techniques to develop rich and flavorful results
How to make a juice in a blender ROADMAP
Recommended kitchen tools and appliances
Information on all ingredients used in each recipe
A handy list of vitamins, minerals, and nutrients that are essential to your body
Funny juicing stories, and more!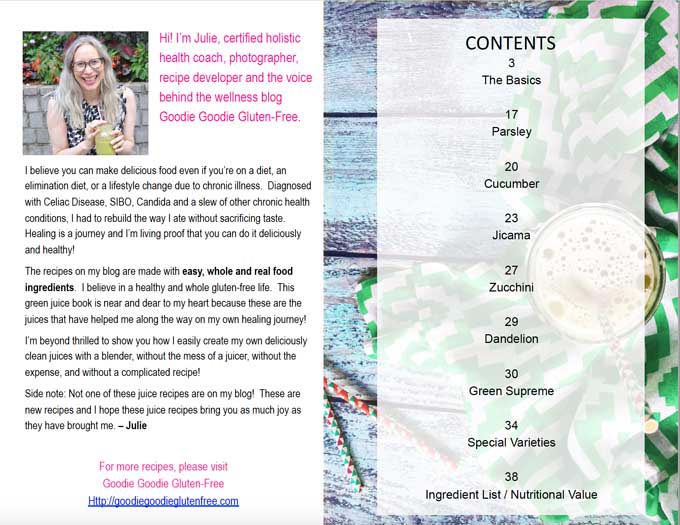 All of these juice recipes can be prepared in less than 15 minutes and many take 10 minutes or less to make.  No juicer which translates to less clean-up, less mess, and more room on the counter!  Most recipes use 6 or fewer ingredients providing YOU easy to make juices that you can make in your home daily.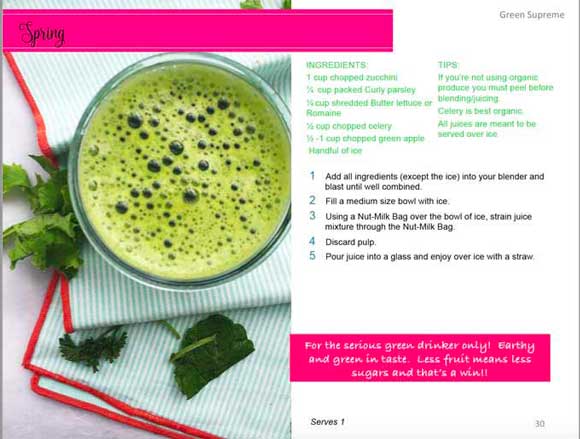 By using Organic raw vegan food, you will quickly realize that creating delicious and nutritious juices can flood your body with liquid sunshine aka green juices make you and your body feel great without the caffeine!  Drinking green juice will make your body feel invigorated.  Green juices are a great way to transition into a lifestyle with more plants.  Parsley, cucumber, zucchini, apple, spinach, romaine, and lemon green juice is what got me hooked on green juices!   I cannot function without my morning green juice!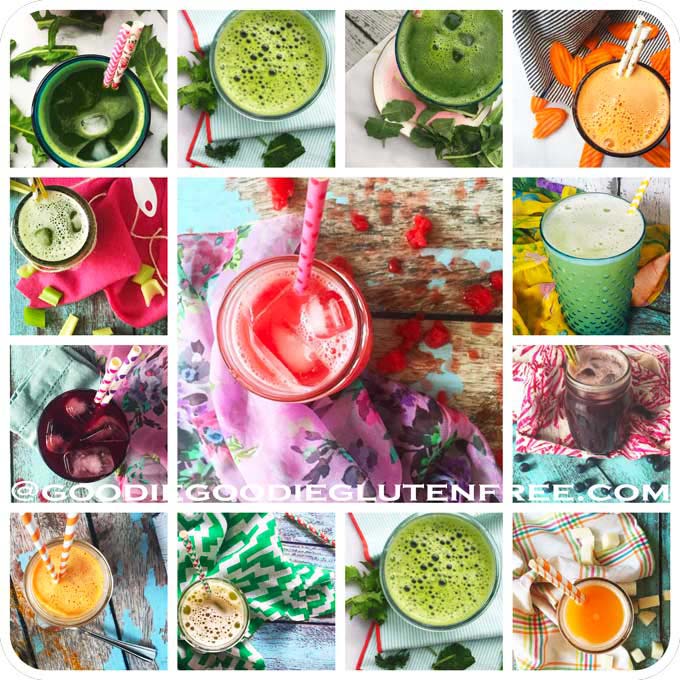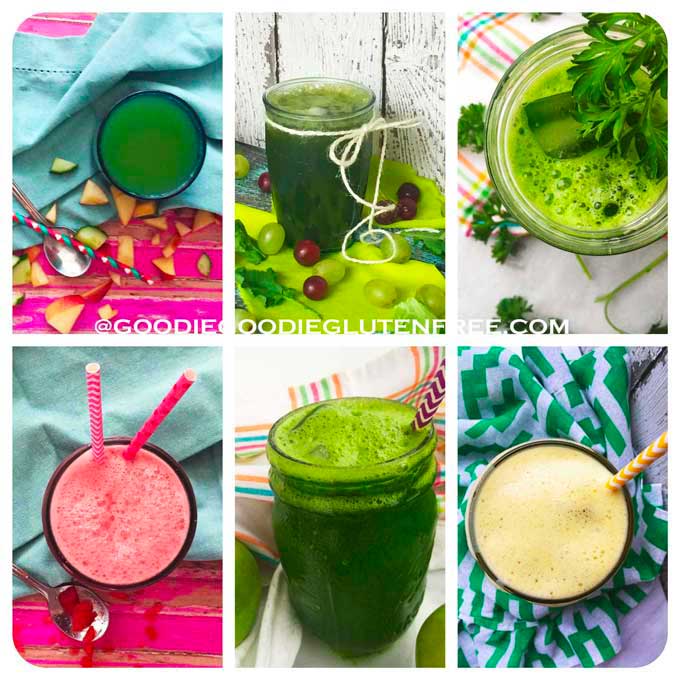 Purchase Blender Juices and download your own copy today:
$12.99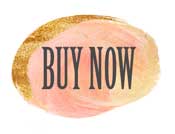 PLEASE NOTE THAT THIS IS A 100% DIGITAL PACKAGE.
NOTHING WILL BE SHIPPED TO YOU.  ALL SALES ARE FINAL.
Have a healthy day! Xx Julie
Email: goodiegoodieglutenfree@gmail.com
Website: goodiegoodieglutenfree.com
Instagram: instagram.com/goodiegoodieglutenfree
Facebook: facebook.com/goodiegoodieglutenfree
Pinterest: pinterest.com/goodiegoodieglutenfree
Twitter:  twitter.com/goodiegoodieGF

!IMPORTANT - HOW TO DOWNLOAD YOUR BOOK.  PLEASE READ BELOW:
After you purchase the guide there will a momentary delay for a few minutes
You will then receive a downloadable link to your email
Alongside a receipt for purchasing the book
Then you will receive a second email with the downloadable link
You will not be able to view it on your phone, iPad or computer until you actually download the file and save it
For the iPad and iPhone, you will need to save it into google iBooks or another book-related app
Then you have this book forever and can read it whenever!
And you can choose to print the guide and bind the guide at Staples or any other home office center!!