This paleo chocolate sauce is so easy to make that it takes well under 30 seconds!  Cocoa powder, and coconut oil sweetened with pure maple syrup.  Such a thin consistency.  This chocolate sauce tastes wonderfully rich and decadent and is vegan too.  It's a surefire fondue pleaser!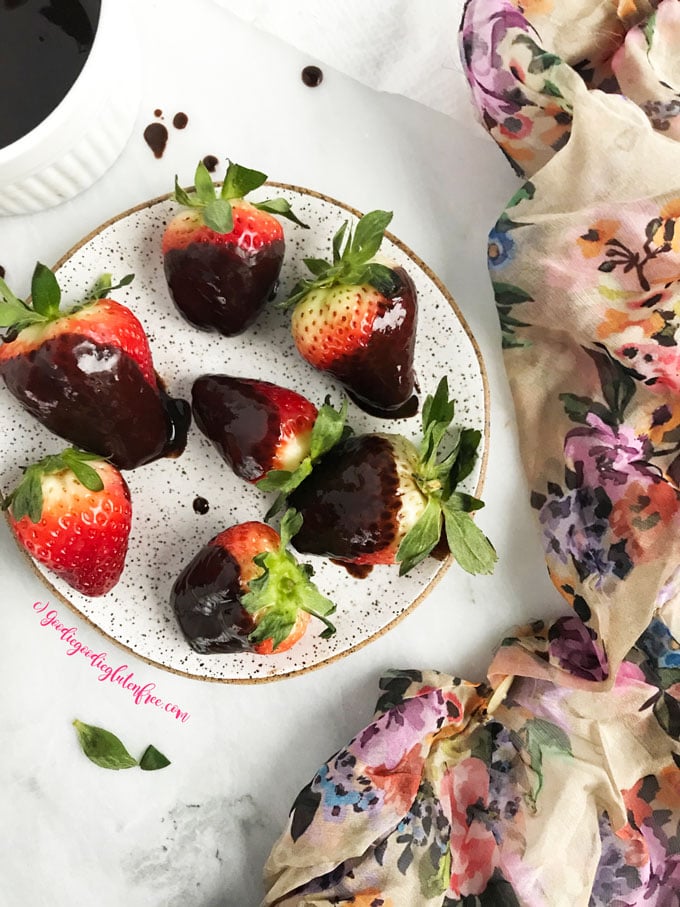 While I'm usually not a chocolate sauce girl I was craving a sweet dessert sauce, that was also healthy, but wouldn't kill my skin, mess with my sugar levels, or cause a sugar high.  Naturally, it had to be sugar-free chocolate.  Most fondue chocolate sauces are high in sugar, and rich in dairy.  My chocolate sauce would be dark, and full of rich flavor.  It soon became apparent that strawberries would be a perfect pair.
Chocolate-covered strawberries that is.
Chocolate-covered strawberries were the answer but I didn't have any chocolate bars.
You'd think that would end my quest for chocolate but it didn't.  While my mind danced around the idea of chocolate-covered strawberries the decadent chocolate ideas started to flow.  I was dreaming about chocolate fondue, chocolate-dipped popsicles, and chocolate shells.  In that mindset, I realized I had three ingredients that could make chocolate and make it well.  I bet you have these ingredients in your kitchen too.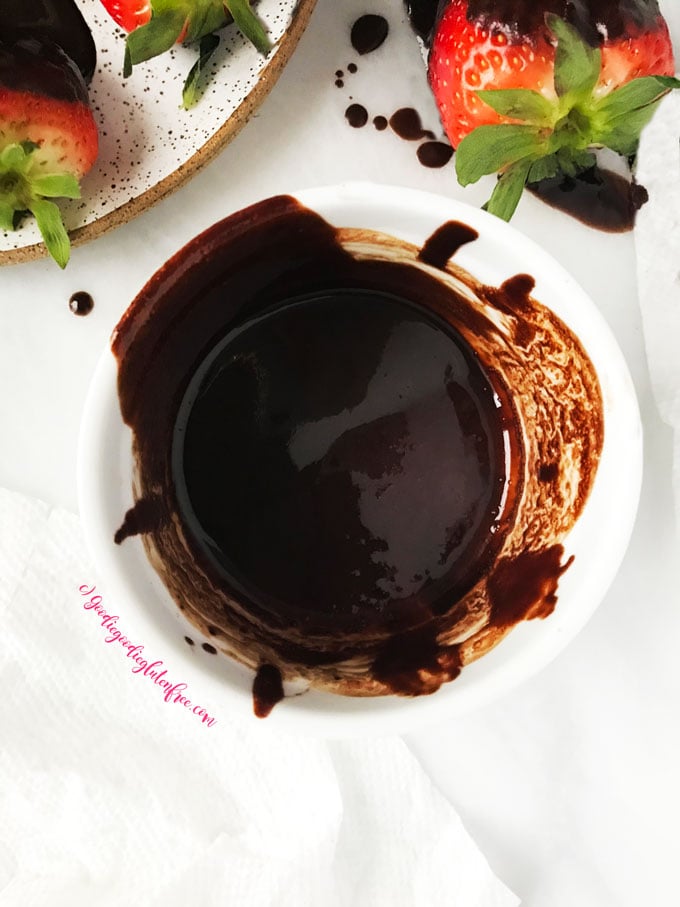 Cocoa powder, coconut oil, and maple syrup.  Pairing the three together in a small bowl and warmed makes an unreal paleo chocolate sauce!  It was simple and full of flavor by using unrefined coconut oil.  These ingredients made the chocolate sauce feel velvety and smooth in texture while tasting full-bodied and rich in flavor as I originally wanted.
The secrets of using coconut oil in chocolate making
If you freeze it, the chocolate will harden within 15 minutes and stay that way
If you leave the chocolate sauce at room temperate in a bowl it will remain a saucy thin consistency as in chocolate fondue
If you drizzle it on anything cold that is at room temperature,  it will harden instantly
Using coconut oil to make chocolate sauce helps to thin out the sauce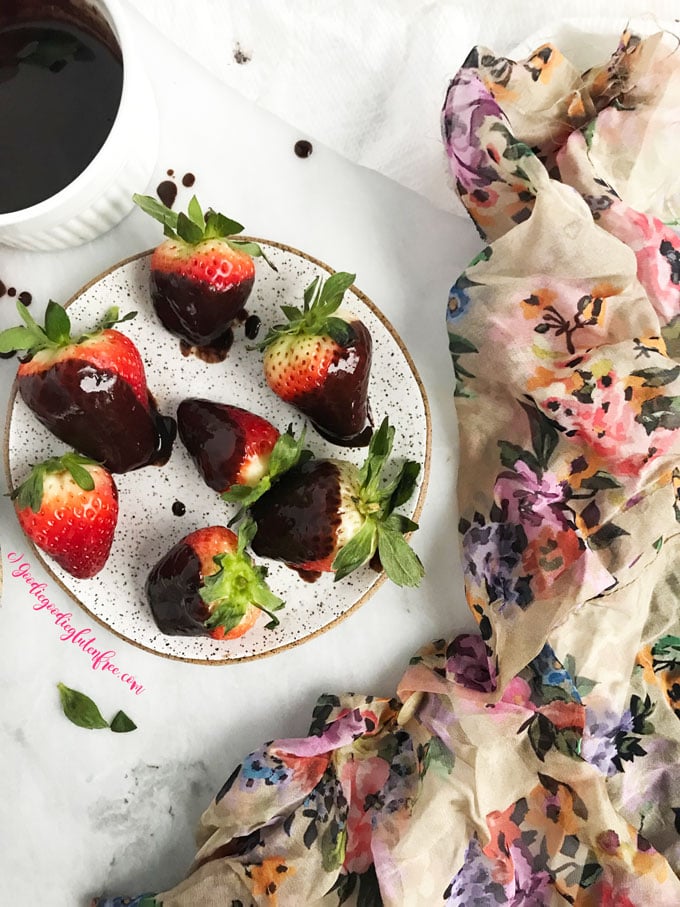 Coconut oil nutrition benefits
Antimicrobial properties
Anti-bacterial
Healthy fatty acid (the good fat)
Reduces sugar cravings
Increases good cholesterol
Unsweetened cocoa nutrition benefits 
Loaded with protein, fiber, and minerals like magnesium, iron, copper, and manganese
More antioxidants than blueberries
Dark chocolate is often discussed with reducing heart disease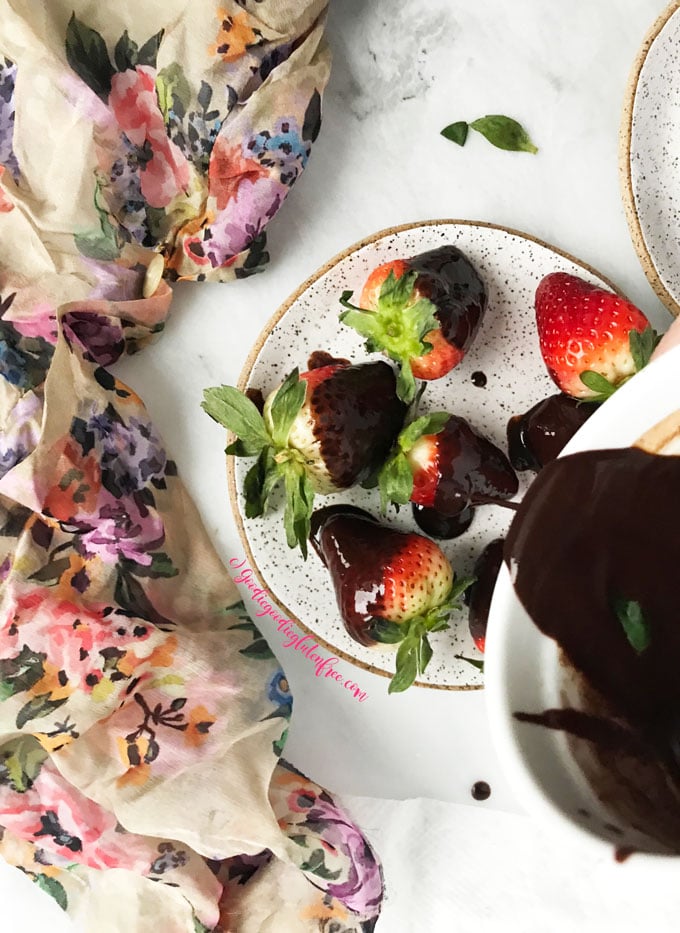 Always dark chocolate!  Here's why:
Anti-inflammatory, heart-healthy, and calorie healthy
This type of chocolate is healthy in small doses unlike its counterparts milk chocolate and semi-sweet chocolate
Less sugar
Closest to the original cacao bean form which means more nutrients!
It won't hurt your tummy or any digestive disorder
You can enjoy a larger quantity as it has much less sugar without major calories and guilt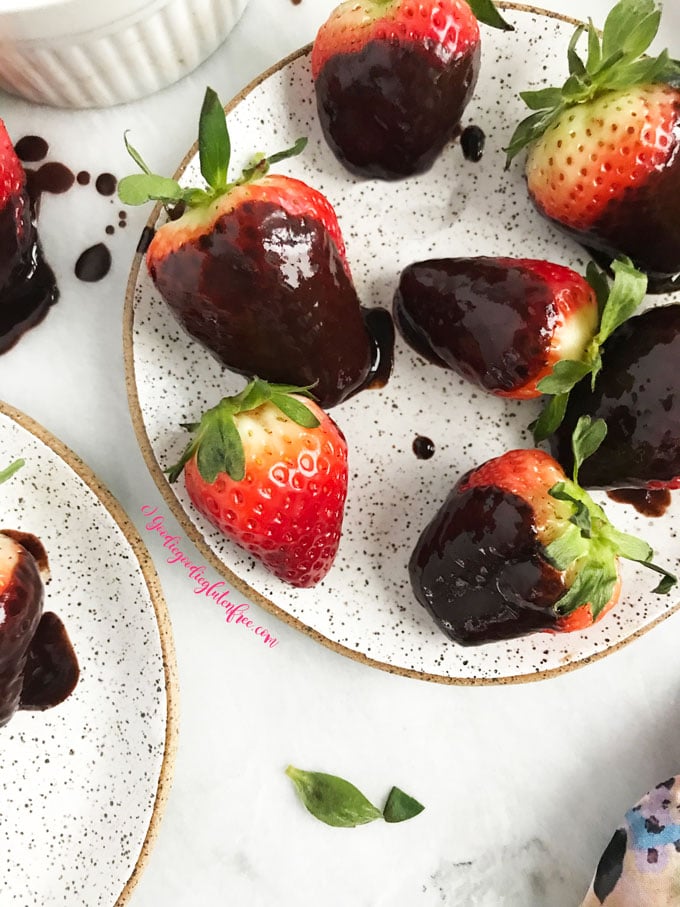 Let's talk maple syrup
There is pure maple syrup which runs around 15$ per bottle, and then there is the processed, non-natural maple syrup that uses high fructose corn syrup, bad sugars, colorings, and additives.  All of my recipes use pure-grade maple syrup.
Pure-grade maple syrup goes a long way.  It is considered an unrefined sugar which means that while it holds sugar it also holds nutrients and vitamins.
Pure maple syrup is digested by the body differently than processed maple syrup which aggravates the body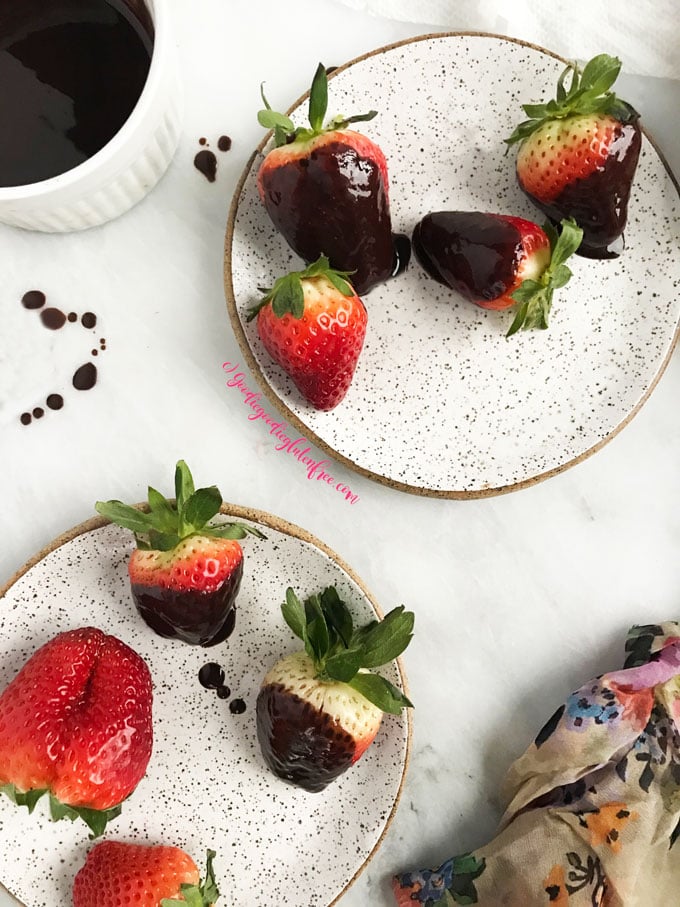 And, P.S. Always choose gluten-free if you have celiac or gluten-related disorders.
If you want to make this recipe candida diet-friendly omit all sugar sources.  It's still delish!
Ready to make beautiful music together?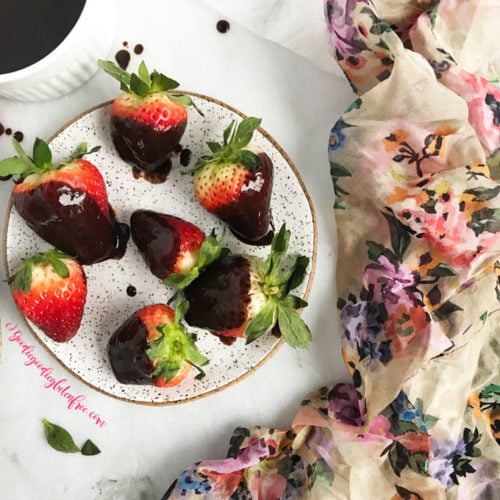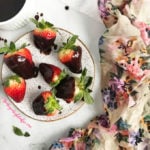 Print Recipe
Paleo 30-Second Chocolate Sauce
Paleo 30-Second Chocolate Sauce!  This chocolate sauce can be made in 30 seconds!  It's easy and delicious.  Sweetened with pure maple syrup, gluten-free, nut-free & vegan too.
Ingredients
1

tablespoon

coconut oil

solid

1

tablespoon

unsweetened cocoa powder

¼

teaspoon

unsweetened cocoa powder

2

teaspoon

dark amber maple syrup

pure

1-2

pints

organic strawberries

with or without stem
Instructions
In a custard cup or small bowl add coconut oil and melt for 20 seconds.

Remove from microwave and add in cocoa and mix till well blended smooth.

Stir in maple syrup and mix again till well blended.
STORAGE
If there is any left put it in the fridge for up to 1 week. When ready to serve again, simply reheat for 20 seconds in the microwave and enjoy it all over again.
For Candida Diet
Omit all sugar and simply combine cocoa powder, and coconut oil
Notes
Do not double this batch.  If you want to make more, make each batch separately
Do not increase the sweetener or decrease it
Do not substitute the sweetener
You can use raw cacao or cocoa powder
I also love this coconut oil
For Candida diets - Omit all sugar and just use cocoa powder and coconut oil
Can't have strawberries?  Try my Hemp Seed Stuffed Dates, Dark Chocolate Dipped Apricots, or these Chocolate Dipped Figs, and if you're looking for something different The Spunky Coconut has the best paleo desserts cookbook that I highly recommend.
Like this recipe?  Pin it!