These Paleo Carrot Cake Bliss Balls are a healthy treat with vibrant carrot and cinnamon flavor, and a soft cake-like texture.  They're packed with protein, fiber, and taste like a decadent dessert!  Paleo, nut-free, vegan, and refined sugar-free too!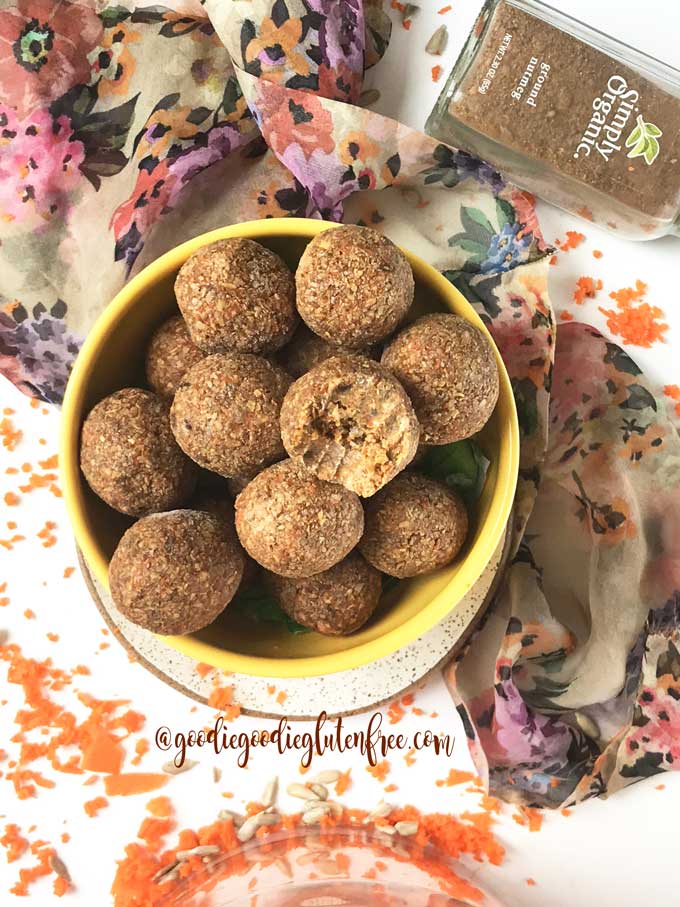 This treat has so many names and can be made so many ways!
Bliss Balls.  Bliss Bites.  Energy Balls.
I had never heard of bliss balls, bliss bites, or energy balls until I went back to school for nutrition.  Once I did I was hooked because these bliss balls are delicious and amazing!  Such a great snack to have on hand.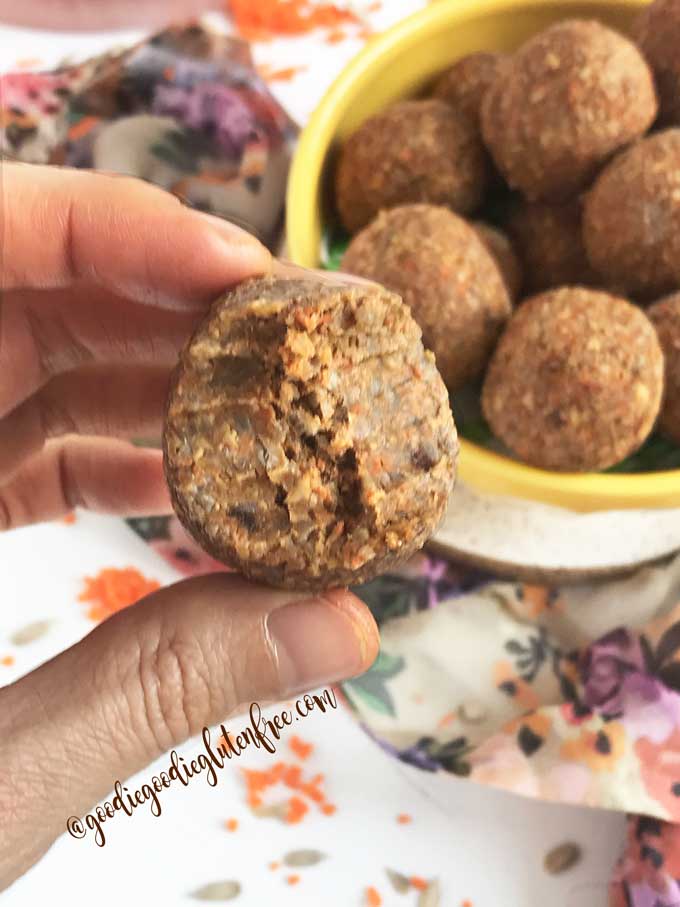 What Are Bliss Balls?
Bliss balls are a simple snack or dessert that packs a punch in nutrients, protein, fats, and fiber.  Nutrients and protein are the reasons that these bliss balls are a pick-me-up.  And they keep you completely satiated because of their protein, fat, and fiber value.  They literally are a perk to my day and an EASY treat to make and have in the house that is free of all my allergens!
Bliss balls are made up of whole plant-based natural ingredients blended together in the food processor and form into little balls of nutrient-dense bliss.  They are stored either in the fridge or the freezer and can be eaten at any time.  I eat these for breakfast, snack-time, and even as a healthy dessert!
Are Bliss Balls Healthy?
YESSSS!  These bliss balls use a handful of natural, organic, whole food, and plant-based ingredients.  Thanks to their seed, coconut, date content they are highly nutrient-dense, loaded with fiber, plant protein, and loaded with healthy fats.  The sunflower seeds used in this recipe are also raw which means more of their nutrients are intact and are easier to digest and contain more nutrients!  Every ingredient inside a bliss ball is an ingredient you'll know, and know where it comes from.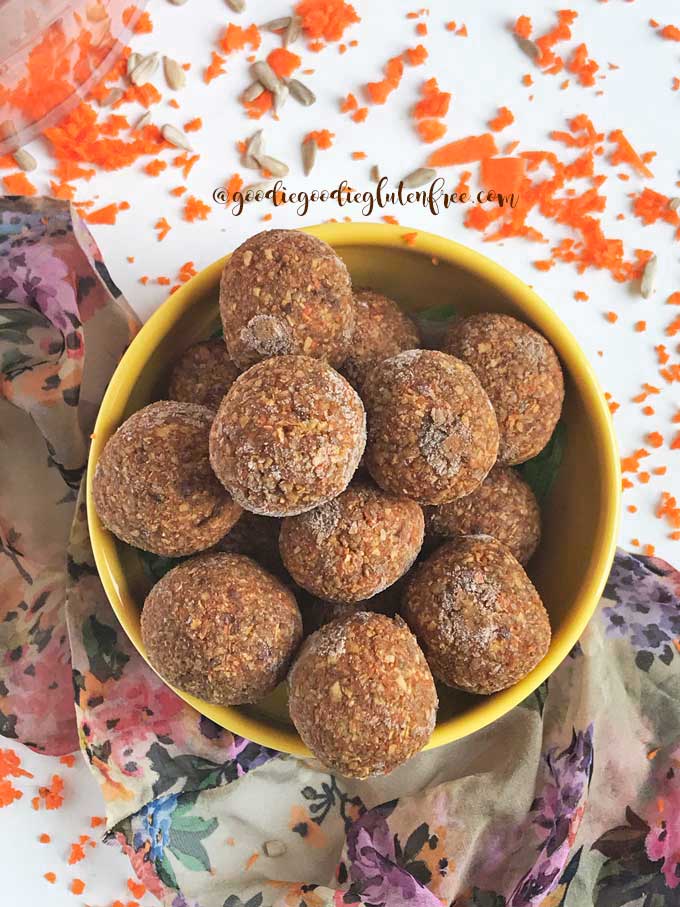 Are Bliss Balls Sugar-Free?
Bliss balls are often only sweetened with fruit like dates and figs.  While others are refined sugar-free using natural sugars like maple syrup, honey, brown rice syrup, or honey.  Some only use dates to sweeten and skip all the other fruit to sweeten.  Natural sugars have actual nutrients that your body needs rather than using white sugar which is stripped of all nutrients.
Some bliss balls contain no sugar.  And some bliss balls contain too much sugar.  I try to use as little sugar as possible when I am making bliss balls for this reason alone.  I want my bliss balls to be enjoyed and not feared as a cheat.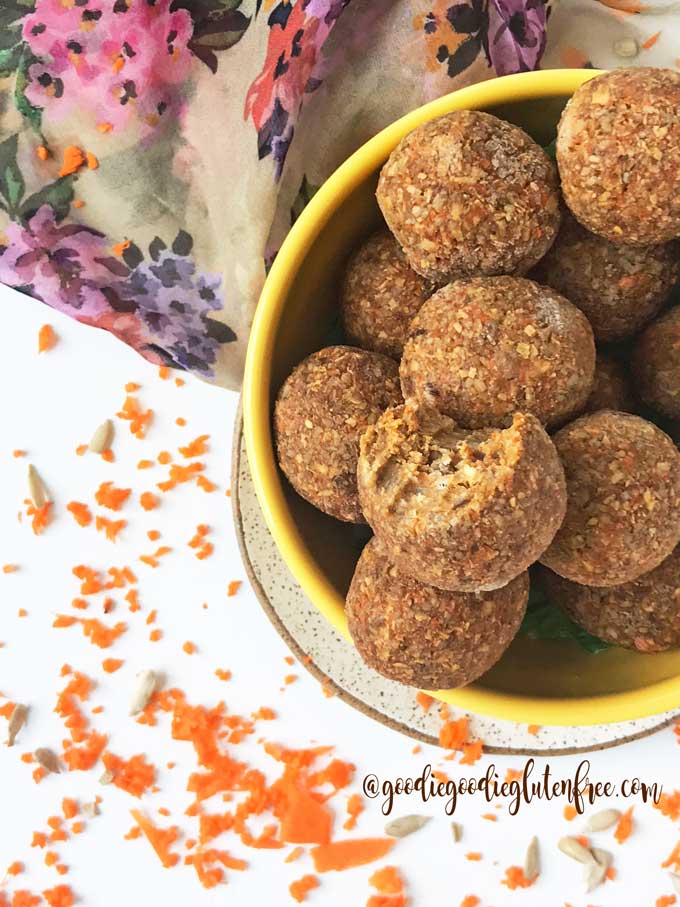 Are Bliss Balls Gluten-Free?
Some are, and some are not.  Always check the label, and always check the recipe.  All of my recipes, and this bliss balls recipe is gluten-free!
Are Bliss Balls Nut-Free?
Not usually.  But over here at Goodie Goodie Gluten-Free?  Heck, YES!  I don't use any nuts in any of my recipes, except one recipe on this site.  Most bliss balls you find in the stores are full of almonds, cashews, hazelnuts, and sesame.  Not here.  I LOVE making nut-free recipes that are just as nutrient-dense as the ones with nuts, and just as tasty.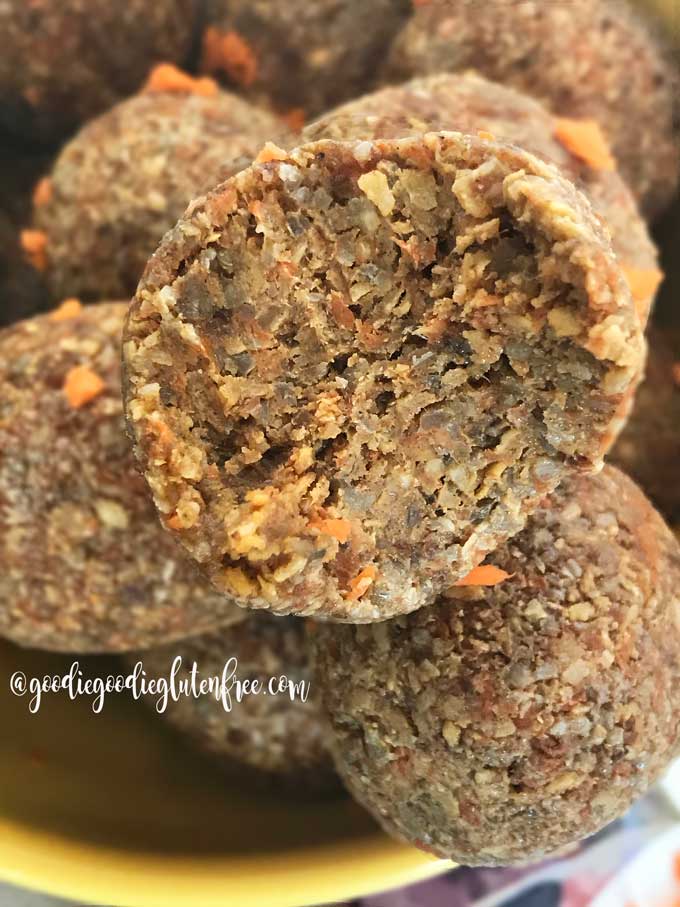 How To Make Paleo Carrot Cake Bliss Balls
One thing I love about bliss balls is that they are so easy to make and pack a punch in nutrients, fiber, protein, vitamins, and minerals at the same time.  I'm talking all you need is a food processor kind of treat!
Another reason I love them is that they are vegan which means they only use plant ingredients.  You create a base (similar to creating a pie crust) that works every time and then you add all kinds of toppings and mix them in.
The secret to making Carrot Cake Bliss Balls taste like carrot cake is the Medjool dates.  Medjool dates are a special kind of date that tastes like caramel.  They are larger than other dates,  juicy, sticky, sweet, and full of powerful nutrients like potassium.  I highly recommend using Medjool dates when recipes call for dates.
Another way to make Paleo Carrot Cake Bliss Balls even tastier is to sub sunflower seeds for oats.  Sunflower seeds bind the mixture together and also provide a sweetness oats do not.
The third best way to make the best Paleo Carrot Cake Bliss Balls is to use more spices than just cinnamon.  While cinnamon is uber important to this recipe so are the spices cardamom, and nutmeg.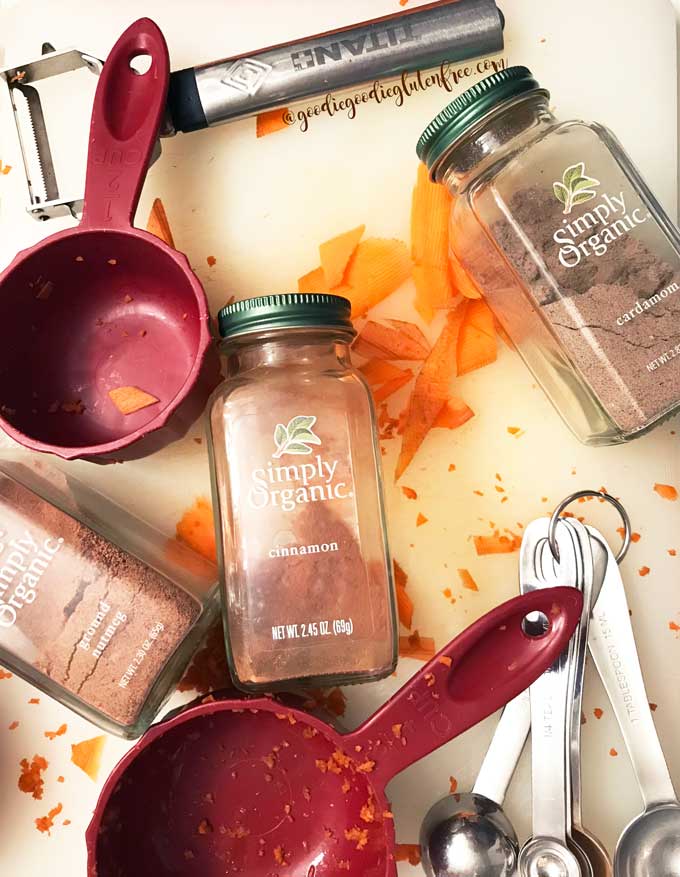 Why Nutmeg?
Heavy in antioxidants
Helps to treat insomnia
Aids in helping digestive discomfort, acid reflux
Known to help detox your body
Good for anxiety
Filled with zinc, copper, potassium, iron, manganese, magnesium, calcium, vitamin A
Rich in B-vitamins like folate and B6
Tastes delicious when paired with cinnamon
Not a nut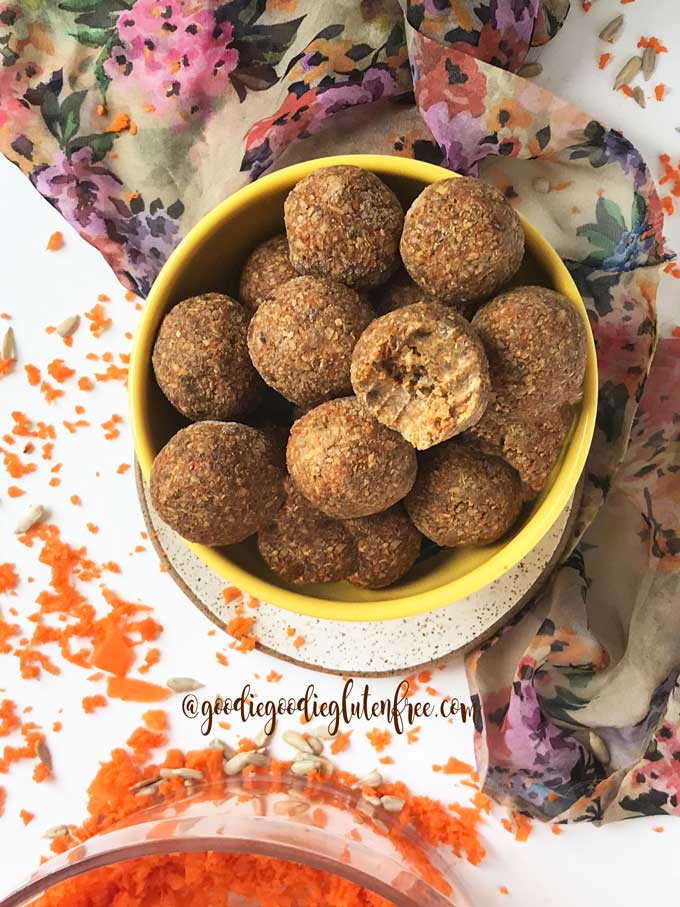 Cardamom has similar properties and has a fruity taste that is perfect for dessert recipes.  And the reason I chose to use all of these spices together is simple: their flavor profiles, their tastes when combined, and their magical healing properties.  Blended in with freshly grated organic carrots make this bliss ball taste like carrot cake without the guilt!
Ways to Enjoy Bliss Balls
Frozen or slightly chilled
Crumbled over yogurt
Used as a granola topping or parfait topping
Added in between layers of chia pudding
Paired with Overnight Oats or a bowl of Oatmeal
Over avocado chocolate pudding
Atop a smoothie bowl or a decadent bowl of nice cream and even a banana sundae
Covered in chocolate or carob
Dipped in a coconut oil glaze from Lee From America's blog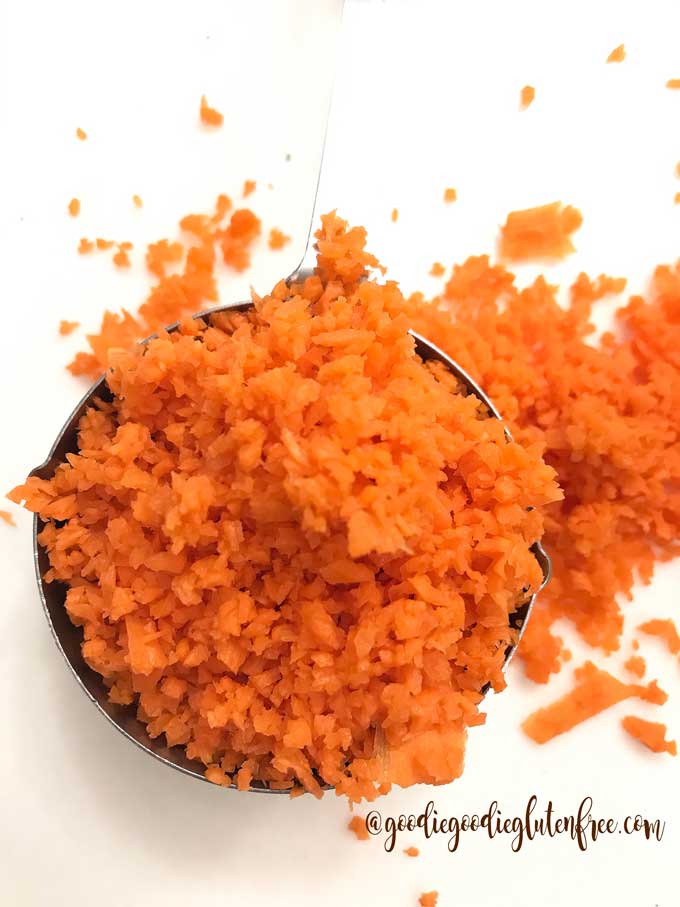 Carrots got you sad?  Try my Lemon Poppy Bliss Balls!
Ready to get this party started?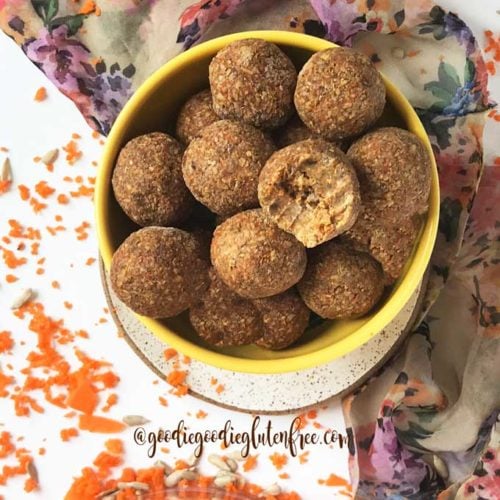 Print Recipe
Paleo Carrot Cake Bliss Balls
These Paleo Carrot Cake Bliss Balls are a healthy treat with vibrant carrot and cinnamon flavor, and a soft texture.  They're packed with plant-based protein, fiber, and tastes like a decadent dessert!  Dairy-free, paleo, vegan, nut-free, and refined sugar-free too!
Ingredients
1

cup

coconut chips

shreds

1 ¼

cup

raw sunflower seeds

1

cup

Medjool Dates

packed, and soaked

1 ½

cups

chopped carrots grated down to ¾ cup

1 ½

teaspoon

cinnamon

½

teaspoon

nutmeg

¼

teaspoon

cardamom

⅛

teaspoon

sea salt or pink salt
OPTIONAL:
1

tablespoon

maple syrup

dark amber
Instructions
First, soak Medjool dates in hot water for 15 minutes, pitted

Grate your carrots.  In a food processor pulse 1 ½ cups of chopped carrots and pulse them on high until grated. This is an essential step to making your Bliss Balls amazing!

Pulse together the coconut chips, and sunflower seeds in a food processor for about 1 minute or until the mixture is a fine meal.

Then mix in ¾ cup grated carrots, cinnamon, cardamom, salt, nutmeg, and pulse for 15 seconds.  Add in maple syrup, and Medjool dates and pulse until a sticky dough forms. 

Using your hands roll into bite-sized balls and place on a baking pan lined with parchment paper.

Then store in the freezer for at least 3 hours before serving.

When you are ready to eat let bliss balls sit out to defrost for 1-3 minutes and enjoy. Stores well in the freezer for up to 1 month or longer.
Notes
How you grate your carrots do matter!  We don't want chunks here.  WE want finely grated carrot.

You may have to open the lid and with a spatula move the dough around, and scrape the sides and pulse again, and again till well blended.

If your food processor cannot handle the size simply cut your dough in half and pulse half at a time and then combine the two into your dough for rolling.

If you find your dough is not sticky enough, add a date or two.

Make sure you are using Medjool dates, they are juicy and extra moist and have a caramel-like flavor.

If you want these to be completely added sugar-free than omitting the maple syrup.  you totally do not need it, I love it without the maple syrup too.
Because these bliss balls use carrots that are raw these can only be kept for about 2 weeks in the freezer.
Love & Carrot Cake Bliss Balls!