This dreamy Carrot Cake Moon Milk is a tasty bedtime Ayurvedic tonic made to help you relax, and sleep.  Sweetened with pure maple syrup, cinnamon, nutmeg, and cardamom to help you wind down after a long day!  Dairy-free, refined sugar-free, nut-free, and paleo-approved!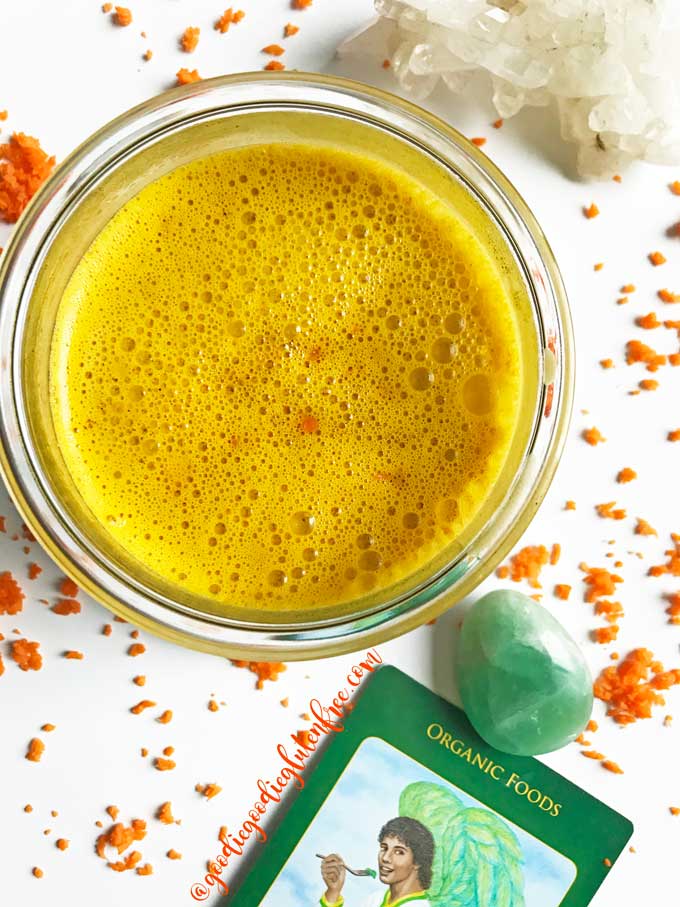 I never woke up out of bed and thought I'd make Carrot Cake Moon Milk.
This recipe came to fruition when I accidentally ordered too many carrots from Whole Foods.  I knew I couldn't let ALL those carrots go to waste.  I couldn't even possibly eat that many carrots that quickly.  My mind immediately went to carrot cake.  I came up with 3 recipe ideas: a paleo bliss ball recipe, a raw slice recipe with maple glaze, and lastly this Carrot Cake Moon Milk recipe.  3 totally different recipes that ALL taste like REAL DEAL CARROT CAKE!  This moon milk recipe tastes like a slice of carrot cake and a warm cup of milk, it's absolute perfection for the carrot cake lover.  It's cozy, warming, and healing all at the same time.
What is Moon Milk?
Moon milk is an ancient Ayurvedic tradition of drinking warm milk with healing spices before bed to help your body unwind, calm down, relax, reduce stress, warm your heart, warm your soul, and help you get ready for dreamy dreams.  Through social media, especially Instagram, Moon Milk has gained popular attraction from the wellness scene both in California and Bali.  Superfood powder companies have emerged worldwide with all kinds of naturally flavored superfood powders that pack a punch in nutrients like purple potato, pink Dragonfruit, red beet, and blue butterfly pea.  Because of social media, Moon Milk has made a widespread appearance as a popular naturally relaxing drink that is a must for every age!  And just like green smoothies and green juices - Moon Milk is the latest healthy health trend.
The great thing about Moon Milk, green smoothies, and green juices?  They are all super healing, and healthy!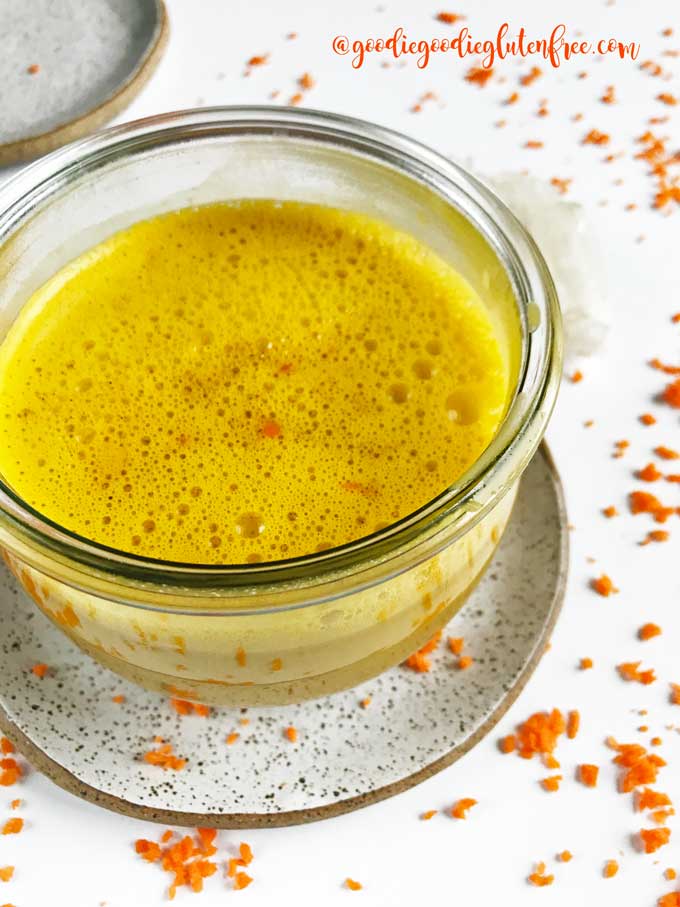 Usually, Moon Milk consists of warming up milk and blending in functional healing spices designed to naturally help you relax.  You can make it on the stove by simmering your choice of milk and then adding your spices, or you can make your Moon Milk in the microwave by heating it up and mixing the spices in with a fork or blending the tonic in a food processor and warming it after.  There are many ways to make Moon Milk suit your needs.  In our case here on Goodie Goodie Gluten-Free, we use plant-based milk.  Plant-based milk reduces gut inflammation and has the same calming effects as drinking warm cow's milk.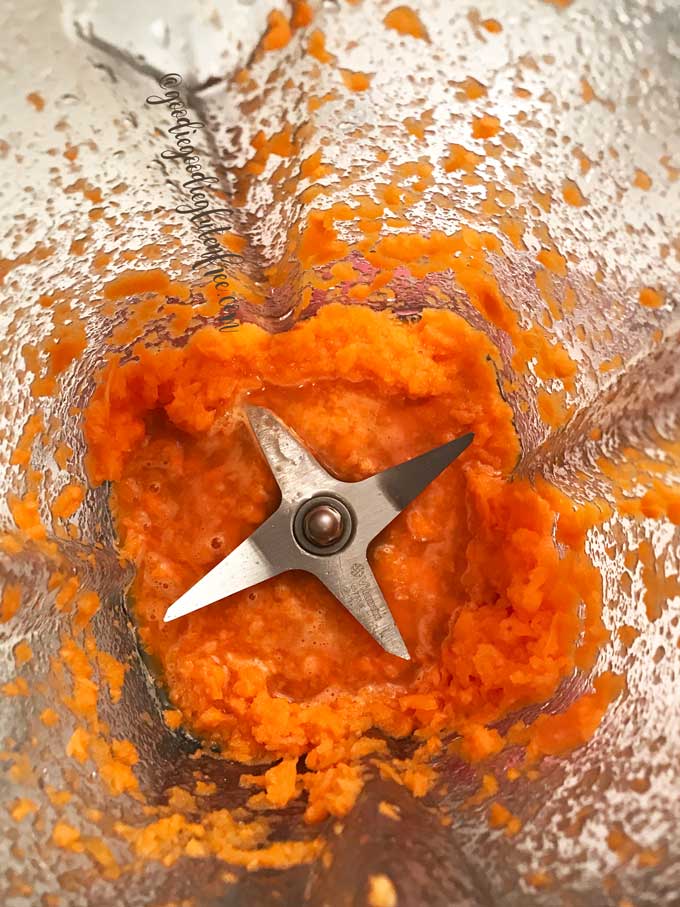 Can I Flavor My Moon Milk?
Of course, you can!  That's the best part.  Making Moon Milk in itself is a lovely little stress-relieving ritual.  You'll get lost in making something healing for yourself.  You can use any superfood powder you want, any type of non-refined sugar, and any plant milk you want, plus a medley of healing spices.  The design and flavor are all up to you when you make your own creation.  This Carrot Cake Moon Milk tastes exactly like a slice of carrot cake.  The flavor is warming and loving.
Carrot Cake Moon Milk Nutrition Benefits
Anti-inflammatory due to healing spices cinnamon, nutmeg, turmeric, and cardamom.
Anti-bacterial, and anti-fungal also due to the healing spices cinnamon, nutmeg, cardamom, and turmeric.
Loaded with vitamin A!
Full of healthy fats.
Moon Milk Tips
If plant-based milk is not your thing and you want to use dairy, you can use that too. (However, know that dairy creates mucus, creates inflammation, and causes health issues which is the opposite purpose of Moon Milk, so consider this when you are making this drink and choosing the type of milk you want to use.
Also, consider your sugar source.  Moon Milk is intended to aid in your healing and too much sugar or the quality of sugar you use, matters.  I love to use pure grade maple syrup.
Moon Milk means bedtime.  Moon = evening.  I highly suggest drinking this an hour or two before bedtime.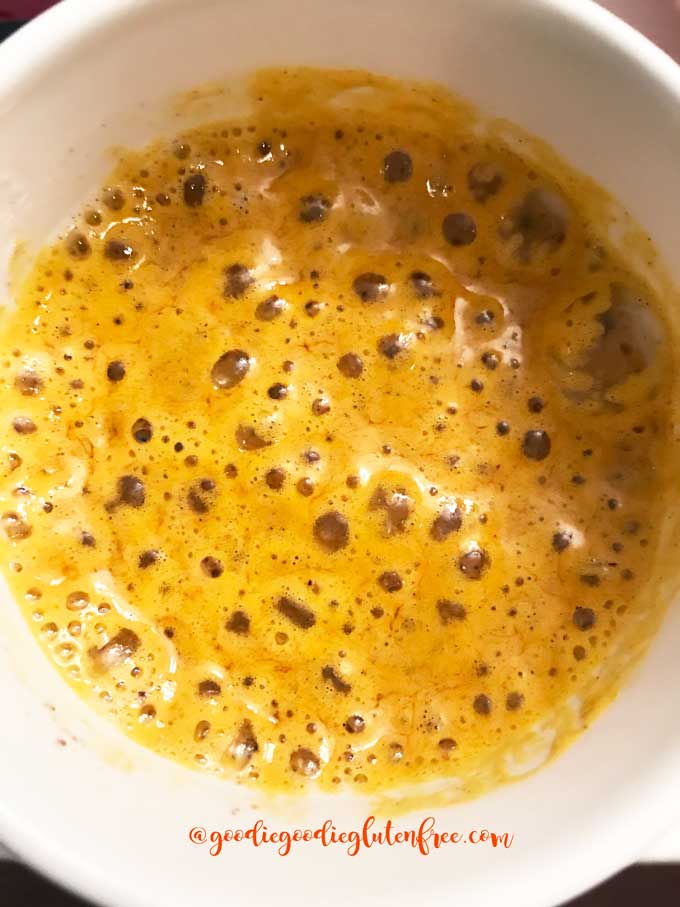 What Is Ayurveda?
The concept of Ayurveda is to treat the whole body holistically.  And it was developed over 3,000 years ago in India.  As Web MD states, "It's based on the belief that health and wellness depend on a delicate balance between mind, body, and spirit.  The main goal is not to treat disease, but to promote both health and balance.  It is believed if the body is in an Ayurvedic state then the disease is harder to achieve." In the U.S. this treatment is considered alternative medicine and not mainstream medicine.  And the energy of Ayurvedic living is that everything is connected.  If your mind, body, soul are in harmony with the Universe then your health will not be compromised.  When that balance is disrupted is when you get sick.
While I do not practice an Ayurvedic lifestyle, I really love the concept of Moon Milk and the blending of spices for healing.  As I sip this drink I can literally feel the anxiety peel away and strip off of me as I sip into this warming cup of cozy.  I find it's healing benefits intriguing, interesting,  fun, and beneficial.  And I think you'll love this carrot cake moon milk for that reason too.  Plus the carrot flavor is unreal!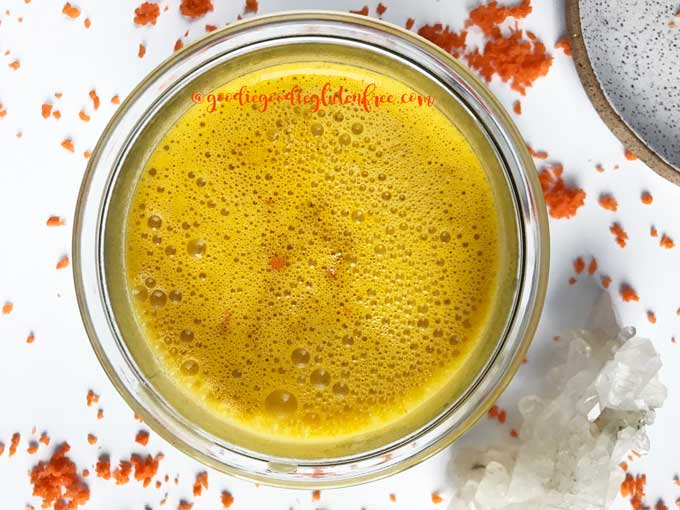 Ready to rock n roll?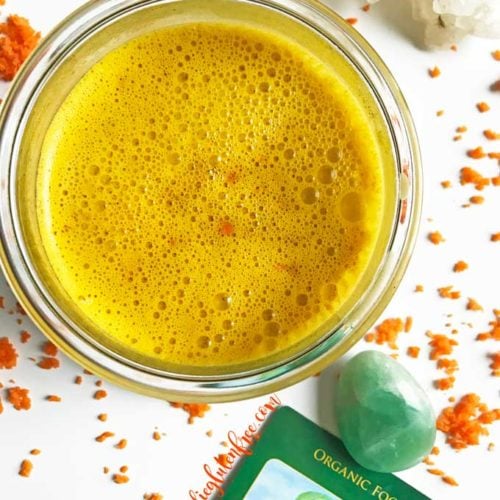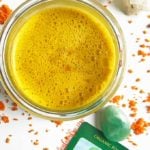 Print Recipe
Carrot Cake Moon Milk
This dreamy Carrot Cake Moon Milk is a tasty bedtime Ayurvedic tonic made to help you relax, and sleep.  Sweetened with pure maple syrup, cinnamon, nutmeg, and cardamom to help you wind down after a long day!  Dairy-free, refined sugar-free, nut-free, and paleo-approved.
Equipment
food processor

Microwave or Stovetop
Ingredients
2

large

organic carrots

peeled

¼

cup

water (to make the carrot juice)

plus a bit extra water

1 ¼

cup

coconut milk or your choice of plant milk

¼

cup

carrot juice

2

tablespoon

carrot juice

1

tablespoon

coconut butter

1

scoop

collagen powder, unflavored

2

tablespoon

pure maple syrup

¼

teaspoon

cardamom

¼

teaspoon

nutmeg

½

teaspoon

cinnamon

2

pinches

pink salt or sea salt

1

pinch

turmeric (for color)

1

dose

CBD Tincture
Instructions
HOW TO MAKE THE CARROT JUICE

In a high-speed blender blast together the water with the carrots until you create a liquid mixture that is well blended.

Strain mixture over a bowl with a nut-milk bag, discard pulp. Refrigerate juice while not in use.

When ready to use measure out ¼ cup + 2 tablespoons.

HOW TO MAKE THE MOON MILK

Together in a high-speed blender add the carrot juice, cardamom, nutmeg, cinnamon, salt, milk of choice, collagen powder, coconut butter, turmeric, and blast on high till well blended.

Pour into a microwaveable mug, add the maple syrup and stir. Heat moon milk in the microwave for 1 ½ minutes. Remove and stir again. *Note that the mixture will look totally different than before it went into the microwave. This is normal. That's the maple syrup. You can serve it now or...

MOON MILK FROTH OPTION

FROTH OPTION: Stir again and add back to blender and blast on high for the foamy bubbles and froth. Once blasted for about 30 seconds, pour into a mug, and add your favorite CBD tincture dose and enjoy.
Notes
If you don't want to make pure carrot juice, you can buy it.  Just make sure it doesn't have any added sugar.
If you are Vegan omit the collagen powder or use a vanilla plant-based protein powder of choice or plant collagen if workable, or add an additional teaspoon of coconut butter.
This can easily serve two people, or if you want it all to yourself it also serves 1.
More Moon Milk Recipes