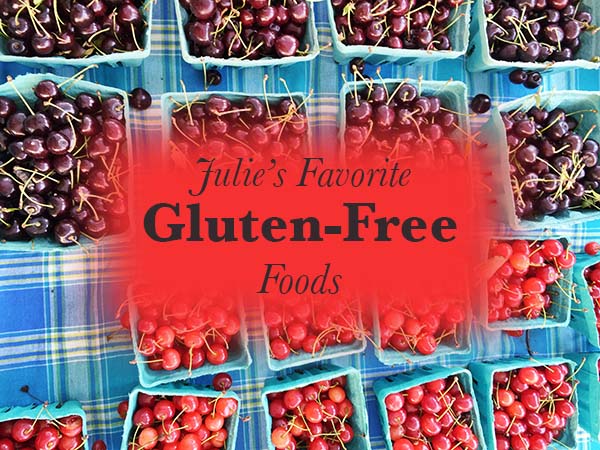 When I was originally diagnosed with Celiac Disease in 2006 it was pretty slim pickings in the gluten-free foods department.  I understood what gluten was doing to my body, but I was completely flabbergasted as to how I was going to give my pantry a complete makeover and switch all my products overnight and not feel deprived.
YIKES!
The Westerly Market in Manhattan, at the time had an abundance of gluten-free products. They were known for that, so that's where I went.  I remember standing in the narrow tiny aisle thinking O-M-G.  There were so many options, and I was so new to this diet I felt overwhelmed.  What was I even looking at, which products were the best, which tasted better, which had better ingredients.  I didn't have a guide so I had to experiment all on my own.  It was both fearful and exciting!
I even remember to this day just how HEAVY those bags were walking down the streets of Manhattan as if I had so much weight on my shoulders.  And in a way I did, not only physically but emotionally and mentally as well.  As we all know it is damn hard to create a shift that big and not get overwhelmed by it.  And If you are feeling this way, don't sweat it! It's natural.  : )
Side note: Bread Story:
I held off on gluten-free bread.  I had heard that gluten-free bread was disgusting, and that finding a suitable bread option in the gluten-free department was going to be hard.  So I did everything in between and left the bread out.  I didn't need bread anyways!  So I gave up sandwiches.  I'll tell you, I didn't try gluten-free bread for a couple of years!  Can you believe the silliness?  I finally did when Katz Gluten-Free sent me a huge box of their products to review on my blog way back when.  I remember thinking, oh no, I'm going to have to try gluten-bread and it's going to be gross and how am I going to write about it on my blog (blogspot at the time).  But I was instead BLOWN AWAY.  I couldn't believe how delicious this bread was, how it tasted just like the original spongy bread I was so used to and actually missed.  Katz Bread completely changed my view on gluten-free bread being bad.  It's just simply not true!
Like any product you try, food tasting is the same across the board when the wheat and gluten is removed.  It's NOT going to taste the way it used to, the texture WILL be different, you WILL have to taste all kinds of products until you find the one your palate and body loves, and the entire experience WONT feel the same as it did before.  But not in a bad way.
One of the most important things I learned is that not all gluten-free foods are created equal. This goes for ingredients AND quality AND taste!  What your Celiac sister may love, you may hate.  But that goes with everything in life, it's why God gave us the ability to make our own decisions and form our own opinions.
The same goes for regular wheat non-gluten products.  Some are just plain nasty.
The exciting part of this journey is that you are creating your life, you are building your future, you are taking care of your body – even if it's hard throughout the entire process.  But it does get easier, you get savvier and you will learn to notice the difference between what works and what doesn't.  When your body says "YES!!! Give me some more please!! to when your body says "NOOOOOO nasty, vile disgusting!".
I'll tell you that there are some gluten-free products out there – actually quite a lot!! that are so above and beyond delicious that most cannot believe they are gluten-free.  And then there are many products that are naturally gluten-free that are just plain amazing!  But like dating, there are also a LOT of gluten-free toads. Make it your mission, the quest that you owe to yourself to jump in and find what works best for your body in taste and quality so you can live your best life.
As a side note – In the last three years I have drastically reduced the amount of food from a box that I eat.  In fact, 80% of what I eat is made from scratch.  This has been a personal choice driven by medical reasons and instead I stick to a clean diet.  However, there are those times when even I am in a pinch!  So if that is you, or you need a bit of guidance, or are new to the gluten-free lifestyle, or just want to try something new, I have compiled a list of my "over the years" favorite gluten-free products!  #Legworkdone
Baking Mixes
Vanilla Cake Mix:
Wholesome Chow – Organic Gluten-Free Vanilla Cake Mix
123 Gluten-Free Yummy Yellow Cake Mix 
Chocolate Cake Mix:
Wholesome Chow – Organic Gluten-Free Chocolate Cake Mix  
My Grandpa's Farm Organic Gluten-Free Chocolate Cake Mix 
Lavender Cake Mix: 
Wholesome Chow – Organic Gluten-Free Lavender Chocolate Cake Mix 
Pumpkin Spice Cake Mix:
My Grandpa's Farm Organic Gluten-Free Pumpkin Spice Cake Mix 
Frosting Mix:
Wholesome Chow – Organic Gluten-Free Vanilla Frosting Mix
Cookie Mix:
King Arthur Cookie Mix
Brownie Mix:
King Arthur Gluten-Free Brownie Mix 
Sugar Cookie Mix:
123 Gluten-Free Lindsay's Lipsmackin' Sugar Cookie Mix 
Pamela's Products Sugar Cookie Mix 
Pancake Mix:
Pamela's Products Baking & Pancake Mix 
Bisquick Gluten-Free Pancake Mix 
Kinnikinnick Gluten-Free Pancake & Waffle Mix 
Carrot Cake Mix:
My Grandpa's Farm Organic Carrot Cake Mix
Alternative Flours & Thickeners:
All Purpose Flour Mix
Bob's Red Mill All Purpose Gluten-Free Flour 
Cassava Flour:
Otto's Cassava Flour
Tigernut Flour
Organic Gemini Tigernut Flour
Baking Powder:
Bob's Red Mill Aluminum Free Gluten-Free Baking Powder
Xanthan Gum:
Bob's Red Mill Premium Xanthan Gum
Arrowroot Starch:
Bob's Red Mill Arrowroot Starch
**There are a bunch of other Gluten-Free flours I love and bake with, but they were not available online.
Other Baking Needs:
Liquid Stevia:
Nu Naturals Liquid Pure Stevia, Alcohol Free
Carob Powder:
Chatfield's 100% unsweetened Carob powder
Cocoa Powder:
Hershey's – unsweetened 100% Cacao powder
Chocolate Baking Chips:
Enjoy Life Gluten-Free Dark Chocolate Baking Chips
Oats
Oats:
Bob's Red Mill Gluten-Free Quick Cooking Oats
Bob's Red Mill Gluten-Free Old Fashioned Rolled Oats 
Chocolate Bars
Chocolate:
Head Over to Gluten-Free Chocolate Bars I love Post 
Also Hu Kitchen, Enjoy Life, Lilly's Chocolate, Pascha
Sweets and treats 
Brownies:
Pure Genius Protein Brownies & Blondies
Frozen Donuts:
Kininninick Gluten-Free Cinnamon Sugar Donuts
Cookies:
Tate's Bake Shop Gluten-Free Chocolate Chip Cookies
Enjoy Life cookies – all varieties – kids love them!
Dairy Alternative Ice Cream:
So Delicious Gluten-Free Coconut based Ice Cream
Dairy Alternative Sorbet:
Sharon's Coconut Sorbet – Chocolate
Breads, Bagels, Pasta's and More
Bagels:
Sweet Note Bakery Bagels: Plain, Sesame, Poppy, Cinnamon Raisin, Everything Bagel
Udi's Whole Grain Gluten-Free Bagel
Canyon Bakehouse Everything Bagels
Hot Dog & Hamburger Buns:
Canyon Bakehouse Hamburger Buns
Udi's Classic Hamburger Buns
Udi's Classic Hotdog Buns 
Pasta:
Banza Chickpea Pasta (Each box goes for about 6-7$ – this comes in a bundle)
Le Venezian Italian Fettucee Corn Pasta
Breads:
Katz Gluten-Free Whole Grain Bread
Katz Gluten-Free Slice Challah
Bread Mixes:
Luce's Gluten-Free Artisan Bread Mix 
Luce's Gluten-Free Artisan Bread Mix "Really Rye"
Soft Tortillas:
Foods For Life – Brown Rice
Snacks: Crackers, Chips, Pretzels & More
Nut Butters:
Once Again Cashew Butter
I adore this brand for all nut butters including: Almond and Peanut.  I also love this brand for Seed butters like Sunflower and Tahini.  I prefer the sugar-free and salt-free versions.
Seed Butters:
Sunbutter Sunflower Seed Butter
Coconut Butter:
Ziggy Marley Organic Coconut Butter
Crackers:
Absolutely Gluten-Free Flatbread-original
Lundberg Brown Rice Cakes 
Mary's Gone Crackers – original
Crunch Master Multi-Seed Crackers-original
Orgran Buckwheat Crispbread
Le Pain Des Fleurs Buckwheat Crisps 
Doctor in the Kitchen Flackers Flaxseed Rosemary Crackers
Pretzels:
Glutino Gluten-Free Pretzels
Glutino Chocolate Covered Pretzels
Chips:
Simply 7 – Lentil Chips
Bars:
Nu Go FREE Bar – Dark Chocolate – Trail Mix
Condiments:
Soy Sauce:
Gluten-Free Tamari soy sauce packets 
Coconut Aminos by Coconut Secret  (soy free "faux" sauce)
Coconut Oil:
Ziggy Marley Coconut Oil
Non-Dairy Alternatives:
Non-Dairy Milk Alternative:
So Delicious – Coconut Milk Unsweetened
So Delicious – Coconut Milk Regular
Good Karma – Flax Milk Unsweetened
So Delicious – Lite Coconut Culinary Milk
So Delicious – Full Fat Coconut Culinary Milk
Organic Gemini – Tigernut Milk – Unsweetened 
Suzie's – Quinoa Milk –Unsweetened
(**I usually make my non dairy milks (tigernut, hemp, gluten-free oat, quinoa, pumpkin seed)  from scratch with the exception of coconut milk and flaxseed milk, but on the off chance that I need to buy them, the brands above are the ones I support.)
Non-Dairy Yogurt Alternative:
Anita's Creamline Coconut Yogurt
Specialty Other: 
Matzoh:
Yehuda Gluten-Free Matzoh Squares
Candy Canes:
Spanglers Peppermint Gluten-Free Candy Canes
Licorice:
Orgran Molasses Black Licorice
**Some Affiliate links were used for this post
Enjoy!!!
Love & Gluten-Free,