This carrot cake slice is the perfect sweet confection! It's made with a maple glaze, is refined sugar-free, and doesn't require an oven! This dessert is a no-bake, vegan, gluten-free, dairy-free, egg-free recipe made with oats, coconut, sunflower seeds, and warming spices like cinnamon, and nutmeg.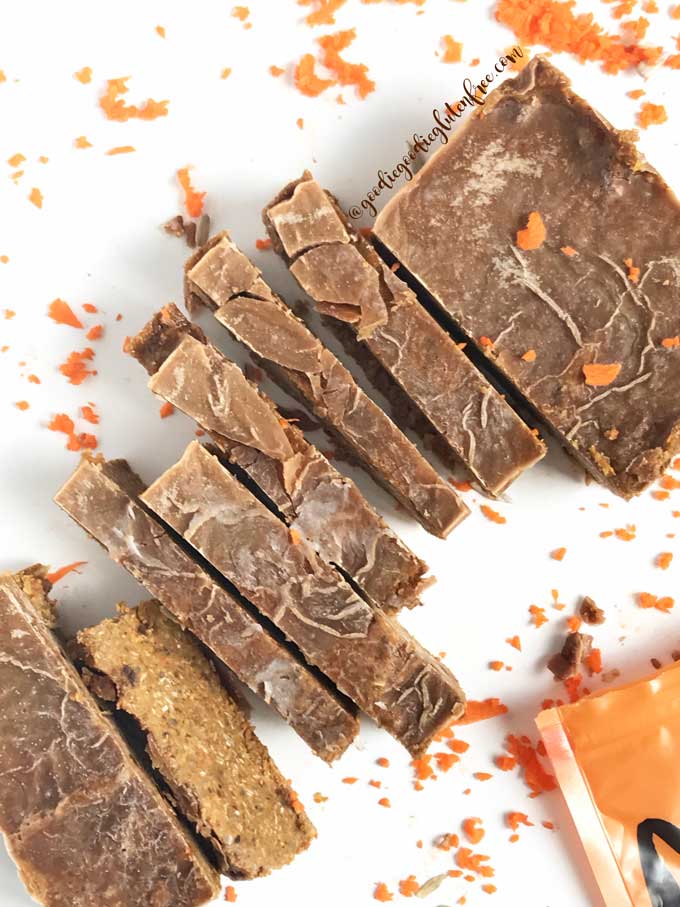 Addictive.  Dreamy.  Dense.  Delicious.  If I had four words to describe this no-bake Carrot Cake Raw Slice with Maple Glaze, those would be it.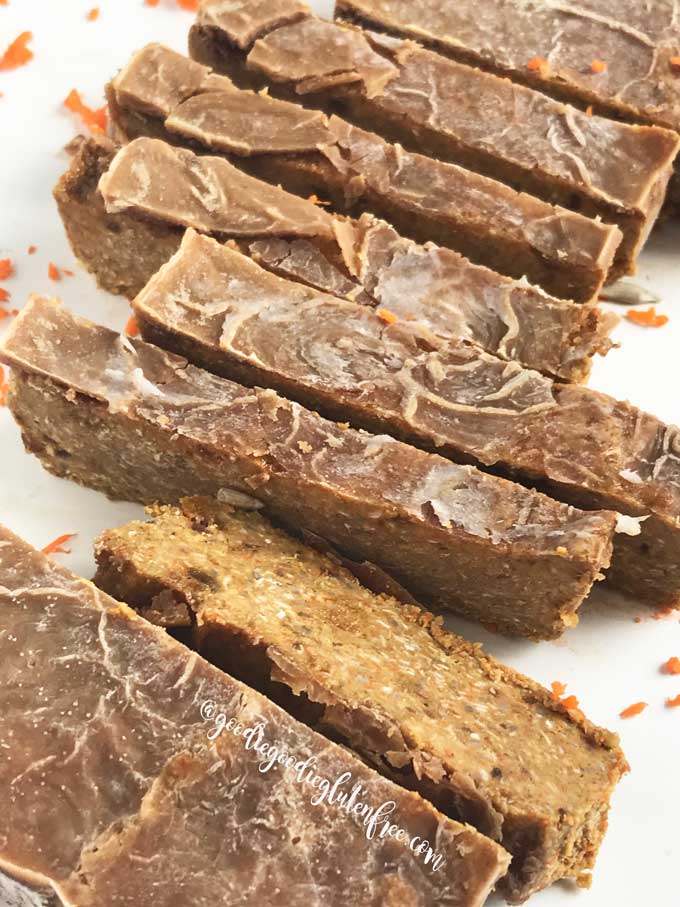 You only need a handful of natural ingredients such as certified gluten-free oats, coconut chips, sunflower seeds, nutmeg, cinnamon, dates, vanilla, and CARROTS!
The best part?  NO oven required!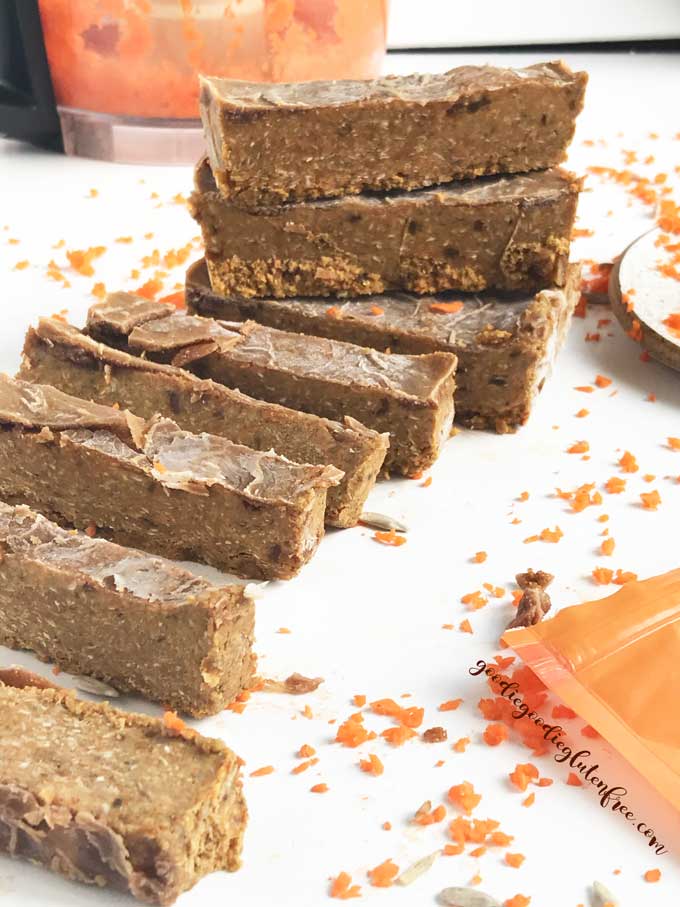 I'm a bit obsessed with carrots lately and the only reason is that I over-ordered carrots during the pandemic accidentally and decided there was no way I was going to waste them.  Instead, I took on the challenge to create 3 carrot cake recipes.  I knew I wanted to do a carrot cake slice, a carrot cake bliss ball, and my last inspiration came in the form of a dreamy sleepytime tonic carrot cake moon milk!  And yes, they are ALL equally different, and equally delicious using minimal ingredients.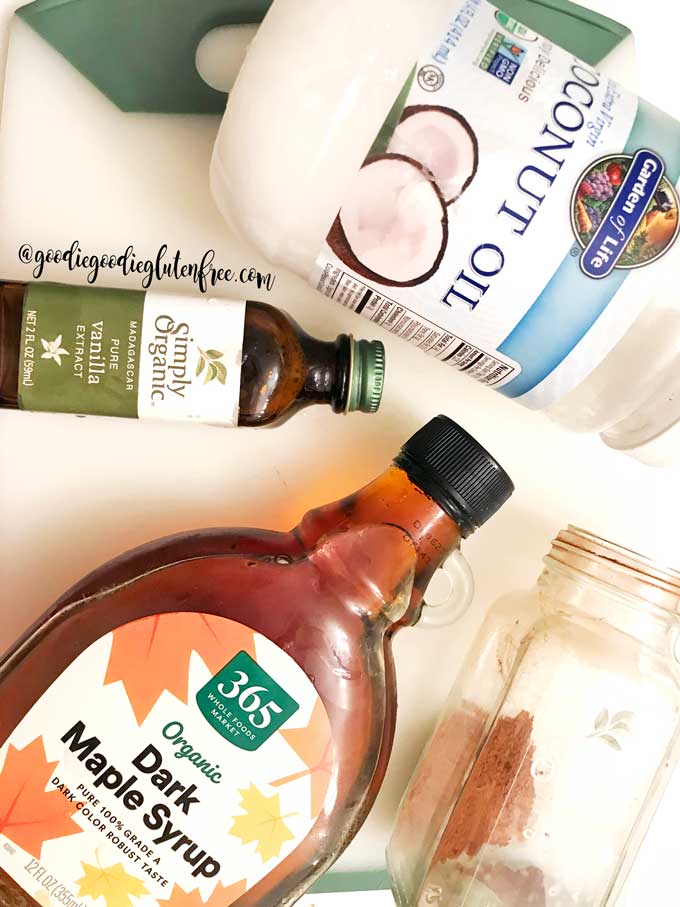 If you can believe it, I don't even like carrot cake.
Carrot cake is a last resort right next to raisins, prunes, and vanilla ice cream.
But this slice is addictive!  It tastes exactly like biting into a piece of carrot cake with sugary frosting.  The resemblance is unreal.  It's the right amount of sweet, and the right amount of salty finished with a maple cinnamon glaze.  It's epic.  The glaze on top is the most perfect layer of sweetness ever!  It's incredible!
I never knew carrot cake could taste this good!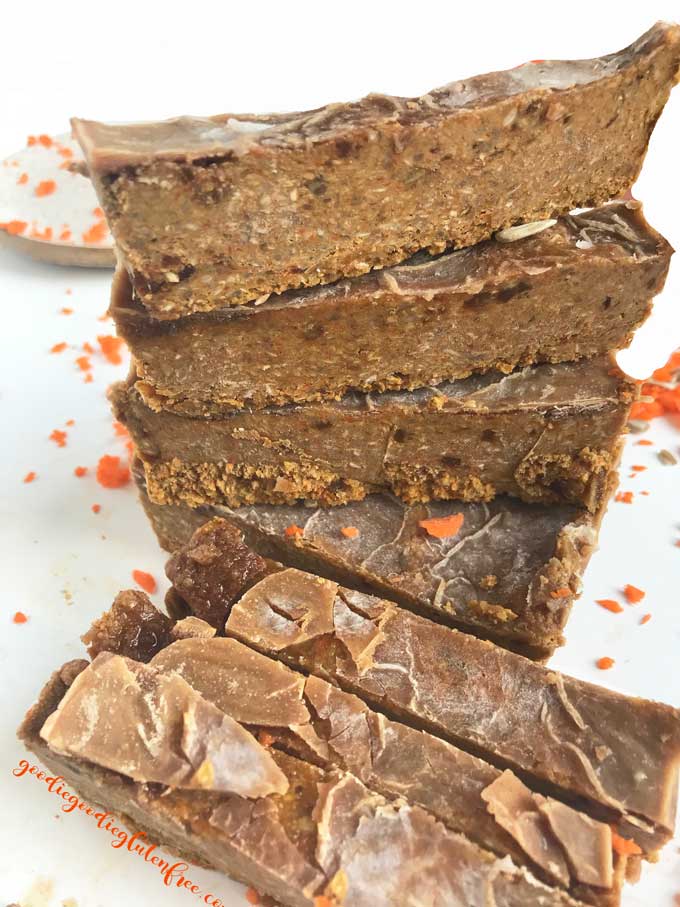 The Best Part About a Raw Carrot Cake Slice
These are no-bake, meaning no oven!
The ingredients are whole food, plant-based, and raw which means the nutrients are more intact than ever and are easier to digest.
So easy to make!
Refined sugar-free ONLY
Nutrient-dense & high fiber
Filling and satiating
All you need is a freezer and a food processor
Makes many at once so you have dessert for the week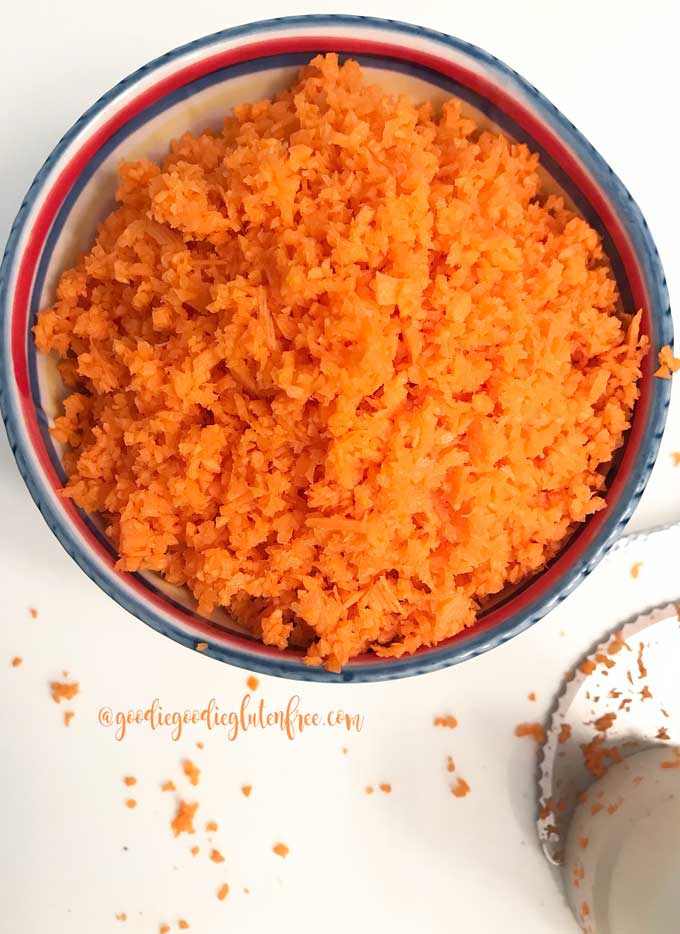 What Are Raw Slices?
Raw Slices are made up of whole food plant-based natural ingredients blended together in the food processor to form a sticky dough that gets transferred to a bread loaf pan, put in the freezer, and later cut into slices.
A raw slice, otherwise known as a no-bake dessert is a simple healthy dessert or snack that packs a punch in nutrients, protein, healthy fats, and fiber all blended together into the shape of a loaf.  Raw slices use natural ingredients and natural ingredients alone.  Nutrients and protein are the reasons that these carrot cake raw slices are a pick-me-up.  They provide a burst of energy because of their high nutrient-dense profile.   They are stored in the freezer and can be eaten at any time.
I eat raw slices for dessert, a healthy snack, and even sometimes for breakfast with my morning camomile tea.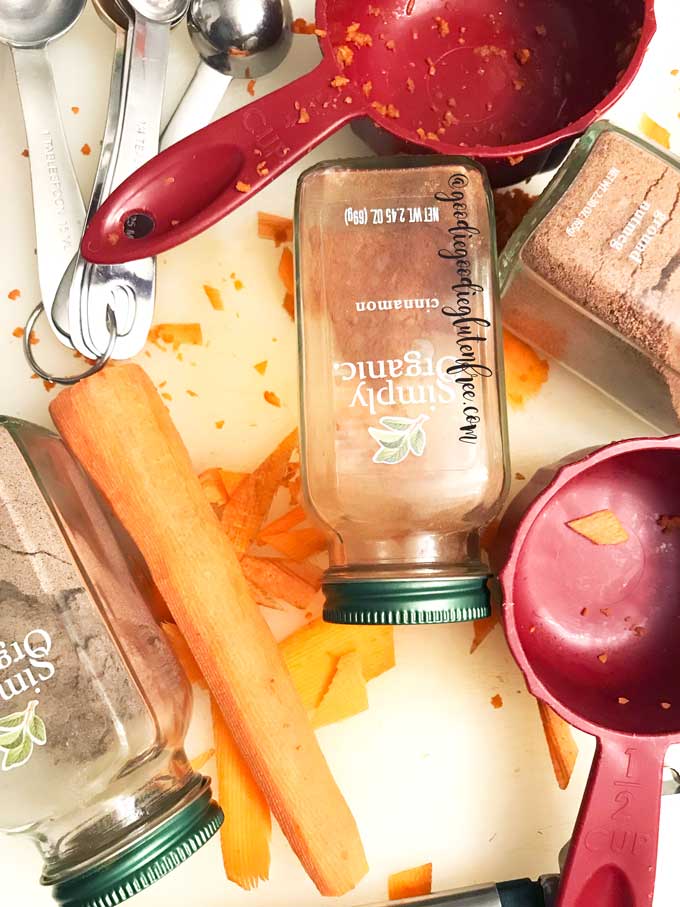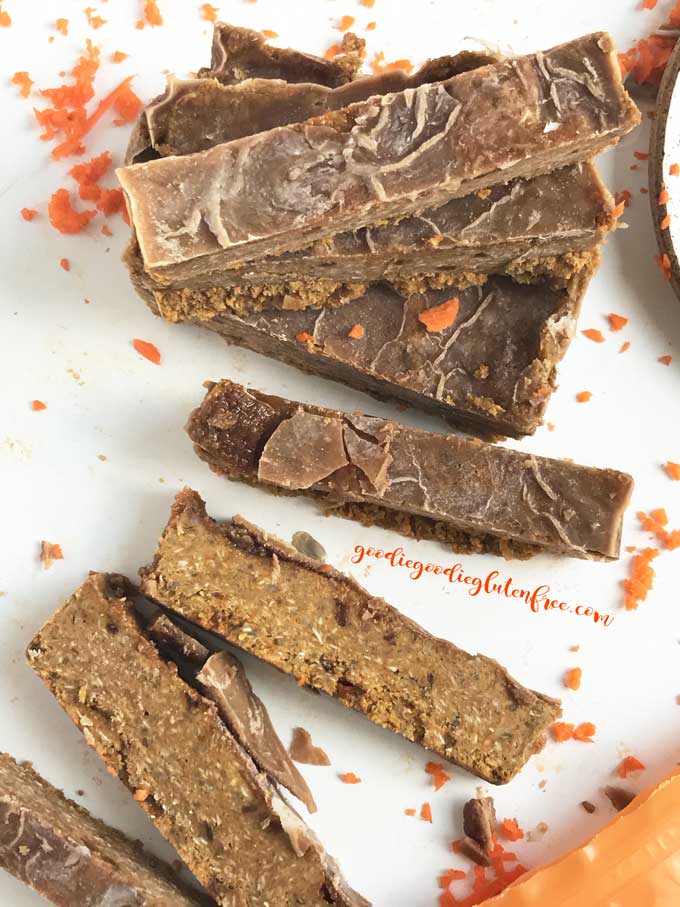 Are Carrot Cake Raw Slices Easy to Make?
YES!  Almost all raw slices require no baking and no oven!  Including this recipe.  No-bake and raw is the name of the game.  First, before anything you'll grate the carrots and soak the Medjool dates.  Medjool dates soaked in warm water to soften them and make them extra gooey and juicy is the secret to a delicious raw treat.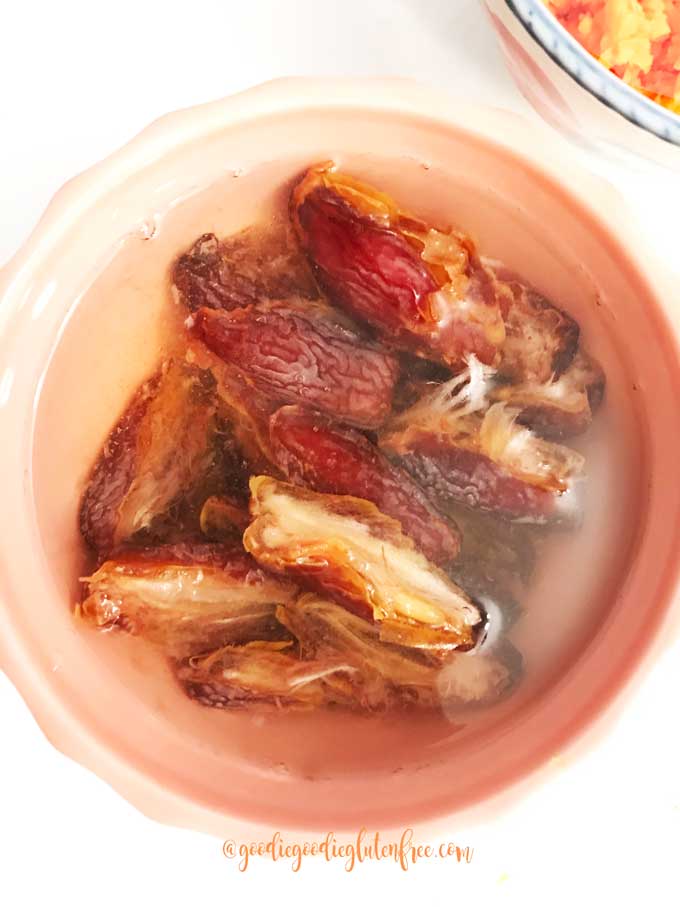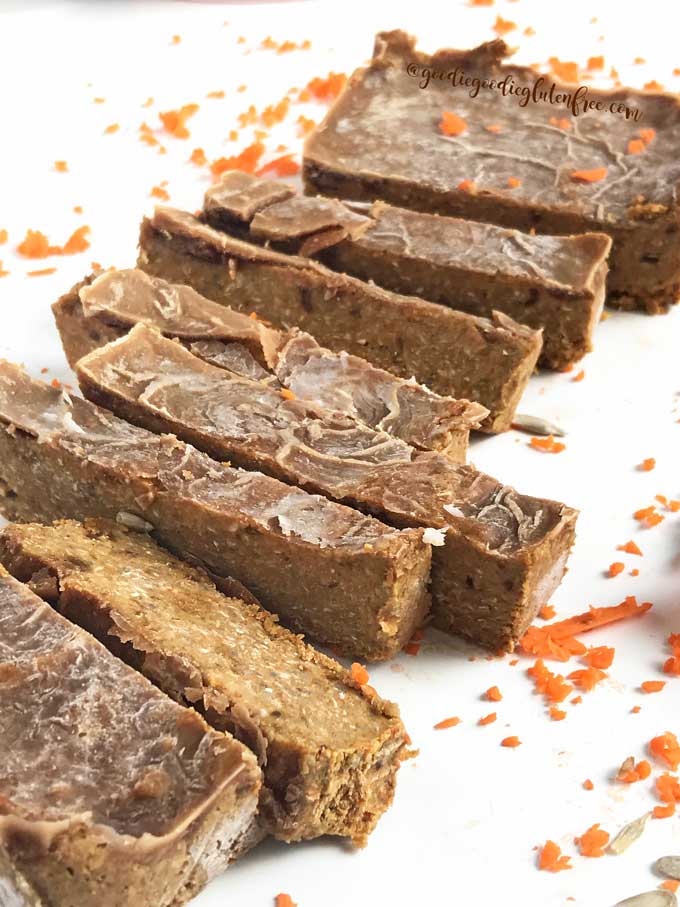 You'll then add all the dry ingredients together into a food processor and process them until a find blend is created.  From there you'll add the wet ingredients and spices and pulse together until a sticky dough has formed.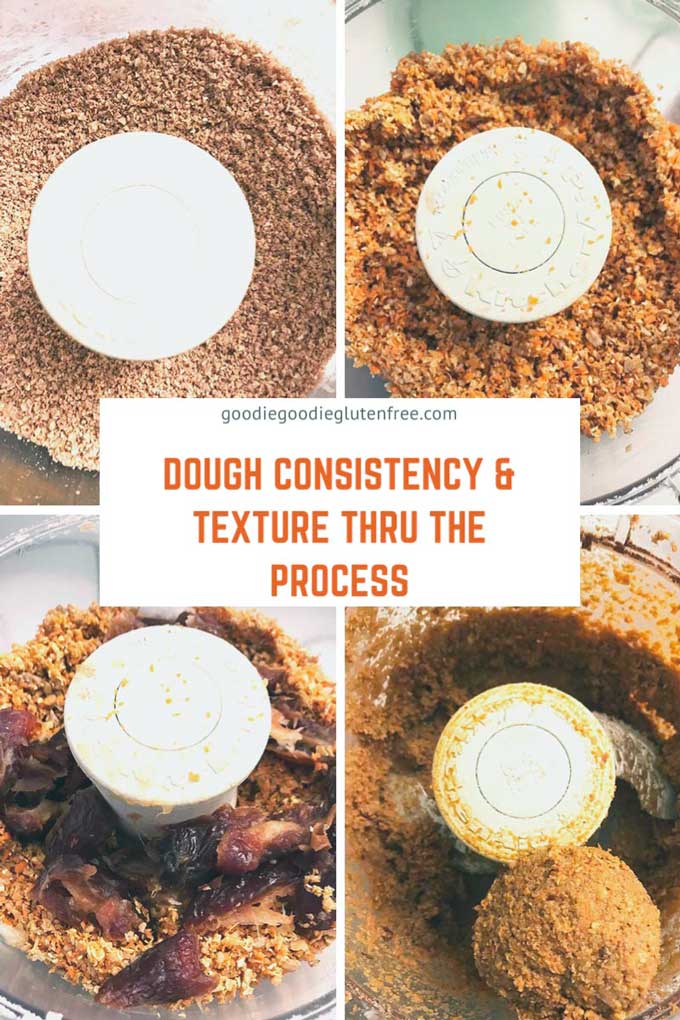 Line a 5 x 9 bread loaf tin with parchment paper and press the dough into the loaf tin until you have an evenly spread dough.  Lastly, you'll freeze it.  And while it's freezing you'll make the 10-second glaze, pour it on top, and freeze the loaf.  And when you're ready to enjoy it?  Slice it up.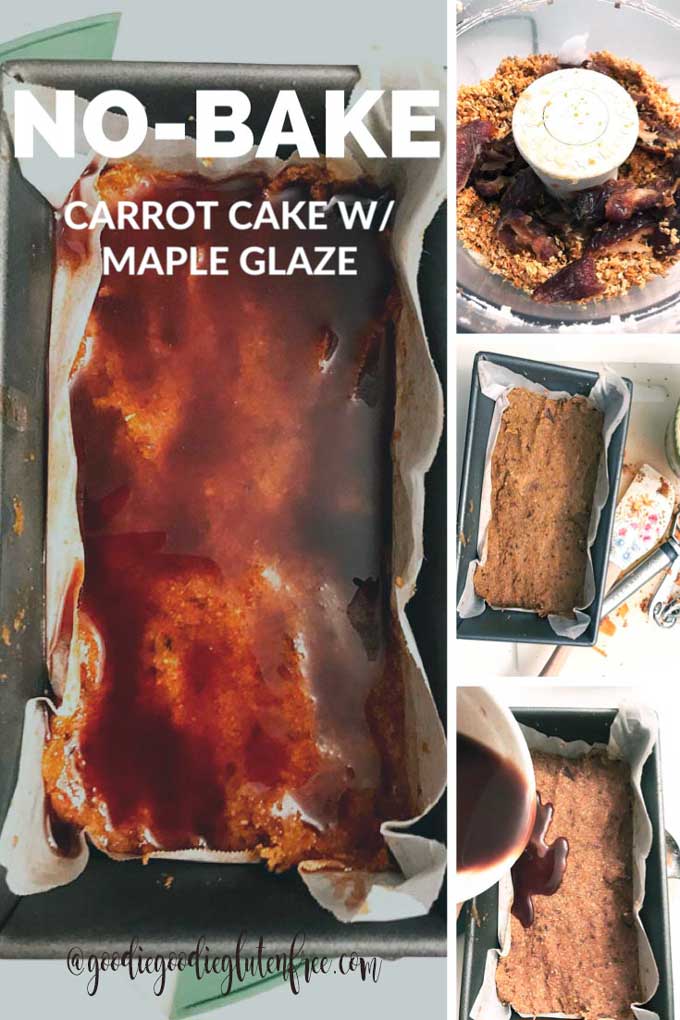 If you don't have a lot of time in the kitchen your answer is a raw slice, a no-bake slice, or bliss balls. There's nothing like nutrient-dense goodness.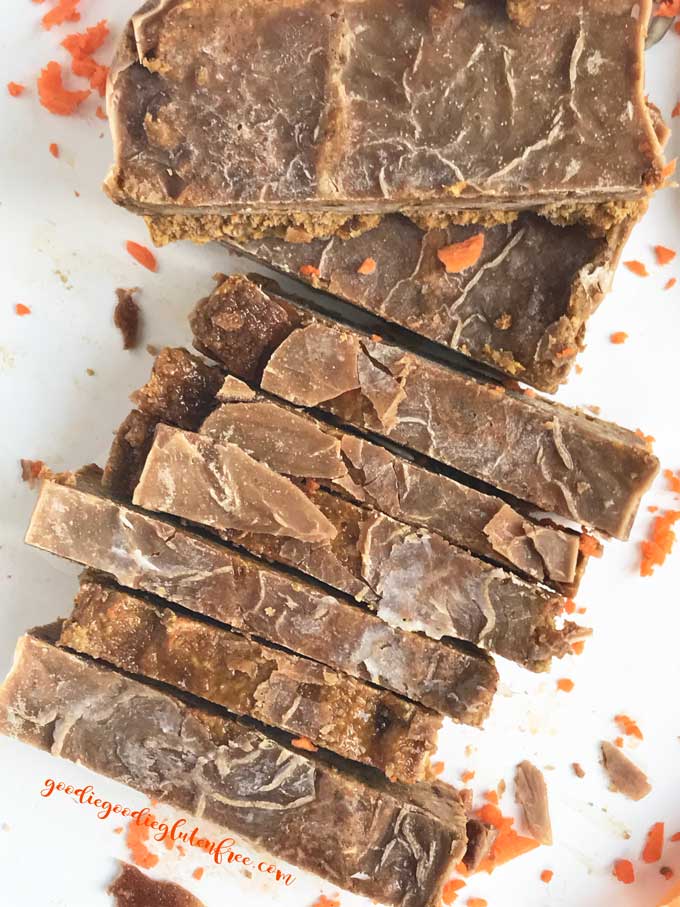 Ready to rock-n-roll?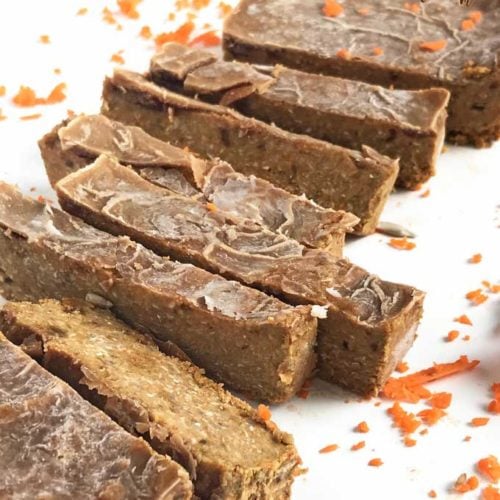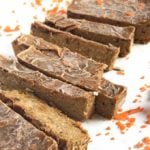 Print Recipe
Carrot Cake Raw Slice
This healthy Carrot Cake Raw Slice with a Maple Glaze is a no-bake, vegan, gluten-free, dairy-free, and refined-sugar-ree recipe that tastes rich and decadent!  The base is made with oats, coconut, sunflower seeds, and warming spices like cinnamon, and nutmeg.  This carrot cake slice is the perfect sweet confection!
Equipment
food processor

5x9 bread pan
Ingredients
CARROT CAKE SLICE BASE
1

cup

coconut chips

1

cup

raw sunflower seeds

½

cup

certified gluten-free oats

1 ¼

teaspoon

cinnamon

½

teaspoon

nutmeg

1

cup

Medjool dates

packed cup, pitted

1-2

tablespoon

pure maple syrup

¾

cup

grated carrots (start with 1 ½ cups chopped carrots and grate them down to ¾ cup.

¼

teaspoon

vanilla extract

1

teaspoon

coconut oil
GLAZE
⅛

cup

coconut oil

1

tablespoon

coconut oil

1

tablespoon

pure maple syrup

1

teaspoon

cinnamon
Instructions
Grate your carrots. In a food processor pulse 1 ½ cups of chopped carrots and pulse them on high until grated down to ¾ cup.

Soak your Medjool dates in warm water for 15 minutes. Remove pits first.

Mix coconut chips, gluten-free oats, and sunflower seeds in a food processor and pulse into a meal. About 1-2 minutes.

Then mix in grated carrots, cinnamon, nutmeg, salt, and pulse for another 15 seconds.

Add in vanilla extract, maple syrup, and Medjool dates and pulse until a sticky dough forms (all the while scraping down the sides of the food processor as needed.)

Line a bread loaf pan with parchment paper. Using your hands spread the mixture evenly into the bottom of the pan and place it into the freezer to set. In the meantime, let's make the glaze.
MAPLE CINNAMON GLAZE
Melt coconut oil in the microwave for about 10 seconds. Remove from heat, and add in maple syrup, and cinnamon and mix until well blended.

Spread the maple glaze mixture on top of the dough layer. Tilt the pan back and forth until the glaze is evenly distributed. Freeze for a total of 4 hours.
HOW TO SLICE
Keep in the freezer for at least 4 hours before serving.

Once ready remove from the freezer by lifting the parchment paper up and out. Cut into slices with a sharp knife, and let defrost for about 5 minutes.

Store in the freezer in a sealed container for up to 2 weeks.
Notes
You may have to open the lid and with a spatula move the dough around, and scrape the sides and pulse again, and again till well blended.  
If your food processor cannot handle the size simply cut your dough in half and pulse half at a time and then combine the two doughs.
If you find that your dough is not sticky enough, add a date or two.
Make sure you are using Medjool dates, they are juicier and extra moist which is perfect for this type of baking, and has a caramel-like flavor.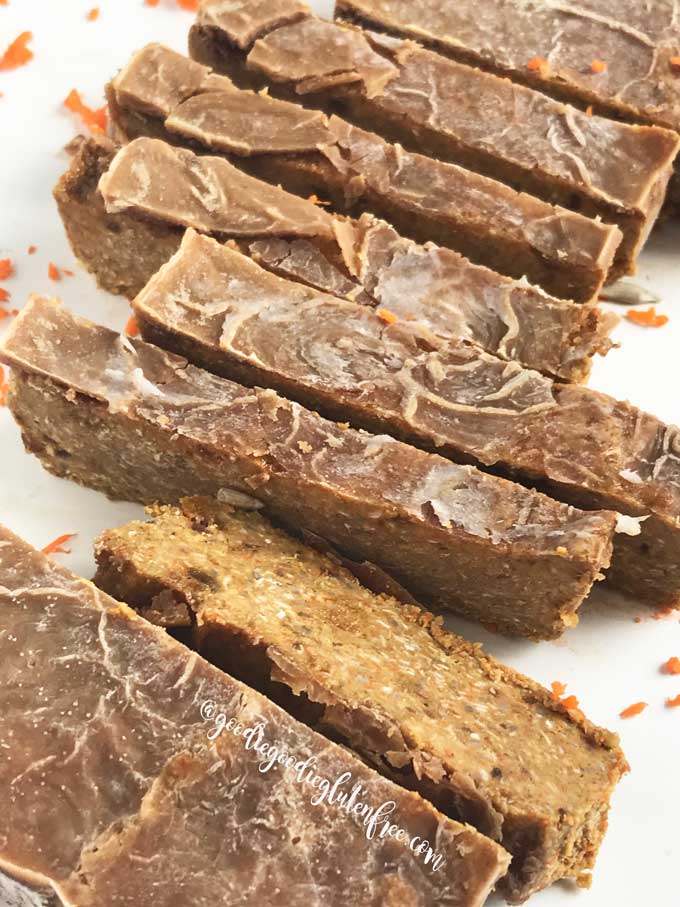 Love & Carrot Cake Raw Slice for all,