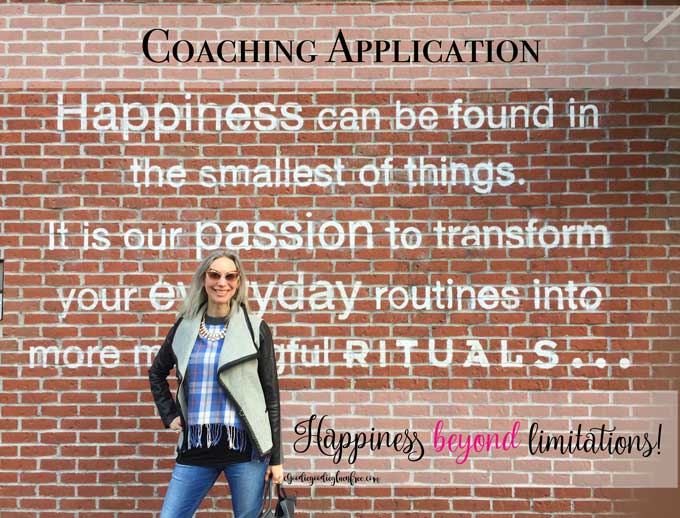 Hello beautiful soul!
I just need a bit of information from you so we can start healing and working together!
Before we can start on our long & exciting journey together, let's figure out if we are a fit.
I wouldn't be a legit coach if I didn't ask you a few questions first.
Simply jot down these questions into your notes app of your phone and once finished email them back to me.  In the email, subject write: COACHING APPLICATION FORM.

NAME:
AGE:
EMAIL ADDRESS:
PHONE NUMBER:
ADDRESS/STATE:
HOW DID YOU FIND OUT ABOUT JULIE?
WHY ARE YOU SEEKING COACHING?
ARE YOU LOOKING FOR HEALTH COACHING, NUTRITION COACHING, SPIRITUAL & MINDSET COACHING OR ALL 3?
DO YOU HAVE A SUPPORT SYSTEM?
ON A SCALE FROM 1 – 10 HOW IMPORTANT IS IT TO HEAL YOUR BODY?
WHAT IS YOUR CURRENT OCCUPATION?
ON A SCALE FROM 1 – 10, HOW READY ARE YOU TO START NOW?
WHAT DO YOU SEE YOURSELF ACCOMPLISHING AS A RESULT OF COACHING?
ARE YOU WILLING TO BE A TEAM PLAYER IN YOUR OWN HEALING?
ARE YOU READY TO SHOW UP FOR YOUR BODY AND COMMIT TO THIS TYPE OF HEALING?
HAVE YOU EVER WORKED WITH A HEALTH COACH BEFORE?
ANYTHING ELSE YOU'D LIKE TO ADD?
ARE YOU INTERESTED IN HEALTHY GLOW PACKAGE 3 MONTHS, AWAKENING PACKAGE 3-MONTHS, OR REBIRTH PACKAGE 6 MONTHS?