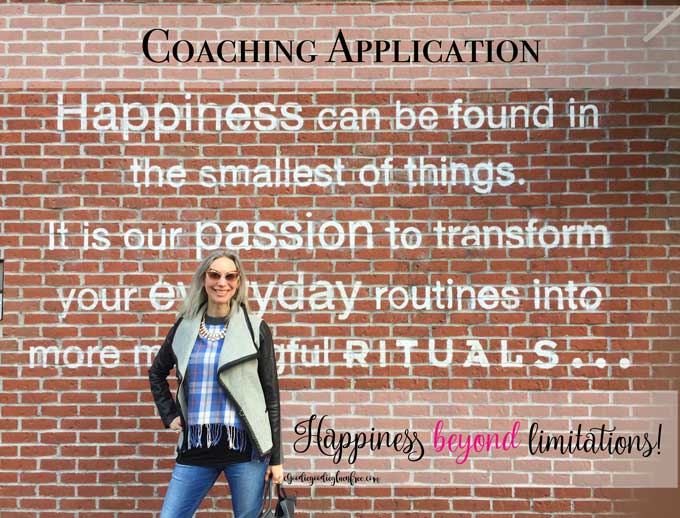 Hello beautiful souls!  I just need a little bit of information from you so we can get our coaching on!
 YOUR FULL NAME (FIRST/LAST)
YOUR AGE
YOUR EMAIL ADDRESS
YOUR CELL PHONE NUMBER
YOUR CITY
FULL ADDRESS
HOW DID YOU FIND ME?
WHY ARE YOU SEEKING COACHING?  IS IT A MEDICAL CONDITION, DIET, SELF-CARE OR SPIRITUAL RELATED OR ARE YOU INTERESTED IN COMBINING IT ALL?
WHAT IS YOUR CURRENT OCCUPATION?
ARE YOU HAPPY IN YOUR JOB/CAREER?  WHAT DO YOU DO FOR A LIVING?
WHAT ARE YOUR WORK HOURS?
DO YOU HAVE ANY CHRONIC HEALTH CONDITIONS?  IF SO, KINDLY EXPLAIN
DO YOU HAVE ANY AUTOIMMUNE DISEASES?  IF SO, KINDLY EXPLAIN
DO YOU HAVE ANY FOOD ALLERGIES OR FOOD SENSITIVITIES?
WHEN WERE YOU DIAGNOSED?
WHAT ARE YOUR VITAMIN LEVELS? DO YOU HAVE ANY DEFICIENCIES?
WHAT SUPPLEMENTS, VITAMINS, MINERALS AND/OR MEDICATIONS DO YOU TAKE?
WHAT ARE YOU TRYING TO HEAL?
WHAT IS NOT WORKING SO FAR?
WHAT IS WORKING SO FAR?
WHAT ARE YOUR MYSTERY SYMPTOMS?
WHAT ARE YOUR CHRONIC SYMPTOMS?
WHAT IS NOT GOING AWAY?
ON A SCALE FROM 1-10 HOW MUCH PAIN ARE YOU IN?
DO YOU INCORPORATE A SELF CARE PRACTICE INTO YOUR LIFE?  IF SO, EXPLAIN
DO YOU HAVE AN EXERCISE ROUTINE?
HAVE YOU EVER WORKED WITH A HOLISTIC HEALTH COACH BEFORE?
ON A SCALE FROM 1-10 HOW READY ARE YOU TO START NOW?
WHAT DO YOU SEE YOURSELF ACCOMPLISHING AS A RESULT OF COACHING?
ANYTHING ELSE YOU'D LIKE TO ADD?
ARE YOU INTERESTED IN THE 6 SESSION PACKAGES, 3 MONTH PACKAGE OR THE 6 MONTH PACKAGE?
***
It seems like a lot, I know.  Answer as many as you can to get us started.  I want to get to know your story so I can help you alter it to your benefit.
Email me (Julie) at goodiegoodieglutenfree@gmail.com with the following answers in detail.  I look forward to hearing from you and I look forward to working with you!