This could be the BEST grain-free chocolate chip cookie recipe ever!  Made with Cassava flour, chickpeas, and avocado.  This grain-free cookie will surprise you in both flavor, taste, and texture.  You'd never know these chocolate chip cookies were gluten-free and vegan!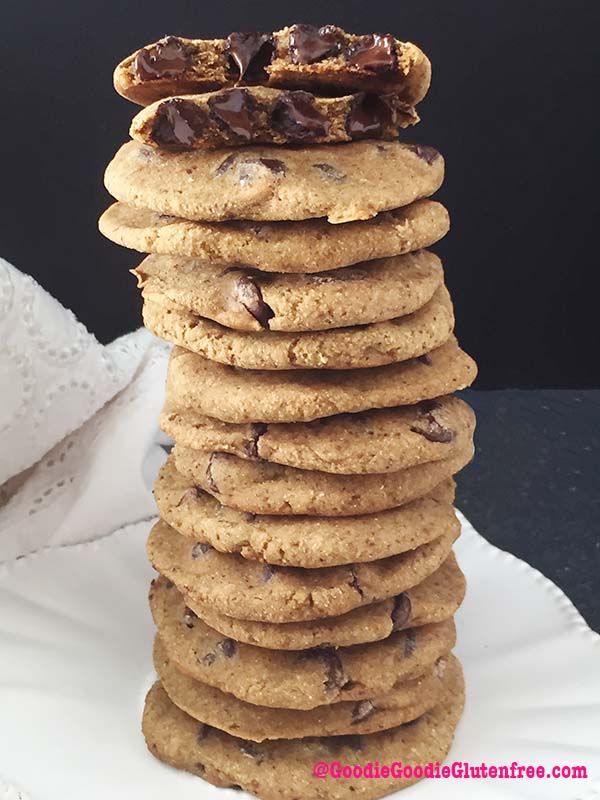 I come to you with an unconventional recipe that will totally surprise you including using chickpea juice as an egg replacement!  In fact, you may look at the list of ingredients, and pardon my french say "what the heck, how is this cookie going to taste good?".   Actually, I expect this response.
But what you don't know yet, is that once you take a bite, ALL of your judgments and skepticism about this cookie will disappear.  Because that one bite is going to send you over the gluten-free cookie moon, into gluten-free cookie heaven where only gluten-free cookie dreams are made.
The Best Grain-Free Chocolate Cookie recipe is here with the perfect amount of chewy if you are the chewy cookie type. And the sweetness is just the amount of perfect sweetness.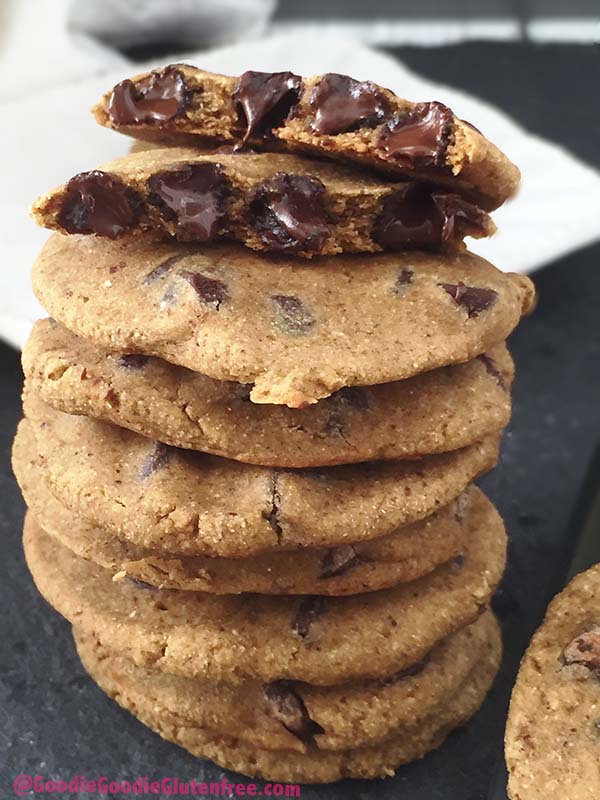 Getting serious for a second...
Half of my taste-testing team is NOT gluten-free.  And I have it this way for a reason.  If my taste testers who love gluten, dairy, and sugar can devour these cookies, close their eyes, and swoon then I know these cookies are complete cookie perfection.
My plan with this cookie was for it to be delightfully and sinfully delicious.  I'm just going to grab the whole batch and stuff them into my pockets for later-delicious.  My only requests to my creative brain were to create this amazing, delicious, and scrumptious cookie without gluten (duh), grains, dairy, nuts, and eggs.  I bet you are wondering what's left-right?  LOL!  It was a tall order for someone who isn't creative in the kitchen but for me a challenge that supported my cause.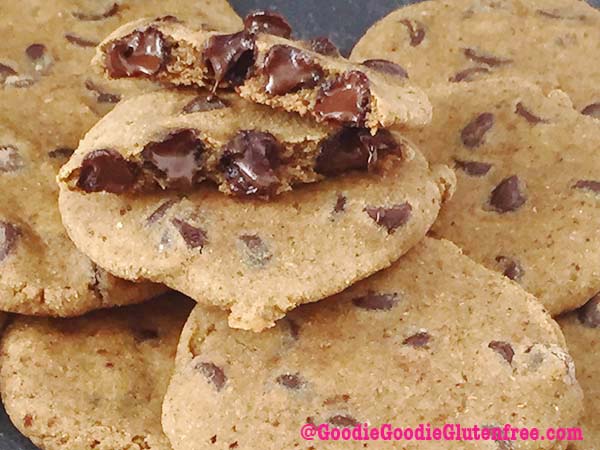 You see, my world is all about eating a healthy gluten-free clean diet to beat Celiac Disease, fight and heal inflammation, SIBO, and food sensitivities, gut healing, and chronic illness.  So I aim to create sweet treats that are suitable for people like myself with multiple food sensitivities, and allergies on top of the gluten-free diet while maintaining the definition of healthy and without sacrificing TASTE.  Is that too much to ask for?
I know what you are thinking!  Santa Claus doesn't exist, right?  It's too good to be true right?  WRONG!  As Walt Disney once said, "If you can dream it, you can do it".  He also said, "It's kind of fun to do the impossible".
Enter the Best Grain-Free Chocolate Chip Cookie recipe ever!
THE POWER OF CHICKPEA BRINE:
Chickpea brine, also known as aquafaba or chickpea juice works wonderfully as an egg-replacement if you cannot tolerate eggs or if you are vegan
Nearly flavorless and undetectable in baking
Low in fat, protein, and calories
Low carb
Chickpea Brine -What's SO crazy is that using chickpea juice as an egg substitute has been around for a LONG TIME!  Like 1967 LONG.  Before I was born LONG.  Since it's been around for a long time than you and I both know - it must work!  If you are going to go with this option which I highly recommend as an egg sub, then I also highly recommend that you use a BPA liner-free and organic can of chickpeas (garbanzo beans) like the Eden brand.  That's the brand I use.
The second unlikely ingredient used was avocado in replace of butter. I only hoped that my cookies wouldn't turn green.  These cookies may come out of the oven looking a bit flimsy or have a slightly duller tint because of the avocado, (but by far NOT green as you can see) But that's totally okay! Because the taste makes up for the appearance in a major way!!
And the third ingredient I used is Cassava Flour which is not the same as tapioca flour.  Cassava flour is made from a vegetable which makes these cookies easier to digest.
BENEFITS OF GRAIN-FREE FLOUR
CASSAVA FLOUR:
Cassava flour is Certified Paleo
Gluten-free, nut-free, grain-free, and made from the Cassava root/Yuca plant
Not tapioca
A starch flour
For every cup of wheat flour, you'd use ¾ cup of Cassava flour
Works wonders in gluten-free baking
Amazing as a thickening agent
Ready to gather your ingredients?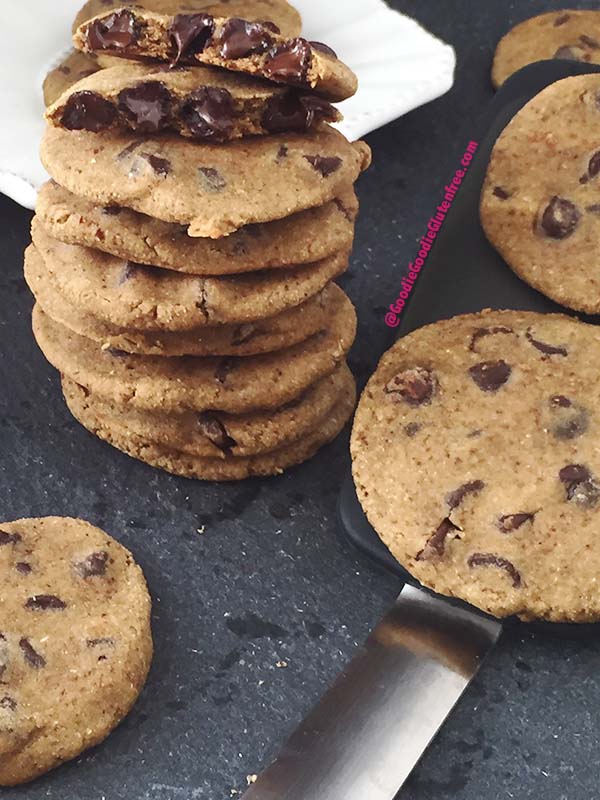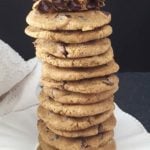 Print Recipe
The Best Grain-Free Chocolate Chip Cookie
This could be the BEST grain-free chocolate chip cookie recipe ever!  Made with Cassava flour and avocado, this cookie will surprise you in both flavor, taste, and texture.  You'd never know these chocolate chip cookies were gluten-free and vegan!
Ingredients
¾

cup

cassava flour

6

tablespoon

chickpea brine

¼

cup

mashed avocado

ripe

½

teaspoon

baking powder

¼

teaspoon

baking soda

¼

teaspoon

pink salt or sea salt

¼

cup

date sugar

2

tablespoon

maple syrup

2

teaspoon

chocolate or vanilla extract

pure

½

cup

dark chocolate chips

gluten-free

1

handful

dark chocolate chips

gluten-free
Instructions
Preheat oven to 350 degrees F

Line 2 cookie trays with parchment paper or tin foil and grease with cooking spray.

In a high rim, medium bowl add all of the DRY ingredients and blend together with a hand mixer until dough forms. Set aside.

Drain chickpeas out of the can into a strainer with a bowl underneath so you catch the chickpea juice. Use only 6 tablespoons out of the 9 from the can. Do not use the actual chickpeas.

Then add in all the wet ingredients and mix on high till well blended.  (Note this mixture will be thicker because of the Cassava flour, but that is totally normal). Really beat the avocado into the mixture.  If you see avocado particles, it's not mixed enough.

Once well-mixed fold in the chocolate chips and mix once more with a hand mixer to ensure that the chips are evenly spread throughout the cookie batter.

Take small spoonfuls of batter and mold into a ball and place on the baking sheets.  With your palm, flatten each cookie.  If your hands get stuck to the batter, simply dip your palm in water, and then flatten each cookie.

*****YOU MUST FLATTEN EACH COOKIE WITH THE PALM OF YOUR HAND otherwise these cookies will not come out correctly. DO NOT SKIP THIS STEP.

Put into the oven for exactly 8 minutes, on the middle rack and lower racks.  At 4 minutes, swap the trays so that each tray is getting an even amount of time on the middle and lower rack.

At 8 minutes, take out of the oven, and transfer cookies to a cooling rack. You must let these cookies cool before attempting to eat.  Let cool for a minimum of 10 minutes.

Store cookies in the fridge when not eating.
Notes
Drain chickpeas out of the can into a strainer with a bowl underneath so you catch the chickpea juice.  Put chickpea juice into a glass jar and store it in the fridge.  1 can of chickpeas will give you 9 tablespoons of chickpea juice.  For this recipe, you will only need 6 tablespoons.
Store the chickpeas in a plastic bag for either a different recipe or to add to your salads.  You will not need the actual chickpeas for this recipe.
I have only tested this recipe using date sugar, so if you use a different sugar source the taste may slightly differ.
I personally love Enjoy Life Dark Chocolate chips because they are free of all the top allergens and made in a dedicated gluten-free facility.  However, if .2% milk-fat isn't an issue in your chocolate chip, then use Hershey's chocolate baking chips for these cookies.  The cookies pictured use Hershey's.  My first batch used Enjoy Life.
I have not tested this cookie with any other egg or egg replacement.
The chocolate chips I advise for this recipe are either Enjoy Life (top 8 allergen-free) or if you can tolerate dairy Hershey's dark chocolate chips that are also gluten-free.
Love & Delicious Deliciousness!