Crunchy Cabbage Cilantro Salad Jars!  Super crunchy, radically flavorful, and made with fresh cilantro, purple cabbage, and tasty carrots.  The best part of this salad is that it's never soggy like most greens.  Salad jars are perfect for meals on the go and for staying fresh.  All you need to do is add your protein and favorite salad dressing!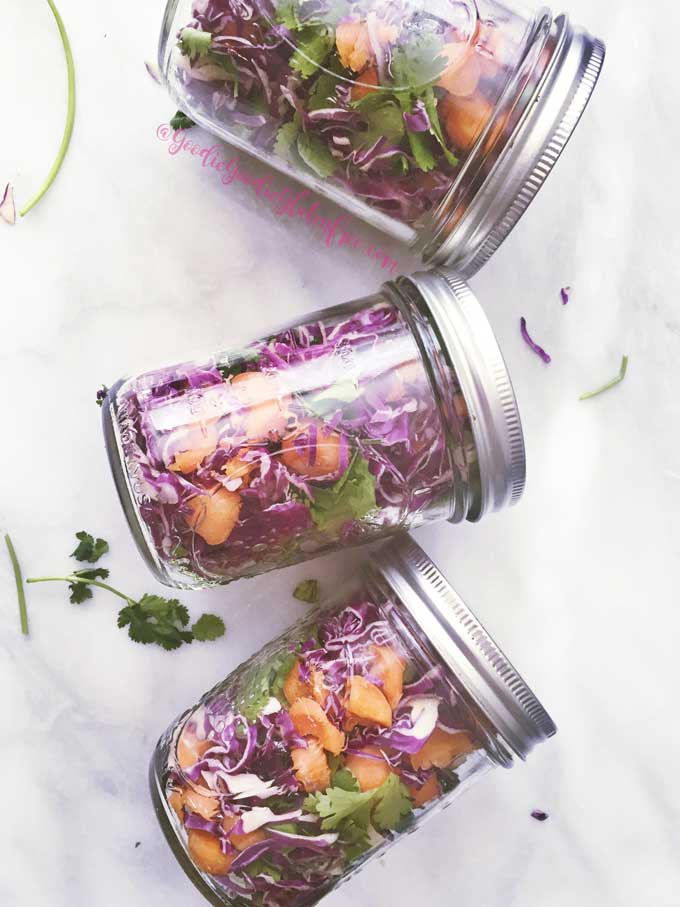 If you're not careful in choosing your greens you can end up with a soggy salad.  There have been too many times that I've ended up with a soggy salad for lunch.  And, it's quite disheartening after you've spent your money, and spent your time food prepping, washing, chopping, and storing.  Adding any salad dressing or protein to the salad never helped, and made it wilt faster.  That is until I realized I was doing two things wrong.  In some ways it wasn't about what I was prepping, it was how I was prepping it.  And in other ways, it was what I was prepping.  A game-changing moment.
Some greens like spinach, romaine, green leaf, and red leaf lettuce wilt easily.   So it's best not to prep those salad greens in advance.  That's where it gets confusing.  Salad jars are meant to have leafy greens.  Given that they did wilt, Instead, choose greens like kale and stuck with harder, crunchier vegetables like cabbage, and carrots.  In addition to greens and veggies, there are also many herbs that will wilt if prepped in advance too.  I have found that Cilantro works wonderfully and stores well smell fresh and taste delicious.
GLASS JARS OR PLASTIC CONTAINERS?
Plastic is out, all veggies wilted quickly and didn't stay fresh for longer than 2 days
But in an air-tight sealed mason jar, my salad was kept fresh for over 4 days!
WHY IS THIS SALAD JAR BETTER THAN OTHER SALAD JARS?
This salad jar does not contain leafy greens or lettuce
Instead, I used Purple Cabbage for crunch factor, and detox properties + antioxidants
Carrots for crunch factor, flavor, Vitamin A, and loads of beta carotene
Cilantro for its superb flavor, and detox-healing properties
Stays fresh even on day 4
No wilt
Made with uncommon veggies like cabbage and cilantro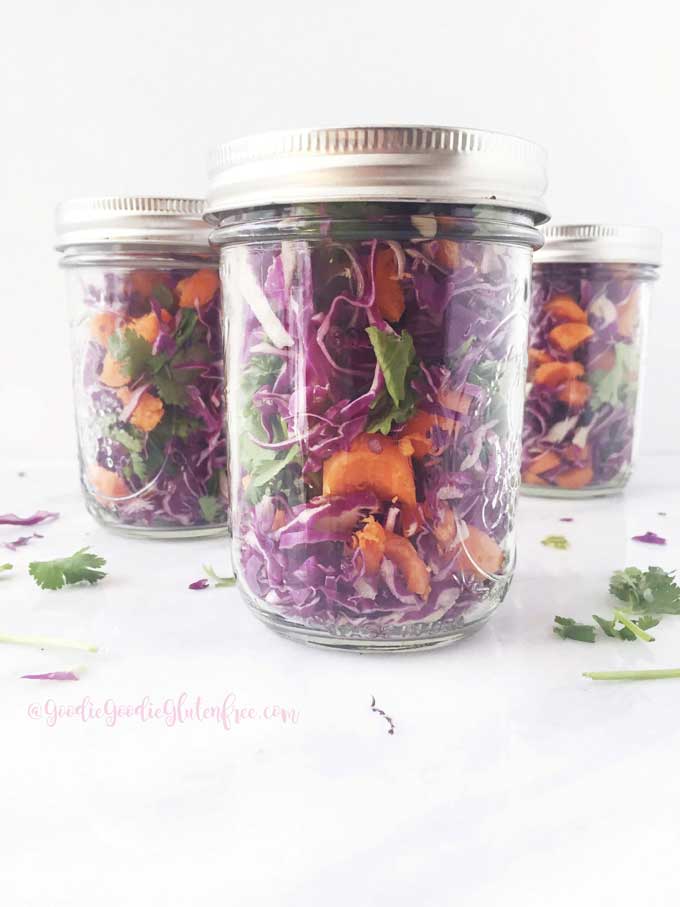 HOW TO ASSEMBLE THIS SALAD JAR
Shred the purple cabbage
Slice the carrots
Chop the cilantro
Add all to a salad spinner and wash the ingredients
Strain and dry
In small handfuls first add the cabbage, followed by the carrots, and the cilantro, and repeat until the jar is filled
Distribute salad to all 4 jars and store in the fridge for up to 4 days, covered and sealed tightly
Once you are ready to eat open the jar and place the salad in a bowl.  Add your protein and your dressing and indulge
Or sautee the veggies and use them as a side dish or inside your omelet
CILANTRO SALAD JAR TIPS
You can use any jar you want but I adore Mason Jars.  They are reliable, work well and last a long time.  These are what I use for my glasses in my home, smoothies, chia puddings, and salad jars.
READY TO GATHER YOUR INGREDIENTS?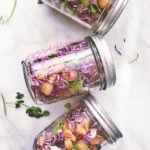 Print Recipe
Crunchy Cabbage Cilantro Salad Jars
Crunchy Cabbage Cilantro Salad Jars!  Super crunchy, radically flavorful with fresh cilantro and never soggy like most greens in a jar.  Your perfect lunch salad all you need to do is add your protein!
Ingredients
¾

bag

baby organic carrots

chopped or sliced

½

head

purple cabbage

shredded

1

bush

cilantro

chopped, no stems

1

lemon, juiced

3

tablespoon

extra virgin olive oil

cold-pressed

sea salt

, to taste

black pepper

, to taste
Instructions
Salad
Wash all veggies in water. Once washed begin with chopping the Cilantro, then shred the cabbage and chop the carrots. Cilantro should be used in abundance.

Open 4-5 Mason Jars and in handfuls add in layers of each veggie till you reach the top. Top each layer with Cilantro. Do this for each jar.

Then put the jars in the fridge until ready to serve. It can be stored for up to 4 days prior to serving.
Salad Dressing
In a bowl add the fresh juice from 1 lemon, 3 tablespoons of EVOO, salt and pepper and whisk together until a well-mixed blend is achieved.

Store dressing in the refrigerator and apply to salad dressing to jars 10 minutes prior or immediately prior to serving depending on your preference. Simply add in the dressing, close the lid, shake and eat.
Notes
If you like your salad drenched in dressing sinply allow 10-15 minutes of the salad sitting with the dressing on it before serving.  Then mix together and serve.  It's a game changer. // Add your choice of protein to this salad and make it a protein filled salad! //.
Health and love,