Start drooling because these Gluten-Free Salted Sunbutter Caramel covered in chocolate are bites of heaven.  Sunflower seed butter, date caramel, dark chocolate, cassava flour, and maple syrup makes these bars both salty and sweet.  Gluten-free, nut-free, and paleo-approved.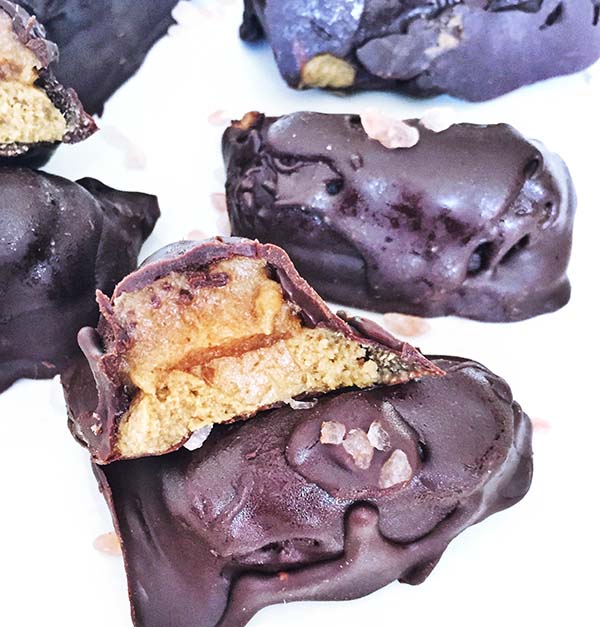 These Gluten-Free Salted Sunbutter Caramel Bars are covered in luscious dark chocolate are a million times better than any chocolate candy bar I have ever eaten.  Each bite is salty and incredibly sweet.  Between the nougat and the caramel, these little bars are a dream.  Think Twix, Milky Way, Snickers, and Peanut Butter Cups but healthy minus the yucky processed additives, colorings, and ingredients you cannot read.
These Gluten-Free Salted Sunbutter Caramel Bars are made with a sunflower seed butter, but not just any sunflower seed butter - the brand Sunbutter.  This brand is one of my favorite brands because they are so compliant with the needs of the Celiac and nut-free community.  Community goes a long way in the gluten-free world.
WHAT'S THE HYPE WITH THE BRAND SUNBUTTER?
Made in a gluten-free facility
Dedicated nut-free facility
The best nut-free alternative to peanut butter
Made from sunflower seeds rather than nuts with double the protein
An incredible amount of healthy fats quiets cravings, hunger, reduces bad cholesterol, and shrinks flab
Top 8 allergen-free
More vitamins and nutrients than most nut and seed butter
Powered by the sun
Comes in many varieties such as Organic, Creamy, Natural, No Added Sugar, Natural Crunch
**
Another find in this recipe is the flour source.  Instead of grains, opting for a grain-free flour in baking makes these paleo-approved and easier to digest.  Cassava flour is one of the latest and most popular flours to play within grain-free baking.  The best part is that it can be substituted for wheat flour without major measurement changes!  And Otto's Cassava Flour can be eaten raw which is not always the case with other Cassava flours.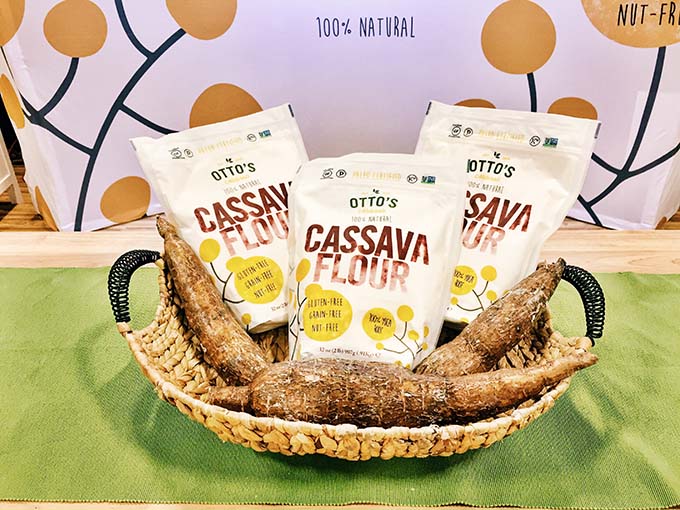 LET'S TALK CASSAVA FLOUR
Made from the whole Yuca plant
Grain-Free
Whole 30, Gluten-Free, Nut-Free & Paleo approved
Can be used as a thickener
Not tapioca
100% Gluten-Free
Only Cassava flour on the market that isn't fermented
Allergy-friendly
I keep trying to make a healthy snickers bar, and each time I tried, it didn't happen. It's kind of comical because I keep trying, and while that in itself is frustrating,  instead each created something even MORE out of this world and completely unexpected.
Instead of giving up, I let the magic speak through me.  The combination of Medjool dates, Himalayan sea salt, sunflower seed butter, Cassava flour, and chocolate has made a seriously HEAVENLY healthier candy.  The texture on the inside, as well as the consistency, is spot on to that of a candy you'd buy at the store, but healthier with nutrients. 
HOW TO MAKE THE SUNBUTTER BASE
If you have ever taken a clay class you know that molding the clay into shape is the name of the game.  It's quite similar in this recipe.  All you have to do is fold the cassava flour into the Sunbutter to form an edible clay or raw cookie dough.
You'll form the shapes and then pipe the date caramel on top.  There is some refrigeration in between before you cover them in chocolate and freeze them again and that's really it.  Consider this recipe like a fun art project you get to eat.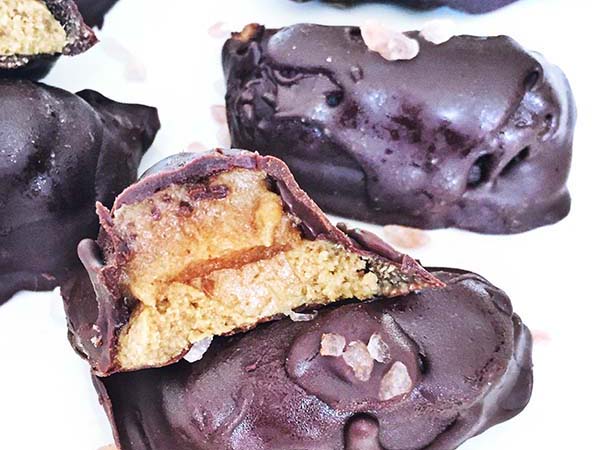 I have come to learn there is so much you can do to make caramel with Medjool dates.  Instead of adding in a ton of sugar and dairy Medjool dates allow you to create a caramel that is just as good without the non-healthy ingredients.  So good you'd think you were eating a Snickers or Twix!  And Dates do so much more than just make a caramel.
MEDJOOL DATES
Super sweet without added sugar

Packed with dietary fiber

Loaded with nutrients like Potassium and Magnesium

Sticky & thick
And while these bars may not look the prettiest, I can guarantee you that they taste unreal and out of this world!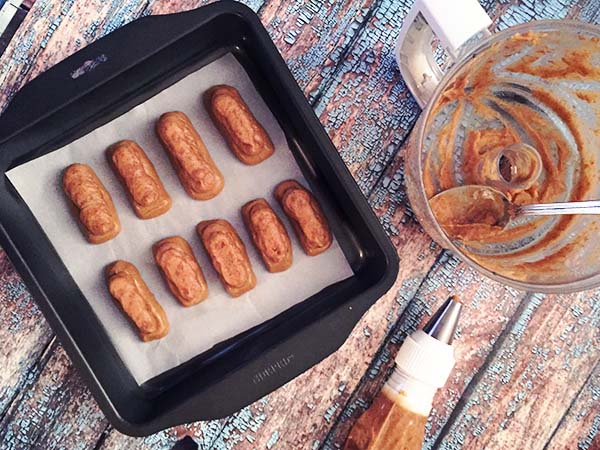 Check out the spinoff of these Gluten-Free Salted Sunbutter Caramel Bars turned into cake bites!
Ready to gather your ingredients?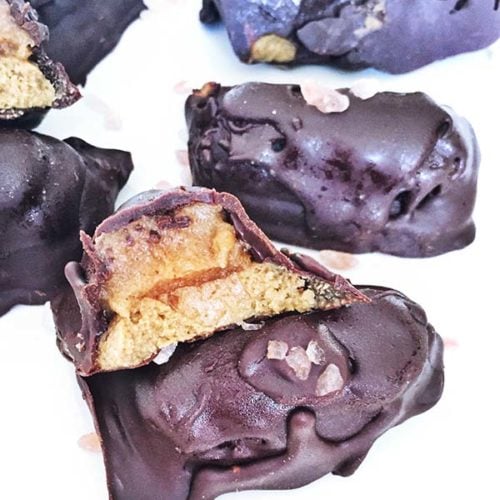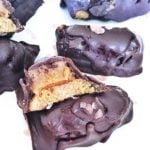 Print Recipe
Gluten-Free Salted Sunbutter Caramels
Start drooling because these Gluten-Free Salted Sunbutter Caramel covered in chocolate are bites of heaven.  Sunflower seed butter, date caramel, dark chocolate, cassava flour, and maple syrup makes these bars both salty and sweet.  Gluten-free, nut-free, and paleo-approved.
Ingredients
½

cup

Organic Sunbutter

¼

cup

Otto's Cassava Flour

1

tablespoon

Otto's Cassava Flour

16

whole

Medjool Dates, pitted and soaked

5

whole

dark chocolate bars, gluten-free, sugar-free

up to 2

tablespoon

coconut oil, melted

½

teaspoon

pink Himalayan salt or sea salt

for garnish
Instructions
STEP 1
Soak Medjool dates ahead of time by pitting them and adding them to a bowl of hot water. Cover and let soak for up to 1 hour.

After dates are soaked, drain the dates and discard the water.  Add dates to a food processor and blend until creamy.  This will take about 5 minutes, and the color will change from a medium brown color to a light brown color and that is how you will know the mixture is ready.

Add the mixture to a pastry bag with a large round tip, or just cut the tip of a plastic pastry bag and refrigerate to thicken.  I like Wilton Disposable Pastry bags.
STEP 2
While the date mixture is soaking, mix creamy sunflower seed butter with cassava flour in a bowl with a fork until a cookie dough consistency forms. You will want to use the brand Sunbutter because a creamy sunflower butter is needed for this recipe.

Form dough with your hands into rectangular logs and put in a tray lined with parchment paper and freeze for 30 minutes to an hour.  You will want the dough to be somewhat hardened so it doesn't melt when you cover it in chocolate.
STEP 3
Once somewhat hardened, pipe date mixture on top of the sunflower seed logs, and flatten piped mixture with your fingers and then freeze again till fully hardened.  
STEP 4
In the meantime, melt 4 chocolate bars in a double boiler on low heat.  Add coconut oil to thin the mixture, 1 teaspoon at a time to think the chocolate.  

Once chocolate is melted, take logs out of the freezer and (it's gonna be messy) pour chocolate mixture over each log.  You may need to use your fingers to manipulate the chocolate.  And don't worry about the mess! Once all the tops are covered in the chocolate, add a few pink Himalayan sea salt crystals and freeze again for about 15 minutes.

Then prepare more melted chocolate using the remaining 1 bar and coconut oil so you have enough to cover the bottom.  Remove from freezer and with your hands dip the bottom portion of the logs into the melted chocolate.  It may seem like the logs are melting, but don't worry it won't ruin the dessert.  Once all sides are covered in chocolate freeze until ready to serve.

Always store in the freezer, and store in the freezer for up to 6 months.
Notes
Want to skip the double boiler option?  You can also melt the chocolate in the microwave at 30-SECOND intervals until melted, one bar at a time.
To thin chocolate mixture and make it more dippable add coconut oil and 1 tsp. intervals and up to 2 tablespoon for the whole chocolate batch. 
Allergic to coconut?  Use Ghee instead.
Using a chocolate bar that is sweetened with coconut sugar lowers the glycemic index.  But any chocolate bar can work.
If you cannot get Sunbutter, make sure the sunflower seed butter you choose is creamy.  It needs to be creamy to work for this recipe.
You will have an extra date caramel leftover.  You can either discard it.  Or you can use it for another recipe or you can pipe thin strips on top of the hardened chocolate, or use it as a dip.
Love, Salty & Sweet,