Healthy gluten-free turmeric spice blondies!  These white bean turmeric blondies are soft, moist, and full of warming spices.  A blondie sans pumpkin that tastes like pumpkin, and the Fall season.  Spiced with turmeric, cinnamon, nutmeg, and cardamom.  Wildly fresh, vegan, nut-free, soy-free, refined sugar-free & delicious.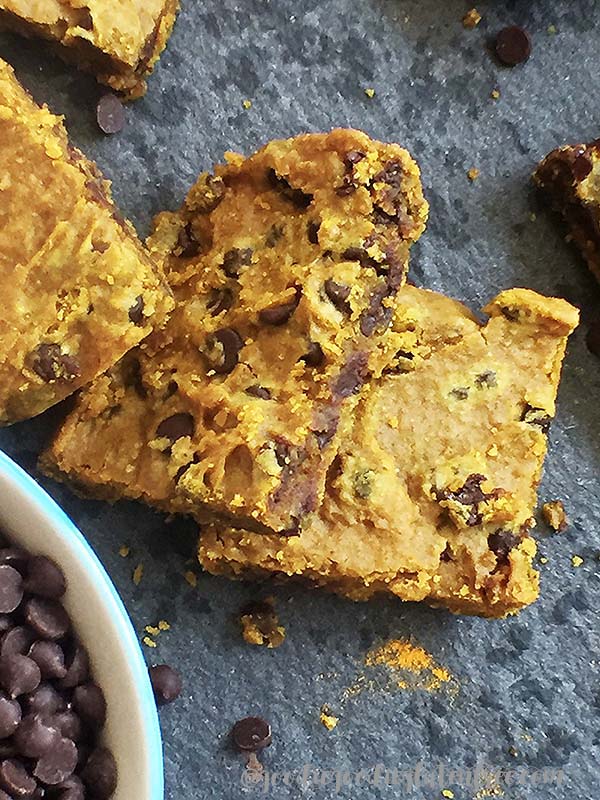 Right now, Turmeric has the spotlight in the wellness & health community. Everyone is talking about this herb and it's showing up in all types of recipes around the world!  It's commonly used in Indian & Asian Cuisine, curry, savory dishes, almond milk lattes, and puddings.  I personally love this herb in smoothies and desserts because you can't taste it but you are receiving all the amazing benefits and it makes all of your goodies yellow, naturally.  Just ½ - 1 teaspoon is all you need.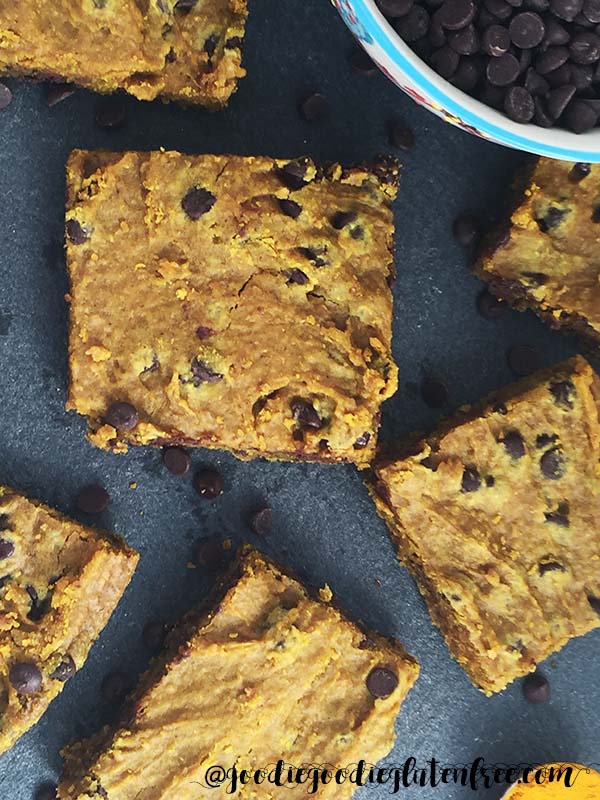 If the idea of putting Indian spice ground turmeric in a blondie scares you, let me tell you a little about it.  This yellow color herb can make a world of difference in your health.  It's an herb you want in your diet, and in your healing toolbox.
HOW TO MAKE TURMERIC SPICE BLONDIES
Grab your trusted food processor and blast together your gluten-free oats, and flax until it is a fine, but not a superfine mixture.
Next, you'll add your wet ingredients such as your rinsed white beans, maple syrup, cinnamon, baking powder, grapeseed oil, salt, and clove, and blast this mixture again until everything is combined, blended and smooth.
Before transferring these blondies to the fridge for 15 minutes, you'll want to add your turmeric powder and blend one more time till you get a golden yellow color.  Such a fun part!
After the turmeric spice blondies batter has cooled you'll fold in the chocolate chips, spread this batter into an 8x8 greased brownie pan, and bake it for 15-17 minutes!  Let it cool completely before devouring your 9 delicious blondies.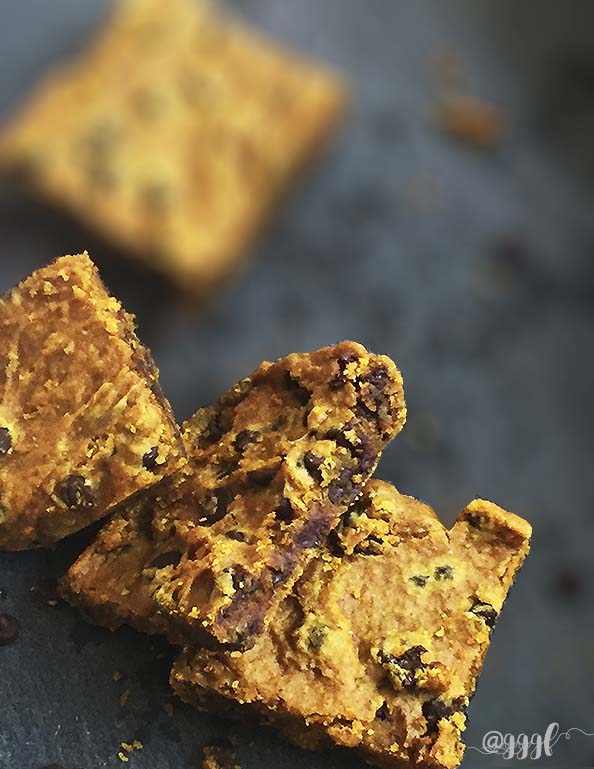 TURMERIC BENEFITS
Turmeric is a powerful herb that comes from the Ginger family
It is commonly used to treat and prevent inflammation & chronic inflammation
Considered a super-herb because of its strong anti-inflammatory properties
A little goes a LONG way
Used in cooking, and baking
Known as a natural pain reliever for (taken internally instead of Advil), arthritis & joint pain, chronic inflammation, blood sugar levels, insulin resistance, IBS symptoms, healing the gut lining, lowering cholesterol levels, and even helps hyper-pigmentation from inflammatory acne (hello Turmeric Face Mask!)!  Overall, Turmeric helps to lower Oxidative stress in the body
Even used as a natural clothing dye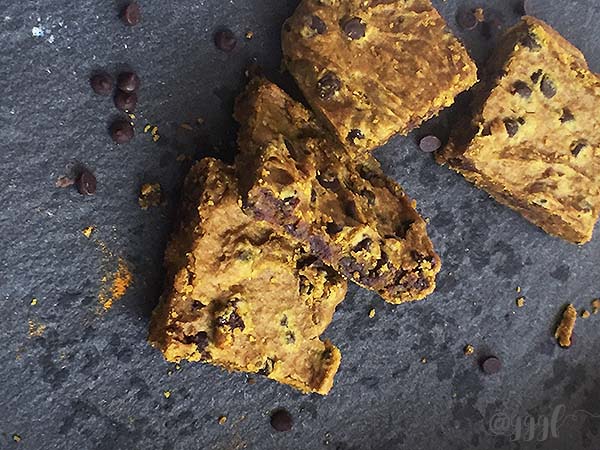 The second star of this moistly delicious brownie is white beans such as Cannellli beans or Navy beans.  1 full can of beans goes into this recipe giving it LOADS of protein.  The dessert then becomes a way to keep you full in addition to tasting good.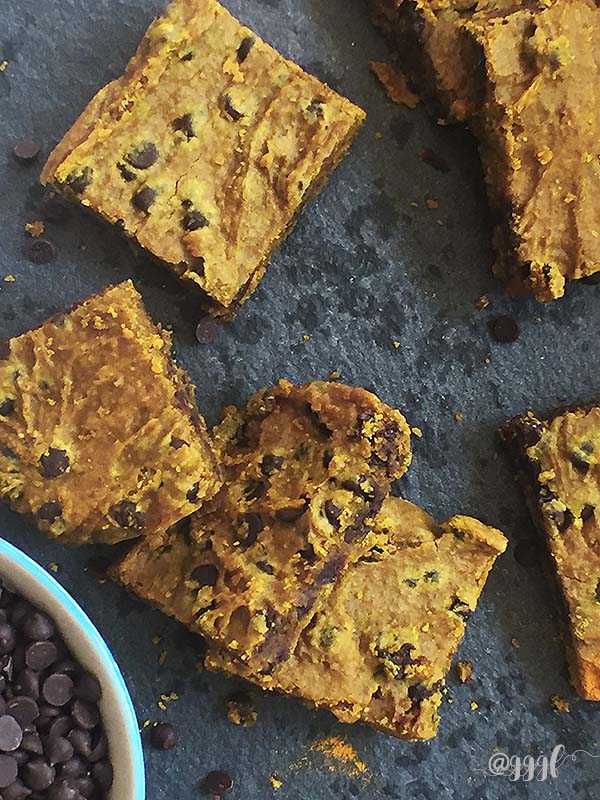 I got hooked pretty quickly on bean brownies after tasting Pure Genius Provisions Bean Brownie at the Gluten-Free Allergy-Free Expo in October 2015.  I was forever changed.  From there I began to develop my own chickpea and black bean brownies that I have to say are out of this world.  Now that baking with chickpeas were crossed off the bucket list, the next bean challenge became the Navy bean.  I wanted a sweet and lighter taste so I knew it would be a blondie over a brownie, sans chocolate.  And so begins the story behind the bean choice.
THE DECISION BEHIND THE BEAN TYPE
One Summer at an outdoor restaurant I ordered a delightful Proscuitto & white bean salad with arugula.  I would usually have to eliminate many of the ingredients due to elimination diets, and food sensitivities, but with this particular salad, I only had to eliminate one ingredient. And this salad became my favorite salad.  Never having had white beans I experienced the bean differently.  They were softer, more tender, and sweeter.  Instantly I spoke the words Turmeric Blondie.
Off to Whole Foods, I went and upon arriving at the market I realized that there were many different types of white beans.  As I looked at all the rows of beans one can stand out the most.  Navy beans were speaking to me and this blondie was born.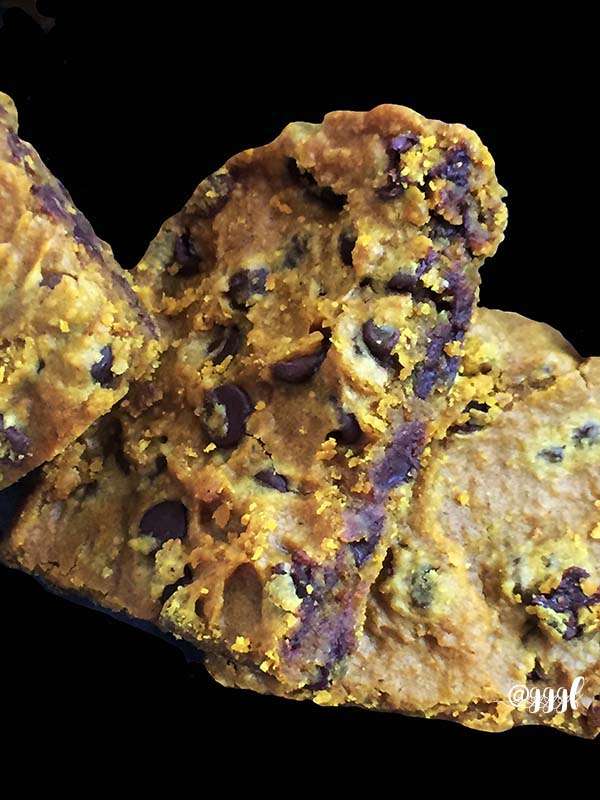 READY TO GATHER YOUR INGREDIENTS?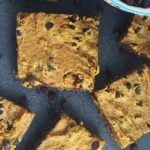 Print Recipe
Gluten-Free Turmeric Spice Blondies
Healthy gluten-free turmeric spice blondies!  These chickpea blondies are soft and chewy, taste like pumpkin and the Fall season.  Vegan, nut-free, soy-free, refined sugar-free & wildly delicious.
Ingredients
1

can

Navy White Beans

canned & rinsed

⅓

cup

pure maple syrup or brown rice syrup

⅓

cup

grapeseed oil

½

cup

gluten-free oats

3

tablespoon

gluten-free oats

⅔

cup

dark chocolate chips

½

teaspoon

baking powder

1

tablespoon

ground flax

heaping

1

teaspoon

ground cinnamon

heaping

¼

teaspoon

ground cloves

1

teaspoon

turmeric, ground

¼

teaspoon

pink Himalayan salt or sea salt
Instructions
Preheat the oven to 350 F degrees.

In a food processor pulse the gluten-free oats and the ground flax till it's a fine blend (but not superfine).

Then add rinsed Navy Beans, pure maple syrup, grapeseed oil, baking powder, cinnamon, salt, and cloves, and blend really well.  Blend until all particles are mixed in and smooth.

Sprinkle in the turmeric and blend again until the color turns a golden yellow.  The food processor may get hot, but that's totally ok.  Keep blending.

Once blended, transfer the mixture to a medium-sized mixing bowl and put in the fridge for 15-30 minutes or until completely cooled.  If the mixture is not warm from the food processor you can skip this step.  The reason for this step is when the batter is warm and the chocolate chips are added in, they melt making the blondies brown.  There is nothing wrong with that for flavor, but your blondies will not turn out yellow.  Therefore cooling down the batter before adding the chocolate chips serves an important step.

Once the batter is cooled fold in the chocolate chips.

Spread the batter into an 8×8 greased brownie pan (glass preferred, but not a deal-breaker) and put into the middle rack of the oven for 15-17 minutes nothing more.

Remove from the oven and let cool for at least 10 minutes or they will break apart.

Store in the fridge when not eating.  I have found these brownies to be best at room temperature.  So when ready to serve simply remove them from the fridge and let sit for 15 minutes to a ½ hour before eating.  They are delicious cold too but taste like fall when at room temperature. Store for about 1 week in the fridge.
Notes
It is best to use Pink Himalayan salt for all recipes because Pink Himalayan salt is pure, and untouched by many of the toxins that sea salt comes into contact with.  It also has over 80 minerals in it that your body wants.  Its minerals are tiny enough for our cells in our body to absorb them, unlike sea salts which can strip you of your minerals and iodine in the body.  So when I found this out from my Integrative Functional Doctor, I made the switch.  It's something to consider, but if you don't want to use it that's ok too.  It will not affect the taste of the recipe. // Using pure grade maple syrup is always best.  Using a processed form of maple syrup will increase the sugar levels in this recipe.  Because a processed form is not natural, it will have trouble absorbing correctly in the body.  Do not use an artificial version of maple syrup. // The reason I use Enjoy Life chocolate chips is that they are Top 8 Allergen-Free.  They are dairy, wheat, tree nut, peanut, sesame, shellfish, soy, egg-free!  They are certified gluten-free.  I feel safer using this brand. // My brand of choice for canned beans is Eden. // 
Love, and health!