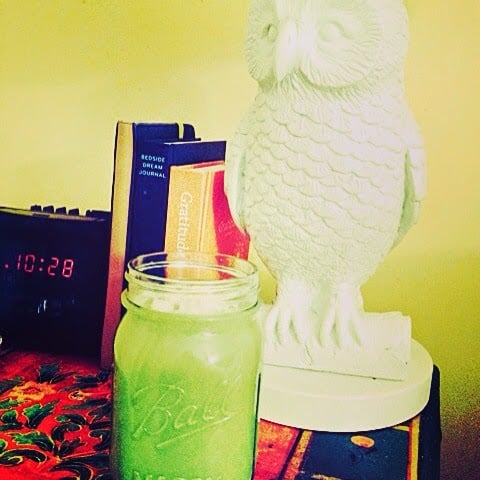 By now perhaps you have noticed that I am totally obsessed with Smoothies!!  Smoothies make me feel ALIVE!  And it is the BEST feeling ever!! Step aside coffee, you won't dehydrate me this time!
I never realized how different my mornings could be until I started making smoothies.  A few years back I was basically a zombie dragging myself each morning to my job as a Fashion Designer and starting off with a caffeinated cappuccino followed by random carb snacks to stay awake, followed by another cappuccino at lunch, when really all I needed (clearly) were some low sugar fruits, veggies blended into a gorgeous smoothie! I don't think I ever realized what energetic (naturally) really felt like.  It was and still is amazing each and every morning.  In fact, when I don't have one not only am I bummed, but I'm not my spunky self at all.  And that's just no way to live.  Especially since I have seen the other side and it is greener!! It's greener, it's better, it's prettier, it's clearer the list can go on my friends!!-That's why I wake up even earlier then I should just to make those gorgeous green smoothies!
I wake up an extra 20 minutes just to make them daily.  It's not just the drinking part that rejuvenates me, it's the whole process.  Gathering the veggies, fruits, super foods and proteins and concocting beyond my wildest imagination some pretty freaking awesome smoothie combos.  And then I usually drink them while I'm getting ready, or I shower with the smoothie.  Yes, you heard right…I shower with my smoothie.  What else am I gonna do while I wait for the conditioner to settle in? By the time I leave the house I am wide awake on a natural high that completely satisfies me until lunch time.  It's pretty amazing.
I perfected this goddess this evening so I could get it on the blog ASAP!  Just 2 tries and it's the Shizzle!
1 cup ripe Honey Dew Melon
1 cup English Cucumber plus 3 extra slices (not frozen) (peeled)
1 handful spinach
1/4-1/3 slice of avocado
1 heaping kitchen size tablespoon of Coconut Butter
1/2 coconut water
1/2 unsweetened coconut milk
Optional: 1 Tbsp. Aloe Vera Gel
Optional: Lime juice from 1/2 a lime (this is only needed if you add the Aloe)
Ice
DIRECTIONS:
-Add everything into the blender minus the ice and blend until all particles have disappeared.
-Add 3-4 ice cubes and blend again
Serves 1 very large smoothie or 2 smaller smoothies
Tips:
-Aloe Vera is a magical plant!  It's inside gel heals/aids burns, sunburn, skin irritations, rashes, eczema.  It's great for the hair and the scalp and makes your skin shine.  It's gel is soothing.  Aloe Vera helps with indigestion and Acid Reflux.  I sometimes put it in my tea.  Chamomile tea brewed with coconut milk and some Aloe Vera gel is amazingly relaxing.  
-Cucumbers.  While I used an English Cucumber for this recipe, sometimes they are hard to find.  Fear not my lovelies, just use a regular cucumber.
-I prefer organic produce as much as humanly possible, but whatever floats your boat ladies and gents!