This Green Goddess Smoothie is a healthy snack or breakfast that's packed full of leafy greens, green veggies, and fruit.  So deliciously sweet. this is one green smoothie you're going to fall in love with! Dairy-free, and vegan too.
*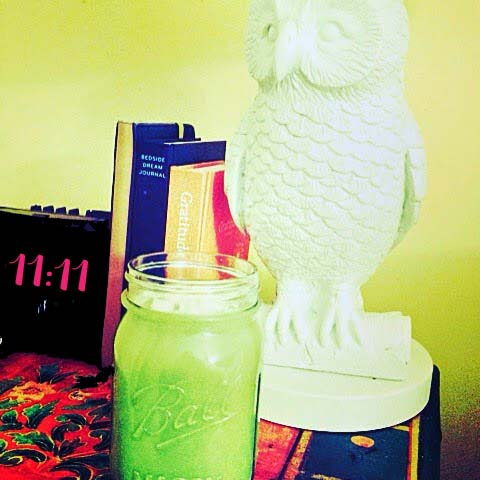 I love green smoothies.  It wasn't always like this, for a long time it was a martini over a green smoothie, but once my passion for holistic nutrition evolved, I absolutely fell in love with smoothies.  Not just regular smoothies which can cause serious weight gain and sugar-highs, but real-deal green smoothies filled with beautiful veggies and fruits that blend perfectly, and taste sweet.  To be honest, I love smoothies at all times of the day, whether it's breakfast, a snack, dinner, and even dessert during each season.  Not only are smoothies completely delicious, and taste like ice-cream but they pack a lot of nutrition, minerals, and vitamins into one green smoothie.  And that is something I truly LOVE.
This smoothie was inspired by the idea that I could no longer eat bananas.  Bananas became a huge trigger food for me and landed me on Benadryl every single time.  For a gal like me that dove into the world of smoothies using bananas this was a huge disappointment.  I was really upset about it.  Banana is unique in smoothies as it adds an incredible sweetness that can mask even the most odorous veggies like broccoli, and still taste wonderful!  Plus bananas provide that complete creamy ice-cream creamy texture that smoothies embody.
The concept of no bananas because of a highly reactive food sensitivity landed me in the thought process that I would never be able to have smoothies again.  And not using any bananas in my smoothies was game-changing in the wrong way.  What was I going to use to replace bananas?  Over time I finally found the secret to banana free smoothies!  For this smoothie, I used avocado and honeydew to create that creamy texture plus delicious sweetness and it worked!
What to use in smoothies if you cannot consume banana
Honeydew has the capacity to create thickness along with its sweetness making it perfect for smoothies!
Honeydew is a water-based melon which means it's less in sugar than bananas, so you are getting that yummy sweetness for half the amount of sugar.  It's a fruit that often gets overlooked as an unsweet fruit.  But if you happen to have a honeydew on hand make sure it's so ripe it's almost on its way out.  That is when your melon will taste like candy.  And that is when it will be ready for your smoothie.
You can even add a tablespoon of nut or seed butter to any smoothie with melon in it.  The consistency and taste are oh so good plus nut butter is packed with protein.
Don't forget that there are plenty of melons to use like cantaloupe, Canary melon, and others in this melon family that are suitable for a banana swap.
I never realized how different my mornings could be until I started making smoothies.  Many years back I was basically a zombie dragging myself each morning to my job as a Fashion Designer and starting off with a caffeinated cappuccino followed by random carb snacks to stay awake, followed by another cappuccino at lunch, when really all I needed (clearly) were some low sugar fruits, veggies blended into a gorgeous smoothie! I don't think I ever realized what natural energy really felt like.  It was and still is amazing each and every morning.
It's not a caffeine high, it's a natural nutrition high.  I wake up an extra 20 minutes just to make them daily.  It's not just the drinking part that rejuvenates me, it's the whole process.  Gathering the veggies, fruits, and all the simple ingredients to create the green smoothie.  It feels good to know that I am helping my body feel good with healing foods.   If you're looking to make this a full breakfast add a scoop of your favorite protein powder.
Ready to gather your ingredients?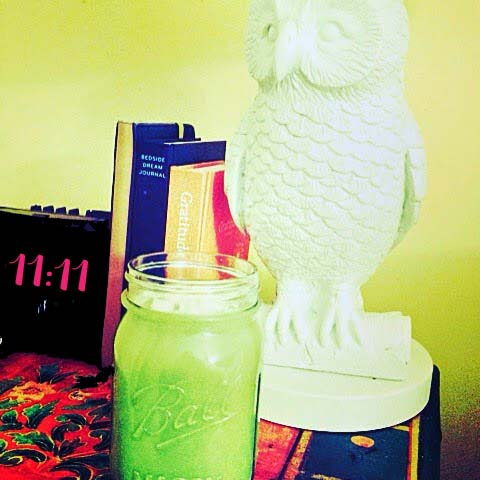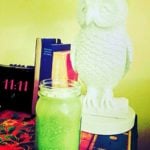 Print Recipe
Green Goddess Smoothie
This Green Goddess Smoothie is a healthy snack or breakfast that's packed full of leafy greens, green veggies, and fruit.  So deliciously sweet this is one green smoothie you're going to fall in love with! Dairy-free, and vegan too. 
Ingredients
½

cup

coconut water

organic

½

cup

coconut milk

unsweetened

1

cup

frozen chopped cucumber

without skin

1

cup

ripe honeydew

1

handful

spinach

2-3

heaping tbsp

avocado

1

tablespoon

coconut butter

not the oil part
OPTIONS: if aloe is added, lime juice must be added.
1

tablespoon

aloe vera gel

inner fillet only

1-2

teaspoon

lime juice from a fresh lime
Instructions
In a high-speed blender blast all ingredients (except ice, lime juice, and aloe) together until creamy and blended. You may have to scrape the sides from time to time.

Add in the aloe, lime juice, and ice and process until blended.
Notes
Aloe Vera gel is soothing.  Aloe Vera helps with indigestion and Acid Reflux.
Organic whenever possible
If it is too thick add more coconut milk or milk of choice
If it is too thick add more avocado or coconut butter
Health & good green smoothies!