These sweet stuffed Medjool dates are the best dates on earth! Tastes like caramel and are completely natural, paired with hemp seeds. Chewy, juicy, incredibly sweet, soft, and topped with sea salt.  Perfect for a snack or dessert and suitable for those with food allergies.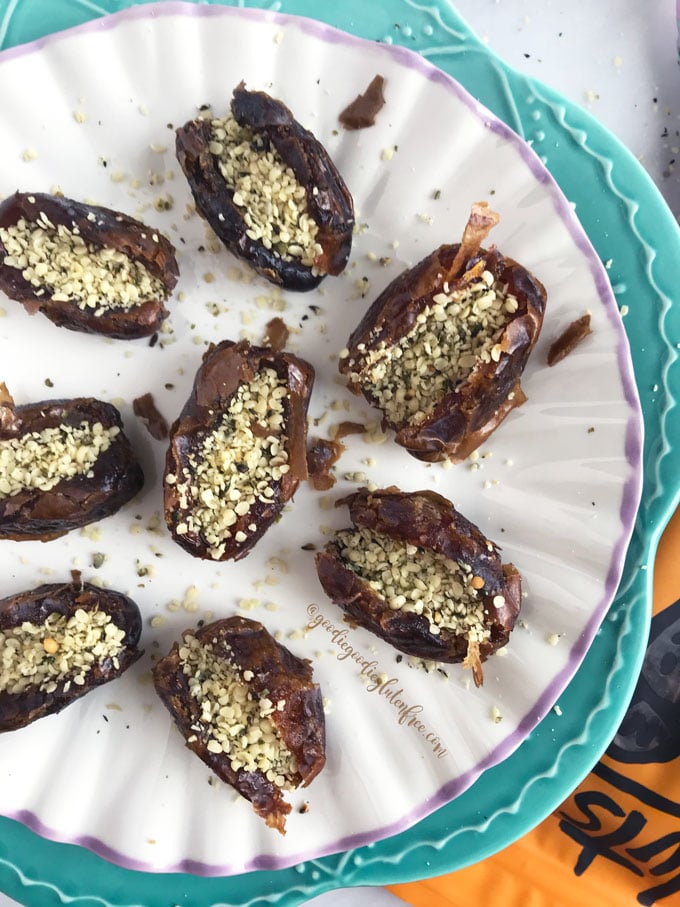 Stuffed Medjool dates are a favorite snack of mine because they are so sweet, juicy, and caramel-like all on their own.  Plus these fruits are refined sugar-free, and nutrient dense.  I don't have to add any additional sugar and in my book that is fabulous!
What's crazy is that the only time I ever had a stuffed Medjool date was when I was at a catered family gathering MANY years ago and they had them stuffed or wrapped in bacon.  That was my experience with dates.  And it wasn't like having a ton.  It was one or two at a party, never really fully tasting their sugary sweet natural profile.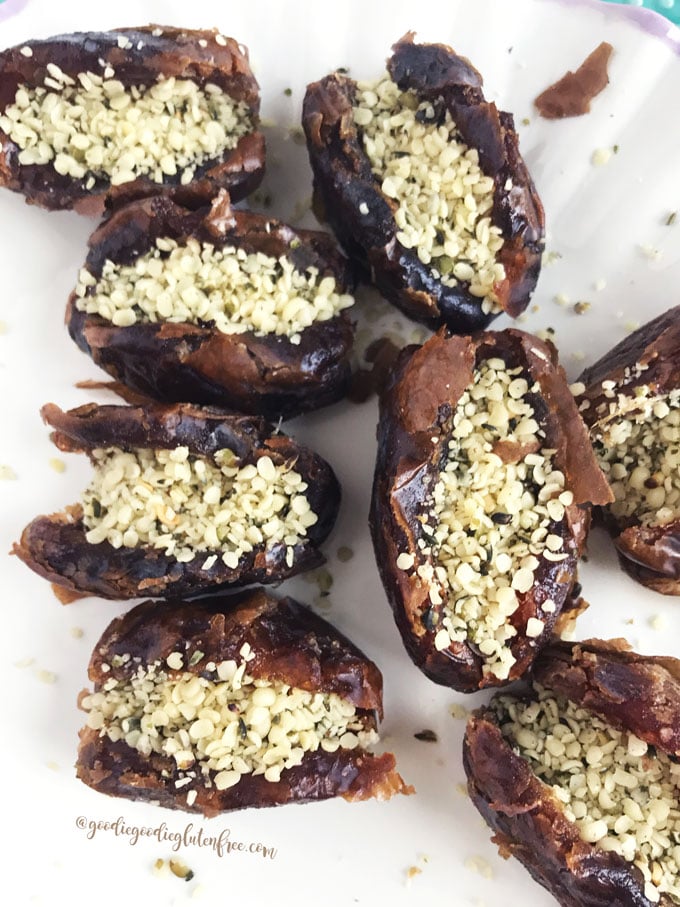 Until I went back to nutrition school at IIN and learned about all the other fruits and veggies that no one ever talked about.  And as it turns out Medjool dates have been around in the U.S. since 1898 and I'm just getting on this foodie trend now.  Forget white sugar!
Medjool Date Benefits
Taste super sugary with no added sugar
So chewy and SWEET like caramel
Perfect for baking, raw treats, no-bake treats, smoothies
You can use dates in baking as the only form of sugar
Filled with vitamins like potassium, fiber, antioxidants, and trace amounts of Selenium which is good for hair
Boosted with magnesium, manganese, and Copper
Dates will help you poop regularly - Yay!
Nutrient-dense
Stuffed Medjool dates add an additional protein bump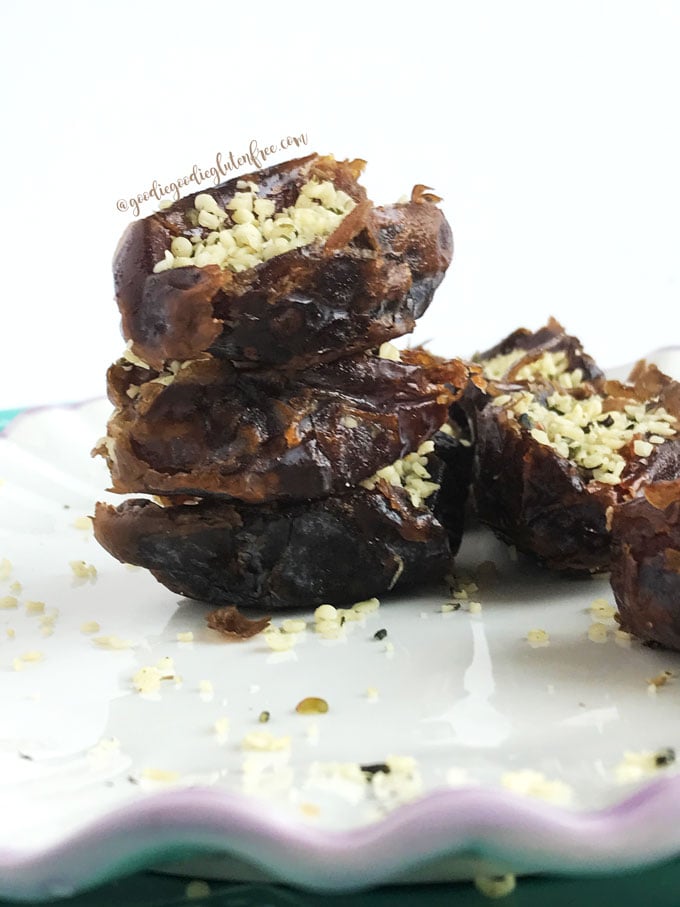 Dates are so super sweet that sometimes you need to eat them with something else to balance out the sugary profile.  That's where these nut-free nutrient-dense powerhouse hemp seeds come into play.  In my eyes, the only ingredients suitable to be stuffed into dates are protein.  Why?  Because you need to be satiated not hungry.  I did not want this to be a fluff snack.  I wanted nutrient-dense, so I went with hemp seeds, and let me tell you they are out of this world amazing!  Stuffed Medjool Dates are the STAR OF THE SHOW!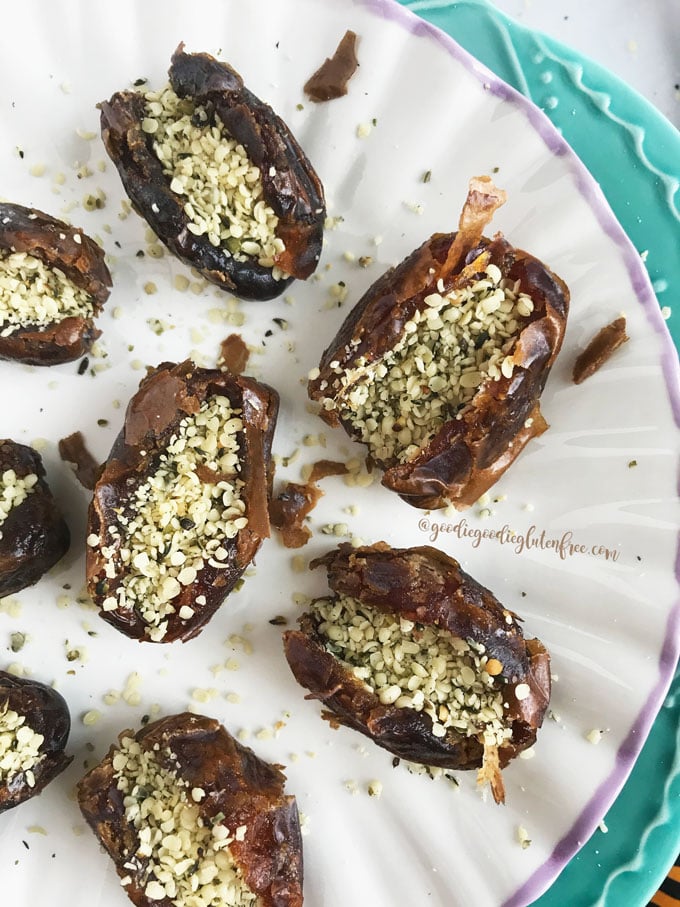 But they are also "DON'T JUDGE A BOOK BY ITS COVER" because they aren't the prettiest of fruits, often looking wrinkled and shriveled.  But one bite or the whole darn thing?  Pure Heaven.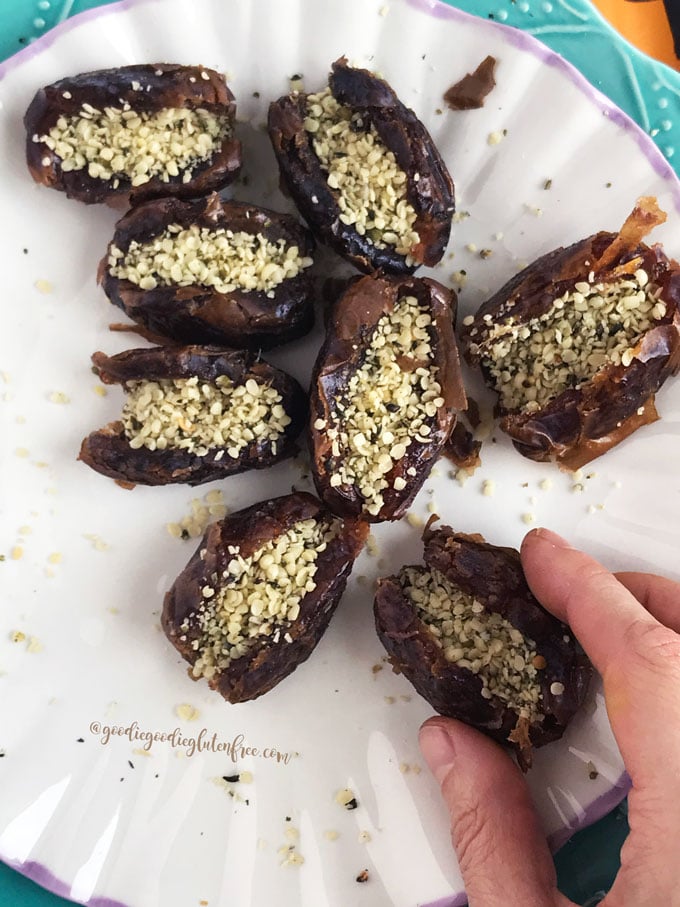 Ready to make stuffed Medjool dates?
Stuffed Medjool Date Tip:
When you de-pit the dates you'll want them to remain intact and not fall apart.  This is how you do it: Mold the inside of the middle like a hot dog bun with a flat bottom.  Or pretend you are in a baking class or pottery class.  It's time to make the bowl.  The bowl base must be sturdy to hold the other ingredients.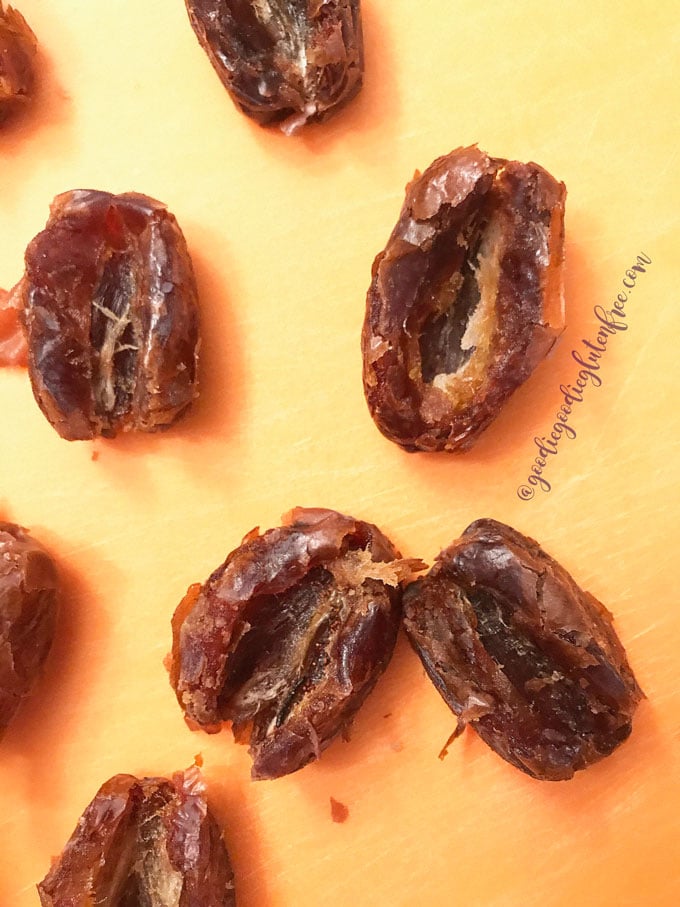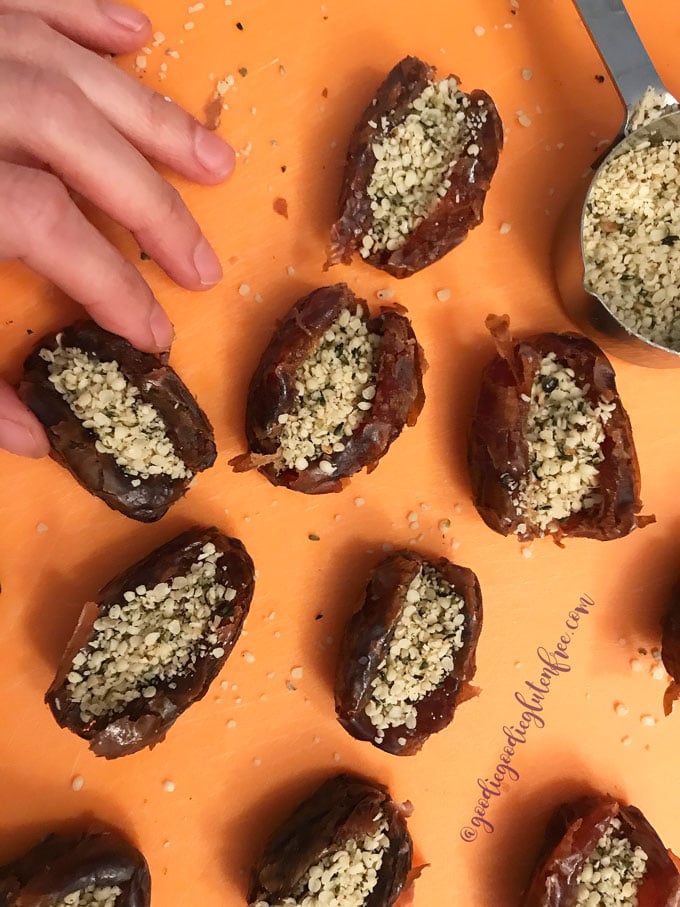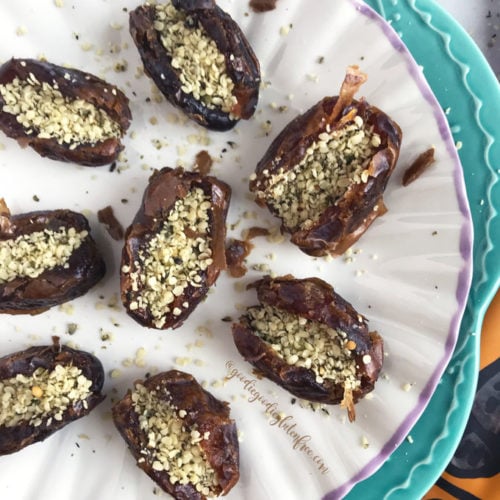 Print Recipe
Hemp Seed Stuffed Dates
Ingredients
10

Medjool Dates

pitted, fresh

¼

cup

hemp seeds

organic
Instructions
Remove pits from dates, but do not pull dates apart. You'll want to keep their shape. Make sure they are still intact as you pull the pits out

Using your fingers mold the dates to look like mini hot dog buns so the hemp seeds have a place to sit

Drop a teaspoon or more into each date and squeeze them tightly together

PUt in the freezer for about 4 hours. Then enjoy them because they are epic frozen but just as good at room temp. But so much better frozen.
Notes
As for hemp seeds, you can use up to ¼ cup.  Sometimes ⅛ cup or slightly more is the perfect amount.  Don't feel you have to use ALL them hemp seeds. // No, hemp seeds will not get you high, they are a plant based protein // 
Want something more fun?  Try these date-sweetened CAKE-POPS!
Enjoy!!!