You will love these delicious gluten-free blueberry pancakes: they're thick, soft, fluffy, spongy, sweetened with fresh blueberries, pack a punch in antioxidants, and taste incredibly sweet without the added sugar!  Dairy-free, nut-free, corn-free, and soy-free too!
*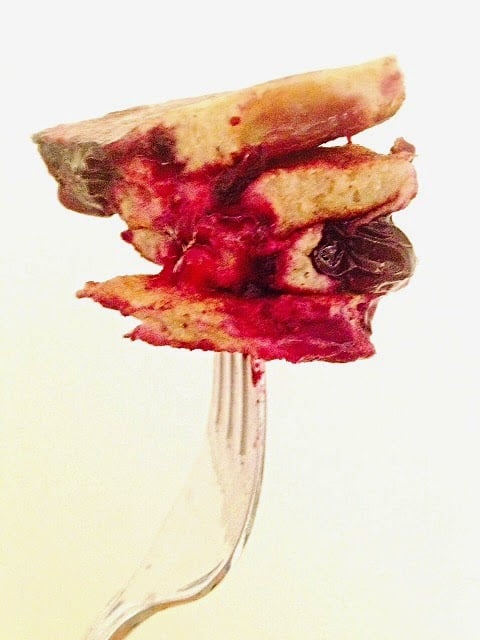 Gluten-free blueberry pancakes recipe.
These pancakes are wholesome, homemade fluffy, doughy, sweet, and spongy!  So sweet that my family never knows they are sugar-free on top of gluten-free.  After years of serving them at home, these are finally on the blog so you can make them too!
*
For years I was just gluten-free, but a few years back I developed a ton of food sensitivities and leaky gut which required me to at one point eliminate all sugar, while at other times just eliminate added sugar.  The idea of never being able to have pancakes again couldn't be the end result.  Usually, I would use a gluten-free baking mix, but my food sensitivities had gotten in the way and homemade became the easiest route.
*
And thus began my journey of making pancakes from scratch, which turned out really well!  They were light, fluffy, sweet, and perfect to stack with the best texture on the inside!
*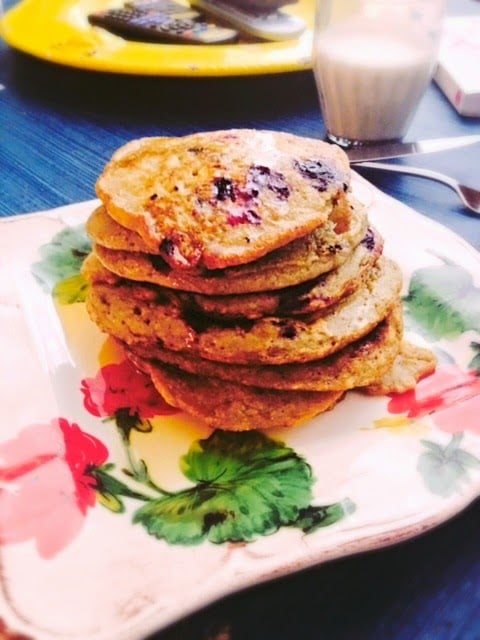 And in case you hate fruit in your pancakes KNOW that this recipe tastes delicious without the fruit.
Knowing that gluten-free flour blends can often make baking from scratch easier, I decided to use Bob's Red Mill All-Purpose Flour Blend.  And In addition, I played with all kinds of gluten-free flours from quinoa flour to teff flour to sweet rice flour to make these extra fluffy.
*
I used dairy-free milk, tried chocolate chips and blueberries, and honestly both toppings were fantastic.  I even baked with different spices, stevia amounts all to get that right pancake taste, and texture sans all major food allergens!
Free-from recipe checklist.
Gluten-free
Dairy-free
Soy-free
Corn-free
Sugar-free
No added sugar
Nut-free
Coconut-free
Gluten-free flour blend.
Bob's Red Mill
All-Purpose Flour blend is a blend I absolutely love.  It's really versatile and can make anything from cookies to pancakes using heartier and healthier flours.
*
Bob's All-Purpose Flour
is made with garbanzo beans flour, potato starch, whole grain white sorghum flour, tapioca flour, and fava bean flour.  It's also loaded with protein which I really like for a pancake and has a heartier flavor.
*
And the biggest perk to using a gluten-free flour blend?  Using a flour blend makes baking from scratch so much easier, and more peaceful.  Just make sure you use a trusted gluten-free flour blend like Bob's Red Mill.
*
Now that I had my base I could add in other ingredients.  From sweet rice flour for fluffy sweetness to vanilla, cardamom, and cinnamon for flavor, to using organic eggs instead of conventional eggs, and plant-based quinoa milk for my dairy-free option, stevia, spring water, and BLUEBERRIES!
*
These pancakes were made to taste delicious and keep you satiated with all the lovely nutrients possible!
*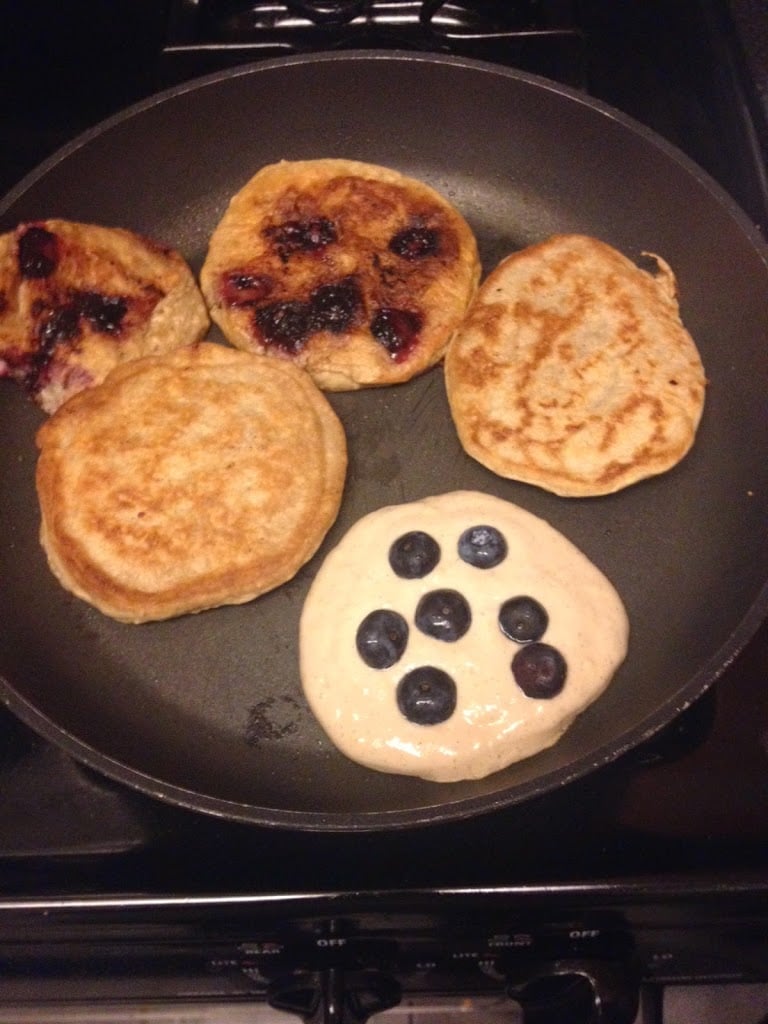 Ready to make beautiful music together?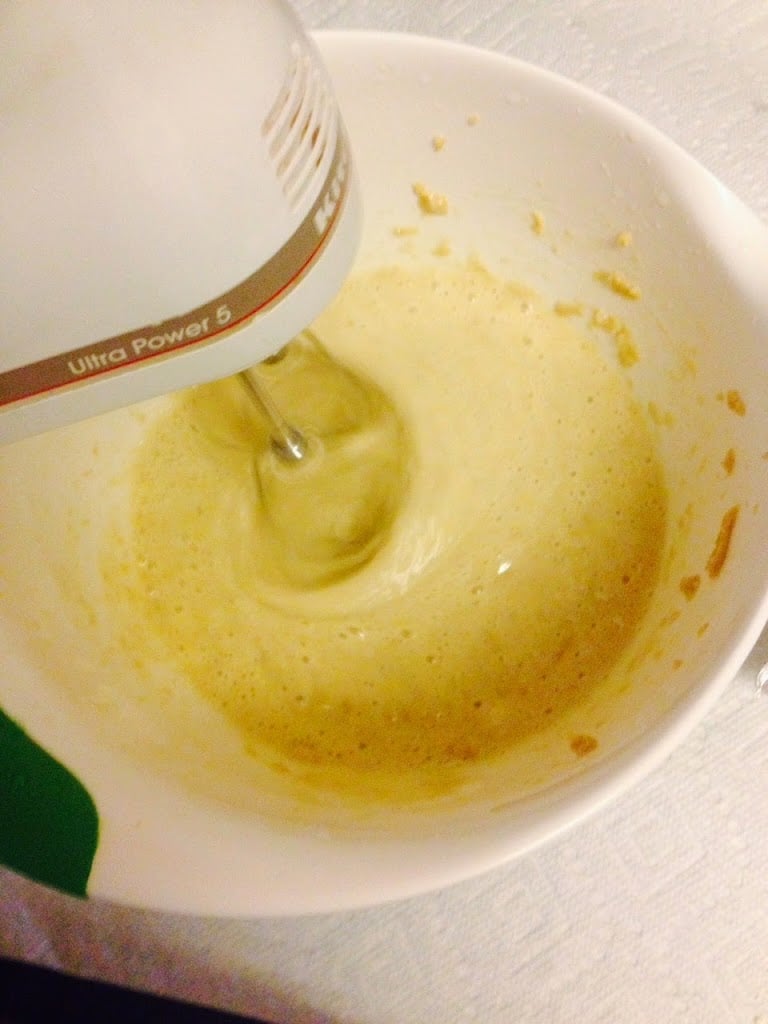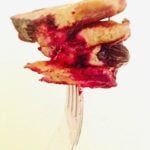 Print Recipe
Killer Gluten-Free Blueberry Pancakes
You will love these deliciously fluffy gluten-free blueberry pancakes: they're thick, soft, fluffy, spongy, sweetened with fresh blueberries, pack a punch in antioxidants, and taste incredibly sweet without the added sugar!  Dairy-free, nut-free, corn-free, and soy-free too!
Equipment
Stove

Griddle pan

Pancake spatula
Ingredients
1/4

cup

sweet rice flour

3/4

cup

all purpose bob's red mill gluten-free flour blend

1/2

tsp

xanthan gum

1/4

tsp

cinnamon

1/4

tsp

cardamom

1

whole

vanilla bean, cut lengthwise

2

jumbo

organic eggs

1/3

cup

quinoa milk

or non-dairy milk of choice

2/3

cups

spring water

1 1/2

cups

blueberries

1-2

tbsp

ghee or coconut oil for greasing the pan

30

drops

liquid stevia
Instructions
Mix all dry ingredients together in a bowl and set aside.

With a hand mixer, beat eggs along with vanilla bean in a separate bowl and set aside.

Slowly beat the dry mixture into the wet mixture until blended well.

Then add in 1/3 cup Quinoa or non-dairy milk along with 2/3 cup water to the mixture and continue to beat until the mixture is smooth.

Using liquid stevia, add 30 drops of Liquid Stevia and beat well until blended. Then add 3/4 cup blueberries to the mixture.

Heat skillet to medium/high heat with cooking spray, ghee,or coconut oil. Then create medium-sized pancakes in the pan, about 4 at a time if you are using a large pan. Manually add desired amount of remaining blueberries to the top of each pancake.

Pancakes should cook on each side until lightly browned. Serve cool, warm, or hot, and don't forget to sweeten these with pure maple syrup!
Notes
Remember, not all-natural sweeteners are created equal.  Agave is super high in Fructose.  80 percent high!  Much higher than Maple Syrup.  
You can also try Brown Rice Syrup, honey, or coconut butter as they are all on the lower end of the glycemic index and are from a natural source.
The best part about these pancakes is that you can use whatever fruit you want like cherries, raspberries, strawberries, figs, and even peaches and apples!
Ghee is another name for clarified butter which can be found in the dairy section of your supermarket.  Ghee is a great source of good fat.
Liquid Stevia is very different than packaged powder stevia.  In order to make this recipe sugar-free, you will need the liquid Stevia that does not have any additives in it.  This you can find at your local health store.
Want more sugar-free pancakes?  You'll love my Berry Cake Pancakes too!
Love & sugar-free pancakes!