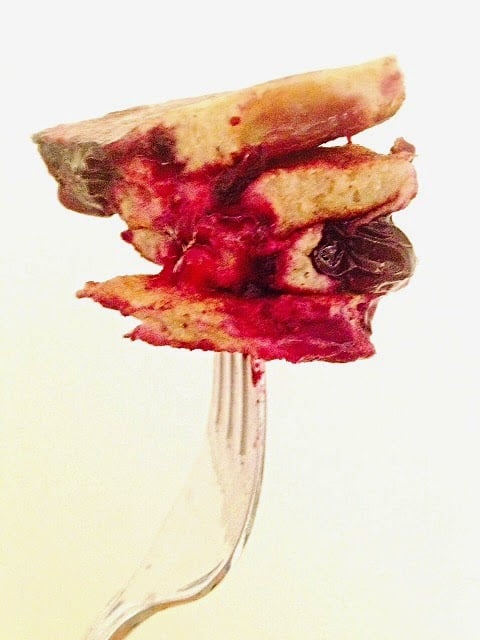 Hi, my name is Julie, I am 37 years old and I have an addiction to Pancakes.  Sugar-free, Gluten-free, Dairy-free, Soy-free, Nut-free Pancakes.  I love Pancakes.  Let me count the ways.  They say the first thing to do is to admit the problem.
This is your brain.  
This is your brain on Pancakes.  Any questions?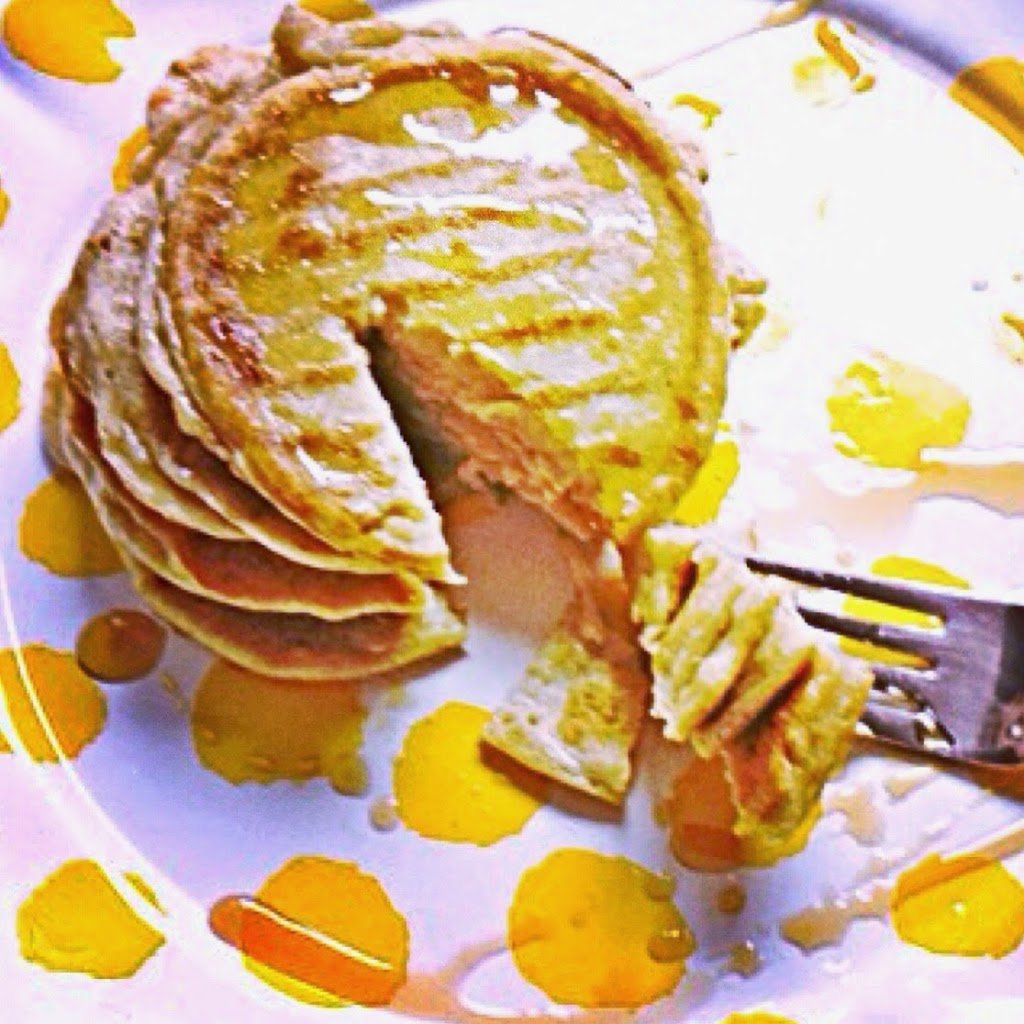 I don't know where I lost control, but I did.  It started out so innocent.  I was building a recipe for my blog that would fit into my detox diet from my doctor.  It needed to be sugar-free, dairy-free, gluten-free and nut-free and Soy-free. To be honest, I never thought a pancake could defeat me, for heavens sake it's not chocolate! Chocolate always defeats me…It's always 10 bars later and I'm like WTF happened?!-But that's chocolate-And chocolate is like that bad boyfriend that keeps you coming back for more, luring you in with it's sweet addiction and then leaving you by the side of the road to pick up the pieces of your caffeinated hyper-sensitive body and broken-out acne riddled face-totally understandable-as I said, It's chocolate.  But a pancake?  More like stacks of pancakes filled with melted oozy blueberries for 4 days straight! (It could be 5, I lost count).
I thought, It's sugar-free!  It's dairy-free!  It's gluten-free!  It's nut-free!  It's soy-free! How GOOD could they be?  I knew Pancakes wouldn't knock me off track.  And as a kid I never even liked pancakes!  I was strong.  I was convinced nothing could defeat me.  I was a warrior!
I was also wrong.  Things got out of hand.  I didn't think it would turn into this.  I feel like I'm cheating on breakfast eggs n veggies and having a love affair with Pancakes.  The detox diet didn't say anything about how many pancakes were considered "too many" or "overkill".  And they are healthy pancakes.  The diet just said to reduce eggs.  What was I going to have for breakfast if it wasn't eggs?  So I innocently included pancakes.  Reduce eggs, eat pancakes should be my next t-shirt.  Move over "Health Is The New Black", there is a new sheriff in town and it's called admitting your addicted to pancakes on a t-shirt.  Ha ha…I'm only half kidding.
You see my original thought process and the start to a beautiful relationship with dear ole pancakes was to put on some weight.  After detoxing for many, many months with Leaky Gut, I seem to be loosing rather then gaining.  I know, I know…most would kill to say they eat like pigs and don't gain a pound.  But me?  I just want to gain a few pounds!  So after round one of amazing pancakes, I decided to keep the trend going in hopes of gaining some weight.  I also decided to add blueberries to the pancakes too.  That was the best decision I ever made (in the realm of baking pancakes, that is).
Needless to say, I haven't gained weight, but I have eaten a lot of pancakes.  And I also fit into my skinny jeans!  I'm wearing them right now, as I type this very post!
Yup that's me…a gluten-free warrior eating stacks of pancakes daily.  DAILY!!
After the second batch, I felt the pancakes overall needed tweaking but I thoroughly enjoyed sitting down in front of the TV watching The Goldbergs eating my blueberrylicious pancakes one blissful weekend morning.  I felt like a kid again, but I wasn't watching cartoons.  With each bite, I decided what needed to be tweaked all the while getting hooked on the spongy pancake madness.  At the end of my 6th pancake I decided I would have to make them again the following day just to be sure my feelings of ecstasy were accurate.  Because after all, two rounds of pancakes were not enough.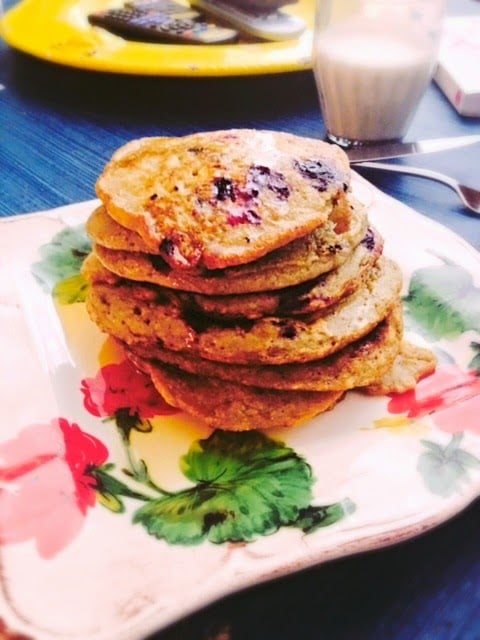 And so the next day I made them again, along with my tweaks.  I had to play around with the amount of flours I used and the Liquid Stevia.  Liquid Stevia can be tricky sometimes.  Either it's not sweet at all, or it's so over the top, it's disgusting.  I had to find the right balance.  And I added in Nutmeg and Cardamom.  I do love dessert spices-they are fun to play with.  But that didn't stop me from eating the third stack in front of the TV watching a repeat of last Sunday's episode of True Blood.  I savored each piece, so happy I was able to eat something that didn't cause a food sensitivity.  I was high!  High as a kite on Pancakes!  Look what the pancakes did to me!  A 37 year old getting high on a work day?  OMG.  And so I marked my tweaks on a piece of paper to save for the next day's batch.  Yup, there was a next day, and another stack.  Strangely I did not gain a single pound!
Mind you, I saw nothing wrong with this.  I didn't see this as a problem.  They are healthy pancakes!  Oh. So. Good.  But I'll give you some back story here-I was on the Paleo diet (Whole 30) for about 5 months.  It was so strict because Paleo is big on nuts and I have sensitivities to nuts.  Since no grains are allowed it was impossible for me to make anything carby or treat-like unless it was made from coconut.  So I went gung-ho on coconut everything and developed a freaking sensitivity to that!  Do you see a trend here?  Moderation is not my strong suit.  Now anything with coconut makes my face and throat completely numb, and it's been like this since April!  In addition, I haven't had a touch of sugar since the beginning of March, the end of May and before that was January.  I haven't had a taste of wine or alcohol since January!!  And this is not a poor me story.  This is a story of strength!  But a girl has GOT to have some kind of goodie!  So if it's gotta be sugar-free, gluten-free, dairy-free, nut-free, soy-free pancakes so be it!
Side note to self and all others reading this-If you overindulge on anything, you can create a sensitivity or even an allergy within your body!  Healthy or not, your body needs rotation.  
So when I made them again, because there is always an "again", I reduced the amount of Nutmeg, Liquid Stevia and increased the amount of Cardamom and switched up the flour blend by adding more Sweet Rice Flour then All-Puprose.  By golly I found the diamond in the rubble!  The golden ticket!  The treasure.  The pot of gold!  I was all ready to blog this recipe as the final end all be all!  After 4 breakfasts of blueberrylicious pancakes and total turnaround tweaks I was sick to death of pancakes.  Thank heavens!  I would have turned into a pancake!
But…and there is always a "but".  I took a day off from pancakes, made my homemade Quinoa milk yesterday, which kept me busy in the kitchen and not on the blog.  And today, I found myself strangely unsick of pancakes and longing for them!  My naughty healthy habit was creeping back in!  And this time it was for dinner.  And this time I used vanilla seeds from a vanilla pod on top of the vanilla extract and it was bombdigity!  And this time was the jackpot.  And this time, I used some of the Quinoa Milk and this was IT!  Lucky number 5.  Let's see some jazz hands!  (Will and Grace reference)
WHAT YOU WILL NEED:
1/3 cup Quinoa Milk or any non-dairy milk of choice (My homemade recipe here)
2/3 cup water
3 Tbsp. Sweet Rice Flour
3/4 cup (and then a little extra) Gluten-free All Purpose Flour (Bob's Red Mill)
(The Sweet Rice Flour and the All Purpose Gluten-free flour blend should equal 1 cup in total)
1-2 dashes of Nutmeg
2-3 dashes Cardamom
1/2 tsp. Xanthan gum
2 jumbo eggs
1 tsp. vanilla extract (sugar free if you can find it)
1 fresh vanilla bean (cut lengthwise, with seeds scooped out)
Liquid Stevia
Ghee (just enough for the pan)
**Ghee is another name for clarified butter which can be found in the dairy section of your supermarket.  Ghee is a great source of good fat.  Yes, there is such a thing called good fat.

**Liquid Stevia is very different then packaged powder stevia.  In order to make this recipe sugar-free, you will need the liquid Stevia that does not have any additives in it.  This you can find at your local health store.
DIRECTIONS:
1. Beat all dry ingredients in a bowl and set aside.
2.  Beat eggs along with vanilla extract in a separate bowl (not stevia yet).
3. Add eggs and vanilla to dry mixture and beat well.
4.  Add in 1/3 cup Quinoa or non-dairy milk along with 2/3 cup water to mixture and continue to beat until the mixture is smooth.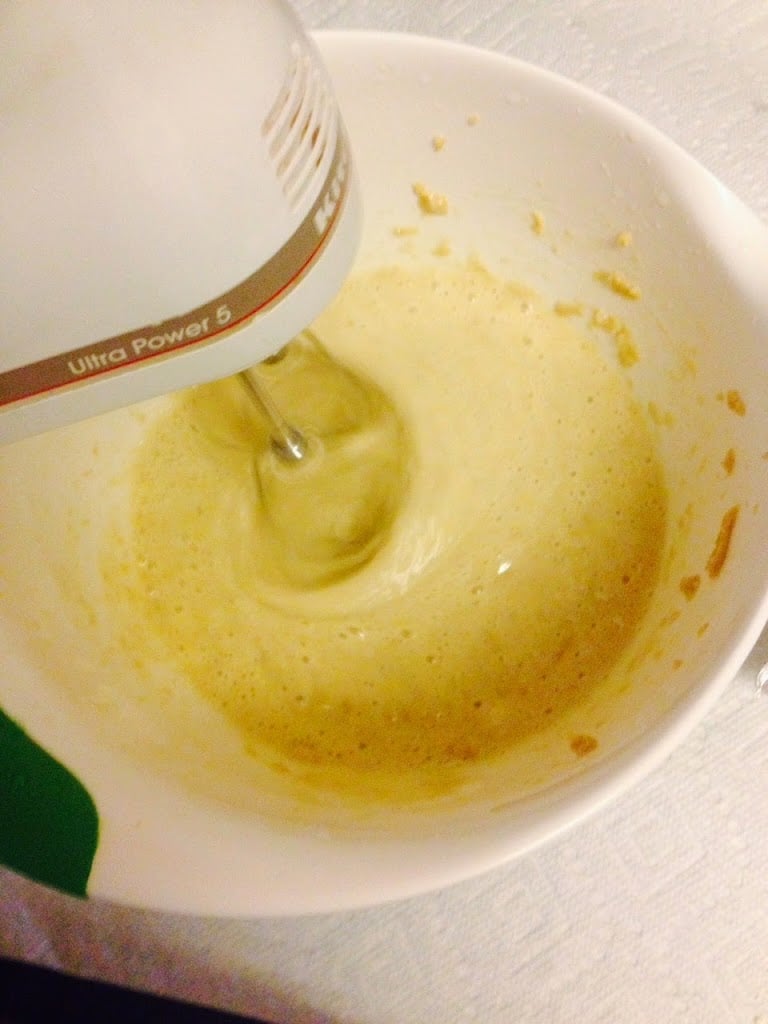 5.  Cut the vanilla bean lengthwise and scoop out the seeds and add to batter.
6.  Add 30 drops of Liquid Stevia to batter and beat well.
7.  Heat skillet to medium-high heat with cooking spray and Ghee (amount of Ghee is whatever you desire).  (butter can also be used as a substitute) (aprox 1 – 1 1/2 Tbsp.)
8.  Create medium size pancakes in the pan and then add desired amount of fresh blueberries to each pancake.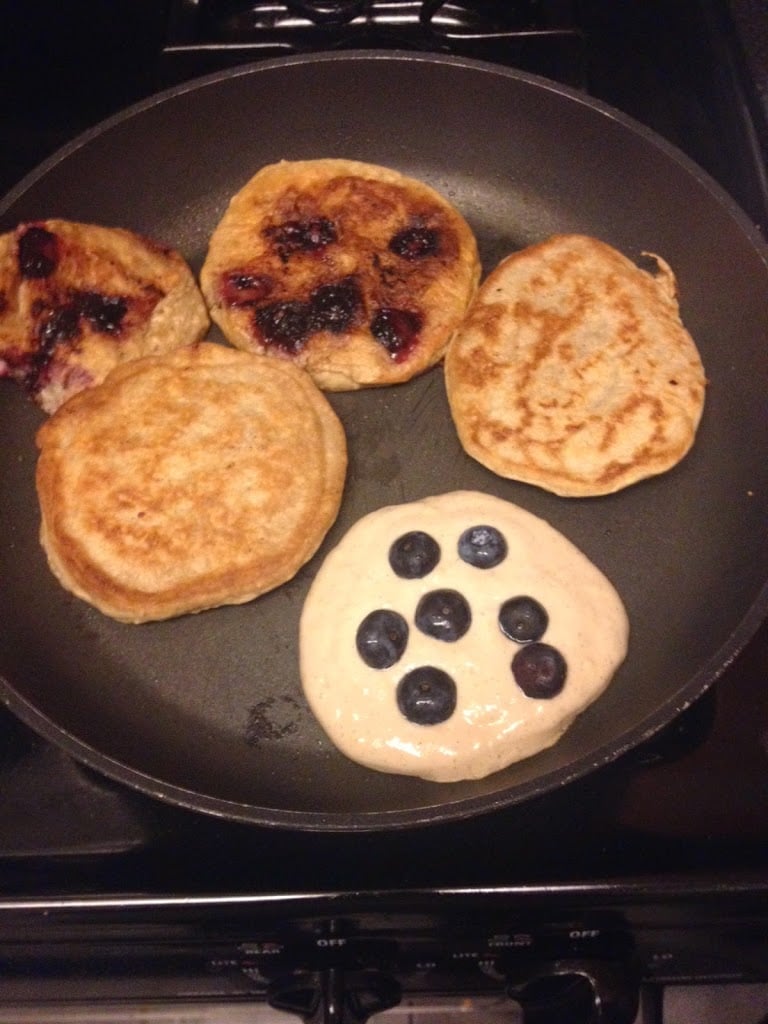 9.  Flip when each side is slightly browned.
10.  Serve cool, warm or hot and don't forget to top it with natural sweetener such as Maple Syrup.
ADDITIONAL TIPS:

***Remember, not all natural sweeteners are created equal!  Agave is super high in Fructose!  80 percent high!  Much higher then Maple Syrup.  

*You can also try Brown Rice Syrup, honey or coconut butter as they are all on the lower end of the glycemic index and are from a natural source.

*The best part about these pancakes, is that you can use whatever fruit you want like cherries, raspberries, strawberries, figs and even peaches and apples!

Song of the moment: Come on Eileen by Dexy's Midnight Runners