What does a Sweet n Tart Pink Beauty Juice do for your body? Do you mean the benefits? Well, it adds beauty to your skin!  Carrots and beets have a super nutrient called Beta-Carotene, which literally adds color and vibrance to your skin.  It makes you glow from the inside out!  And Blackberries contain the highest amount of antioxidants in fruit!  Plus they are loaded with Vitamin C, K, and even have proven benefits on the digestive system reducing inflammation. How cool is that? That's why I named it Pink Beauty.
And what does the combo taste like, you wonder?  Let me describe…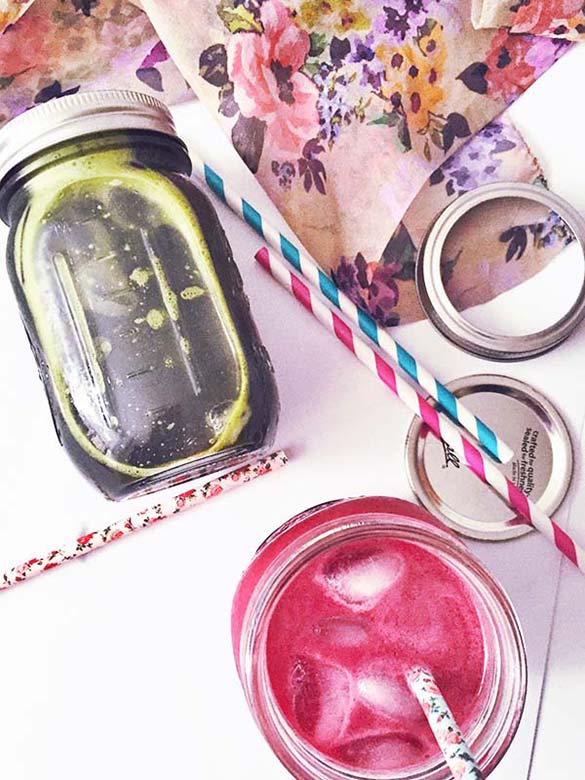 Just go with this for a minute…
Head over to this Meditation song on iTunes by Nacho Sotomayor called Destino (La Roca Volumen 7)
or this Meditation song
Journey East by Osho/Music From The World Of Osho (Yes To The River).
These songs are epic, and they really transport your mind and body, which is perfect for this next exercise.
With those songs playing (either one) on low volume,
close your eyes.
Picture yourself on a beach with the wind blowing and the ocean directly in front of you.  It's the longest beach you have ever seen.  And your toes dig into the cool white sand.  The sky is a pastel sunset of whites, lavender, and rose pink. The ocean, you can hear it, but it's soft, peaceful.  The waves softly crashing into one another.  The water is that perfect warm, and sometimes it splashes onto your arms and you feel it, like a cooling sprinkle in the distance.  Can you smell the saltiness in your hair?
With your eyes closed, take a big deep breath in through your nose, hold for 3 seconds, and release through your mouth.
Take another big deep breath in through your nose, hold for 3 seconds, and release through your mouth.
Do this one more time.  And when you exhale let it all out.  Let it relax you.
The pink juice touches your lips and transports you to this imaginative place.  The more you drink the lighter, healthier, and vibrant you feel.
It's refreshing, soft, tart, sweet, light, and beautiful.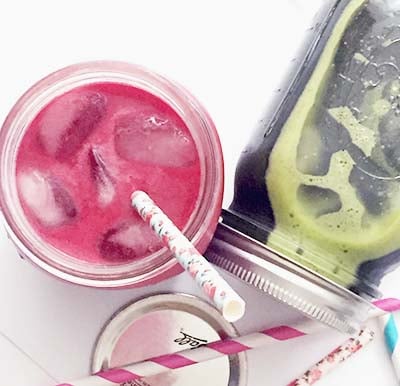 Now open your eyes.  You are really in your house, your apartment, your place of work, your Summer home, with the in-laws or in New York City where the sandy beaches are nowhere in sight.
Did I just transport you or what?
Back to reality…
You need to make this!
All ingredients add color to your skin!  And who doesn't want more color, more vibrance?
3 ingredients.  Carrots, Beets, and Blackberries.
Boom!
WHAT YOU WILL NEED:
1/2 cup shredded carrots
2 1/8″-thick medium-large frozen beet slices
1/2 cup frozen blackberries
1 1/4 cup water
1 cup ice
DIRECTIONS:
Add all ingredients (except the ice) into a high-speed blender and blend until all particles are smooth.
Drain mixture with a Nut-bag into a large mixing bowl and discard pulp left in the bag.
Serve on the rocks (that means with the ice : ))
Serves 1 16oz or 2 8oz drinks
Sweet-n-Tart Pink Beauty Juice
Author:
Prep time:
Total time:
Cool, refreshing, light healthy juice that tastes like candy!
Enjoy!