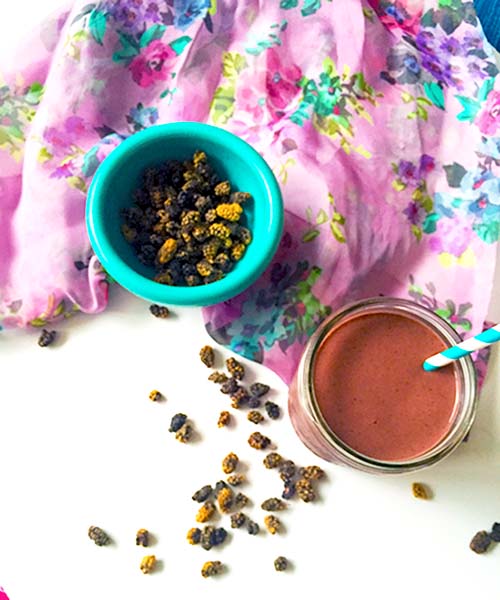 Smoothies are my go-to easy breakfast solution.  Since they are packed with superfoods and super nutrients they keep me full for a long time, and it's my favorite breakfast!  
I have found a deep passion for creating delicious smoothies that are lower in sugar.   I'll just be frank.  I'm a green smoothie queen.  I don't want to toot my own horn, but I adore making smoothies.  They are fun to make, I can get really creative and they are packed with wonderful nutrients that have helped me and my body get healthier!
At first I was all about the bananas.  Bananas in every single smoothie I made. And not just one but 2 each time.  So 1 smoothie per day x 7 days a week – well thats a LOT of bananas and a LOT of sugar.  And when you have an addition to sugar?  Bananas are secretly your friend but later stab you in the back. Because guess what?  As natural as they are?  They are loaded with sugar.  For some people like me, it was just too much.
So about 7 months into my smoothie journey I eliminated bananas (you will find plenty of smoothies on my site with bananas, but me personally?  I stopped consuming them).  I thought at first, how am I going to make a smoothie without a banana?  As it turns out there are SO many ways to sweeten and thicken up your smoothie. Plus, the more you eliminate sugar the less you crave it, and the more you eliminate it,  the more you will end up only needing a small amount to sweeten your food up.  Once you get used to less sugar, you don't miss it at all.  Bonus!
The foods I put in my smoothies always has a benefit.  The right type of smoothies are not just about taste.  They are about nutrients, fiber, protein and taste.  My smoothies have function, which is why I drink them as often as I do.  Some of my smoothies can even be breakfast meal replacements!
This smoothie uses dried Mulberry Berries which are  high in Iron, Vitamin C, K, B2 (Riboflavin), B6 and Folate (for skin).  Due to their iron component this berry gives you an energy boost while supporting your skin and immune system, which is a rare component for a berry.  These berries which come in a variety of colors (each color coming from a different place) are loaded with Antioxidants and a little goes a long way.
Acai is another power superfruit and Antioxidant I used in this smoothie.  The many health benefits of Acai is that it is a great low glycemic fruit to use for those on sugar-free diets.  You may have heard of Acai smoothie bowls?  Acai is the ultimate base for a smoothie bowl, and these are sold at all the juice bars around town.  Acai has more antioxidants then any of the common berries!  And it is anti-inflammatory.  
WHAT YOU WILL NEED:
1/4 cup dried Mulberry Berries
1 T. Flax seeds
2 T. Acai Powder
1/2 cup frozen Butternut Squash
3/4 cup frozen cherries
1/3 cup of filtered water
1 cup Hemp Milk
1 cup of Ice
Optional Goodies:
1/2 t. Flax oil (why? because it's excellent for your skin and keeps you regular)
1/2 t. Cod Liver oil (why? Good for the gut lining)
Probiotic Powder (why? Essential for the gut, helps you digest your food)
1/4 cup Jicama peeled (why? It's a low glycemic root veggie, that is filled with water and has barely any taste.  It's filled with nutrients, so why not?)
DIRECTIONS:
1. Blend all of the ingredients together in a high speed blender except the ice until smooth.
2. Add the ice and blend again until desired consistency.
3.  For a thinner smoothie add more liquid and re-blend.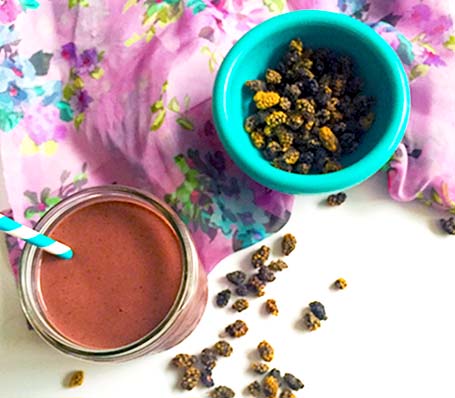 Cherry Acai Mulberry Smoothie
A thick and creamy gluten-free, dairy-free, soy-free and nut-free smoothie featuring Acai.
Author:
Goodiegoodieglutenfree.com
Ingredients
¼ cup sun dried Mulberry Berries
1 T. Flax seeds
2 T. Acai Powder
½ cup frozen butternut squash (organic if you can)
¾ frozen cherries (organic if you can)
⅓ cup filtered water
1 cup hemp milk
1 cup of ice
Optional:
½ tsp. Cod Liver Oil
½ tsp. Flax oil
Probiotic powder (the dose you take)
¼ Jicama
Instructions
Blend all of the ingredients together in a high speed blender except the ice until ingredients are broken down.
Then add the ice and blend again.
For a thinner smoothie add more hemp milk or more water and re-blend to your desired consistency.
 Love and Smoothies!