Healthy, homemade coconut fruit popsicles!   An easy recipe perfect as a healthy Summer treat, or afternoon snack.  Just 5 real food ingredients including tangy coconut yogurt, and no added sugar!  
The smell of coconut brings up so many memories from that suntan lotion you used as a kid, to the pina colada you had on your trip to the Bahamas, to the feeling of Summer, and baking.  It's hard to believe how easy it is to make popsicles at home.  All you need is a blender, an ice pop mold, popsicle sticks, and a freezer!  And I love this popsicle mold.  It's a gamechanger.  This popsicle uses tangy, unsweetened yogurt so the consistency for this pop is creamy and loaded with probiotics and cultures.  Both good for the body, and tastes like frozen ice cream!
Why the right popsicle mold matter
This mold is my ultimate favorite because of its durability
Ability to freeze
How it cleans
How the mold is built
When it already comes with the sticks, the lid with the popsicle stick slots it makes your popsicle making a much easier experience.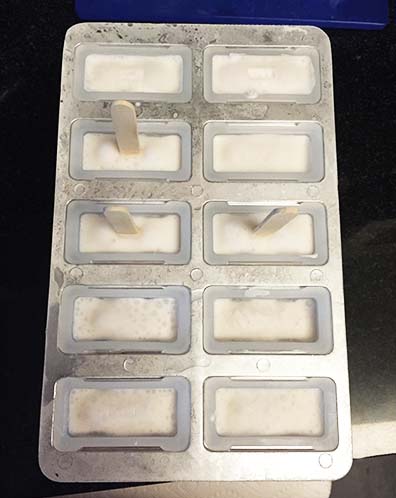 The do's and don'ts to popsicle molds
Not all popsicle molds are created equal
Some are really expensive and fail miserably
Some are really inexpensive and work wonderfully
Some molds come with sticks, some don't
Some molds come with lids, while others do not
Other molds come with a plug and some a USB – don't get these
You don't need to go too fancy with a popsicle mold.  Find one you love and stock up!
Read the reviews, and not just the first page
Coconut yogurt tips:
There is a difference between coconut flavored and coconut-based
Not all coconut yogurt is dairy-free, and you will want dairy-free
Some yogurts have added sugar, grain additives, rice thickeners, gums, food coloring, white sugar, and other additives added to their yogurt.  You will want to choose one that uses less than 3 ingredients
The better the ingredients, the higher the quality
The better the ingredients the better for your body, your skin, and your wellbeing
My favorite brands are Anita's Coconut Creamline Yogurt plain & Coyo natural.  These brands are worth a google to get a chance to try them.  They use minimal ingredients and are tangy in taste, but has a creamy consistency.  You'll want to find a brand that uses few ingredients.
If you cannot find a coconut yogurt you like, try making your own coconut yogurt.  This one only has 2 ingredients.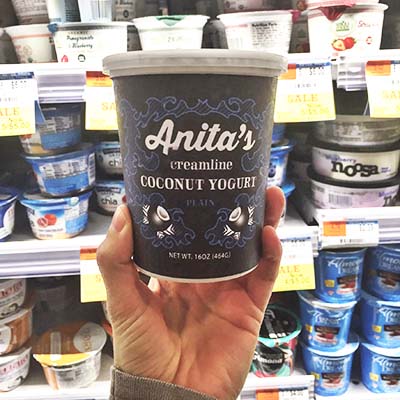 Did you know?
Dairy yogurt can cause acne flares and inflammation to already diagnosed conditions which is why we opt for coconut.
Coconut yogurt nutritional benefits
Loaded with good bacteria
Full of live probiotic cultures
Rich in vitamins and minerals like calcium
Made from a plant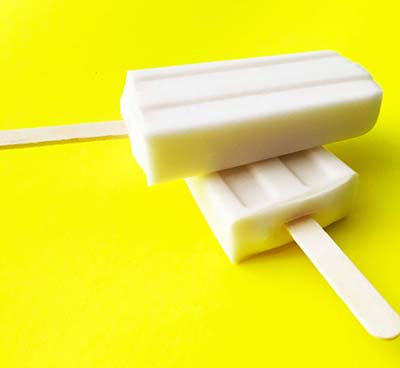 Ready to rock?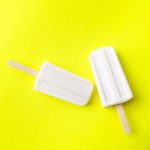 Print Recipe
Coconut Yogurt Popsicles
Healthy, homemade coconut fruit popsicles!   An easy recipe perfect as a healthy Summer treat, or afternoon snack.  Just 5 real food ingredients including tangy coconut yogurt, and no added sugar!  
Equipment
popsicle mold

popsicle sticks

blender
Ingredients
1

cup

coconut yogurt

unsweetened, dairy-free

1/2

cup

raw coconut water

1/4

cup

spring water

1/4

tsp

stevia powder

2

tbsp

additional coconut water or spring water

your choice
Instructions
 Blast all the ingredients in a blender on high until well combined.

Using a measuring cup with a spout, pour the coconut mixture into the popsicle molds, cover with the lid, add the sticks, and put in the freezer for a minimum of 6 hours or overnight.

Once they are frozen plan to remove the popsicles from the mold by running the mold under warm/hot water to wedge the popsicles out.

Store in the freezer in a concealed bag or tray for up to 6 months, and enjoy at your leisure.
Notes
I love using Harmless Harvest for all of my coconut water needs.  Their product is pure and actually tastes real.
Anita's Coconut Creamline and Coyo are my favorite brands to use.  However, any plant-based yogurt or coconut yogurt can work as long as the ingredients are good.
This popsicle is the popsicle that is for eaters who like it simple.  If you're in the mood for cookie covered, then this chocolate cookie covered popsicle is for you.
Love and coconut popsicles!