4-ingredient dairy-free yogurt popsicles are loaded with tart blackberries, sweet watermelon, and probiotics!  Simple, healthy, and easy to make.  A creamy frozen yogurt popsicle that is gluten-free, paleo, vegan, and refined sugar-free.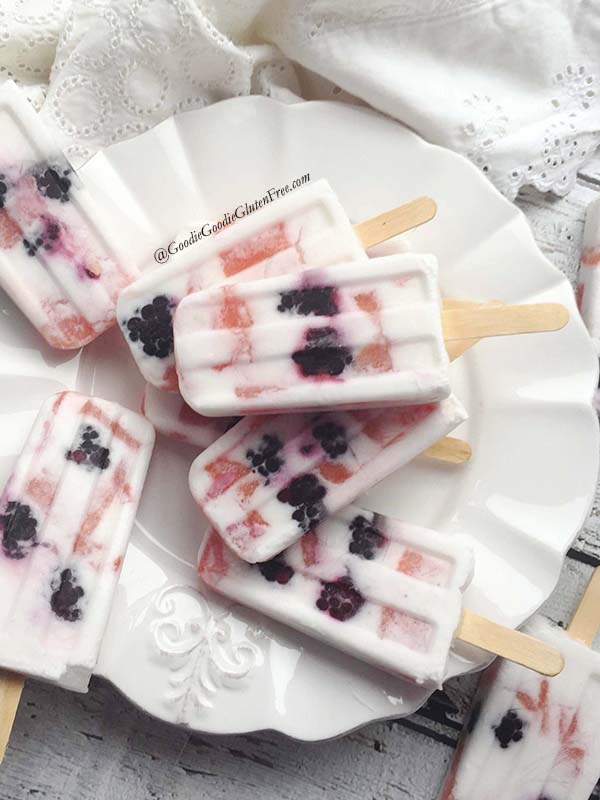 You might be wondering how these Blackberry Watermelon Yogurt Popsicles can be Dairy-Free, right?!  Well, as I explained to my mom, I will explain to you. There are all kinds of dairy-free and plant-based types of yogurt.   I'm not talking about dairy yogurts with flavors, I'm talking plant-based yogurt bases made out of coconuts, cashews, oats, soy, and more with their own flavors.  These yogurts come from a plant source and not an animal source.  These dairy-free blackberry watermelon yogurt popsicles are made with coconut yogurt.  Yogurt made from coconuts that are also loaded with probiotics.
BEST COCONUT YOGURT BRANDS
Anita's coconut yogurt uses 3 ingredients.  There is no added sugar whatsoever and no additives.  The ingredients are incredibly pure and clean.  Next in line comes COYO coconut yogurt which uses a tad bit of sugar and tapioca to thicken it, but is pretty pure when it comes to dairy-free alternative yogurts.  And lastly, So Delicious coconut yogurt is more processed but certified gluten-free.  I use that yogurt when I cannot find the others.
For this yogurt popsicle recipe, I love to use yogurts that are unsweetened, tangy and tart over sweet.  It gives these popsicles a unique flavor, taste, texture, and really compliments the sweet fruit used in this popsicle recipe.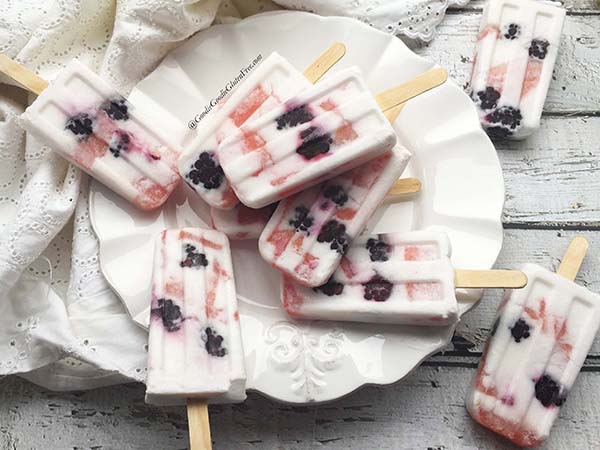 These yogurt popsicles are loaded with yummy fruit and healthy benefits.  Packed with blackberries and watermelon, you'd be surprised how each fruit compliments each other allowing each fruit to shine throughout the luscious yogurt.  And this makes each bite a sensational frozen treat!
You're probably wondering why not use a dairy yogurt?
Well, dairy can be very inflammatory when you are healing your gut, and if you are intolerant or sensitive to dairy.  Many Celiacs and people with autoimmune disease cannot tolerate dairy.
Dairy creates cystic acne, allergies, headaches, mucus, sinus infections, and more icky things that you don't need in your life.  That's why I'm so happy we have health food stores that carry option for us ladies and gents who need a dairy-free alternative.
Of course, not all dairy-free alternative yogurts are created equal.  Some are loaded with sugar and a million ingredients that do not belong in yogurts such as added sugar, gums, additives, artificial flavorings, and more.  But then there are some dairy-free yogurts that are better than the real dairy deal!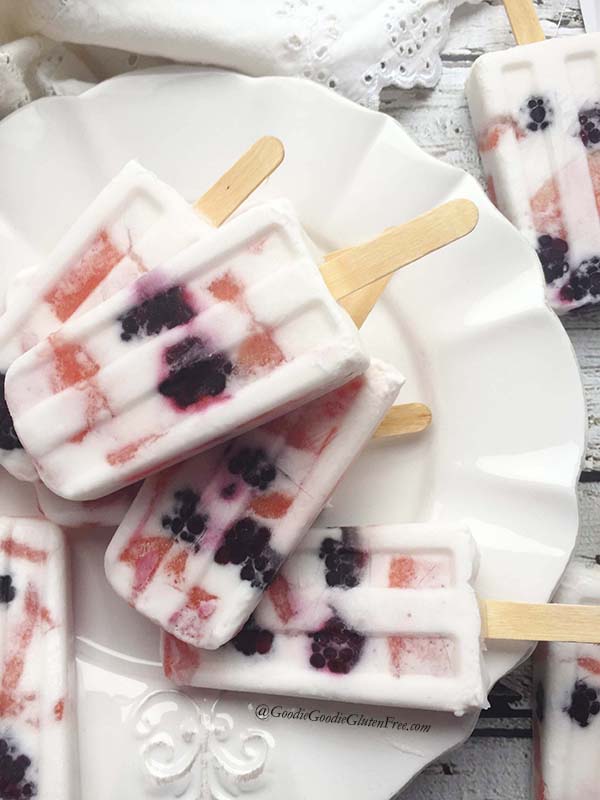 DAIRY-FREE COCONUT YOGURT BENEFITS
Rich in probiotics
More calcium than dairy
Vegan and plant-sourced rather than animal-sourced
Ample dose of healthy "good" bacteria
Improves immune function
Very filling when real, whole and pure ingredients are used
HOW TO MAKE DAIRY-FREE YOGURT POPSICLES
First, you find a dairy-free yogurt you love!  It doesn't have to be coconut.
Best to be unsweetened or plain.
Mix the yogurt with water.
Pour into popsicle molds.
Add your favorite fruit.
Fill the popsicle molds with more yogurt.
Then cover, add the popsicle sticks, and freeze overnight.
These yogurt popsicles are the EASIEST dessert, frozen treat, and yummy sweets to make without feeling deprived.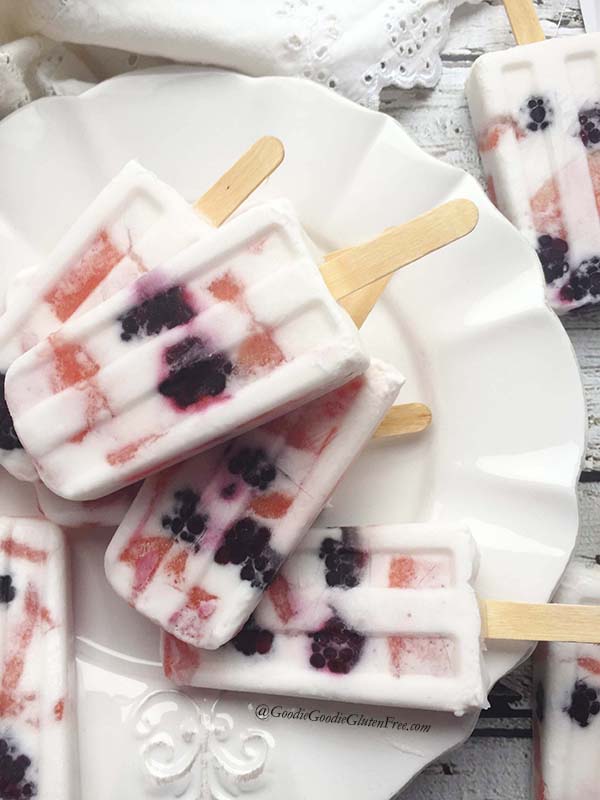 These are the popsicles that inspired my Papaya Watermelon Yogurt Popsicles that remind me of a hot Summer's day in the middle of July, sitting on a porch swing in Cape Cod.  The visual is seriously necessary so you can understand the taste.  Both popsicles are heavenly!
Ready to make beautiful music together?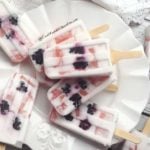 Print Recipe
Dairy-Free Blackberry Watermelon Yogurt Popsicles
4-ingredient dairy-free yogurt popsicles are loaded with tart blackberries, sweet watermelon, and probiotics!  Simple, healthy, and easy to make.  A creamy frozen yogurt popsicle that is gluten-free, paleo, vegan, and refined sugar-free.
Equipment
blender

Popsicle Mold and sticks
Ingredients
1

cup

dairy-free plant-based coconut yogurt

1

cup

spring water

1 1/2

pints

fresh blackberries

2 1/2

cups

sliced watermelon

white seeds only

3-4

drops

liquid stevia

, optional
Instructions
In a high speed blender combine the filtered water and the coconut yogurt and blend well.  Set aside.

Cut watermelon pieces into 1/4 inch wide slices and chunks and set aside.

Rinse 1 1/2 boxes of blackberries and set aside.

Pour coconut mixture into a measuring cup and pour 1/4 cup into the popsicle mold followed by a few pieces of watermelon and whole blackberries. Take your fingers and smoosh the fruit down into the yogurt until covered. Then add another 1/4 cup of coconut yogurt mixture into the popsicle mold and add fruit as above. Keep repeating this step until each popsicle mold is filled.

Cover the popsicle mold with the cover and add the sticks. Then place in the freezer for about 6 hours or overnight.

When the popsicles are ready simply run the mold under warm/hot water until the popsicles are loose enough to jolt out of their molds. Store in the freezer in a plastic bag. Stores for up to 6 months.
Notes
The popsicle mold that I like to use comes with a plastic top that has slits in it for the popsicle sticks.  What I LOVE about this, is that this lid keeps the sticks in place, so all you have to do is cover the mold, add the sticks, and put it in the freezer for 6 hours or even overnight, and you are done.  There is no waiting until they are half frozen and needing that extra step to put in the sticks.  This mold saves you a huge step!
The liquid stevia is optional.  You don't have to use it.  If you don't like liquid stevia simply omit.  Do not add extra sugar.  My favorite Liquid stevia by Nu Naturals.
Love & Popsicles that taste like Spring,