These Healthy Watermelon Papaya Yogurt Popsicles are a creamy, dairy-free, and healthy popsicle dream!  Loaded with papaya and watermelon, and just five fresh ingredients.  Easy to make, simple vegan ingredients, and no added sugar.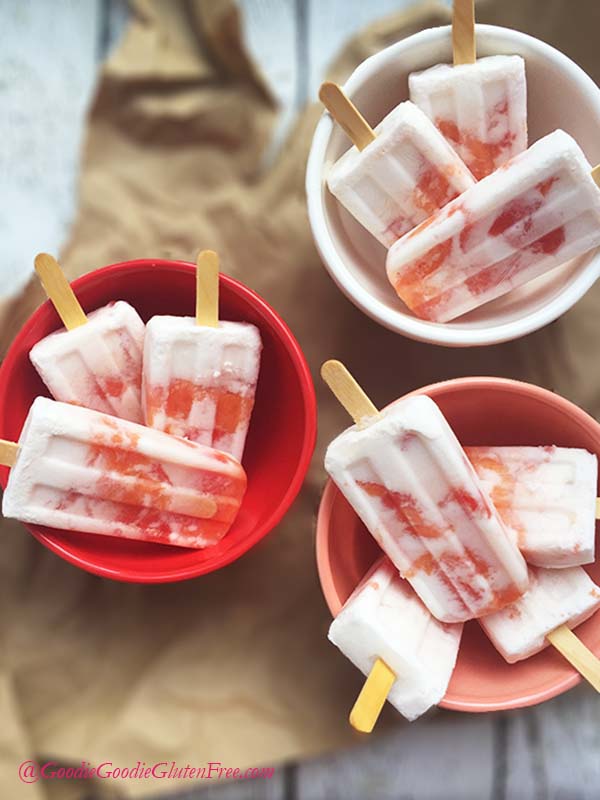 When I created these popsicles I was completely blown away by the harmony of papaya and watermelon together.  This natural combination is a popsicle dream!  Offset by the tangy dairy-free yogurt loaded with probiotics making these healthy popsicles even healthier and tastier. 
I originally thought of the idea after I made my blackberry watermelon popsicles.  Those healthy popsicles were tart and sweet and reminded me of Spring, and with those, I was in heaven. Then I thought of these popsicles in the making.  I didn't have blackberries but I did have papaya.
I envisioned a subtly sweet popsicle and since I have only juiced papaya before for the sole purpose of healing acid reflux, and really didn't love the fruit on its own, it was a total hit or miss.  I had no idea how complimentary watermelon, coconut yogurt, and papaya would taste.  I was so pleasantly surprised.  I'm actually doing a disservice by explaining the process because the end result was unreal.  These healthy popsicles are amazing!
WHAT'S THE HYPE WITH PAPAYA?
If you can get past the slimy slushy slices that often turn into a puree in your hands then you can get on board with this recipe.
Papaya is known to coat the esophagus and aid in healing painful indigestion and acid reflux
Payapa also settles the stomach
Papaya is a great digestive enzyme to take before meals
Papaya helps you poop
HOW TO MAKE PAPAYA WATERMELON YOGURT POPSICLES
Cut open the papaya like you would a melon.  Remove and discard the seeds.

Chop into small chunks that will often look like a puree.  It's all good.

Slice your watermelon into chunks and discard black pits.
Break out your favorite coconut plant-based yogurt that is unsweetened or plain.
Mix your yogurt with spring water.
Add a drop of two of liquid stevia to bring out the flavor of the fruits.
Add yogurt mixture along with fruit mixture into each popsicle mold by rotating between the yogurt and the fruit.
Fill all most in a similar fashion, close the lid, and freeze overnight.  It's that easy.
The coconut yogurt I suggest is tart and creamy, whole and pure, with barely any additives and sugar.
NOT ALL DAIRY-FREE YOGURTS ARE CREATED EQUAL
Dairy-Free and Vegan yogurts are made from a plant-based source rather than an animal source
They are not flavored to be almond yogurt, or oat yogurt, or cashew yogurt, or soy, or coconut yogurt.  They are actually made from almonds, cashews, soy, oat, and coconut.  Plant source.
Many of these plant yogurts contain additives to make them as thick as dairy yogurt plus sugar, colorings, gums, and other unnecessary ingredients.
That's why I adore two tart and creamy brands.  Anita's and Coyo.  Both of these yogurts use minimal ingredients, no additives, and loads of probiotics.  I suggest using these or a coconut unsweetened yogurt.
Dairy-free and vegan yogurts while are amazing in taste, are in fact slightly thinner than dairy yogurts and that is why they work wonders in popsicles.
Last but not least these yogurts compliment my watermelon papaya yogurt popsicle recipe in ways you'd never think.  Harmony comes to mind.
The coconut yogurt + the watermelon + the papaya "go together, like ramma lamma lamma ka dinga da dinga dong, remembered forever as shoo bop sha wadda wadda yippity boom de boom chang chang changitty chang shoo bop, that's the way it should be ". Grease Movie 1978
I set them in popsicle mold overnight and when I woke up the next day it was like Christmas! I couldn't wait to run them under hot water, and get those babies out of the mold and taste them.  And when I did I was blown away.  I cannot describe it other than tasting like the faint memory of a watermelon Jolly Rancher in a really healthy way.  If you could ever call a dairy-free yogurt popsicle bliss – this would be the popsicle. It tasted like Summer, and it made me long for hot and sweaty July days in Manhattan.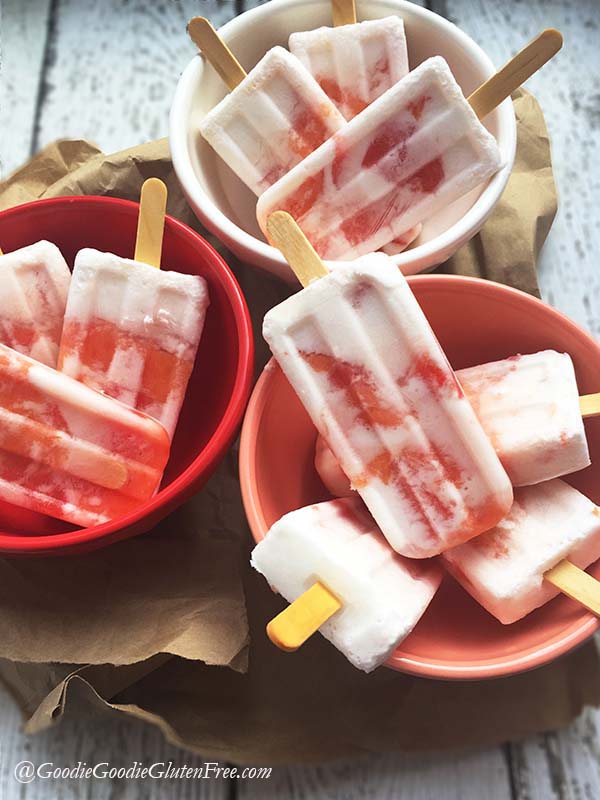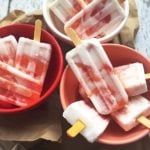 Print Recipe
Healthy Watermelon Papaya Yogurt Popsicles (dairy-free)
These Healthy Watermelon Papaya Yogurt Popsicles are a creamy, dairy-free, and healthy popsicle dream!  Loaded with papaya and watermelon, and just five fresh ingredients.  Easy to make, simple vegan ingredients, and no added sugar.
Equipment
blender

Popsicle Mold and sticks
Ingredients
1

cup

tart and unsweetened coconut yogurt

1

cup

spring water

3-4

drops

liquid stevia

1

whole

small papaya, flesh only

1 1/2

cups

chopped watermelon
Instructions
In a high speed blender combine the yogurt, water and stevia and blend well.

Cut watermelon pieces into 1/8 inch thick and 1/4 inch thick small chunky slices and set aside.

Spoon papaya out of its rind and slice the papaya into thin chunky slices as the watermelon. Don't worry if the papaya looks like puree, or it becomes mushy, you will still use it.

Pour a very small amount of the coconut mixture into the popsicle molds, about 1/4 cup full, then add the fruit, both watermelon and papaya.  Take your fingers and smoosh the fruit down so that it gets covered in the yogurt.  Then add a little more yogurt mixture.  Then add a little more fruit mixture.  Then push the fruit down with your fingers.  Then add a little more yogurt mixture.  Then add a little more fruit and push down with your fingers.  Keep repeating these steps until you have filled each popsicle mold.

The popsicle mold that I like to use comes with a top where there are already slitted openings for the sticks.  It makes popsicle making SO much easier and faster.  Secure the popsicle mold with the top, add the sticks and put in the freezer for 56hours or even overnight.

When you remove the popsicles from the freezer, you will need to run the top under hot water, as well as the bottom so you can remove the top and slide the popsicles out of the mold.

Store in the freezer in a plastic bag for up to 6 months.
Notes
If you choose to use a different coconut-based yogurt, or a different plant-based or dairy Greek yogurt know that it will change the taste of the base of this recipe.
If you cannot find small papaya, use 1/2 of large papaya and wing it with the amount you need for the popsicles.
Want only Papaya popsicles sans yogurt?  Try these tropical paleo papaya popsicles using only 3 ingredients if you count water!
Love & Summer Days Forever!