Dark chocolate dipped orange slices are the easiest healthy vegan treat to make that are nut-free and gluten-free.  The goji berries and the rind are an added nutritional boost that's full of tang, and flavor!  The perfect afternoon snack pick-me-up.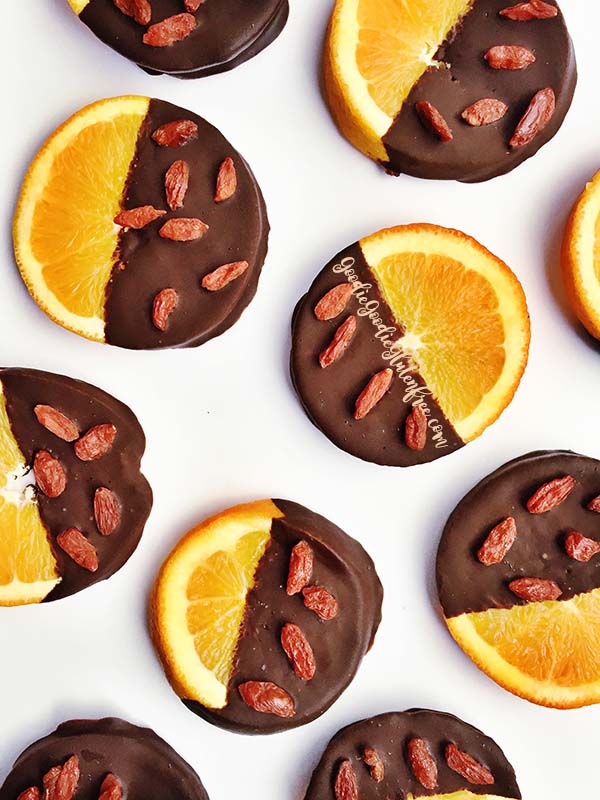 CHOCOLATE DIPPED ORANGE SLICES INSPIRATION
There has ALWAYS been something about dark chocolate dipped orange slices that have made me swoon.  I don't know why this combination has such a hold over me, but it just does! And I'm pretty happy about it because these citrus chocolate orange slices make me feel alive!
My taste for chocolate-covered fruit has expanded over the years.  There was a time in my life when fruit and chocolate would never have been an appetizing combination.  In my mind fruit was healthy and chocolate was sinful, and why would I ever want to combine the two?  But then there was that one time, in my mid-20s when our family friend brought a basket of chocolate-covered fruit to our Break-Fast celebration for Yom Kippur and I have been forever changed.  I'm so changed, that I now cannot believe I never wanted to combine these two things in the first place.  It's like the perfect combination!!
In the last few months, I have been really interested in creating easy & wholesome desserts. Desserts I can make that will satisfy my sweet tooth, but won't break the sugar bank.  Do you know the dessert balance that we all strive for?  In comes oranges, because they naturally have so many benefits, taste sweet and citrusy.  I included the rind on these oranges because the rind is a nutritional powerhouse!  And dipped in chocolate it all just tastes so delicious.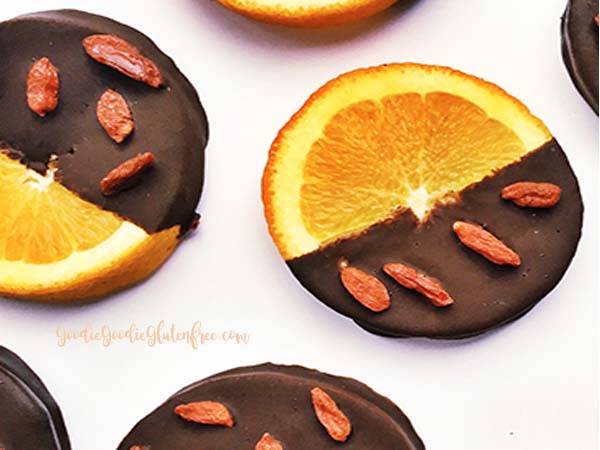 NUTRITIONAL BENEFITS OF ORANGES:
Loaded with vitamin C
A fantastic source of dietary fiber, especially with the rind and skin on!
Oranges are also flooded with vitamin A, Thiamin (B1), Copper, Calcium, Potassium, and Folate.
In short, this is skin food.  It has all the essential nutrients, minerals, and vitamins that support healthy skin, hair, and nails.
Last minute I decided to add the superfood Goji berries to my chocolate-dipped orange slices because they compliment the citrus flavor as well as the nutritional value.
NUTRITIONAL BENEFITS OF GOJI BERRIES:
Goji Berries have an extraordinary amount of Beta Carotene in them.
They help boost the immune system and detoxify the liver.
They help stabilize blood sugar.
Goji berries also promote healthy skin and protect eye health to name a few in the benefits department.
But besides all these wonderful nutritional bonuses, this treat tastes delicious!  It's like a citrus rainbow in your mouth!

READY TO GATHER YOUR INGREDIENTS?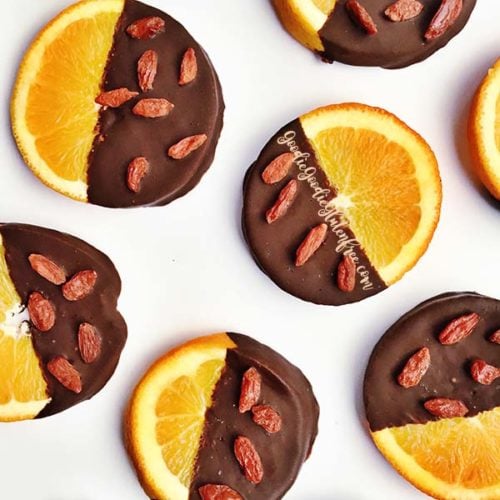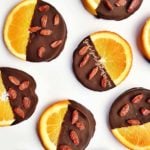 Print Recipe
Dark Chocolate-Dipped Orange Slices
The rind is an added nutritional boost! Dark chocolate-dipped orange slices are the easiest healthy vegan treat to make that are nut-free and gluten-free.
Equipment
double boiler or microwave
Ingredients
2

medium-sized

oranges

9

tablespoon

dark chocolate chips

vegan & gluten-free

2

teaspoon

coconut oil

melted or solid

2-3

tablespoon

goji berries

1

pinch

pink Himalayan salt or sea salt
Instructions
Wash the oranges, slice them at ¼ inch thick rounds and freeze them for an hour. It's a whole lot easier to dip fruit in melted chocolate when the fruit itself is frozen.  It also makes it easier to dry/set.

After the oranges are frozen, prepare the double boiler on medium to low heat and melt the chocolate.  Once the chocolate is melted, turn the heat down to low and add the coconut oil one teaspoon at a time, while stirring.  You will notice that the chocolate mixture will suddenly get thinner and easier to stir because of the coconut oil.

Keep the heat on low while you dip each round into the chocolate making sure that both sides get covered half-way.

Lay orange slices on a baking sheet with parchment paper.  While the chocolate is still wet, add a sprinkle of pink salt and 3-4 Goji Berries onto one side.

Once all orange slices are coated in chocolate, Goji Berries & pink salt, place the baking tray into the freezer and let the oranges set.

Store in freezer in a plastic bag, or glass container till ready to serve.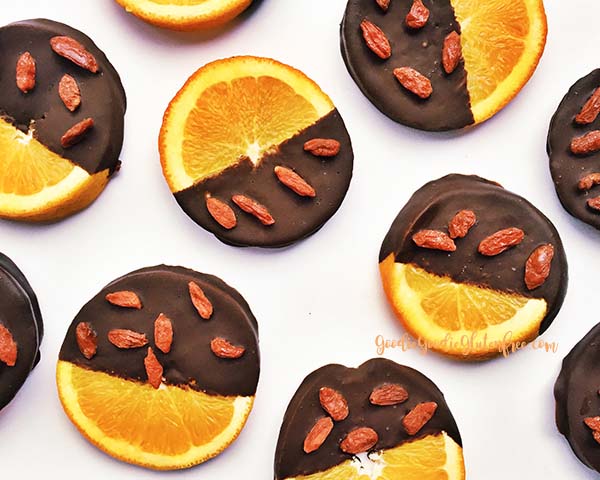 Love, Citrus & Chocolate!
If you don't enjoy orange rind, check out my Orange Chocolate Nachos with oodles of superfood toppings!