Classic garlic knot bread flavors and smells bring back memories of gluten in this gluten-free garlic knot pasta dish.  Made with chickpeas for extra protein, easy to make, and incredibly fragrant.  Gluten-free, dairy-free, and allergy-friendly.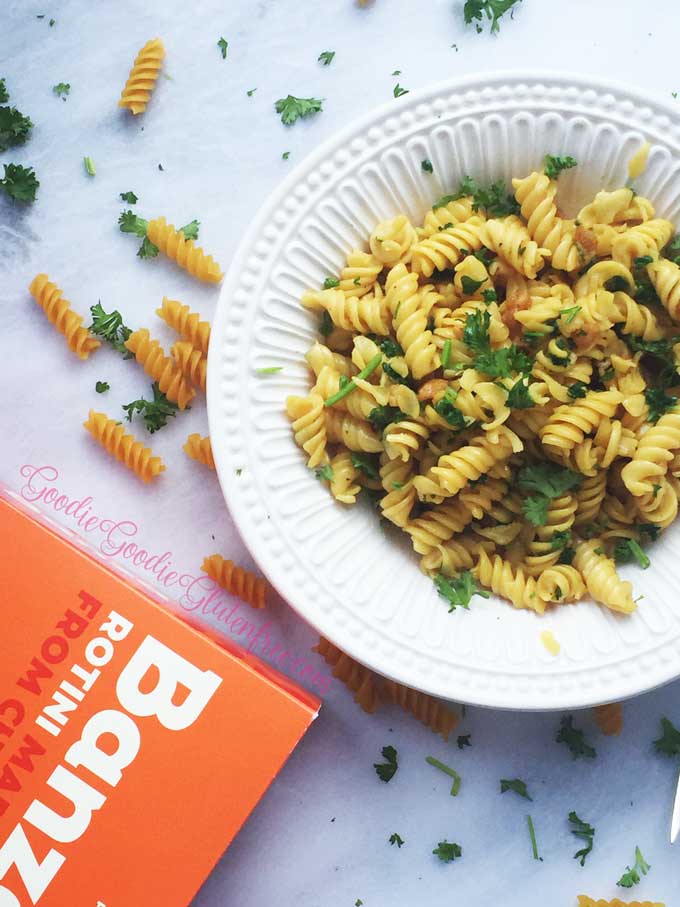 THE GLUTEN-FREE GARLIC KNOT PASTA STORY
The apartment smelled like homemade garlic bread yet there was no bread to be seen.  I could almost taste it in the air.  It was garlic and smelled divine, like scenes from an Italian restaurant.  Through each simmering moment, the smell of the garlic bread spread throughout the apartment and my mind was instantly transported to the best childhood pizzeria experience in Long Island: Vinny's Pizza. Far before we knew anything about Celiac Disease.  Far before healthy or health-conscious.  It was a long pastime to go with the family to get garlic knots and pizza.  And I can literally smell it now.
When Banza made its appearance at the Gluten-Free Allergy-Friendly Expo in 2015, I was so excited to try it!  A gluten-free chickpea pasta in all shapes and sizes that tasted like gluten pasta.  Like many brands at the gluten-free allergy-friendly show, their shelf life is limited.  Often after a few years pass by, the brand goes out of business.  So when I heard that Banza was on Sharktank the TV show that gives entrepreneurs money if their idea is worthy, I naturally realized this brand was here to stay.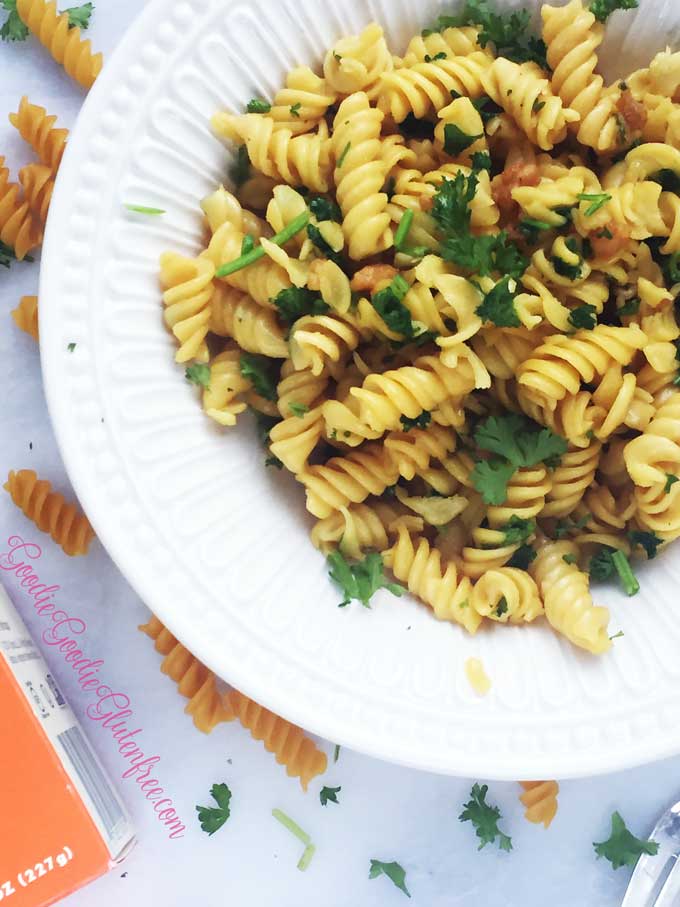 PERKS OF BANZA CHICKPEA PASTA
Banza is incredibly allergy-friendly.  Their noodles use minimal ingredients and lots of protein
Made from chickpeas, pea protein, and tapioca
Keeps you full and satiated
Doesn't make you bloat as other pasta does
Legumes, not grains
Not mushy like other gluten-free pasta brands
To this day it was the best thing I ever had when it came to gluten-free pasta that made me feel good.  And to this day it's one of the gluten-free pasta I choose to use on the regular.  I like it more Aldente.  So I don't cook it for the full 8 minutes the box suggests.  The moment it looks "ready" off the heat and into the strainer it goes.  How do I know when it's ready?  Well, the noodles look more expanded.  They look flatter, and lighter in color.  That's under 6 minutes to cook pasta.
WHY I CHOOSE BANZA PASTA OVER OTHER PASTA BRANDS
Why Banza right?  You've heard mixed reviews right?  I hear ya.  For me it was different.  Me, I hadn't had pasta since 2014 due to elimination diets like Whole 30 and Paleo that excluded anything processed, made from legumes, or found in a box.
Plus finding out I had a severe sensitivity to corn, rice and soy made it even harder to indulge in a simple pasta dish.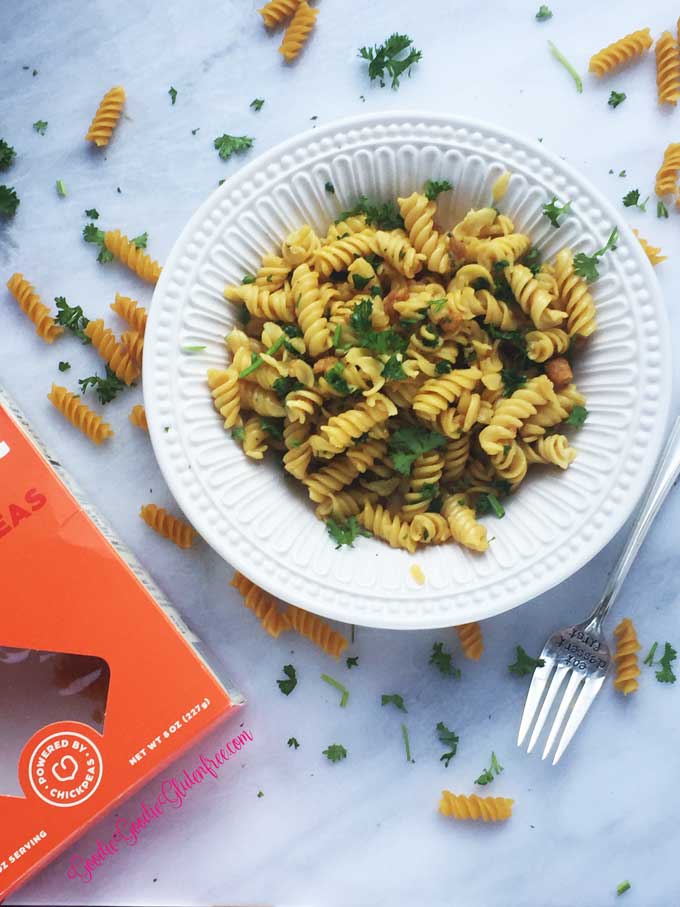 MORE GLUTEN-FREE PASTA INSPO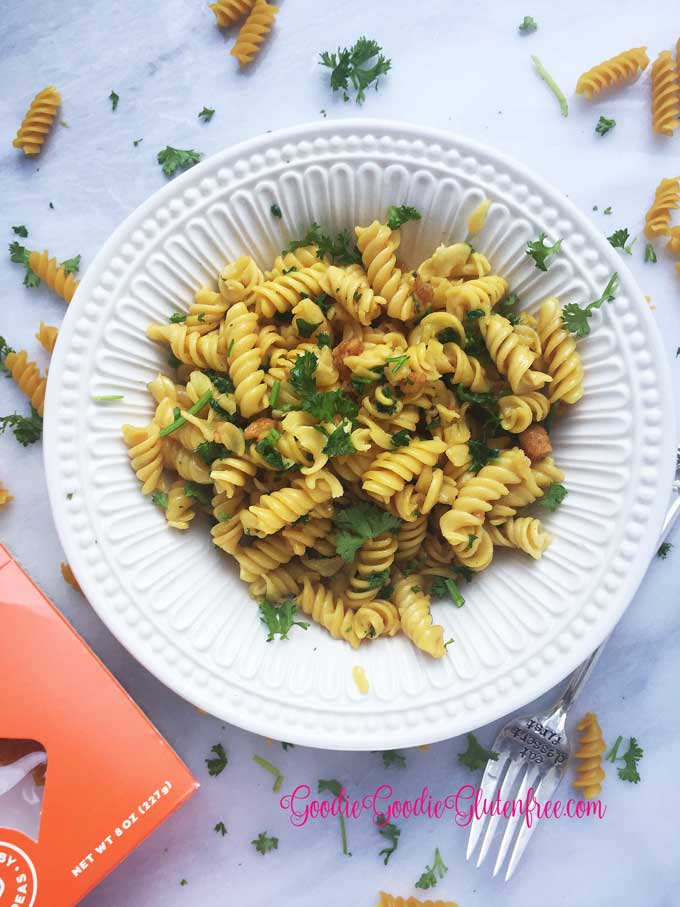 HOW TO MAKE BANZA CHICKPEA GARLIC KNOT PASTA
First, add a bit of olive oil to the pan alongside a tiny bit of garlic powder.  Let it simmer on low.
But I didn't just cook the pasta as directed and throw on some dried garlic.  It would never taste like garlic bread if I did that.  There are steps to making this dish taste as garlicky as possible.
Instead, this was prepared it differently.  And that made ALL the difference.
While on low heat simmer the olive oil in the pot.  Let it warm up.
As the oil is warming begin to add the Italian parsley, and ¼ of the garlic powder until lightly browned.
It will start to brown when warmed. Even if it gets too brown and you think you messed it up, keep making it.
Once the garlic and oil browns in the pan and start to stick into clusters, set the temperature to simmer, and add the cooked pasta, remaining parsley, and garlic.  Stir.
Then it's done!  You'll remove the pasta from the heat and with a large spoon, you'll mix the pasta into the garlic sauce until all pasta pieces are evenly coated.
QUICK TIP
Can't find garlic powder?  I know it may be tricky to find so grab garlic powder here.
READY TO GATHER YOUR INGREDIENTS?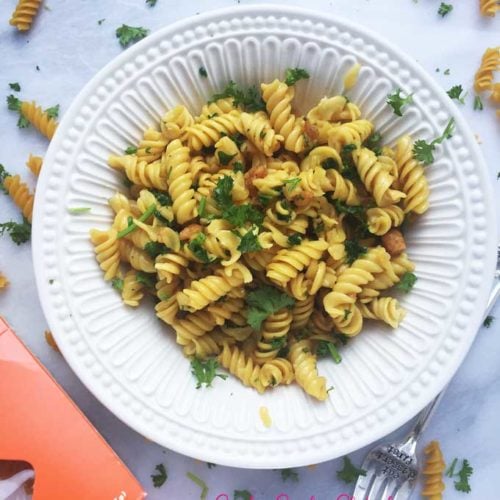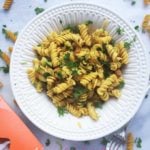 Print Recipe
Gluten-Free Garlic Knot Pasta
Classic garlic knot bread flavors and smells bring back memories of gluten in this gluten-free garlic knot pasta dish. Easy to make, fragrant, healthy, gluten-free, dairy-free and allergy-friendly.
Ingredients
1

box

Banza chickpea pasta

shapes only

3

tablespoon

full-fat olive oil

½

tablespoon

dried garlic powder

3

tablespoon

fresh Italian parsley

chopped

½

teaspoon

pink Himalayan salt

or sea salt
Instructions
Cook pasta according to the box directions and set aside.

You'll need 1 ½ cups of cooked pasta for this recipe.

On low heat in a soup pan simmer olive oil, 1 tablespoon of Italian Parsley, and ¼ of the half of the garlic powder till warmed, about 1 minute. It will start to brown when warmed. Even if it gets too brown and you think you messed it up, keep making it.

Once the oil is brown and the garlic starts to stick into clusters, set to the lowest temp possible on your stove. Add the cooked pasta, sprinkle the remaining garlic and Italian Parsley.

Remove from heat. Using a large spoon, massage and mix the pasta into the garlic sauce. Keep mixing until it is coated with the sauce. Serve and enjoy.
Notes
If you don't have organic, don't worry about it. You do what you can do. The idea is for this recipe is that cooking should be easy. // I have only tested this recipe with Italian Parsley and dried garlic powder. You can alter it, but I cannot guarantee it will taste the same. // Dried garlic powder is found in the dried herb section of the market // If you find this recipe too saucy, use more cooked pasta. // If you want to use more than ½ tsp. pink salt or sea salt go for it. // 
Health and love,