Chickpea Pasta with Hemp Seed Marinara!  Loaded with lots of tomato sauce, fresh basil, and an extra dollop of hemp seeds to make this pasta dish tastes like parmesan cheese without the dairy.  Full of flavor, gluten-free, and dairy-free.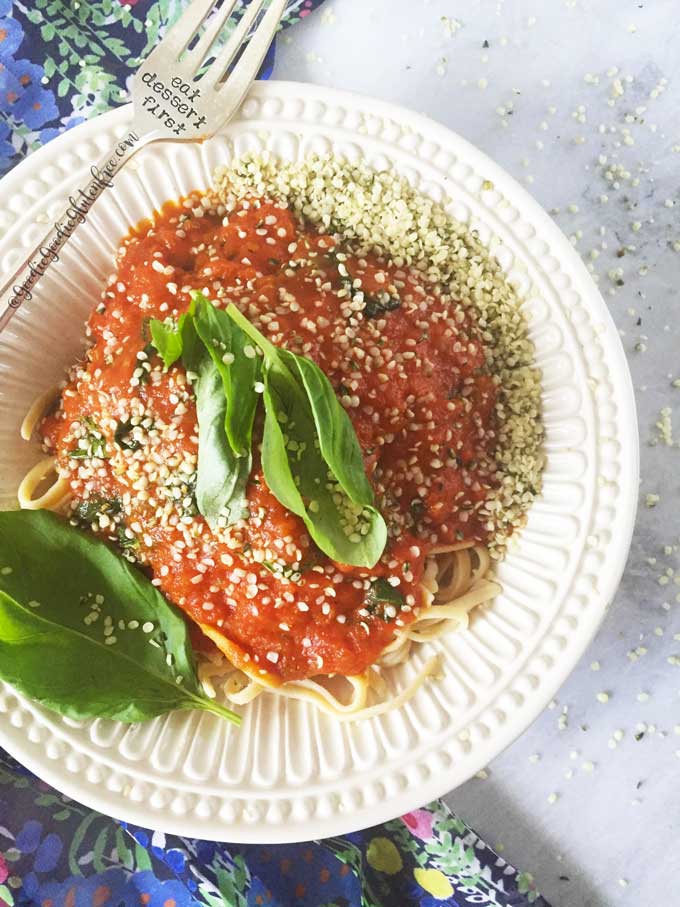 Chickpea pasta is not the only star in this pasta dish!  There are two other foods that pack a punch in nutrients, and in small amounts that make this pasta dish tasty, and satiating, and you need to know about them!.  When combined chickpeas, hemp seeds, and basil are a magical combination in both flavor and nutrient profile.  Add in the best marinara sauce by Rao's and you've got yourself a hearty, delicious, comforting meal.
Switching to a grain-free pasta was the best choice I could have ever made for my body.  Never even realizing that gluten-free grains bothered me, I used to load up on Pasta.  Feeling overly full to the point of wanting to vomit wasn't the reaction I was going for.  Weight gain that I couldn't lose didn't seem fair when everyone else was eating pasta and completely fine with it.  That all stopped when I changed my pasta.  Instead of choosing pasta that was made from corn, rice, soy, or wheat, I found a pasta alternative that nourished my gluten-free body.  Introducing Banza chickpea pasta.
BANZA CHICKPEA PASTA BENEFITS
BANZA chickpea spaghetti when slightly overcooked reminds me of Chef Boyardee!
Made from chickpeas
Addition ingredients are minimal such as tapioca and pea protein
Loaded with 25 grams of protein and has more protein than any other pasta
Comfort food with secret health benefits
Keeps you full
Grains create bloat, chickpeas don't
Crammed with fiber, 13 grams to be exact
Banza is also produced and manufactured on equipment that is free of all the common allergens, including other common allergens such as sesame, mustard seed, wheat, peanuts, tree nuts, shellfish, gluten, soybean, fish, milk, eggs, celery, food color, and others...
This pasta is also certified gluten-free by the GFCO and GFCP
Comes in all shapes and sizes
The other two powerhouses of this recipe are hemp seeds and fresh basil.  While you may not think basil as a garnish could possibly have any nutrients, but Basil carries immunity-boosting benefits and loaded with vitamin K which helps with blood clots, PMS, headaches and shortening the duration of your period.
BENEFITS OF USING HEMP SEEDS IN A PASTA DISH
Excellent source of plant-based protein
Loaded with plant-based iron
Crammed with b vitamins, potassium, and vitamin A
Has a nutty taste
Mimics parmesan cheese in pasta dishes
Isn't functional food cool?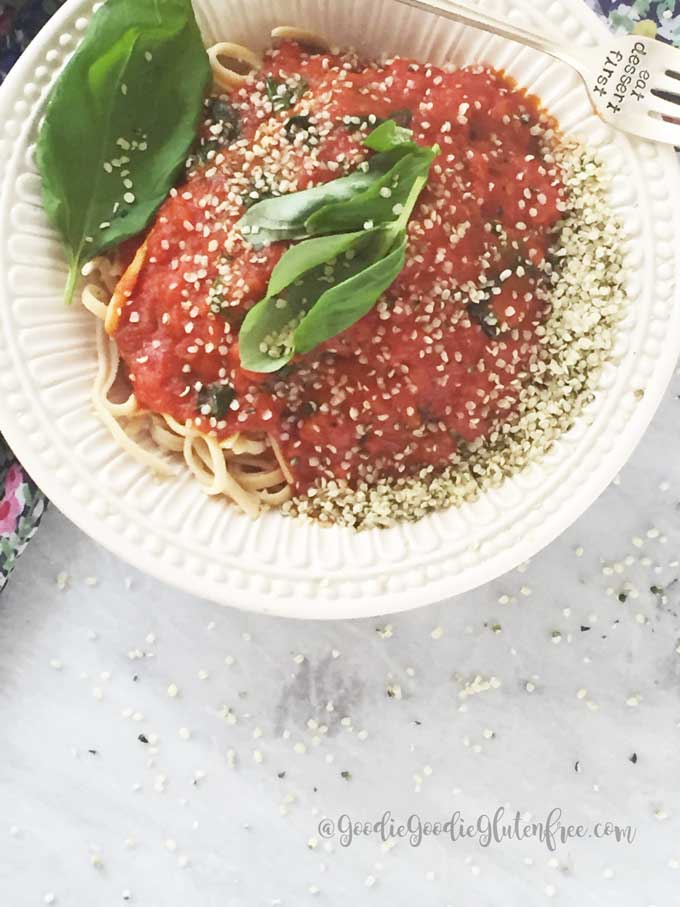 MORE CHICKPEA PASTA RECIPES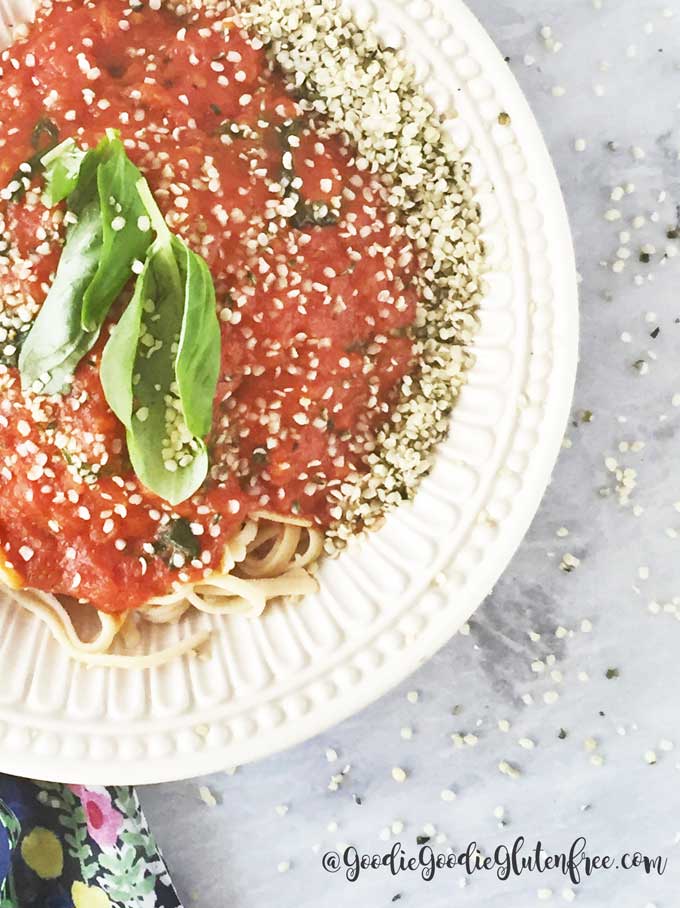 PASTA MAKING TIPS
If you don't have pink salt, use sea salt
If you don't want to use so much basil, use less basil
Banza has lots of pasta shapes if you don't like Spaghetti or can't get it you can get other shapes too
Rao's is the best tomato sauce alive!
READY TO GATHER YOUR INGREDIENTS?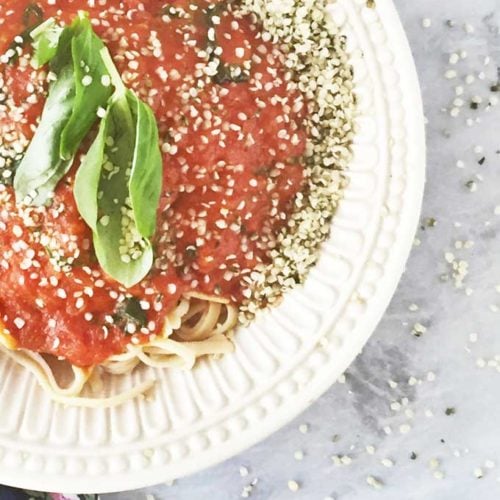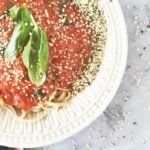 Print Recipe
Chickpea Pasta with Hemp Seed Marinara
Tomato marinara chickpea pasta with hemp seeds and basil!  Lots of sauce, flavorful fresh basil and hemp seeds in pasta tastes like Parmesan and will remind you of old school pasta that you used to be able to have, just gluten-free and dairy-free.
Equipment
2 x Stovetop pots with lids
Ingredients
½

box

Banza Chickpea Spaghetti

1

cup

Rao's Marinara sauce

or Marinara Basil

20

full

fresh basil leaves

large, washed

¼

cup

hemp seeds

1

pinch

pink Himalayan Sea Salt or plain Sea Salt
Instructions
Cook the pasta according to the Banza Box - about 8 minutes on medium - strain, rinse and add to a large pasta bowl. Set aside.

In a medium saucepan over medium heat - slowly warm up the marinara sauce for about 2-3 minutes.

Change the stovetop setting to low. Add salt and fresh basil leaves to the marinara mixture and stir.

Remove from heat. Pour sauce over pasta and enjoy immediately (or let cool for a smidge)
Notes
My favorite sauce is the Rao's.  Barely any ingredients, and if there are more than a few they are all whole ingredients.  You will not find soy here or bad oils.  And Rao's is gluten-free. //  My other favorite thing here are the hemp seeds and the chickpea pasta.  If I do chickpea pasta it's ONLY Banza.  They have fun shapes are are certified gluten-free. //  Hemp seeds are the best kep secret!  Tastes like nuts but they're not nuts being so versatile as nut-replacements.  So hemp seeds in marinara reminds me of parm cheese and it tases mighty good.  // Make sure your hemp seeds are certified gluten-free, try Nuts Dot Com gluten-free section. //
Health and love,