Tomato marinara chickpea pasta with hemp seeds and basil!  Lots of sauce, flavorful fresh basil and hemp seeds in pasta tastes like Parmesan and will remind you of old school pasta that you used to be able to have, just gluten-free and dairy-free.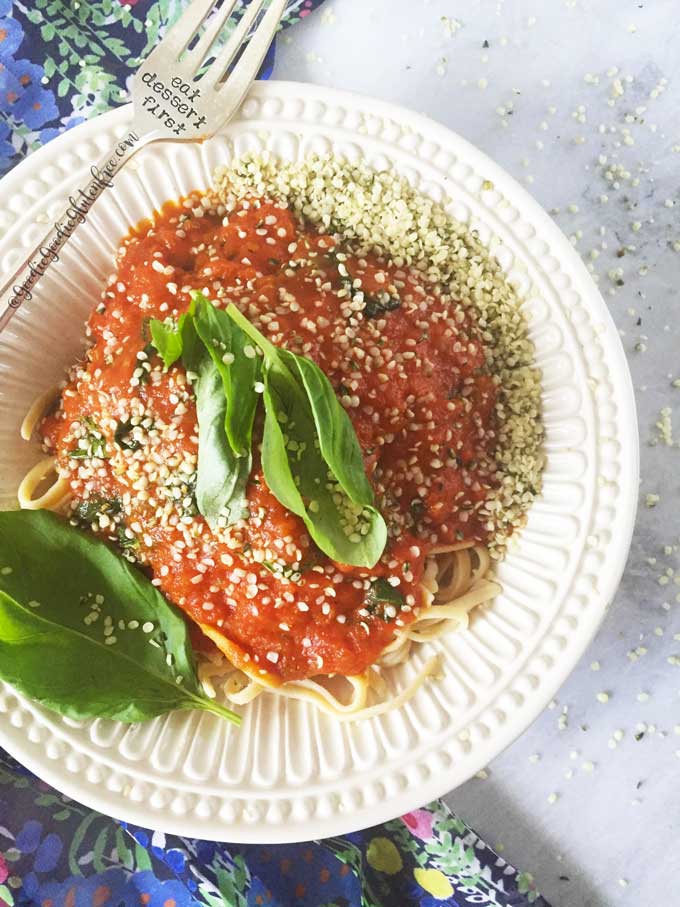 If I go comfort food, I do it healthified like this Chickpea Pasta with a Hemp Seed Marinara!  To me, the hemp seeds remind me of Parmesan cheese.  And the chickpea spaghetti from Banza when slightly overcooked reminds me of Chef Boyardee!  I obviously haven't had either of those things in years, but I love that I can recreate a favorite dish that I used to love in a healthy way that my body will thank me for.
And it's the best comfort food because there is are many added nutritional benefits to this dish, and it's super easy to make!
First, there is a protein from the pasta.  Most kinds of pasta do not have added protein.  Since this pasta brand is made from chickpeas and pea protein, you'll get a very filling pasta without feeling that throw-up full feeling.
Secondly, the hemp seeds are an excellent source of plant-based protein and iron which is so good for your body, your skin, your hair, and nails.   There are over 12 grams of protein per serving because the pasta is made from chickpeas and pea protein and over 7 grams of fiber per serving!
Last but not least the basil.  You don't have to use it sparingly.  I adore basil, the more the better!  Basil does more than flavor the food.  Basil carries immunity fighting benefits and loaded with Vitamin K which helps with blood clots, headaches and shortening the duration of your period.  BOOM!
Isn't functional food cool?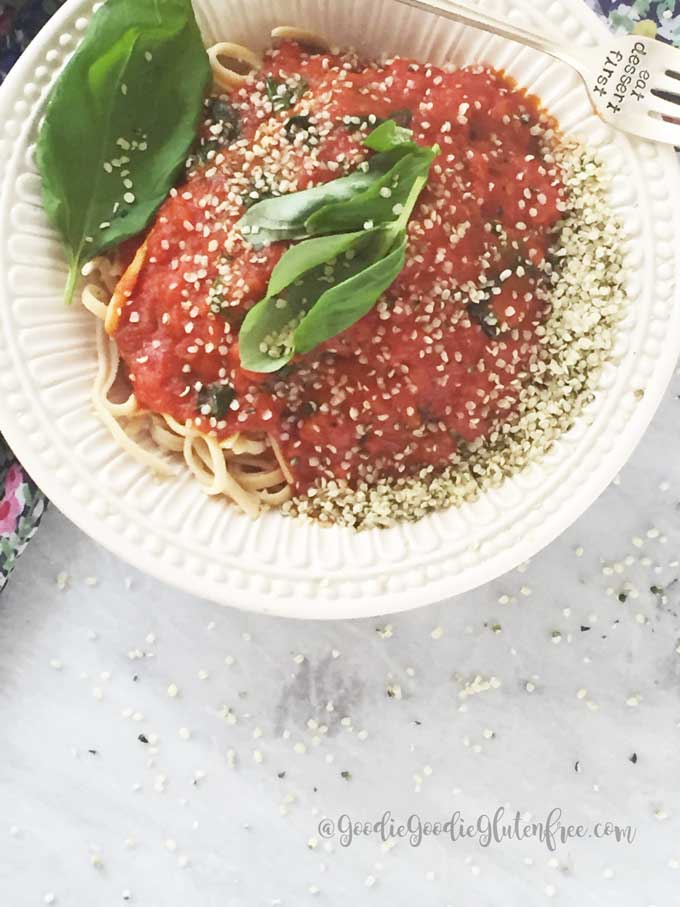 ***
So way back when, Banza was on the show that helps small businesses thrive called, Shark Tank.  A year or two later we saw this brand at the GFAF Expo and from there I was sold!  It was the first time in over two years that I could tolerate pasta and marinara sauce without the left side of my face going numb.  And I had no reaction to this one.  None at all.  For me, it felt like heaven.  It felt like I was home again.  After suffering from over 30+ food sensitivities on top of Celiac Disease the idea of having these types of foods seemed impossible.  So you can imagine how happy I was with Banza.
Banza is also produced and manufactured on equipment that is free of all the common allergens, including other common allergens such as sesame, mustard seed, wheat, peanuts, tree nuts, shellfish, gluten, soybean, fish, milk, eggs, celery, food color, and others.  So I know for sure that this is a safe product.  This pasta is also certified gluten-free by the GFCO or GFCP.
***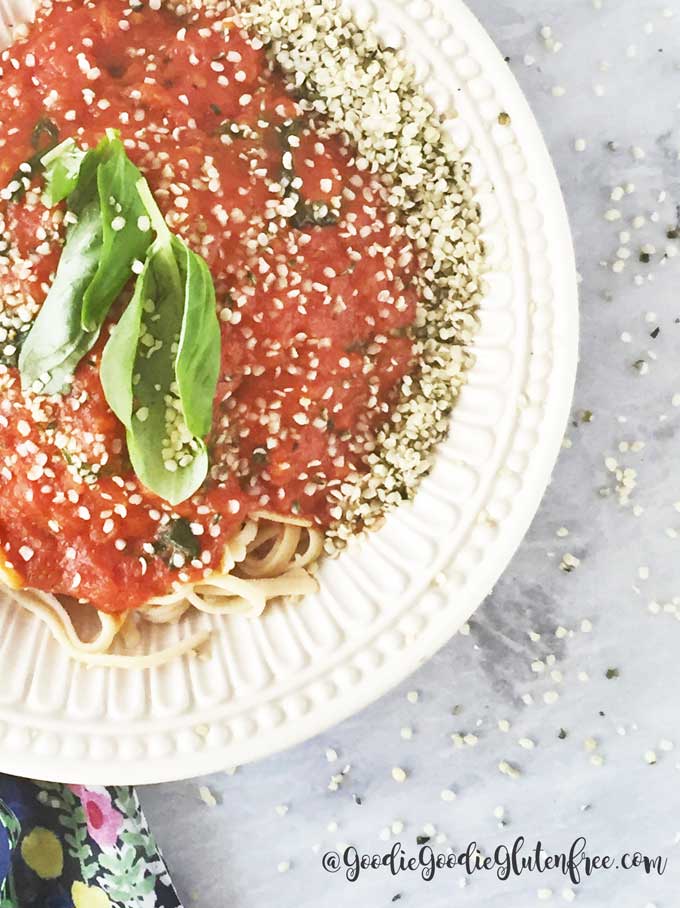 And now they have even more shapes and sizes like wheels and loads of spirals.  I'm straight up spirals, rigatoni or spaghetti – pretty old school in the shapes and sizes of pasta.  But pretty innovative when it comes to sauces and toppings.
How about you?
I also obviously love that they are certified gluten-free and that they have a plain noodle that I can cook anyway I want for my needs.   That's pretty bomdigity in my gluten-free book!
Without any need to think, I can tell you this is my favorite brand and it has been for years!
I wholeheartedly recommend Banza pasta!
Ready to make beautiful music together?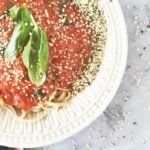 Print Recipe
Chickpea Pasta with Hemp Seed Marinara
Tomato marinara chickpea pasta with hemp seeds and basil!  Lots of sauce, flavorful fresh basil and hemp seeds in pasta tastes like Parmesan and will remind you of old school pasta that you used to be able to have, just gluten-free and dairy-free.
Equipment
2 x Stovetop pots with lids
Ingredients
1/2

box

Banza Chickpea Spaghetti

1

cup

Rao's Marinara sauce

or Marinara Basil

20

full

fresh basil leaves

large, washed

1/4

cup

hemp seeds

1

pinch

pink Himalayan Sea Salt or plain Sea Salt
Instructions
Cook the pasta according to the Banza Box - about 8 minutes on medium - strain, rinse and add to a large pasta bowl. Set aside.

In a medium saucepan over medium heat - slowly warm up the marinara sauce for about 2-3 minutes.

Change the stovetop setting to low. Add salt and fresh basil leaves to the marinara mixture and stir.

Remove from heat. Pour sauce over pasta and enjoy immediately (or let cool for a smidge)
Notes
My favorite sauce is the Rao's.  Barely any ingredients, and if there are more than a few they are all whole ingredients.  You will not find soy here or bad oils.  And Rao's is gluten-free. //  My other favorite thing here are the hemp seeds and the chickpea pasta.  If I do chickpea pasta it's ONLY Banza.  They have fun shapes are are certified gluten-free. //  Hemp seeds are the best kep secret!  Tastes like nuts but they're not nuts being so versatile as nut-replacements.  So hemp seeds in marinara reminds me of parm cheese and it tases mighty good.  // Make sure your hemp seeds are certified gluten-free, try Nuts Dot Com gluten-free section. //
TIPS:
-If you don't have pink salt, use sea salt
-If you don't want to use so much basil, use less basil
–Banza has lots of pasta shapes if you don't like Spaghetti or can't get it you can get other shapes too
-Rao's is the best tomato sauce alive!