A twist to your typical rice cake.  Gluten-Free Sweet Potato Rice Cakes!  Made with brown rice, sweet potatoes, scallions, and fancy & fun filet mignon.  All the flavors of dinner in healthy snack form!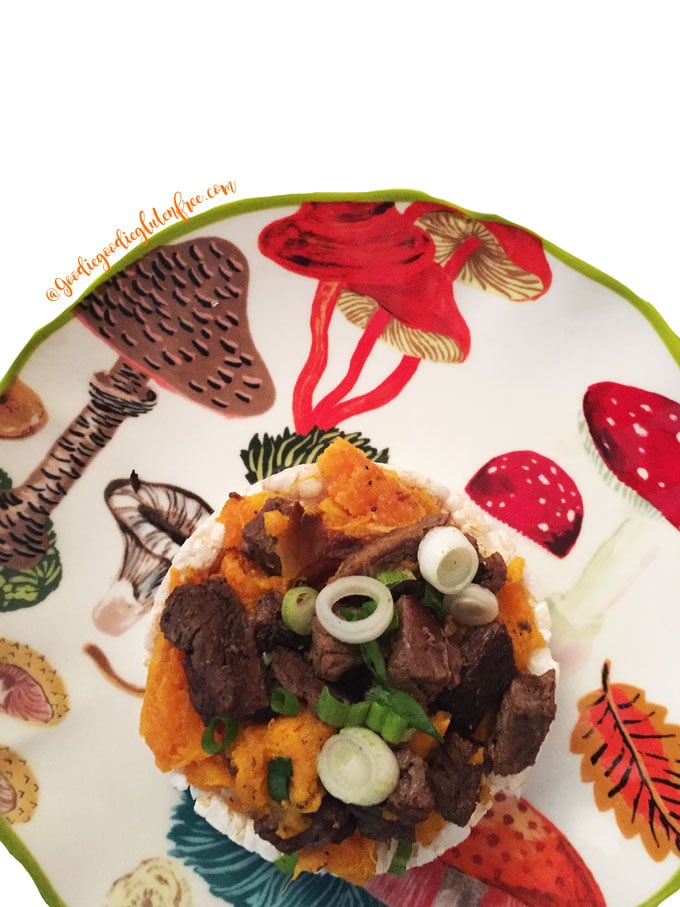 Everyone thinks that rice cakes taste like cardboard and are usually so disheartened by yet another gluten-free snack tasting that way that they often forget about the toppings and ditch the snack entirely.  Feel familiar?
butttttt...Sometimes it's the toppings that make the rice "cake".  And toppings can be endless!
Though it certainly didn't feel that way when I was on the Whole 30 diet beyond restricted.  Then followed by the paleo diet and the Candida diet.  Followed by a combo of what worked for me between all three diets.  These diets are restrictive.  Very restrictive with good intentions.  And during the Candida diet, I allowed rice cakes.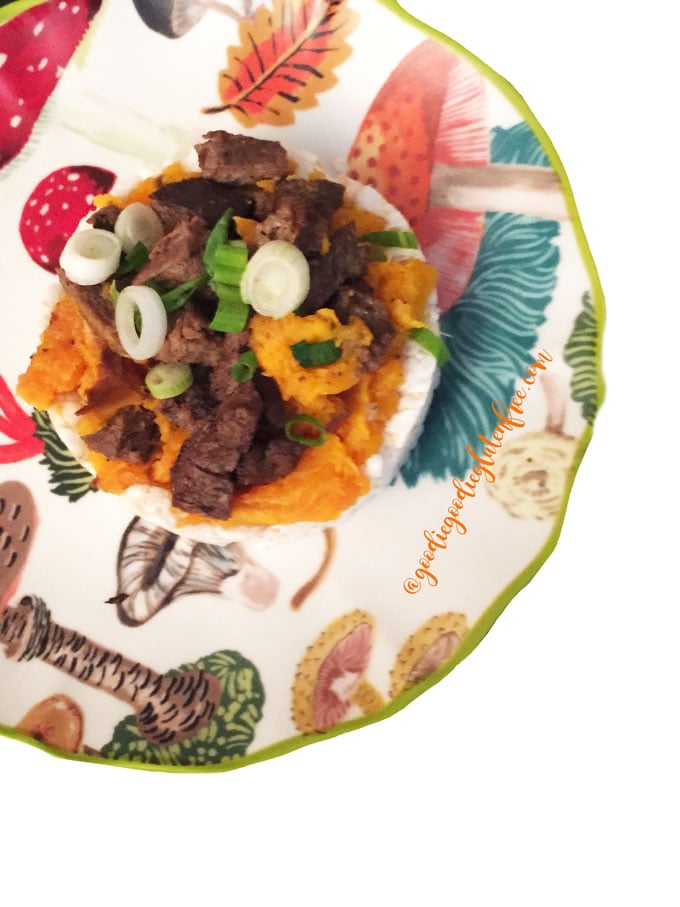 Given the restrictions in these diets, I could not feel so deprived that I couldn't even eat a rice cake.  So I got really creative and turned this cardboard snack into swanky Gluten-Free Sweet Potato Rice Cakes with Filet Mignon!!
Side Story/Rice Cake Inspiration:
In college, there used to be a pizza spot called Dorian's Pizza.  They had pizza that had 4 different kinds of cooked meat on it with cheese.  And I'll admit not only did I have it freshman year of college, but I LOVED it.  This was of course pre-Celiac.  Meat on the pizza was like a dream.  And it would be me and the SU Crew team eating the meat pizza.  It is a delicious memory.  A memory that inspired my rice cake fusion.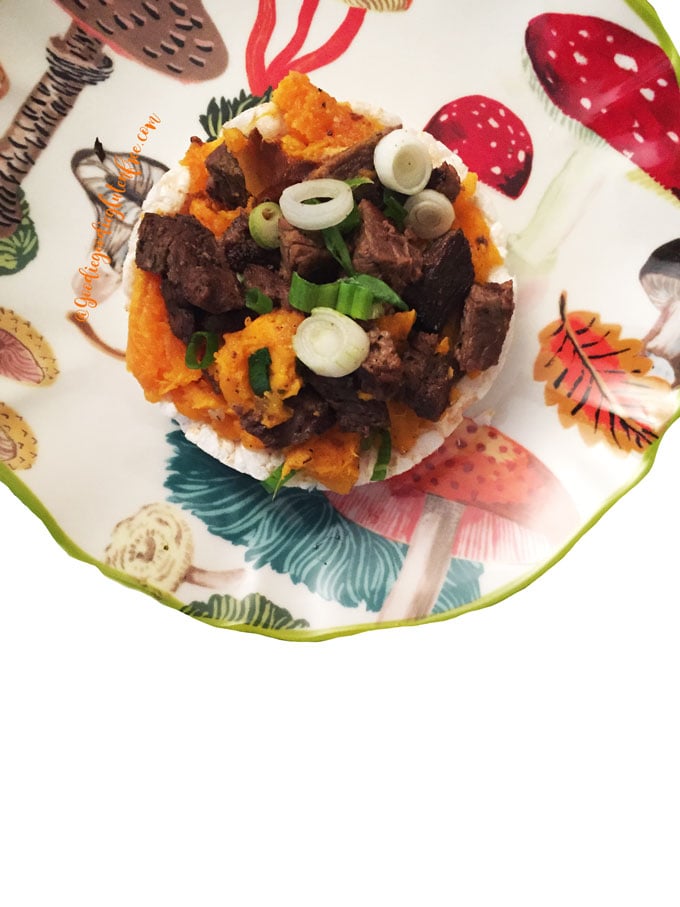 Flash forward to the Candida diet - I actually made this for dinner one night.  I had two.  It was really filling and tasty.  I was thinking steak and potatoes and my thought process was literally:  "Oh I love steak and potatoes, but let's swap that sugar-filled white potato for mashed SWEET potato (hello nutrients and fiber) and naturally we will add sliced scallions or chives because that is a lovely flavor combo, but I don't have chives so scallions it is".
So why did I choose sweet potatoes over white potatoes?
SWEET POTATO HEALTH BENEFITS:
Loaded with vitamin A and beta carotene which are good for eye health, hair health, migraines, and give your skin a rich rosy glow because sweet potatoes are very colorful.  (While white potatoes are also a starch they are an empty starch loaded with sugar that will have you falsely thinking you are full).  Sweet potatoes are loaded with fiber, minerals, and nutrients and goes through your system differently.
The magical Sweet Potato also contains calcium, magnesium, iron, zinc, vitamin C, thiamin B vitamin, riboflavin B vitamin, folate B vitamin, vitamin E, potassium, and some vitamin K.  A powerhouse of nutrients and minerals.
It sounds super fancy, but it's really easy to make and faster than cooking chicken if you can believe!  Filet mignon steak is really tender and therefore easy to slice thin.  The thinner the better with this sweet potato rice cake recipe.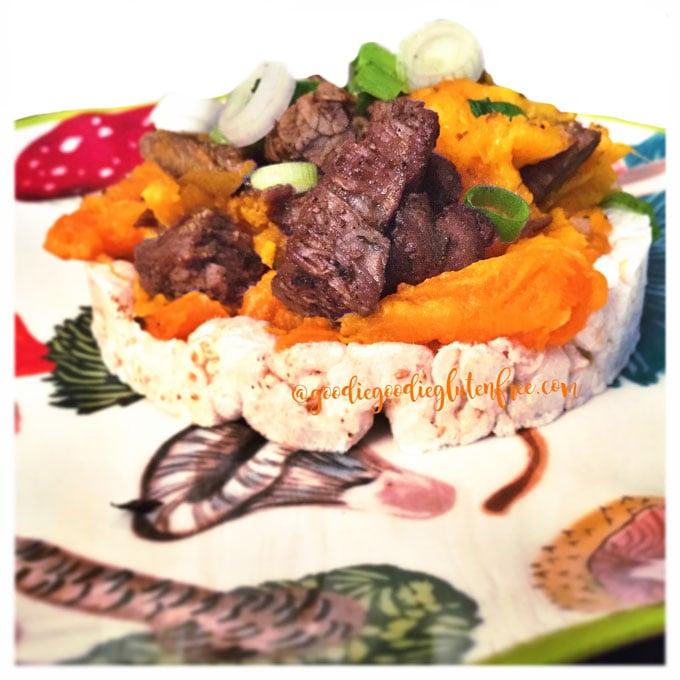 My favorite one and only rice cake that I will eat and trust are by Lundberg.  They have organic options, are always gluten-free, and made in a facility free of the top 10 allergens.  If you're going to rice cake it up I highly recommend Lundberg rice cakes.  These Sweet Potato Rice Cakes will remind you when there is a will, there's a way.
Remember that on your healing journey.
Are you ready to make beautiful music together?
Print Recipe
Gluten-Free Sweet Potato Rice Cakes
A twist to your typical rice cake.  Gluten-Free Sweet Potato Rice Cakes!  Made with brown rice, sweet potatoes, scallions, and fancy & fun filet mignon.  All the flavors of dinner in a healthy snack form and dairy-free too!
Equipment
oven or microwave

saute pan
Ingredients
1

6oz

filet mignon

thinly sliced

1

tbsp

extra virgin olive oil, coconut oil or ghee

2

pinch

salt

2

pinch

pepper

1

sweet potato

small

¼

cup

scallions

chopped

2

brown rice cakes
Instructions
Slice the filet mignon into ⅛-inch slices or as thin as you can get.

In a saute pan on medium heat, grease the pan and cook the thinly sliced steak in avocado oil, ghee, grass-fed butter or olive oil, + salt, and pepper to taste. Then add the scallions. Cook the steak to your desired preference and let cool.

Heat up your sweet potato via oven or microwave. Once tender, and cooled scoop sweet potato mixture out and add it to a bowl and mash it. Add salt, pepper to taste.

Once ready to assemble scoop the sweet potato mixture onto each rice cake. Followed by the steak and scallion mix. Sprinkle a bit of sea salt on top of each rice cake and serve immediately.
Notes
You can also use more herbs of choice like oregano, mustard seed and garlic to spice up your steak flavoring.  //  Rice Cakes can get soggy if you don't eat immediately. // 
Not a savory rice cake fan?  Not a meat fan?  Try this Avocado Pear Rice Cake!