Healthy Sunbutter Chocolate Smoothie - A creamy, luscious, energizing smoothie that is nutritious and delicious!  Made with hidden veggies, no bananas, and tastes like chocolate.  Smoothies are my favorite way to start the day.  Gluten-free, dairy-free, paleo, and refined sugar-free.  And it still tastes like a creamy and delicious dream!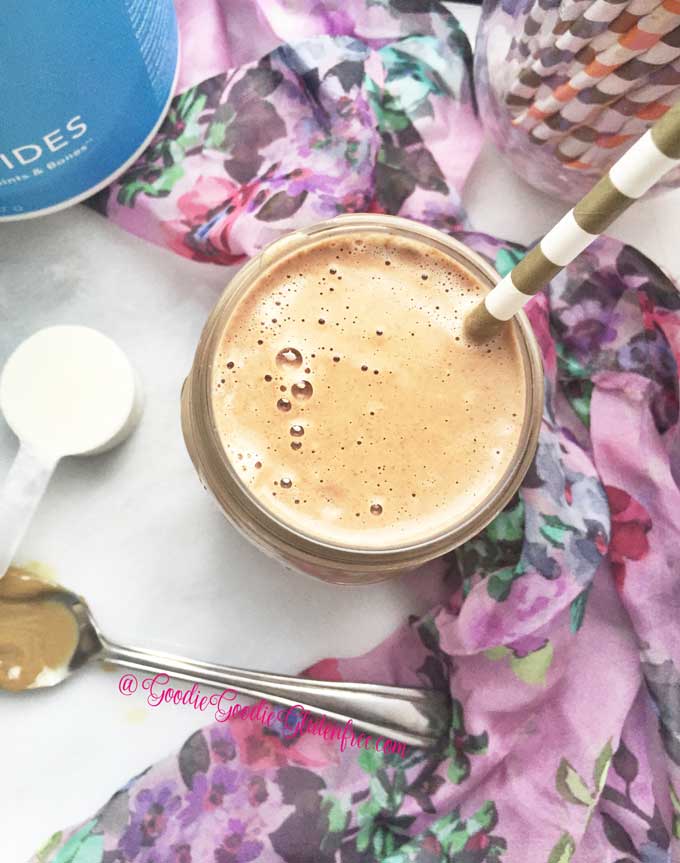 Ever have a Healthy Sunbutter Chocolate Smoothie that tastes solely like chocolate, and is actually good for you?  Let's call this smoothie dessert for breakfast or dessert for your post-workout smoothie.  Because this Healthy Sunbutter Chocolate Smoothie is a frozen drinkable dream!  In case you didn't know,
SUNBUTTER IS DIFFERENT THAN PEANUT BUTTER
a.k.a sunflower seed butter
Peanut butter is creamy, smooth, and sweet
Sunflower seed butter is less sweet and less creamy but has a richer taste
Both have plant-based nutrient benefits that will rock your world, and both work the same way when it comes to baking, smoothies, marinades, candy, and all the other foods you'd use with
In all honesty, it wasn't hard to make the switch.  I said goodbye peanut butter, hello Sunbutter.  It was that fast of a transition.  In 2014 I stopped eating nuts.  Through a long process of eliminations and reactions, I learned that my body could not tolerate nuts, said goodbye to sweet peanut butter, and introduced sunflower seed butter, stat.
SUNBUTTER PERKS
Sunbutter is a healthy fat, the good fats that our bodies need that reduce bad cholesterol
Hearty plant-based protein
No trans fat
Powered by the sun
Not a nut
Full of vitamin E and magnesium
Allergy-friendly for those with tree nut and peanut allergies
Delicious on everything from toast to smoothies, to ice cream sundaes, baking, and cooking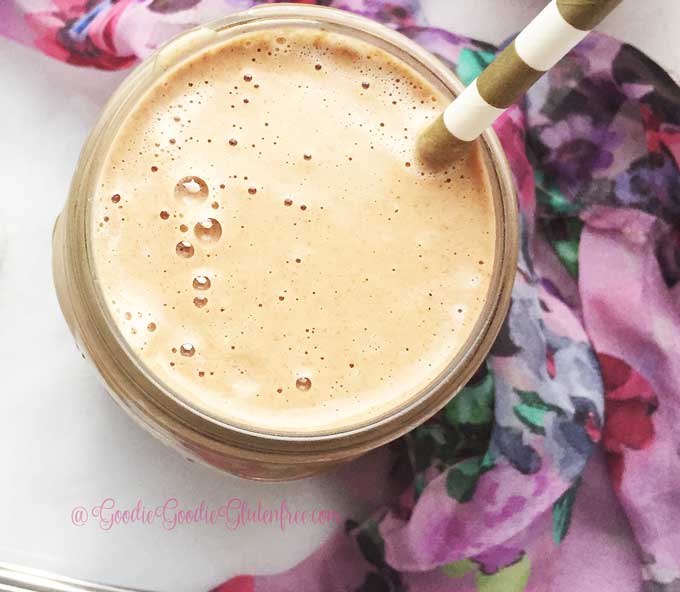 One of my favorite bloggers Natalie of Feasting on Fruit posted a yummy smoothie with hidden veggies on her Instagram feed that had me drooling but saddened because almost everything in that smoothie was poison for me.  I couldn't have the almond milk or the almond butter, or the bananas.  But I was inspired to create something similar that I could enjoy.  The one thing in the smoothie I could have was the hidden veggie.  I started with that one vegetable: cauliflower, and made some delicious and allergy-friendly adjustments.  Healthy Sunbutter Chocolate Smoothie was going to be the name.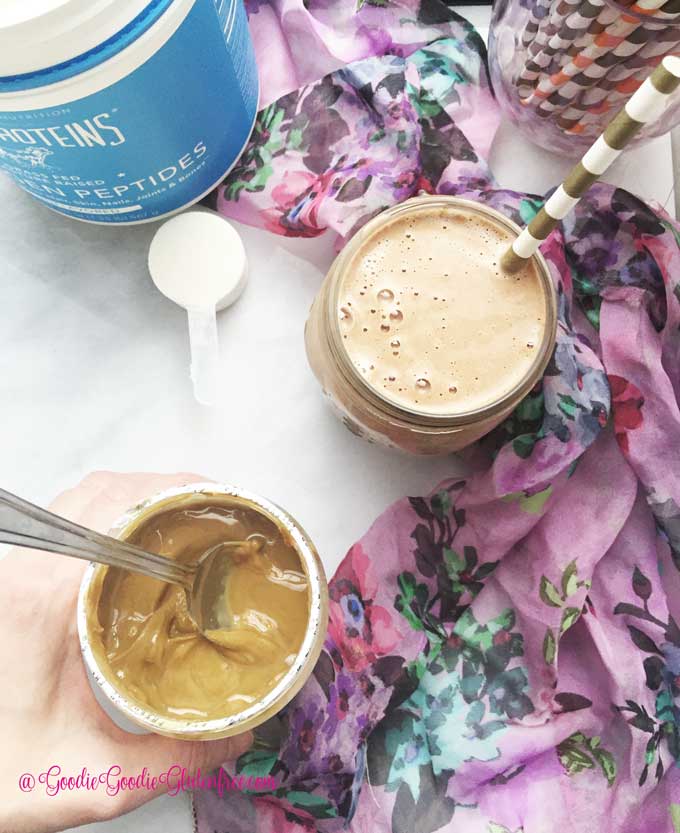 HOW TO MAKE A SMOOTHIE SANS ALLERGIES
Subbed in sunflower seed butter from Sunbutter brand instead of almond butter
Switched out almond milk for Tiger nut milk
Added 1 scoop of collagen
Eliminated bananas and subbed them for a ripe pear
Instead of raw cacao, regular cocoa powder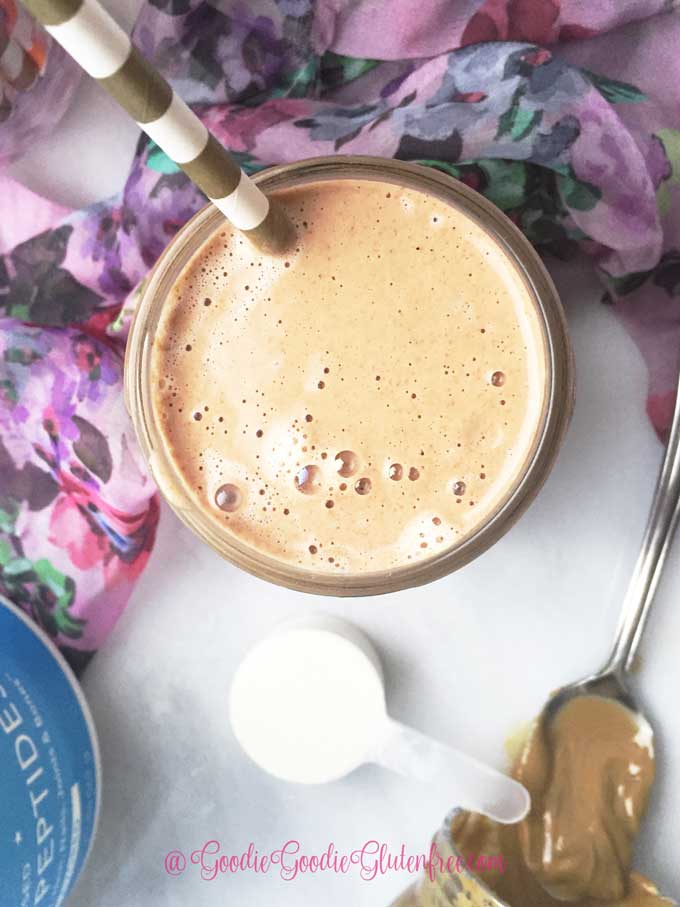 BENEFITS OF CAULIFLOWER IN SMOOTHIES
Adds texture
Makes your smoothie super creamy
Gets a dose of vegetables in without tasting it
Loaded with b vitamins, phytonutrients, vitamin C, and fiber
Enhances weight loss
Fills you up and keeps you full
Slows down the fruit sugar consumption
The combination of every single ingredient is meant to complement each other.  You will be so happy with this smoothie!
WANT TO MAKE YOUR OWN MILK FOR THIS SMOOTHIE?
READY TO GATHER YOUR INGREDIENTS?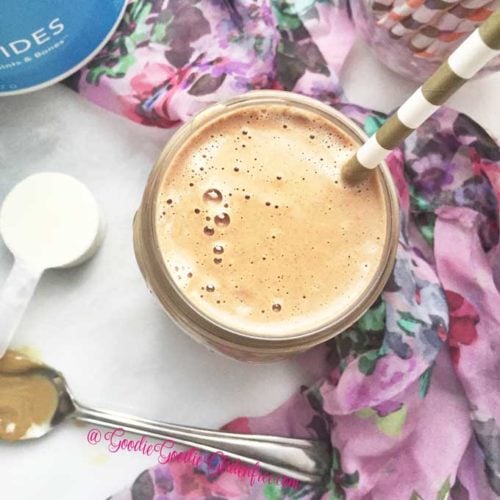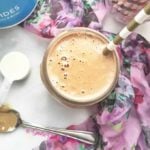 Print Recipe
Healthy Chocolate Sunbutter Smoothie
A hidden vegetable makes this Sunbutter Chocolate Smoothie extra creamy, extra frozen, healthy, and tastes like a creamy peanut butter smoothie minus the peanut butter with all the chocolate!  Dairy-free, paleo, and refined sugar-free too!
Ingredients
½

cup

frozen cauliflower

organic, raw

½-3/4

cup

Tigernut milk

or plant-based milk of choice

1 ¼

tablespoon

Sunbutter

creamy

1

scoop

collagen peptides

unflavored, Vital Proteins

1

tablespoon

chia seeds

¾

cup

ripe pear

chopped

1

tablespoon

cocoa powder

gluten-free

2

drops

liquid stevia

Nu Naturals

2

cups

ice
Instructions
In a high-speed blender, blast the cauliflower and ½ cup of the Tiger nut milk till well blended.

Add all other ingredients into the blender except the ice and blast until well blended and creamy.  At this point if the smoothie is too thick you can add the additional ¼ cup of milk.

Serve immediately over ice OR freeze for an additional 30 minutes for a serious frosty.
Notes
If you cannot use pear, you can also use ½ of a large green apple or ¼ fresh ripe mango.
Use any plant-based milk you like.  The original recipe from Natalie used almond milk and almond butter.  I switched it to Sunbutter and Tiger nut milk.
Don't be afraid to switch it up depending on your food sensitivities, allergies, and elimination diets.
Here are my two recipes for making Tiger Nut milk:
Smoothie making will never be the same without this stellar tip Natalie of Feasting on Fruit Blog mentioned about this particular smoothie.  It's a real game changer!  Usually, you add all the ingredients and blast.  This time first you will blend together the cauliflower and milk till well blended.  Then we will add the other ingredients.  Usually, smoothie making is a one-step process.  But smoothies using cauliflower use a 2-step process that in turn creates a magically thick smoothie.  
Like this recipe?  Pin it!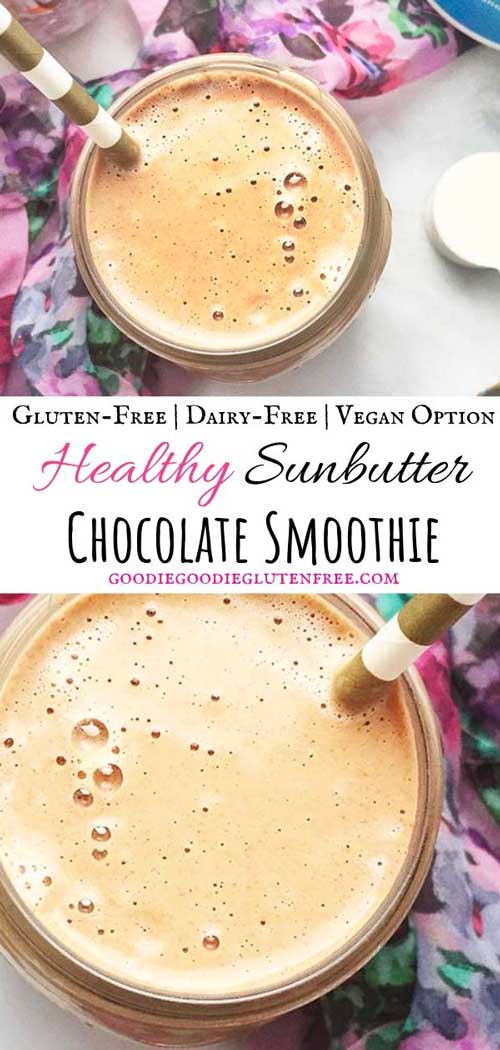 Health and nourishment,