This homemade quinoa milk has a great taste and is just as thick as cow's milk, only dairy-free!  A beautiful plant-based milk option for anyone with dairy allergies, or intolerances that has less fat than other milk and more protein than almond milk, soy milk, rice milk, cashew milk, and others.  Add this 3-ingredient homemade quinoa milk to your milk rotation!
*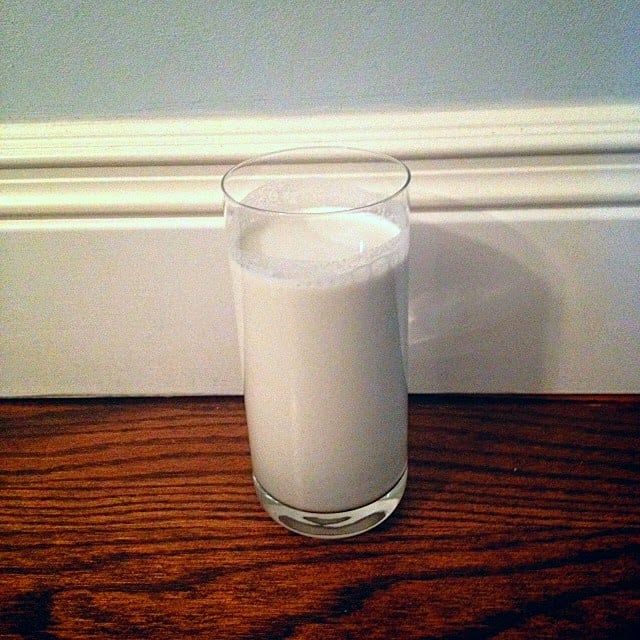 Coconut milk, tigernut milk, and hemp milk are my favorite plant kinds of milk to make, but this homemade Quinoa milk has an amazing taste, is great for baking, and contains less fat and more protein per ½ cup.  Quinoa is a complete protein making its milk contain more protein than most plant-based kinds of milk.
What is plant-based milk?
Plant-based milk is any type of milk that is not made from an animal source, or human source in regards to breast milk.
Plant-based or vegan types of milk are made from nuts and seeds such as almonds, cashews, walnuts, soy, tigernut, hemp.  Other plant-sourced milk can be from tuber root veggies like Tigernuts which are nut-free as well.  Then there are plant kinds of milk made from fruit such as coconut milk.  And then there are gluten-free grain kinds of milk such as quinoa milk.
Plant-based milk is always dairy-free which is a huge bonus to anyone that follows a dairy-free diet, vegan, or plant-based diet.  And the reason we drink plant milk is that plants are also loaded with calcium, vitamins, and nutrients.
Did you know that when you feel better from feel-good foods, you glow?
The other day, I had a friend over for dinner that I hadn't seen in two weeks.  She said I was different this week, that I had seemed so positive in comparison to the last time we hung out.  She said she could hear it in my voice.  I looked at her and whispered, "It was the Quinoa Milk".
My very own kitchen skills scored me homemade Quinoa milk-But I wasn't always so experimental in the homemade non-dairy milk department.
My Yoga teacher used to tell me how much she loved making homemade almond milk and how easy it was.
My initial response to more healing, and diet changes
Flash forward to now, 9 years into the life of a healing Celiac, with some serious Leaky Gut issues that started about two years ago and haven't stopped that had to lead to hair loss, anemia, malabsorption, acne, a much-needed detox, and on and off the Paleo Diet for 6 months.  100 percent clean, refined sugar-free, and on a new detox diet by my new Integrative Functional Doctor with a new list of new limitations…oh and did I mention 30+ food sensitivities.
I have been on some sort of detox diet since January 2014 to help heal and restore my gut.  At this point, I am unable to eat certain fruits and veggies raw, and therefore have to heat them first.  This experience is a journey, to say the least.
So when I went to my first appointment with New Doc,  I also met with New Nutritionist.  We went over what is allowed which really is so much if I didn't have these darn food sensitivities (the left side of my face and throat go completely numb, and it really is Russian roulette, we never know what is going to trigger it), and we went over the idea of making nut and seed milks homemade forever and ever instead of buying them store-bought.
Forever?  Forever feels like a really long time.
So in other words, there will be more difficulty added into my life.  I should just make the kitchen my bedroom and bring my clock radio with me because that's where I'll be 24/7.  And maybe instead of my answering machine saying "I'm not home right now", it should probably say "I'm cooking in the kitchen and I can't come to the phone right now".  My initial thoughts? A big fat UGH and then a huge SIGH.  New Nutritionist mentioned making my own hemp and flaxseed milk to start with.  I looked at her like she had five heads.
Me: How am I supposed to do that????!!!!!
Nutritionist: You make it yourself.  It's really easy.
Me: But that's so much work and prep time!  I am already in the kitchen 24/7.  I don't want to live there!
Nutritionist: It's easy.  You take 1 cup of seeds to 3 cups of water.  You don't even need a nut bag if you like it grainy.
Me: ew, grainy?  No thanks.
Picture me slouched over in my chair just ready to surrender and throw in the white flag.
I left that appointment so happy to find a doctor that could help me, but so annoyed that I'd literally have to bring my bed into my kitchen and sleep there, because, at the rate of my 100 percent clean cooking plan, the idea of also making my kinds of milk homemade was, to say the least really, really, really annoying.
And I didn't trust her.  I didn't think it would be easy, it certainly didn't sound easy.
But, it was OH SO EASY TO MAKE.
What Acceptance of a Food Sensitivity Looks Like:
I then emailed New Nutritionist to thank her because if it wasn't for her, I never would have tried to make this on my own.
And if it wasn't for her my world would never have opened the way it did, and if it wasn't for her pushing this easy fete, I wouldn't have gotten my confidence back!  Because being able to create wonderful meals for yourself is an amazing feeling especially when said foods are healing your body.  When you start to feel that things are working you'll begin to feel that confidence come back that you always had, and just lost.
Making these homemade kinds of milk gave me control over something that I am putting into my body that makes my body feel good, and I could have used some feel-good vibrations the last few months have been really rough.  What I love about this new adventure, is that even as a newbie with fears I took the leap and made it from scratch which gave me knowledge and education.
The first time was a total bust.  The second was great, and the third and so on.
And it gave me the ability to share it with all of you.  Through this experience, I learned SO MUCH.  And the learning part of this process, made me realize that I need to trust "the process" more often in every aspect of my life.
When you are in healing, beating an illness through food and lifestyle in addition to other ways of healing you must trust the process, or learn how to trust the process.  I will heal.  You will heal.  But it will take time.  Rome was not built in a day.  And our gut health takes time to rebuild from intestinal damage.  If a hurricane or a tornado comes into town, you can bet it's going to wreak havoc and take time to rebuild.  Our gut health is like that especially with Celiac Disease, SIBO, Candida Overgrowth, and, Leaky Gut Syndrome.
What Experimentation Looks Like:
Your mistakes NEED to be a part of your journey.
My first trial of making gluten-free oat milk and flaxseed milk was a total bust!  It started out well, of course.  I soaked both in water in separate bowls for two hours each.  Then I added that mixture plus some more water into a high-speed blender.  All was good.  I didn't own a nut bag or cheesecloth and New Nutritionist said it was fine to drink as is.  Plus, I was desperate to have seed or grain milk for my protein shakes, and decaf iced coffees.
It came out thick.  Like really thick.  Like the wrong kind of thick.
So I thought it needed more water.  So I just kept adding more and more water until it was thin.
And then it was too thin, so I decided to cook it on the stove.
And I thought, Oh, Yes!  I am so clever, look at me now…yeah, look at me now.  I'm a genius!
I curdled both milk batches.  Hahahahah.  Like I said, it a total bust.
The flaxseed milk custard made my face numb.  So that went to the trash.  Flax was out.  Clearly, a food sensitivity was brewing.
The gluten-free Oat milk was doable.  And it didn't make my face numb, so I used it grainy in my coffee.  It wasn't ideal, but it was workable.  The fact that I could have an iced coffee with non-dairy milk was the highlight of that day!
And that is when I got super confident.  I realized that something positive was happening and it made me so happy and hopeful.
So that day I bought a cheesecloth. ( I couldn't find a nut bag)
"Make it Work as Tim Gun would say" Tim Gunn
The next day I made Quinoa milk.
And what I learned is that Quinoa is a complete protein meaning quinoa milk is high in protein and that will help keep you full, keep you satisfied, and is high in protein which is needed to function.  In another word, energy.
Another delicious Quinoa Milk recipe
Ready to gather your ingredients?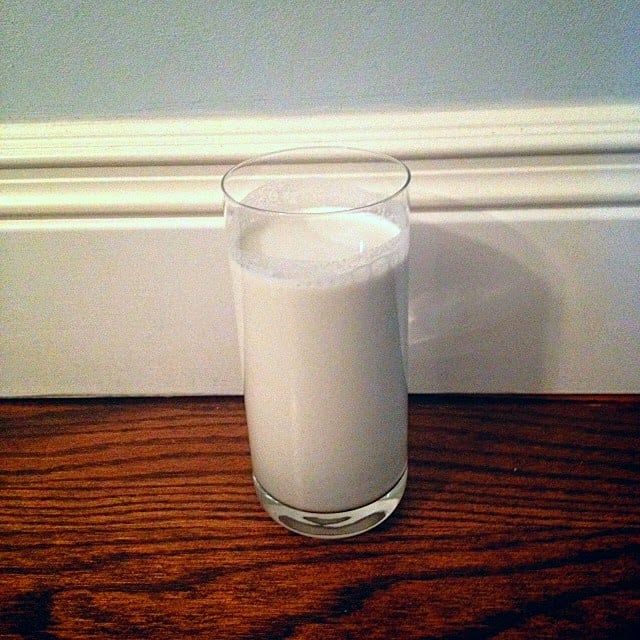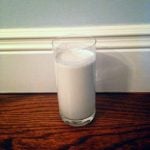 Print Recipe
How Quinoa Milk Gave Me My Confidence Back
This homemade quinoa milk has a great taste and is just as thick as cow's milk, only dairy-free!  A beautiful plant-based milk option for anyone with dairy allergies, or intolerances that has less fat than other milk and more protein than almond milk, soy milk, rice milk, cashew milk, and others.  Add this 3-ingredient homemade quinoa milk to your milk rotation.  
Equipment
high-speed blender

nut milk bag
Ingredients
3

cups

spring water

1

cup

white quinoa

unsoaked, organic

1

tablespoon

organic honey or maple syrup

optional

1

cup

ice cubes
Instructions
Blast all ingredients together (sans ice) on medium/high in a high-speed blender.

You may need to scrape the sides every so often.

Keep blending until smooth.

Over a large bowl filled with ice transfer the mixture into the nut-milk bag and strain the milk into the bowl. You can do this in steps.

Strain until there is no liquid left.

Store milk in the refrigerator in a sealed glass container or containers. Milk is good for up to 3-4 days. Discard pulp from the bag or save it for homemade crackers.
Notes
Sweetener is optional
Is milk too thick?  Blend in more water
Want a little sugar?  I like using 2 teaspoons of maple syrup
If you are on the Candida diet omit the sugar
If you are on the SIBO diet you can have up to 2 teaspoons in the whole batch
Are you reading this and thinking I'm nuts?  How could making Quinoa milk give me my mojo back?  It's really simple.  You see and I'm sure many of you with Celiac or lifestyle changes due to medical issues can understand…I lost all of my confidence.  I lost control of what I could eat. I lost control of how I could nourish my own body.  It was no longer easy to eat.  It became scary.  It became hard.  And it became sad.  Because I couldn't even enjoy the gluten-free foods I was used to!  For God's sake, I have to cook the blueberries before I eat them!
I can't eat kale, zucchini, bananas, cauliflower, pears, apples, green juices, certain smoothies, lemon, dairy, tree nuts, coconut anything, chia seeds, flax seeds, spinach, lentils, watermelon and so, so, so much more without having this facial numbing reaction that has been going on since April 2014.  I can eat cooked carrots but raw carrots make my throat numb for hours and hours. I thought I was allergic to everything! I was living on Benadryl.
Do you know what it's like to think you are allergic to all foods?  It is so hard to live day by day like this and not know if what you put in your mouth is going to harm you or make you thrive.
What gratitude for your healing looks like
I never ever thought of food this way.  I never thought in my wildest dreams that I could develop so many food sensitivities all at once and suddenly not be able to eat any of them for years on end.  I have just added back Avocado and that I am so grateful for.  When you realize that your body cannot always digest food effortlessly it really makes you think about Gratitude.  Being grateful for what you have, can do, can eat, can be, who you are with, your family, your life is HUGE.  Food is a luxury.  Nourishment is key but isn't always easy, we have to learn to listen to our bodies even if it sucks.  My motto these days is to strive to nourish my body.  If my body doesn't want apples, lentils, coconut, chocolate, kale, swiss chard, green juices, green smoothies, bananas, zucchini, cauliflower then I will have to let my body heal and nourish myself with the foods my body will accept and trust the freaky process.
As for making non-dairy kinds of milk, homemade? I have to say, I cannot believe I held out this long! I am a baker who makes intricate cakes, yet seed, nut, and grain milk were daunting.
They say it's the small things in life that make us happy.  My last words to you: gratitude makes all the difference.  Gratitude changes your perspective and your mindset.  Gratitude also creates positive energy even during our darkest hours.
Health & healing,