Paleo Wild Blueberry Lemon Chia Pudding is creamy, thick, and pudding-like with a luscious Sunbutter drizzle and plenty of fruit!  Organic peaches, nectarines, lemon juice, wild blueberry superfood powder, and sunflower seed butter.  Chia pudding is a fun way to up your breakfast game in a healthy way, without the guilt.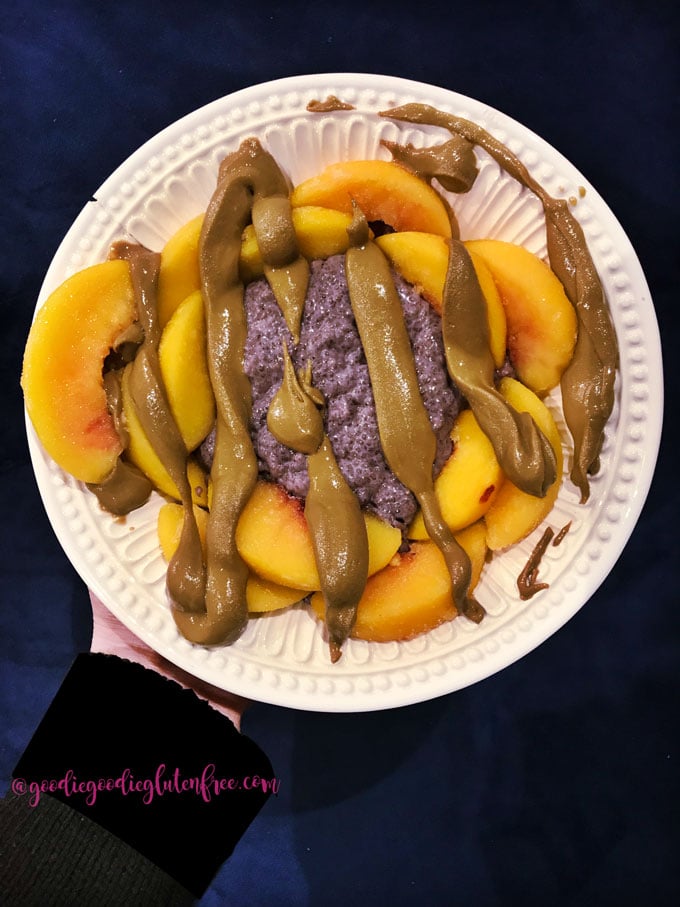 The more you eat for your body and supply your body with nourishing nutrient-dense foods the more CLARITY, ENERGY, and OVERALL well-being will bless your presence.
WHAT ARE CHIA SEEDS?
Chia seeds are edible tiny white and black seeds from the Salvia Hispanica chia plant.  While tiny in size holds many nutrients, vitamins, and minerals.  Just 1 tablespoon goes a long way.  They are crunchy, and barely have a taste without seasoning, spices, or some form of natural sugar.  Once water is added to chia seeds they gel up and can mimic an egg in baking, or turn into the consistency of pudding.
CHIA SEED BENEFITS
A large source of healthy fats - omega 3 & 6
High levels of magnesium, potassium, and calcium
Plant-based protein
Easily digested
Promotes healthy bowels and helps you "go"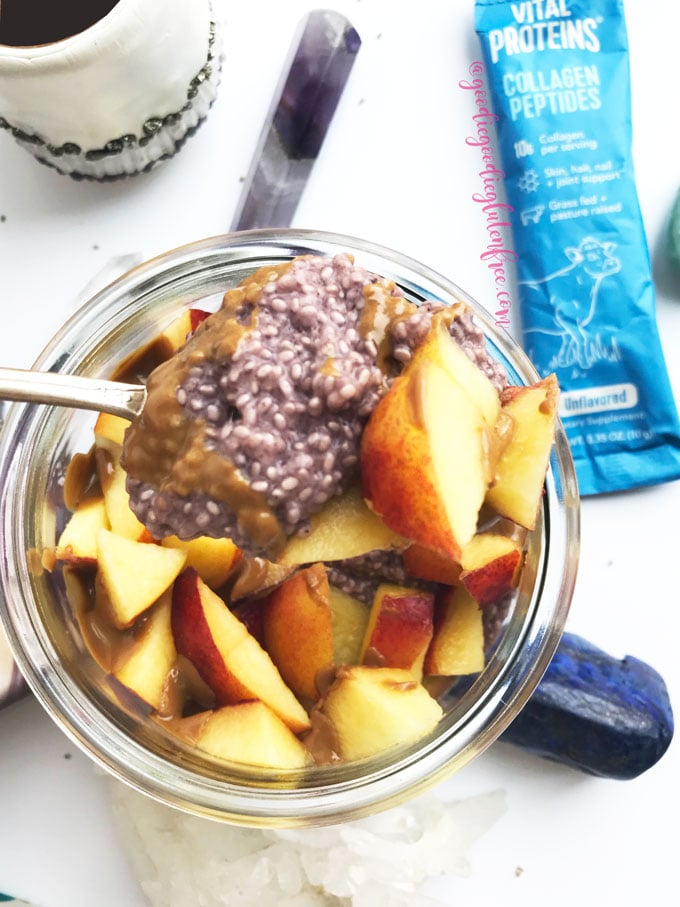 CHIA PUDDING AS A BASE INGREDIENT
Playing with chia pudding as your base ingredient reminds me of those frozen yogurt shops where you get to decorate your froyo with tons of fun and colorful candy toppings, fruit toppings, dried fruit, trail mix, chocolate, popcorn, and all the fun foods you can imagine.
Alternatively, instead of candy, chocolate syrup, and processed junk, you top your chia pudding with your choice of fresh organic fruits,  nut or seed butter of choice, and plenty of healthy superfood add-ins.  Think of this breakfast as a fun ritual because you get to choose your toppings, similar to adding toppings to your ice cream sundae.  Plus, it tastes really good.
This is a sponsored post in collaboration with Vital Proteins.  The opinions, text, and photos are my own.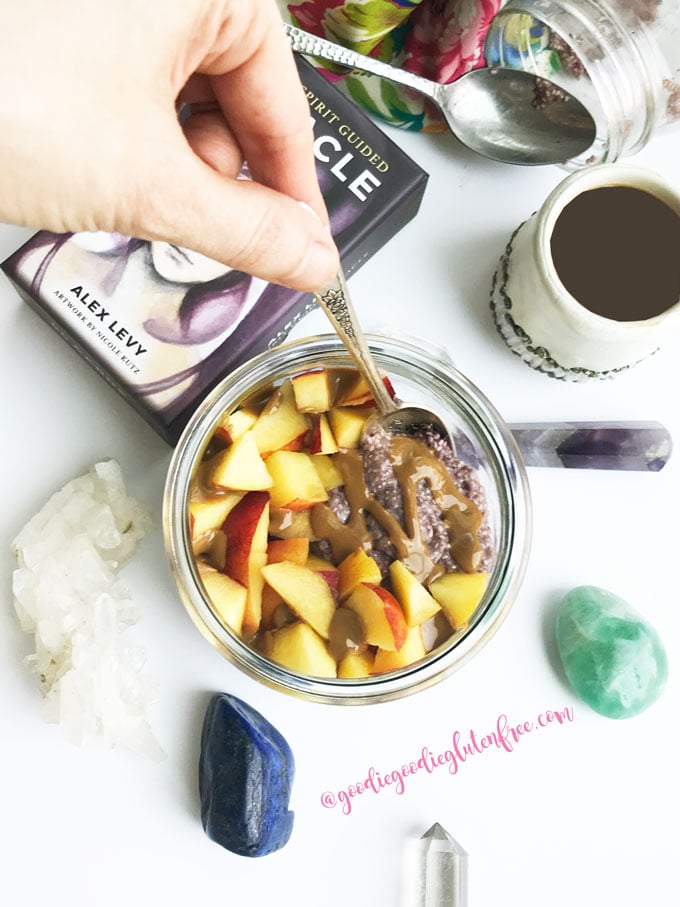 HOW TO TURN YOUR BREAKFAST INTO A LOVING RITUAL
Your ritual does not have to be centered around a specific meal that you have on repeat
Alternatively, it can be one ingredient that you know nourishes your body that you take daily
Anything from superfoods superfood powders, to supplements and collagen
Choose one and do it daily with your breakfast
Set aside time to eat and relax your body, which means no rushing
Be present
There's nothing like turning your breakfast or dessert into a beautiful ritual.  And the reason I say this is because healing can be rough at times so turning your food into something beautiful, and fun can be a wonderful, positive, and hopeful way to enjoy parts of your healing.  One of the best ways to be grateful for your lifestyle is to recognize the beauty before you.  Healing and nourishing food is everything!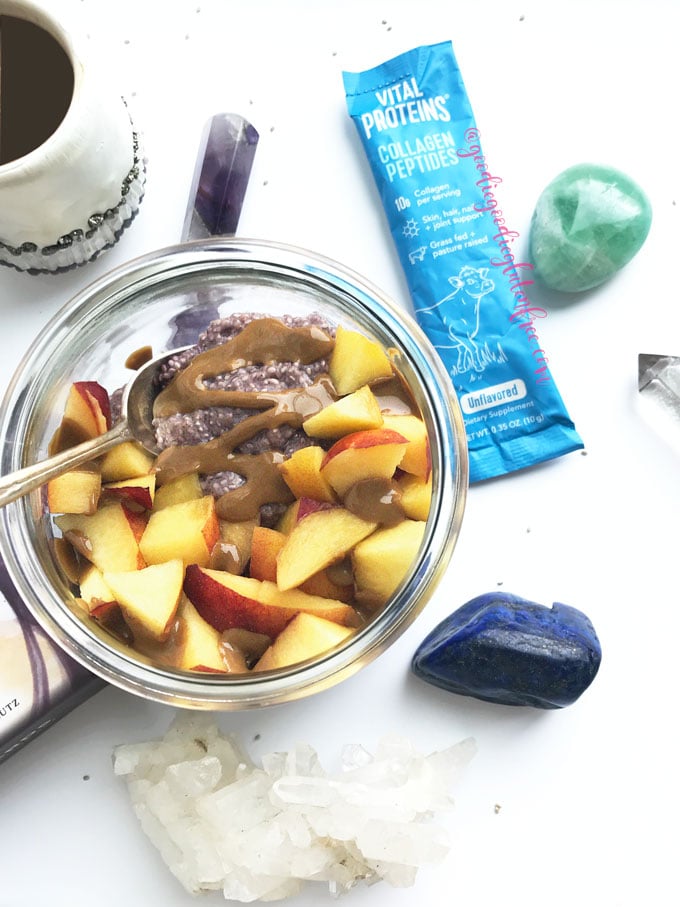 CHIA PUDDING TIPS
MORE CHIA PUDDING RECIPES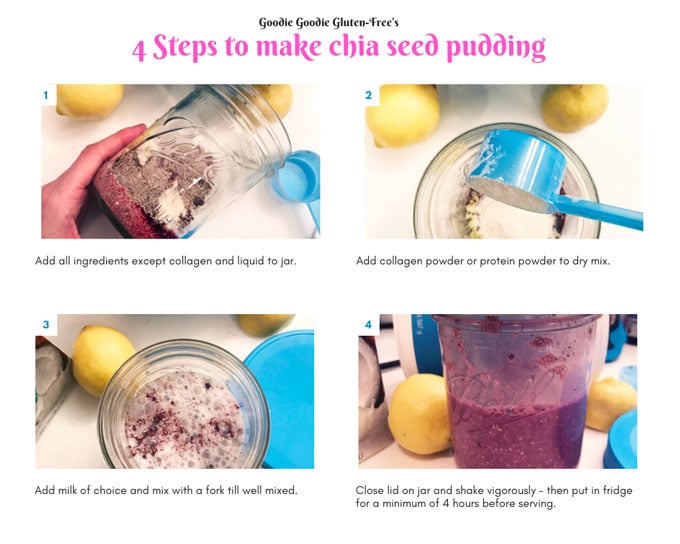 READY TO GATHER YOUR INGREDIENTS?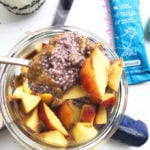 Print Recipe
Paleo Wild Blueberry Lemon Chia Pudding
Paleo Wild Blueberry Lemon Chia Pudding is a creamy and flavorful chia pudding with a luscious Sunbutter drizzle and plenty of peaches and nectarines!  A healthy breakfast or dessert you WANT to have without the guilt!  Loaded with healthy fats and protein to keep you satiated.  Yum!
Ingredients
¾

cup

coconut or tigernut milk

3

tablespoon

chia seeds

1 ½

teaspoon

additional chia seeds

2

teaspoon

wild blueberry superfood powder

½

teaspoon

lemon zest

organic

1

scoop

unflavored Collagen powder

2

drops

liquid stevia

1 ½

tablespoon

sunflower seed butter

or nut butter of choice

1

whole

yellow peach or yellow nectarine

sliced, ripe
Instructions
MASON JAR INSTRUCTIONS:
Add everything but the peaches and sunbutter into a jar. Give it a stir. Close the jar and shake.

Refrigerate for a minimum of 4 hours or overnight.

Once ready remove from the fridge, give it a stir and add your sunbutter drizzle, plus your sliced fruit. Style as you wish, and enjoy.
BOWL INSTRUCTIONS:
Add chia seeds to a bowl followed by your choice of milk. Stir well.

Add superfood powders, collagen, lemon zest, stevia and stir again. Cover with lid or foil and refrigerate for 4 hours or overnight.

Once ready give it a stir, add the amount you desire to a bowl, cut your fruit and add your sunbutter drizzle. Style as you'd like and enjoy.
Notes
This recipe is an ad using Vital Proteins Collagen product.  But I'd post it anyway.  Vital Proteins in my favorite brand for Collagen.  I'll never use another brand.  I trust this brand.  The unflavored one is safely gluten-free and celiac safe.  I adore it.  When it came to doing a collaboration with them, I did extreme research to make sure it would be suitable for myself as well as you before I made any commitment to share this product.  I use it daily.  So does my family and we are a family of Celiac's. // I also love Nu Naturals for my liquid Stevia // And homemade plant based milk is the BEST over store bought, but both will do the trick with this recipe.  // Enjoy!
Health and healing,