Matcha Chia Oat Parfait that is gluten-free, comforting, delicious, and made with 3 layers of fun! Matcha green tea is all the rage so I had to add it to the best ultra-creamy chia pudding and matcha oat parfait, how could I not?  Protein-packed with whole goodness.  Perfect for a healthy breakfast.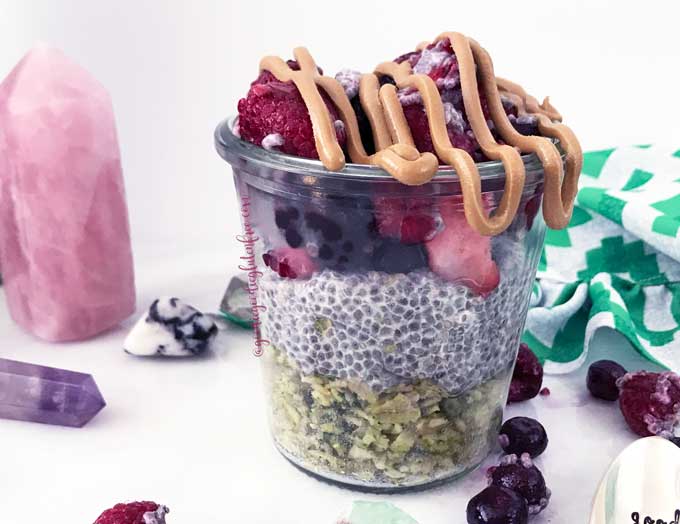 It's pretty strange that I don't have a lot of chia pudding recipes on my blog because I often make them.  In fact, when I went from a gluten-free diet to a Paleo diet with a sensitivity to eggs this became my go-to breakfast! It often still is.  And if I added chocolate to it?  Well, then dessert.  No matter what it's a serious yum!
I have recently been admiring all those gorgeous parfaits I see on Instagram, so in honor of all the talented recipe developers out there doing their magic, this is my take on the whole parfait trend sans nuts, gluten, dairy, banana, avocado, and refined sugar.  Yet it's still magical.
Every layer tastes like magic.  Even that sunflower seed butter drizzle at the top.
I feel I need to tell you how easy it is to make chia pudding.  And I also feel the need to tell you that you can make it creamier and thicker by how much or how little milk you use, and how many tablespoons you use of that chia ratio.
And…I also feel the need to tell you that making gluten-free oats from scratch is far better than making it out of an individual package.  So my preference for the creamiest combo would be the bob's red mill quick cooking oats used with water.  I know it's the easiest ever, but yes, that is how it gets the creamiest.  Then the chia pudding must be used with plant-based milk.  I find that store bought is less creamy then making the milk yourself.
And if you add protein powder?  Super creamy!!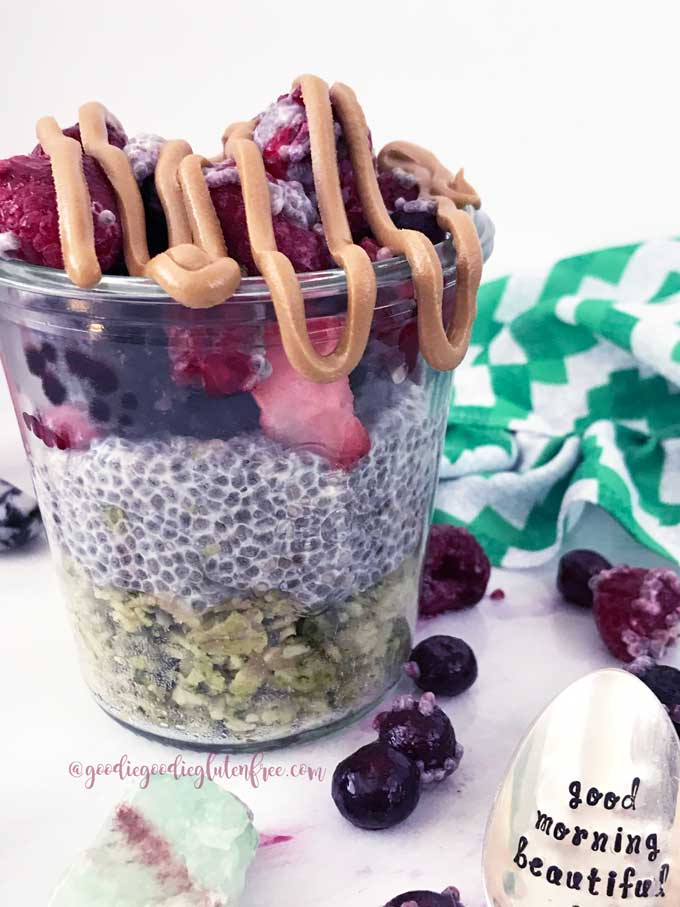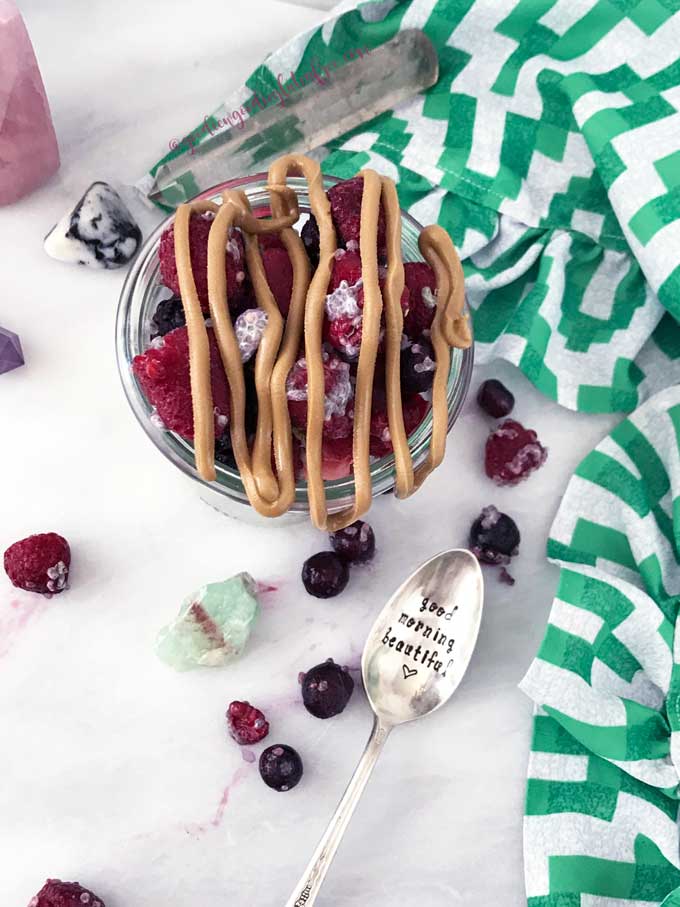 Here's the deal though, chia pudding is not super filling unless you add all the healthy and clean goodies on top and in between.  It's not just about topping the top layer off with delicious goodies.  Don't leave the other layers out.  In between each layer should be something with lots of oomph.  Treat every layer like the top and final layer.  That way when you dig in, you are really digging into nutritious goodness that will keep you full and satiated, and isn't that the point of a healthy breakfast?  It should fuel you for hours.
Since these are nutrient dense low sugar toppings, feel free to add a medley so that it makes you excited to eat it.  Plus adding a medley means you are adding lots of nutrients that your body needs.
LOW SUGAR TOPPING IDEAS
frozen raspberries or fresh
frozen blueberries or fresh
frozen wild blueberries
frozen strawberries or fresh
frozen blackberries or fresh
pear slices
apple chunks
fresh mango
sunflower seeds
pumpkin seeds
watermelon seeds
hemp seeds
If you can tolerate nuts:
brazil nuts
praline nuts
walnuts
almonds
pistachios
cashew nuts
macadamia nuts
hazelnuts
gluten-free non-contaminated oats raw
tigernuts
sunflower seed butter
tahini
pumpkin seed butter
hemp butter
coconut butter
sugar-free chocolate chips or pieces
almond butter
walnut butter
cashew butter
natural organic popcorn
coconut unsweetened shreds
gluten-free carob
chia seeds
flax seeds
Ready to make beautiful music together?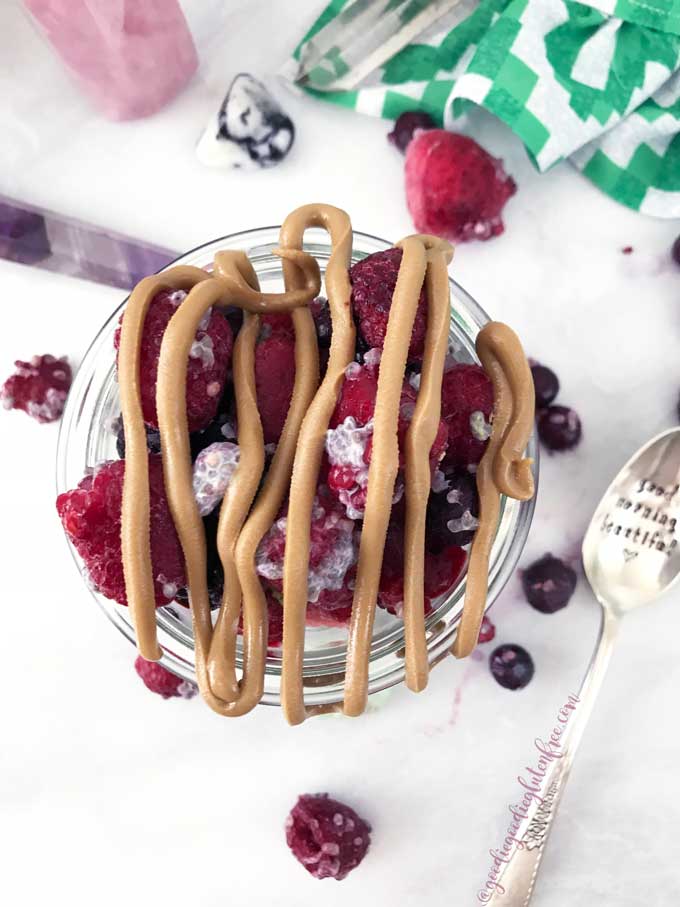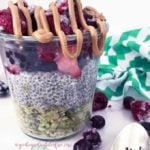 Print Recipe
Clean Matcha Chia Oat Parfait
The best ultra-creamy chia pudding and matcha oatmeal made with 3 layers of flavor and protein-packed whole food goodness. Perfect for breakfast, dessert or even a healthy snack!
Ingredients
Chia Pudding Ingredients (middle layer)
1

cup

unsweetened coconut milk

or TigerNut milk, or milk of choice

4

tbsp

chia seeds

black or white

1

scoop

unflavored collagen powder

vital proteins

1/4

tsp

vanilla

powder

2

tsp

maple syrup

pure
Matcha Oatmeal Ingredients (bottom layer)
1/3

cup

quick-cooking oats

certified gluten-free

3/4

cup

water

spring

1/4

tsp

vanilla

powder

1

tsp

matcha powder

I use Soar Organics, heaping

1

tsp

maple syrup

pure
Fruit Toppings (top layer)
1/2

cup

frozen or fresh mixed berries (raspberries, strawberries, blackberries, blueberries)

organic
Sunflower Seed Drizzle
2

tbsp

unsweetened sunflower seed butter

sunbutter or once again
Instructions
Chia Pudding Instructions (middle layer)
Add everything except the maple syrup into a mason jar, close the lid and shake thoroughly.

Then put the jar in the refrigerator for at least 4 1/2 hours.

Once you remove it from the refrigerator, open it up and add the maple syrup.  Mix well.  Your chia pudding is ready to be served, but you can store it for up to 3 days.
Matcha Oatmeal Instructions (bottom layer)
Add water, matcha, vanilla and gluten-free oats to a microwavable bowl, and microwave on high for 1 minute and 50 seconds.  Stir and let cool for 2 minutes.

Then add maple syrup and mix well, again.
Assembly & Layering
Fill the bottom of two jars with the matcha oatmeal layer. A few spoonfuls.

Then add your layer of vanilla chia pudding. A few spoonfuls.

Rotate adding different layers to each jar until you reach the top.

Top with your choice of toppings! Frozen or fresh fruit like mixed berries, nuts, seeds, and toppings galore. Whatever you have in your house that is healthy and seems like a good fit.

Using a pastry bag drizzle the sunflower seed butter on top of the fruit and serve.
TIPS:
Unflavored collagen peptides, I use Vital Proteins
For my matcha powder, I use Soar Organics 
There are no measurements on how much each layer is.  Use however much you want of each layer.
And you know my favorite is to add toppings in between the layers too!
How excited are you to eat this?!