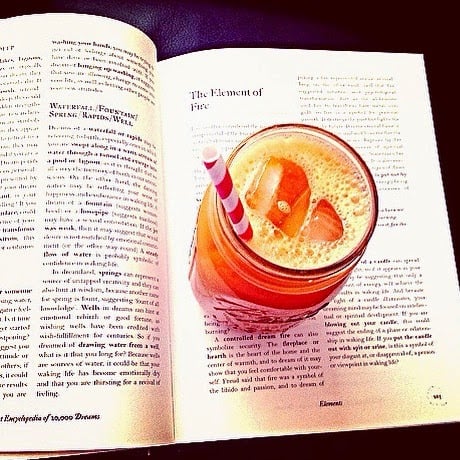 A green juice can certainly be intimidating if you are not a "regular" in the juicing department.  So today's recipe is a beautiful refreshing Honeydew Carrot Plum juice.  Don't get scared it, it definitely looks like it's all carrot.  But the honeydew is watery and sweet and the plums are tart, so it cuts the carrots and tastes utterly refreshing!  Why drink carrots?  Well, Carrots are LOADED with vitamin A, and Vitamin A is known to aid in healthy skin, healthy eyesight and healthy hair!  Good stuff right?  Juicing rather then eating also gets all those nutrients right into your bloodstream immediately rather then going through the digestion process.  This method offers fast energy and a boost that caffeine will not do.  So verdict? Carrots are not just for bunnies!
WHAT YOU WILL NEED:
11 mini carrots
1 cup honeydew melon + 4 additional chunks
2 large pieces of Plum (with skin)
1 cup water
4-5 ice cubes
DIRECTIONS:
Add everything (except the ice) into a high speed blender (omit water if using a juicer) and blend.
Then transfer mixture into a nut bag over a large bowl and drain
Serve in a mason jar over ice with a fun straw
TIPS:
-Add remaining leftover plum pieces into the drink like sangria.  Then you get to eat those last after they soak up the juice.
-Leaving the skin on the plum is a great way to get additional nutrients, vitamins, minerals and fiber.