Strawberry chocolate avocado mousse easy as 1-2-3!  Rich, decadent, and creamy.  Only 4 real food ingredients.  Reminds me of the old pudding I grew up with, only healthier!  Vegan, paleo, gluten-free & nut-free.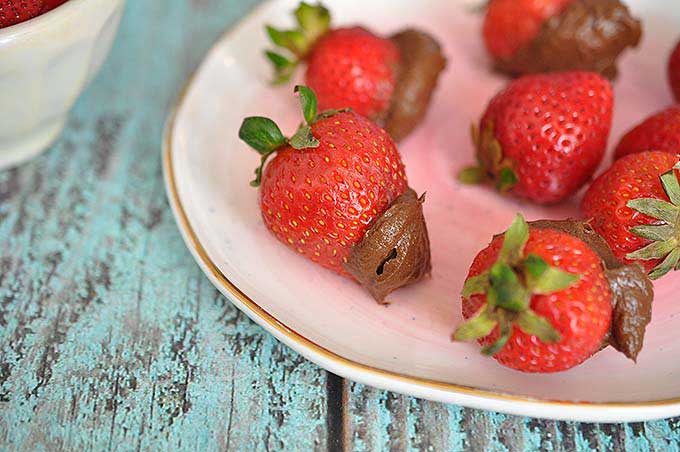 Chocolaty.  Fudgy.  Smooth.  Tastes just like an old-time chocolate mousse without dairy, eggs, and artificial ingredients.  But, I'll tell you something.  When I'm eating it I cannot tell the difference at all.  This mousse is everything you would want in a chocolate dip: creamy, silky, chocolaty.
WHAT FRUITS TO PAIR WITH CHOCOLATE AVOCADO MOUSSE
Strawberries are low in sugar and great for diets and low sugar lifestyles, making this treat undeniable.
Blackberries and raspberries are tarts with chocolate and taste really good together.
Sweeter fruits like pineapple, mango, and orange all work wonderfully.
Even watermelon paired with this combo is delicious!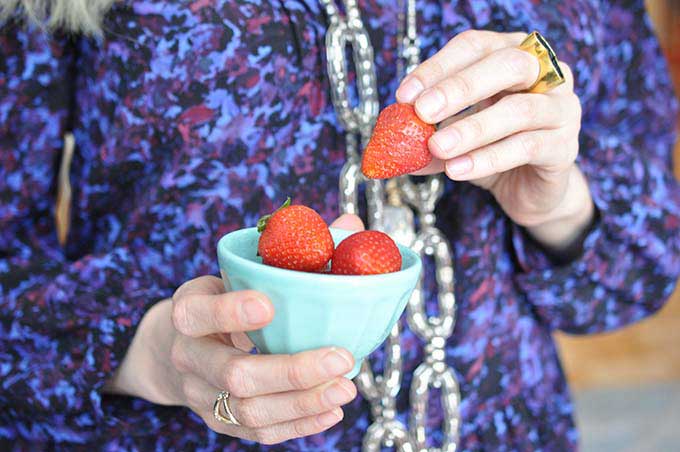 I make chocolate mousse as a snack all the time, but I never ever thought to add it to my blog.  I get a lot of questions about chia pudding and chocolate avocado mousse.  How to make it, how much sugar goes into it, how to become healthier using these options instead of dairy.  Chocolate avocado pudding and chocolate avocado mousse are so easy to make, I figured I'd let the other bloggers take a stab at it, but then I realized you want these types of recipes from me.  So here we are...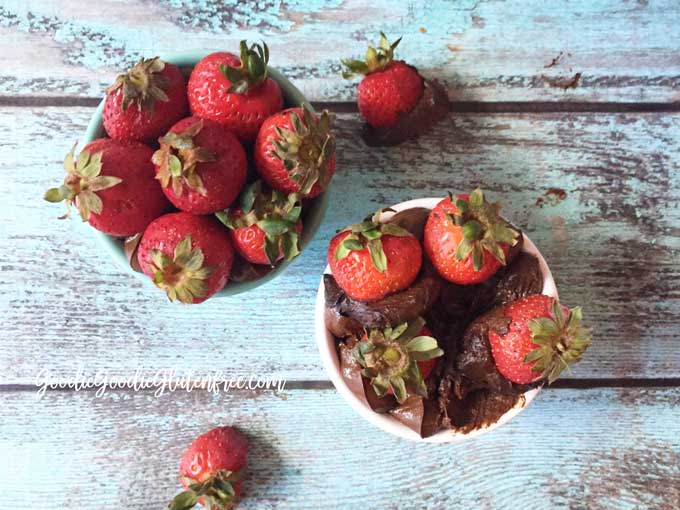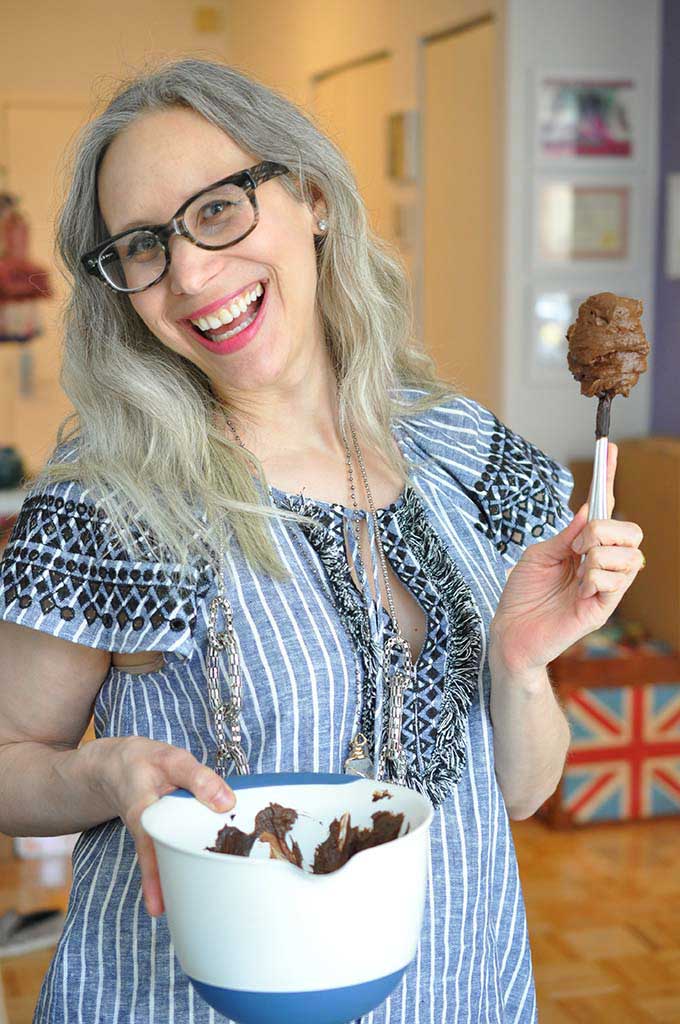 Well....first I had my blog photoshoot a few weeks ago and I wanted one of those pics where you are eating what you create.  You know the kind.  You go to someone's blog and there is this homestyle baking picture as a profile picture.  Lady in tow with a baking bowl of something delicious.  I'm no Mrs. Cleaver, but the idea of being a modern home baker sounded so so cool that I wanted my picture to be like that.  So I decided to whip up popsicles (my specialty) and this Strawberry Chocolate Avocado Mousse for the photoshoot.  The recipes were so good they made it to the blog!  Sadly my photographer said it looked like poop.  Personally, I still think the pictures came out amazing.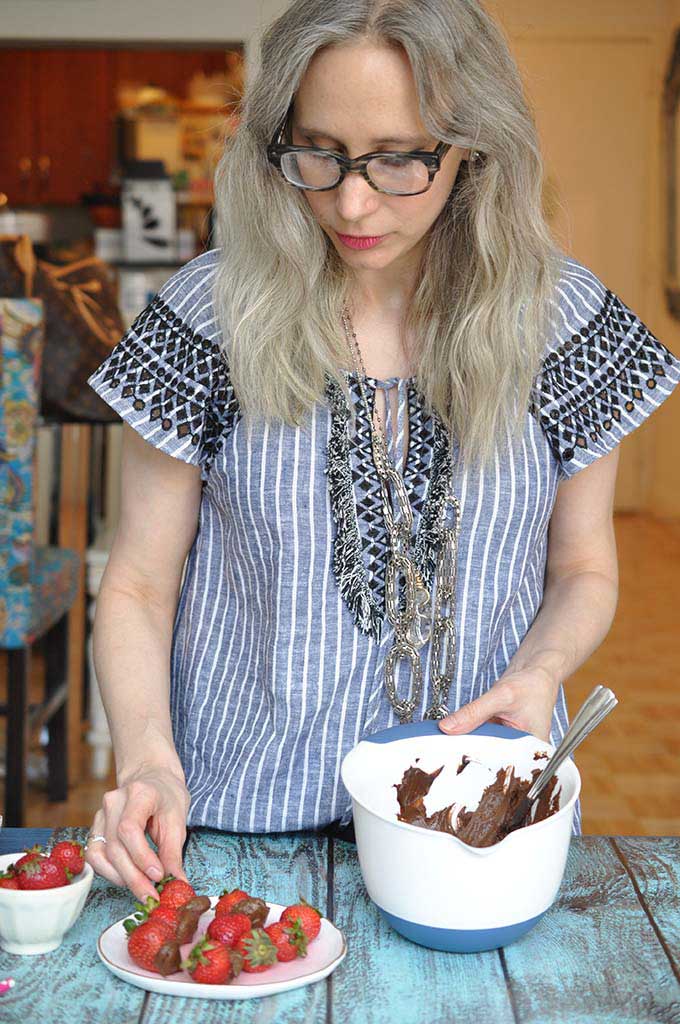 READY TO GATHER YOUR INGREDIENTS?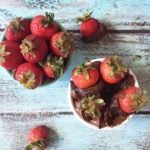 Print Recipe
Strawberry Chocolate Avocado Mousse
Strawberry chocolate avocado mousse easy as 1-2-3!  Just 4 ingredients!! Rich and decadent.  Tastes like the old pudding you grew up with only healthier!  Vegan, paleo, gluten-free & nut-free.
Ingredients
2

medium-sized avocados

ripe

⅔

cup

cocoa powder or cacao powder

2

tbsp

plant-based milk of choice

I prefer sugar-free

pinch

sea salt to taste

1

box

organic strawberries

trimmed
Instructions
Add everything to the food processor except the strawberries and blast on high till all ingredients are well blended.  Then scrape the sides with a spatula and blend again till smooth.

Serve as a dip with organic strawberries.
Notes
Avocados do not have a long shelf life.  For that reason I advise if you are making this, that you consume this within two days of making it. //  I use plant-based milk, but you can make this recipe with skim or 2% milk.  2% will make the pudding thicker.  You can also make this with coconut cream or full fat or lite coconut milk. // Store up to 2 days in the fridge!  //
Health, and love,