These No-Bake Mini Chocolate Mousse Tarts are filled with creamy avocado chocolate puree and sit inside a no-nut no-bake crust that is gluten-free, vegan & yummy!  You'd never know hidden veggies were hiding in this delicious dessert.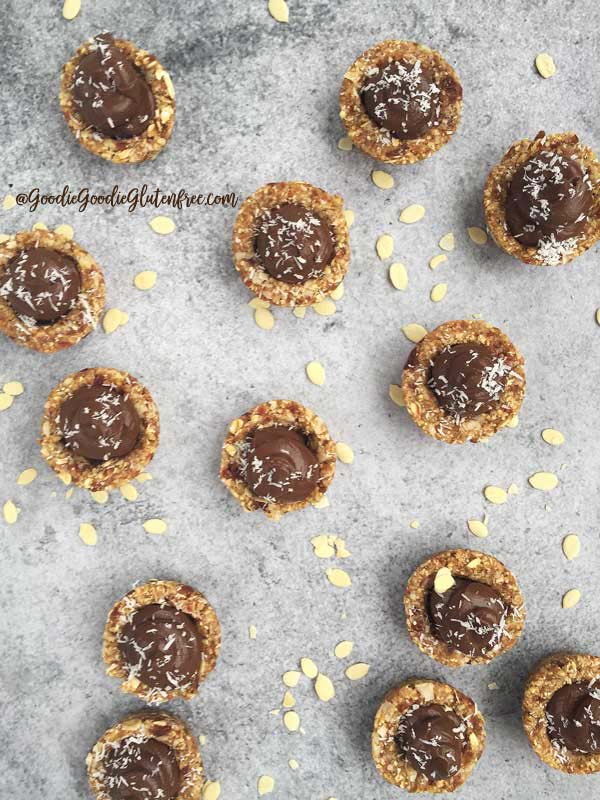 HIDDEN VEGETABLES:
Avocado creates a creamy base that dairy creates, sans dairy.  
My favorite way to make desserts is to hide vegetables inside them making not only a yummy treat but a nutritious one as well.  Using whole food ingredients is the way to go with healthy treats so you can enjoy more and sacrifice less.
These little No-Bake Mini Chocolate Mousse Tarts are so decadent and delicious, you'd never believe these tarts use so many whole food ingredients!  Chocolate Mousse?  Try avocado as the base!  I know!!  Crazy right?!  Each person that tried these No-Bake Mini Chocolate Mousse Tarts was shocked and couldn't believe avocado lived inside this divine dessert.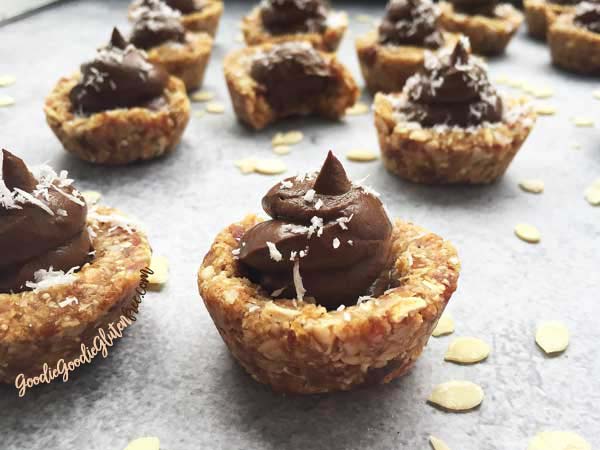 WHY USE WHOLE FOODS IN A CRUST:
Seriously, the one thing I have learned on this health journey is that mama nature's food is totally legit. You know what I'm talking about…the real stuff.  Real food, whole food, clean food whatever you want to call it has loads of potential for nutrient-dense sweetness and deliciousness.
I never would have known had I not developed 30 plus food sensitivities in the last few years.  That experience has been a nightmare, but an eye-opening one in the kitchen.  Instead of feeling defeated which I did at first, going through this health scare enabled me to find hope with different types of whole foods.
This recipe uses healthy but decadent ingredients such as Medjool Dates, watermelon seeds, coconut, avocado, cacao, gluten-free whole grain oats and so much more providing all-around nutritiously dense crust.
HOW TO CREATE A NO-BAKE MINI CRUST:
No-bake crusts are really fun to make.
Simply using a food processor and whole food ingredients you'll be able to whip up a crust without baking it in the oven!  You'll take ingredients in their whole form and blend them together to create what will look like cookie dough.  Instead of baking, you'll mold into a muffin tin and put it in the refrigerator.  And that is how the crust will work.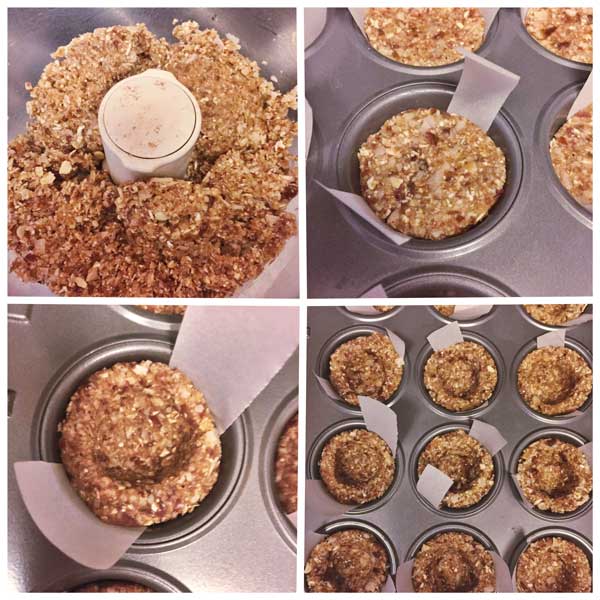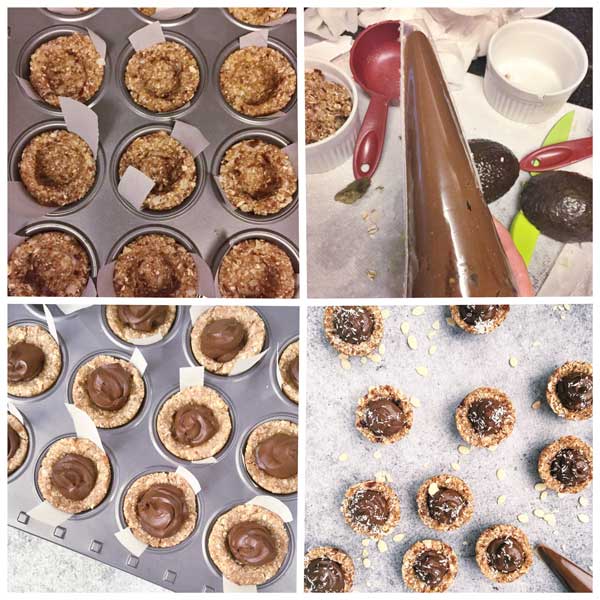 I had a lot of fun making and eating these No-Bake Mini Chocolate Mousse Tarts!  My original inspiration came from my blogger friend Davida over at The Healthy Maven.  She had made these carrot cake bites that not only looked delicious but the presentation was spot on.  I knew that I wanted to create a no-bake cup when I saw hers.  The trouble for me with her creation was that it used all the ingredients that I couldn't have, plus I'm not the biggest fan of carrot cake.  That's like the last resort for me.  But it got me thinking about what I could create, and you know I'm a sucker for chocolate.  Plus this whole tree nut and peanut sensitivity got my creativity thinking too.  How could I make a no-bake raw treat without the use of nuts?  Aren't all raw treats nut-based?  Pretty much, but it will never stop me from creating.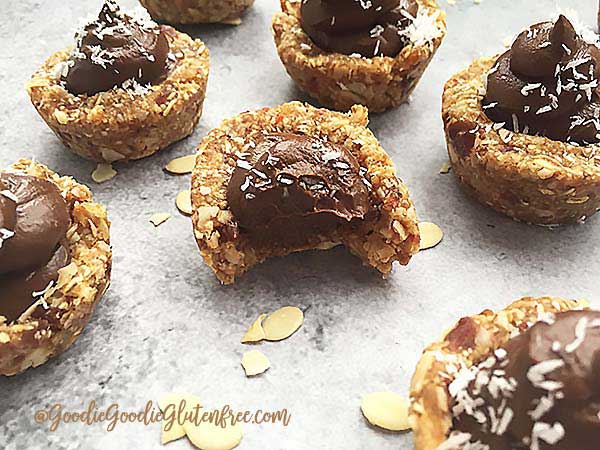 When I went to the GFAF Expo back in October, a company that I really liked was showcasing their latest and newest, not even on the market yet products!  Go Raw makes raw seeds and nuts along with all kinds of bar creations using their seeds and nuts.  Their seeds and nuts are raw and sprouted.  Raw and sprouted are the best because they are easier to digest and they give you the most nutritional benefits.  They had something new.  Something I KNEW I could use in replace of nuts!!!  I was super excited!  Watermelon seeds!
But not just any watermelon seeds, these were roasted with sea salt!  And these seeds are the latest hype.  (The white ones NOT the black ones are edible).  And they also make a gorgeous raw treat base!  They blend the way nuts do and they stick the way nuts do, and you can enjoy a nut-free treat without missing out on all the fun.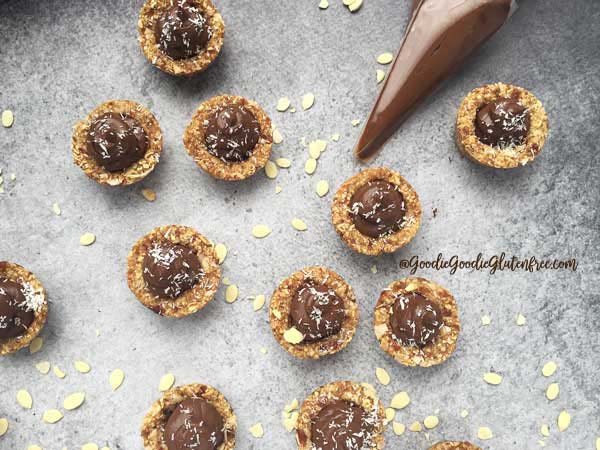 So then came the announcement on Instagram through The Feed Feed account, the largest baking and cooking account for connecting chefs and recipe developer's around the world.  They host tons of contests so I decided to enter! Eek!  My first cooking contest!  This contest was hosted by Colavita Olive Oil and while many people didn't even use the oil in their recipe, I felt that was really part of the fun.  The rule was to create a Thanksgiving dessert.   I loved the idea of actually using the sponsor's product in my treat!  I didn't win, but I became a finalist which was so exciting and inspiring!  I had never been a finalist before, and I was just so proud and happy.
I'll be honest, if these treats are in my house, I'll tackle at least 5 at a time!  And I can't feel too guilty since the ingredients are so pure.  We could all use a little sweetness in our lives, don't you think?
Ready to make beautiful music together?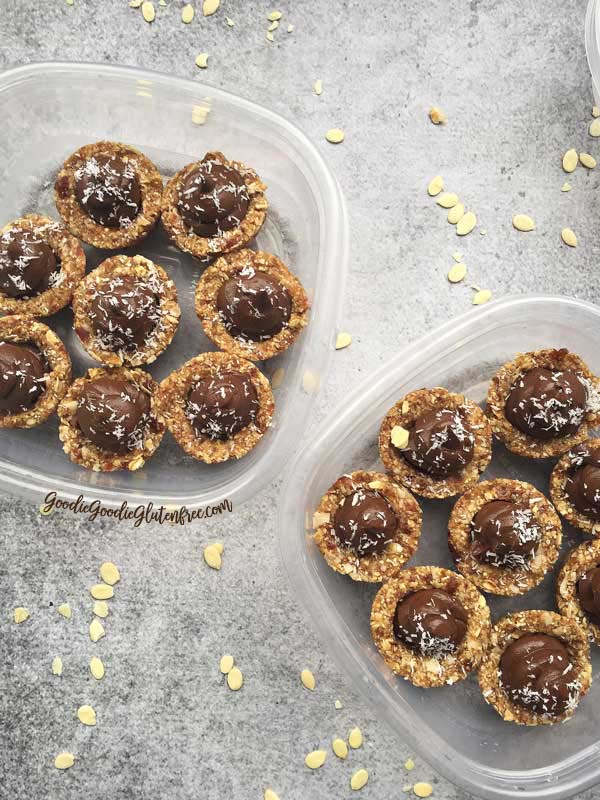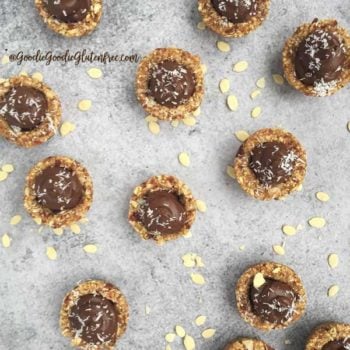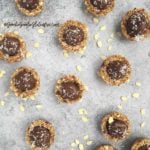 Print Recipe
No-Bake Mini Chocolate Mousse Tarts
These No-Bake Chocolate Mousse Tarts are filled with creamy avocado chocolate puree and sit inside a no-nut no-bake crust that is gluten-free, vegan & yummy!  You'd never know hidden veggies were hiding in this delicious dessert.
Ingredients
CRUST INGREDIENTS
1

cup

gluten-free certified oats

1

cup

unsweetened coconut shreds

2

tbsp

unsweetened coconut shreds

1/2

cup

watermelon seeds

roasted, with sea salt by Go Raw

15

Medjool Dates

pitted and soaked

1/2

tsp

ground nutmeg

1/2

tsp

ground cinnamon

1

tbsp

olive oil or melted coconut oil

2

drops

liquid stevia

I use Nu Naturals
CHOCOLATE MOUSSE FILLING
2

small-medium

avocados

ripe

1/4

cup

raw cacao powder or cocoa powder

2

tbsp

pure maple syrup
Instructions
CRUST INSTRUCTIONS
Soak pitted dates in hot water for 5 minutes then drain and discard date water.

In a food processor add ingredients in this order: dates, shredded coconut, gluten-free oats, watermelon seeds, spices, olive oil and liquid stevia.

Process and pulse until mixture is formed (about 5 minutes or more depending on the strength of your food processor).

Cut strips of parchment paper and put 1 strip into each singular muffin tin cup, about 1/2-inch wide making this crust easy to pull out once complete.

Add spoonfuls of mixture to a mini muffin tin. Flatten with your fingers so it fits into the mini muffin tin.

Chill in the fridge for 15 minutes.

Once chilled, use your fingers to create a dip/cup in the center of the crust for the chocolate mousse, by pressing your fingers into the center and molding it to create a cup shape.

Chill again until you are ready to add the chocolate mousse.
CHOCOLATE MOUSSE INSTRUCTIONS
Add all Mousse ingredients to a food processor and process until creamy and smooth.

Taste it to make sure you are okay with the sweetness.  If it's too decadent, add more maple syrup.  You can add up to 3 T.

Then add the mixture to a disposable pastry bag and pipe the mousse into the cups or just use a spoon.

Sprinkle with finely shredded coconut as a garnish.
Notes
Keep these no-bake cups in the fridge when not serving them. // Keeps for up to 3-4 days  – avocado is perishable. // If you don't know how to use a pastry bag, simply use a spoon to add the mousse.  // If you are interested in buying a pastry bag, I like disposable ones you can throw away by Wilton.  You don't have to use a tip, you can cut the bottom of the bag on a diagonal to create a fake tip and pipe.  See the pictures above for reference.  Click HERE to buy a Wilton Pastry bag. // 
Love & sweet deliciousness!