No-bake means no oven.  These easy Mini Chocolate Mousse Tarts are egg-free, nut-free, and no-bake!  An irresistible nut-free crust filled with silky smooth chocolate avocado mousse.  You'd never know hidden veggies were hiding in this delicious dessert!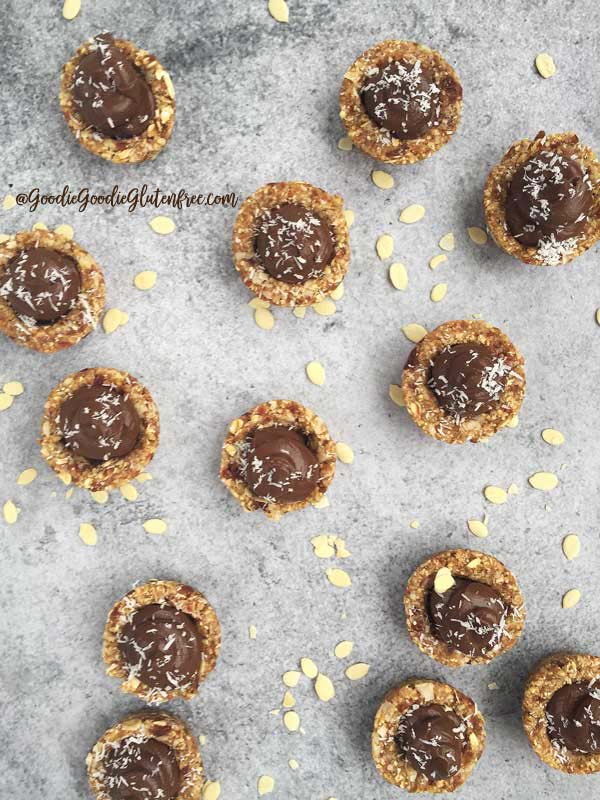 NO-BAKE PERKS
No oven is required!

All ingredients can be put into 2 kitchen gadgets - a food processor & freezer

Using nutrient-dense ingredients over processed is so good for you
So fun to make!
Naturally, the desire to create no-bake treats started to brew in my mind.  No-bake seemed challenging, but also magical.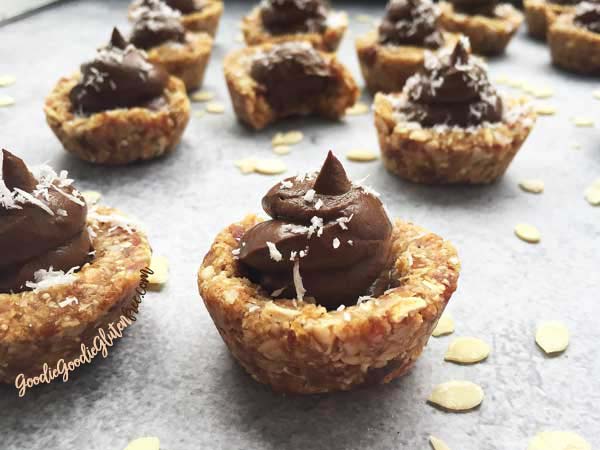 MINI CHOCOLATE MOUSSE TARTS INSPIRATION
After seeing no-bake carrot cups from a favorite blogger of mine in 2014: The Healthy Maven, I knew it was time to have a go at no-bake treat making.
Davida made these little mini carrot cake no-bake treats that not only looked delicious but the presentation was spot on.  I was mesmerized by the video.   The centers were whipped to perfection with an oat crust.  They looked so easy to make I knew this was something I wanted to partake in. 
The trouble for me with her recipe was that it used all the ingredients that I couldn't have, plus I'm not the biggest fan of carrot cake unless it's made by yours truly.  But it got me thinking about what I could create.  Along with a gluten-free diet, I am free of nuts, eggs, soy, and dairy.  And all those frees had landed me in no-mans ingredient land.  How could I make a no-bake raw treat without the use of nuts?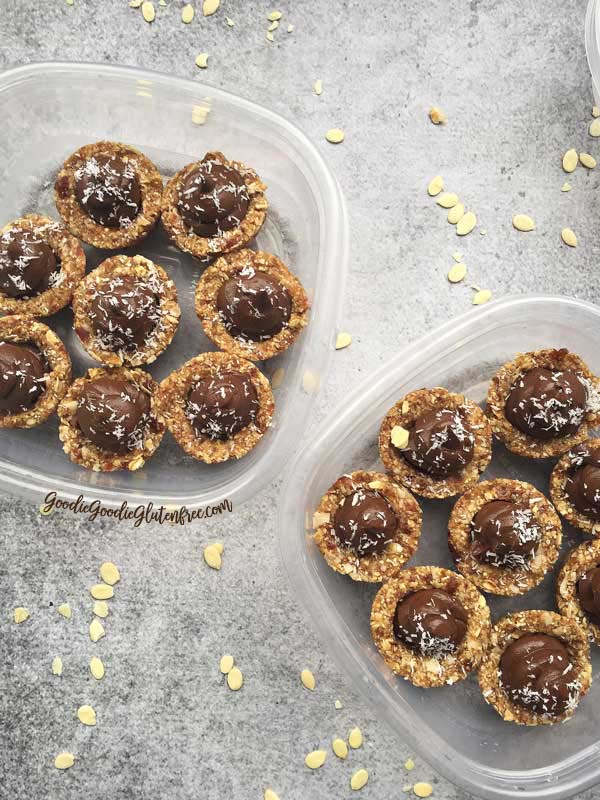 AREN'T ALL RAW NO BAKE DESSERTS MADE WITH NUTS?
Mostly, yes
Many store-bought no-bake desserts are made with nuts
Unless you come across someone with a nut allergy/sensitivity who makes raw treats (like me)
While in ingredient no-mans-land I began to develop recipes with real food ingredients opposite to my sensitivities.  While there were so many foods I could not have, this helped me embark on a world of tasting new foods that I could have, like hiding veggies in desserts.
This recipe uses healthy but decadent real food ingredients such as Medjool dates, watermelon seeds, coconut, avocado, cacao, gluten-free whole grain oats and so much more providing an all-around nutritiously dense & tasty crust.
HOW TO CREATE A NO-BAKE MINI CRUST
Choose a mini cupcake mold
Using a food processor add whole food ingredients in order of a recipe and blend together with the click of a button
You'll take ingredients in their whole form and blend them together to create what will look like cookie dough.  Instead of baking the dough, you'll mold it into a mini cupcake tin and put it in the refrigerator.  And that is how the crust gets made.
It's going to be easier than it looks.  There are steps.  Follow the steps and the step picture examples below.  You are guided.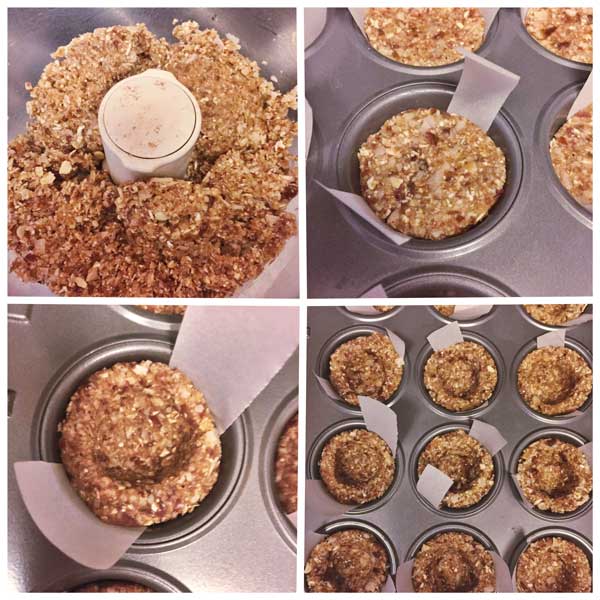 WHAT SEEDS TO USE INSTEAD OF NUTS
Go Raw makes raw seeds. and raw seed creations.  This is the brand I love using for raw seeds and nuts, along with Healthy Truth Foods, and Nuts dot com.  For this recipe, I played with watermelon seeds.  But if you cannot get those choose a seed like pumpkin seeds or sunflower seeds.  Their seeds and nuts are raw and sprouted.  Raw and sprouted are the best because they are easier to digest and they give you the most nutritional value.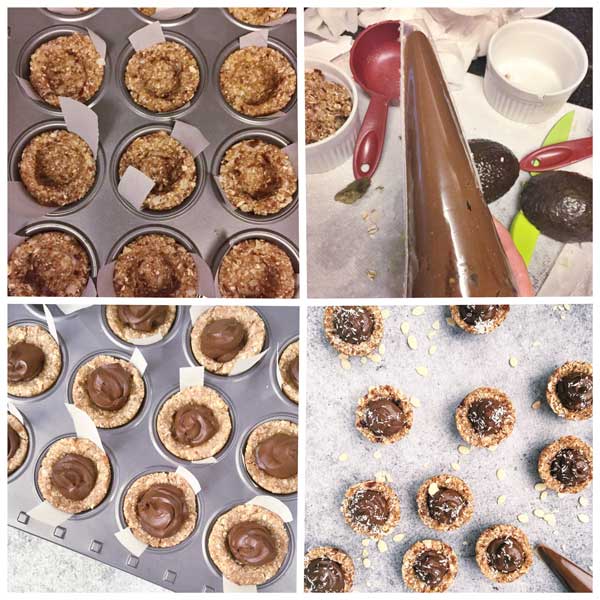 HOW TO USE HIDDEN VEGGIES
Avocado creates the same creaminess that dairy creates.  So instead of cream, instead of dairy milk, we are using ripe avocados.   

This green fruit, yes I said fruit has a mild flavor.  When seasoned with lime and salt it brings out the immense flavor.  If you are using sugar and chocolate you'll have the opposite effect, the avocado gets hidden.
Cover up the flavor of your veggie with a stronger sweetened flavor.
Adding natural sugar helps, such as maple syrup, honey, agave, brown rice syrup, and coconut nectar.
Using hidden veggies is the way to go with healthy treats so you can enjoy more and sacrifice less.  This also means that your body is absorbing nutrients all the time, rather than wasting them on empty calories.  You may as well get some nutrients while you eat that dessert.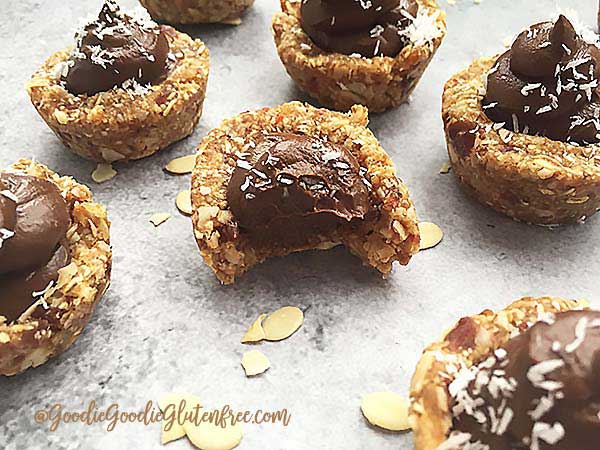 NO BAKE OIL TIP
I used extra virgin olive oil for this recipe, but you can easily substitute it with coconut oil, and avocado oil.  Avocado oil has a neutral flavor, whereas unrefined coconut oil has a coconut flavor.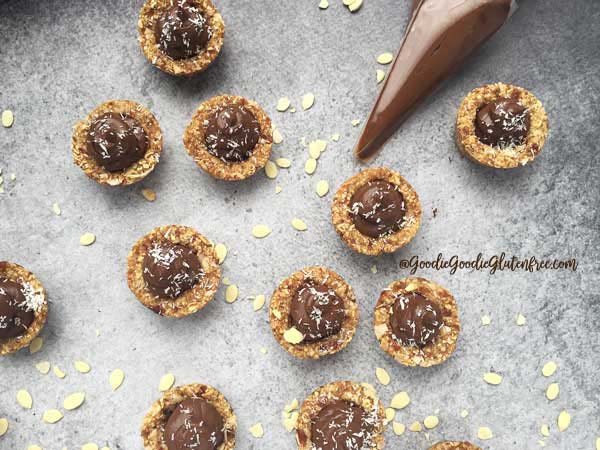 READY TO GATHER YOUR INGREDIENTS?
MORE HIDDEN VEGGIE RECIPES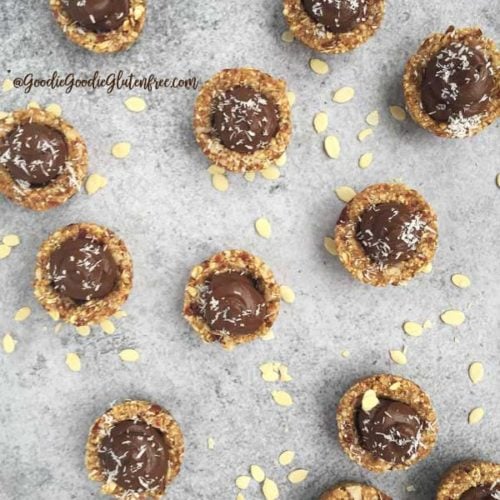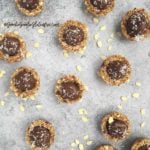 Print Recipe
No-Bake Mini Chocolate Mousse Tarts
These No-Bake Chocolate Mousse Tarts are filled with creamy avocado chocolate puree and sit inside a no-nut no-bake crust that is gluten-free, vegan & yummy!  You'd never know hidden veggies were hiding in this delicious dessert.
Ingredients
CRUST INGREDIENTS
1

cup

gluten-free certified oats

1

cup

unsweetened coconut shreds

2

tablespoon

unsweetened coconut shreds

½

cup

watermelon seeds

roasted, with sea salt by Go Raw

15

Medjool Dates

pitted and soaked

½

teaspoon

ground nutmeg

½

teaspoon

ground cinnamon

1

tablespoon

olive oil or melted coconut oil

2

drops

liquid stevia

I use Nu Naturals
CHOCOLATE MOUSSE FILLING
2

small-medium

avocados

ripe

¼

cup

raw cacao powder or cocoa powder

2

tablespoon

pure maple syrup
Instructions
CRUST INSTRUCTIONS
Soak pitted dates in hot water for 5 minutes then drain and discard date water.

In a food processor add ingredients in this order: dates, shredded coconut, gluten-free oats, watermelon seeds, spices, olive oil and liquid stevia.

Process and pulse until mixture is formed (about 5 minutes or more depending on the strength of your food processor).

Cut strips of parchment paper and put 1 strip into each singular muffin tin cup, about ½-inch wide making this crust easy to pull out once complete.

Add spoonfuls of mixture to a mini muffin tin. Flatten with your fingers so it fits into the mini muffin tin.

Chill in the fridge for 15 minutes.

Once chilled, use your fingers to create a dip/cup in the center of the crust for the chocolate mousse, by pressing your fingers into the center and molding it to create a cup shape.

Chill again until you are ready to add the chocolate mousse.
CHOCOLATE MOUSSE INSTRUCTIONS
Add all Mousse ingredients to a food processor and process until creamy and smooth.

Taste it to make sure you are okay with the sweetness.  If it's too decadent, add more maple syrup.  You can add up to 3 T.

Then add the mixture to a disposable pastry bag and pipe the mousse into the cups or just use a spoon.

Sprinkle with finely shredded coconut as a garnish.
Notes
Keep these no-bake cups in the fridge when not serving them. // Keeps for up to 3-4 days  – avocado is perishable. // If you don't know how to use a pastry bag, simply use a spoon to add the mousse.  // If you are interested in buying a pastry bag, I like disposable ones you can throw away by Wilton.  You don't have to use a tip, you can cut the bottom of the bag on a diagonal to create a fake tip and pipe.  See the pictures above for reference.  Click HERE to buy a Wilton Pastry bag. // 
Love, and health!