This Superfood Popcorn Nachos bowl is loaded with goji berries, chia seeds, hemp seed butter, watermelon seeds, and sunflower-oil-sweetened popcorn!  Made with powerful nutrient-dense tasty ingredients that will keep your snack game strong.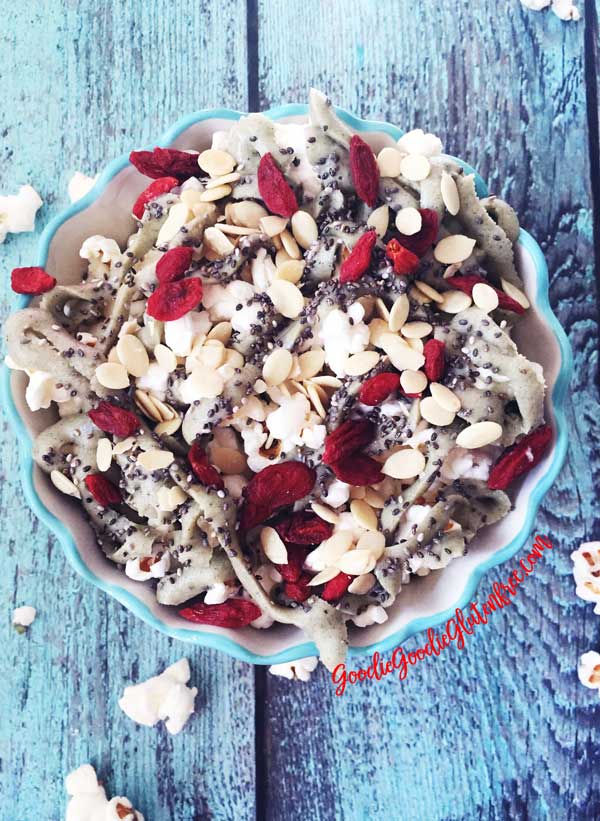 ARE POPCORN NACHOS A HEALTHY SNACK?
In moderation, YES!  I think we forget that popcorn with toppings is an epic snack!  Especially Superfood Popcorn Nachos! No longer do we have to eat caramel popcorn or artificial cheesy popcorn with added sugars and ingredients you can't pronounce.  You can easily healthify your popcorn to turn it into a healthy treat.
I'd say popcorn on its own, plain popcorn that is, can be an empty snack. Meaning you eat and eat and eat but don't feel full, or you feel full but then 20 minutes later you are starving again.  When it comes to snacking, the right way to snack is to eat something like popcorn with a healthy fat or with a healthy protein so you feel satiated!  Enter Popcorn Nachos.  That way you are enjoying a beneficial snack for your body that tastes good and you eat less because your body is getting what it needs nutritionally.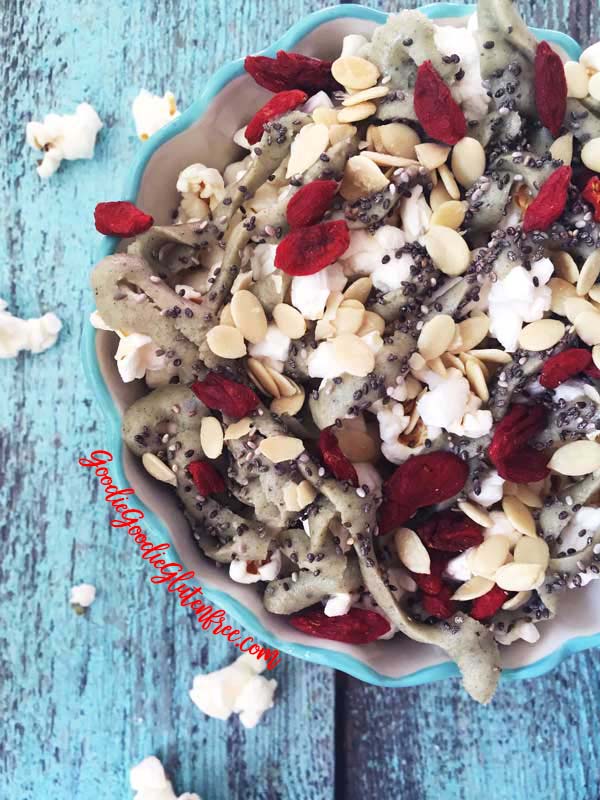 And you don't crash from superfoods because they are not empty artificial foods. Superfoods sound like they have superpowers, and in ways, yes they do - but not the way you think.  They are just loaded with tons of nutrients, minerals, and vitamins giving your body big benefits - a power punch.  Long gone are the days when you heard the word healthy or superfoods and automatically thought "if it's good for you, it must be gross".  Gone are those days.  Hello to healthy food that tastes delicious and gives your body nutrients too!  Popcorn nachos are a win!
POPCORN NACHOS TIPS
If you don't want to make Coconut Hemp Seed butter, then add unsweetened coconut shreds and use the nut or seed butter of your choice.
Feel free to use this idea as inspiration and add whatever superfoods that suit your needs.
For all superfoods, I use brands that are certified gluten-free at 5ppm.  These are from Nuts. com  (make sure you buy from the gluten-free section) and Organic Living Super Foods . com.  I love them both!
Looking for another healthy Superfood Snack?  Try my Superfood Apple Nachos!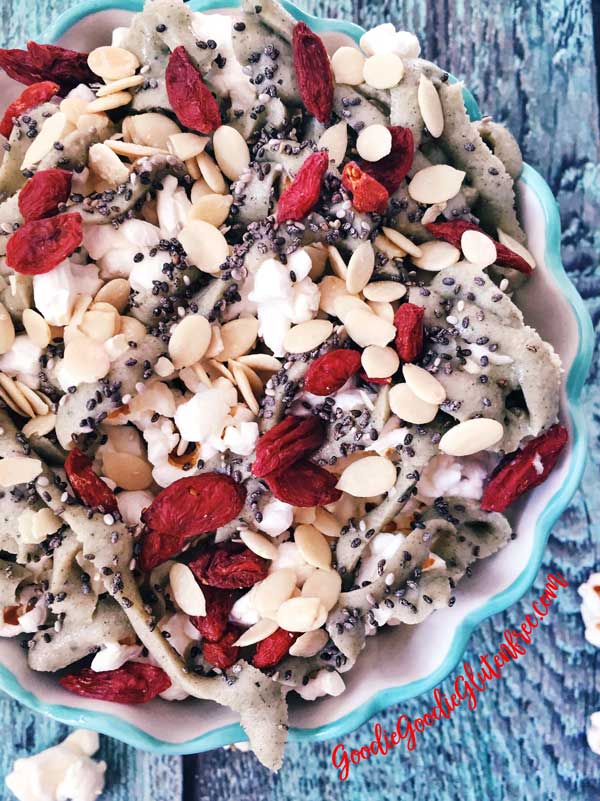 Since 2014 I have had tree-nut and peanut sensitivities that were so bad I didn't even try to add them back in.  So for this recipe, I went with Hemp Seed Butter.  If you're not into hemp seed butter, no worries - sub in any nut or seed butter you want!  Just make sure it's creamy.  If it's creamy it will work wonders.  You can try almond butter, cashew butter, pumpkin seed butter, sunflower butter, pistachio butter, hazelnut butter, and tahini - really there are so many options.
COOL SUPERFOOD NUTRITION FACTS
Watermelon seeds = (remember only the white ones are edible) = Plant Protein, Magnesium, Iron, Folate.  These little guys will keep you full.
Chia Seeds = Dietary Fiber, Omega 3 Fatty Acids, Omega 6 Fatty Acids, Calcium, and many vitamins and minerals.  Think of them like sprinkles.
Goji Berries = Beta Carotene, Vitamin A, and high level of Antioxidants, which helps stabilize your blood sugar and detoxifies the liver. Plus Goji berries are a sweet and tangy fruit.
Hemp Seeds = Acts as the perfect protein because hemp seeds contain all 20 amino acids, plus 9 of the essential amino acids the body cannot produce, a balance of both omega 3 & omega-6 fatty acids (think healthy fats), and high levels of vitamin A, magnesium, potassium and vitamin B3.
Coconut Oil = Has anti-bacterial, anti-microbial, anti-viral, and anti-fungal properties are loaded with healthy medium-chain fats that are easily digestible, immediately convert to energy, reduce inflammation, prevent gum disease, and are excellent for your skin inside and out.
READY TO GATHER YOUR INGREDIENTS?
Print Recipe
Superfood Popcorn Nachos
This bowl of Superfood Popcorn Nachos is loaded with goji berries, chia seeds, hemp seed butter, watermelon seeds, and sunflower-oil sweetened popcorn!  Made with powerful nutrient-dense tasty ingredients that will keep your snack game strong.
Ingredients
3 ½

cups

Skinny Popcorn

1

tablespoon

goji berries

1

tablespoon

salted and roasted watermelon seeds

½

tablespoon

chia seeds

pinch

Himalayan pink salt or sea salt
Hemp Seed Butter
1

cup

hemp seeds

2

tablespoon

coconut oil

4

drops

liquid stevia

pinch

Himalayan pink salt or sea salt
Instructions
Hemp Seed Butter
In a food processor, add 1 cup of hemp seeds and process until a dough forms that is semi-creamy. This could take over five minutes, sometimes longer depending on the power of your food processor but also sometimes less.

Then add 2 heaping tablespoons of coconut oil one tbsp. at a time, up to 4 drops of liquid stevia and a pinch of salt and process till creamy.

Using a disposable pastry bag cut the tip at an angle. Then fill the bag with the hemp seed butter mixture and pipe onto the popcorn. If you don't wanna be fancy, just use a spoon.
Popcorn & Toppings
Put 3½ cups of popcorn in a bowl, add your toppings and then pipe the hemp seed butter on top. Remember you can use as many toppings as you want, but keep in mind you will get full faster with nutrient-dense toppings.
Notes
Option: If you don't want to make Coconut Hemp Seed butter, then add unsweetened coconut shreds and use nut or seed butter of choice. Option: Feel free to use this idea as inspiration and add whatever superfoods that suit your needs. // 
Love and Superfoods,