Besides chocolate, Avocados are one of my favorite foods!  And within 5 minutes I can easily have a gorgeous bowl of healthy citrus guacamole as a snack without slaving in the kitchen.  It's that easy!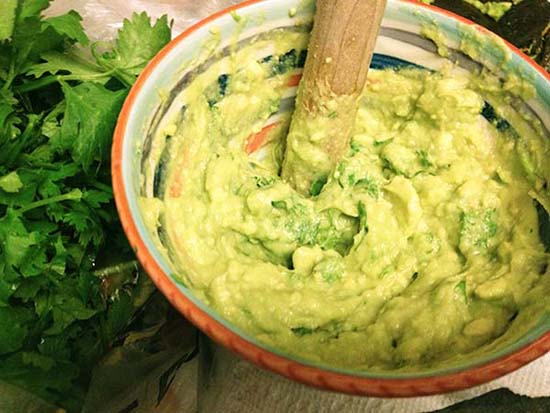 Making easy healthy snacks are a great way to spend less time in the kitchen and more time doing the things you love.  Besides the easy factor, there is the healthy factor.  Avocados are loaded with beta carotene; an essential nutrient that converts to vitamin A, and vitamin A is excellent for healthy hair & nail growth plus it's what adds color to your skin.  It actually adds vibrance to your body.  Did you know that Vitamin D, A, and Vitamin K are stored in fat?  That means they are fat-soluble vitamins that need healthy fats in order to stay in your body.  That's where avocados come in to play.
The beauty of guacamole is that this type of recipe allows a lot of creativity! Similar to frozen yogurt, almost any toppings work, like sneaking in pumpkin seeds and fresh grapefruit juice.
So what happens when you have company that has different needs?  Simply split the avocado in half and break out a second bowl.
Grapefruit Guacamole
1/2 Avocado
juice from 1-2 small wedges of grapefruit
medium size handful of pumpkin seeds
2 tsp. fresh Cilantro (chopped)
Classic Citrus Guacamole
1/2 Avocado
Juice from 1/4 lime
medium size handful of pumpkin seeds
2 tsp. fresh Cilantro (chopped)
pinch or two of Sea Salt
P.S. if you want to double or triple the recipe go for it!  But remember, if you are adding more avocado, then you will need to add more of the other ingredients.  It's all about taste with guacamole, so add as many ingredients as you desire.
Quick Tip: Can't finish all the guacamole and you want to refrigerate it?  Simply store it in a sealed container with a little extra squeeze of lime or lemon juice.  The lemon and lime juice both prevent the avocado from browning.
Quick Tip #2: Have leftover avocado that you want to store?  By leaving the pit IN the avocado shell it keeps it from turning brown.
5 Minute Citrus Guacamole
Author:
Goodie Goodie Gluten-Free
Ingredients
1 large ripe avocado
2 small wedges from a large grapefruit
juice from half a lime
2 medium-size handfuls pumpkin seeds
2 pinches of sea salt
Instructions
Wash the avocado.
Cut the avocado in half.
Remove pit.
Put ½ avocado in one bowl, and the other half in the second bowl for two versions.
Mash the avocado flesh with a fork until creamy.
For version 1 Add juice from 2 small wedges of grapefruit juice + 1 handful pumpkin seeds into one bowl and mix well.
For version 2 Add juice from ½ a small lime + 1 handful of pumpkin seeds + sea salt into the second bowl and mix well.