Cakey, dense, and decadent are the three words to describe these Chocolate Chickpea Gluten-Free Brownies!  Packed with chickpeas, flourless, refined sugar-free, dairy-free, egg-free, and vegan makes these brownies suitable for any time of the day including breakfast!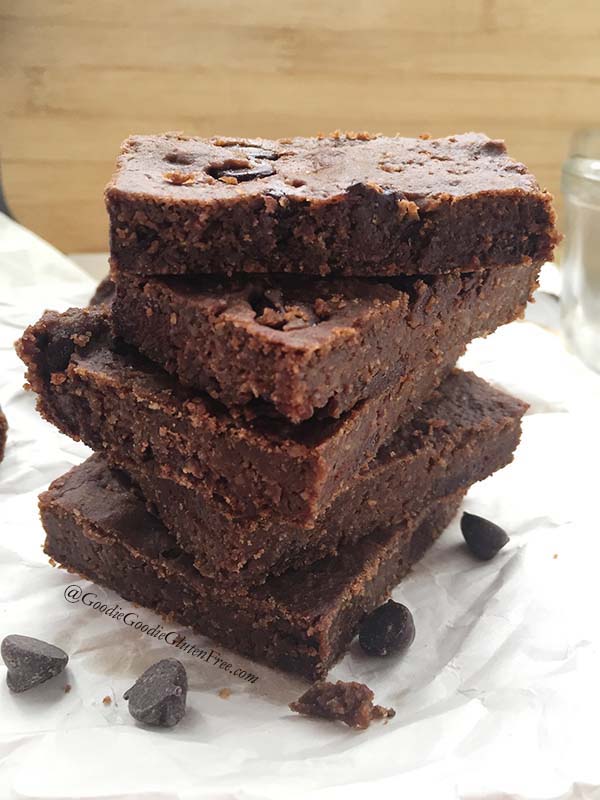 Greatly inspired by Rule Breaker Deep Chocolate Brownies, I decided to recreate them with healthier ingredients that are elimination diet and allergy-friendly.  These Gluten-Free Chocolate Brownies are just as decadent if not more decadent than the original.  Using ingredients that are free of sunflower, dairy, nuts, refined sugar, and additives.
WHY I WAS INSPIRED TO RECREATE A CHOCOLATE CHICKPEA BROWNIE
So let me tell you why...
If you ever had a Rule Breaker Gluten-Free Chocolate Bean Brownie than you know how amazingly delicious they are.  A brownie that is nut-free, vegan, soy-free, dairy-free, egg-free, gluten-free, flourless with no refined sugar, and kosher. It's the best brownie I have ever had.  And lucky for me, I was able to eat them even with my 30+ food sensitivities!!!  I was beyond stoked, super excited.  Riding into the sunset, excited!  That is until Rule Breaker Snacks changed their brownie ingredients.  O-M-G.
This was extremely upsetting to me because the ingredients they changed were some of my biggest food sensitivities.  Therefore that meant I could no longer enjoy them.
The day I ordered them for my birthday is the day I figured out the main ingredient plus the oil had changed.  Say what?! My first and immediate reaction was anger.  I know that sounds silly, but having 30 + food sensitivities, on top of Celiac on top of elimination diets makes it really hard to find suitable minimally processed packaged foods that are healthy for my body.
Then came the sadness.  NOOOOOOO!  WHHHYYYYYY!?
And the pleading.  I contacted the brand directly begging them to make it the old way so that I could have them on my birthday.  No such luck, but then again it was a long shot.
Next came acceptance.  If I wanted these bean brownies to taste exactly the same as before I was going to have to make them from scratch without a recipe and guestimate ingredients and measurements.  I knew the ingredients because they were on the back of the package.  It was going to be a challenge.
Based on the taste I remembered I set out to recreate the brownie I missed so much.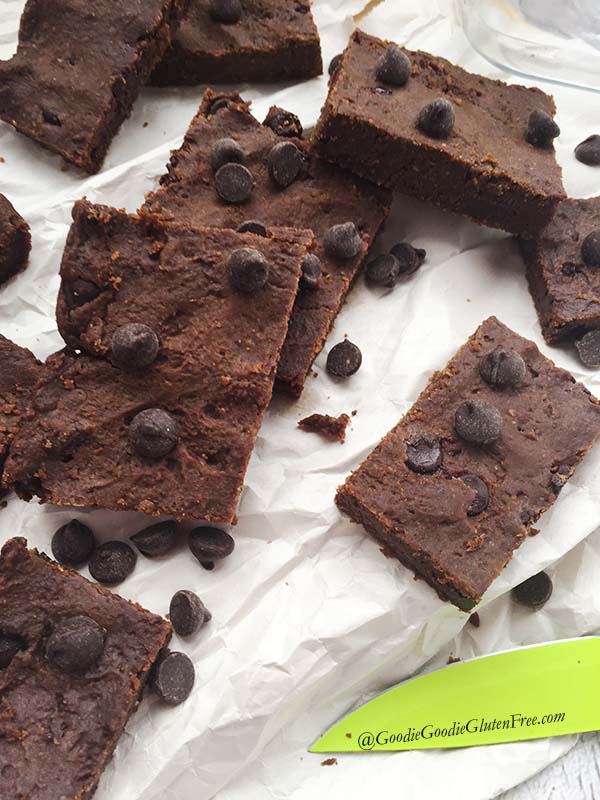 HOW I BUILT A CHOCOLATE GLUTEN-FREE CHICKPEA BROWNIE RECIPE
First I browsed the internet searching for bean brownie recipes that were the same or similar to the original Rule Breaker brownie, but no such luck.
Therefore I looked for recipes that used what I thought would be a good formula to plug my recipe into. Lots of recipes used totally random ingredients, a ton of sugar, and lots of additives.  This wasn't going to work.

I wanted my brownie vegan, gluten-free, dairy-free, coconut-free, egg-free, refined sugar-free, I wanted all the frees!  That being the case I was going to have to go into the kitchen to create blindly.

Accordingly, I went into the kitchen and started pulling the ingredients I knew were used.  The packaged mentioned gluten-free oats, and while there are many kinds of gluten-free oats, I went with gluten-free quick-cooking oats.
I also pulled out the pure maple syrup, grapeseed oil, and flax seeds.  

When it came to pulling out the chocolate, I decided to go with gluten-free carob powder instead to lessen the amount of stimulation aka caffeine. (Did I really need to be amped up on chocolate at midnight? Nope!).  And then also grabbed dark gluten-free chocolate chips.  I figured the brownie would fair nicely with a combination of carob and chocolate.

Then lastly I went for black beans because of the moist factor but wanted a cakey dense brownie so I switched to chickpeas.  that would be a nice cocoa/carob combination.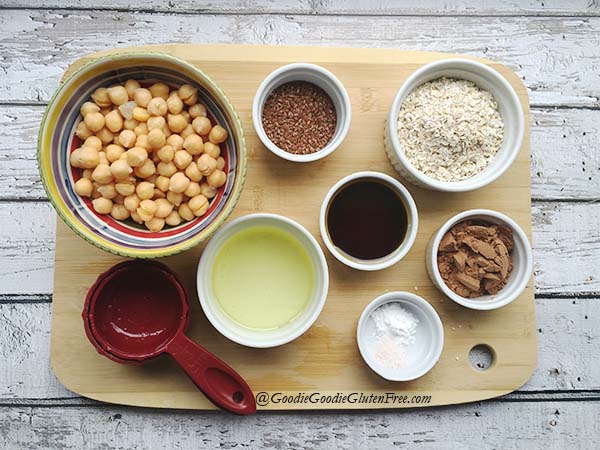 I was ready.  And I went in thinking if this round isn't great, I will perfect it until is great.  And that is exactly what I did, with the fourth and fifth rounds being THE ONES!  The diamonds in the rubble!  The brownie recipe above all other brownie recipes!  Do you remember when Monica from Friends for days tested out blindly the chocolate chip cookie recipe Phoebe so blissfully missed from her grandmother?
BENEFITS OF CHICKPEAS
High protein legume aka plant-based protein
Rich in fiber
Packed with nutrients such as manganese, copper, phosphorus, protein, folate, and iron
Keeps you satiated because chickpeas are high in protein and protein helps you stay full
Supports blood sugar control
Easy to use, can be found at any supermarket, canned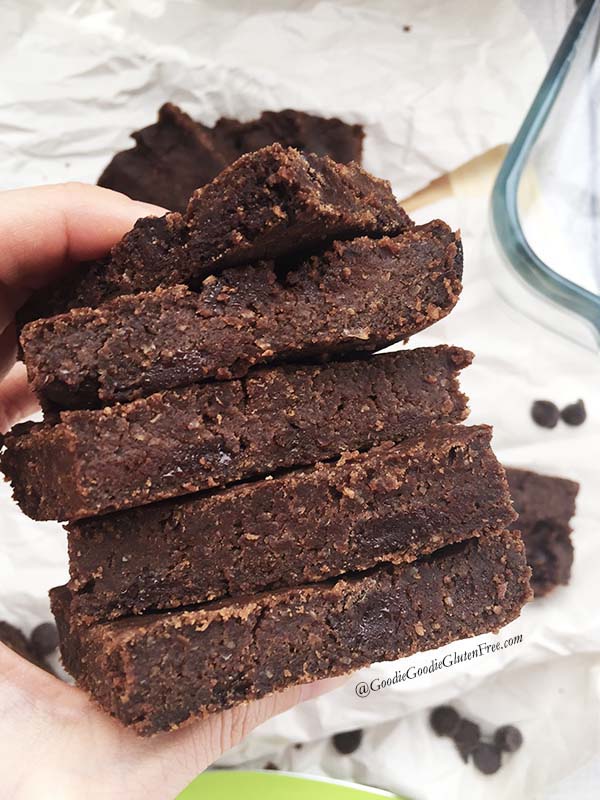 As much as these are a dessert treat, they are LOADED with protein (approximately 21 grams of protein in a 15oz can of chickpeas!) so technically these Chocolate Chickpea Gluten-Free Brownies could be eaten for breakfast!
DO YOU TASTE THE CHICKPEAS IN THE CHOCOLATE BROWNIE RECIPE?
NO, you will have NO idea that chickpeas are even in this brownie recipe.
When I say no one could tell, I am damn serious about that fact.  These chocolate chickpea brownies just tasted like the deepest most flavorful chocolate brownie ever eaten.
BEAN BROWNIE ALTERNATIVES
Ready to gather your ingredients?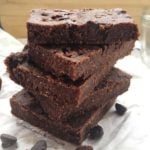 Print Recipe
Chocolate Gluten-Free Chickpea Brownies
Cakey, dense, and decadent are the three words to describe these Chocolate Chickpea Gluten-Free Brownies!  Packed with chickpeas, flourless, refined sugar-free, dairy-free, egg-free, and vegan makes these brownies suitable for any time of the day including breakfast!
Ingredients
1

15 oz can

drained & rinsed chickpeas

½

cup

gluten-free certified quick cooking oats

2

tablespoon

gluten-free certified quick-cooking oats

2

tablespoon

gluten-free carob powder

1

teaspoon

gluten-free carob powder

1

teaspoon

raw cacao powder or cocoa powder

⅓

cup

maple syrup

⅓

cup

grapeseed oil

½

teaspoon

baking powder

1

tablespoon

whole flax seeds

¼

teaspoon

pink Himalayan salt or sea salt

½

cup

gluten-free & dairy-free dark chocolate chips

1-2

teaspoon

vanilla or chocolate extract
Instructions
Preheat oven to 350 degrees F

In a food processor add the gluten-free oats and flax seeds and pulse until the mixture is finer and broken down.

Add all other ingredients except the chocolate chips and process till all particles are broken down and well blended. You'll have to blend for about 5 minutes. You may have to turn off your food processor for a moment to prevent overheating, but then turn it back on and blend again.

Add brownie mixture into a large cooking bowl and fold in the chocolate chips.

Pour mixture into a greased 8×8 brownie pan (you may have to use your hands dipped in water to spread the mixture) and place it in the middle rack of the oven and bake for 15 minutes.

Let cool for at least 10 minutes before cutting.  These brownies need to cool down before enjoying or cutting or they will fall apart.

Store in the refrigerator in a plastic bag or glass container for up to 1 week.  **When you take them out of the fridge, let them sit at room temperature for at least 10 minutes.  They taste best when they are not that cold.
Notes
If you want a lighter version of this brownie use only ¼ cup of the grapeseed oil
If you want a deep, decadent fudge brownie then follow the recipe as is.
If you can't find pink Himalayan sea salt, use Celtic Sea Salt or regular Sea Salt
Feel free and use whatever brands of products that suit you and your needs, but I linked to the brands I use, trust, and love.
If you want a brownie that is drier, you can cook them on the bottom rack closest to the heat.
PRODUCT TIPS: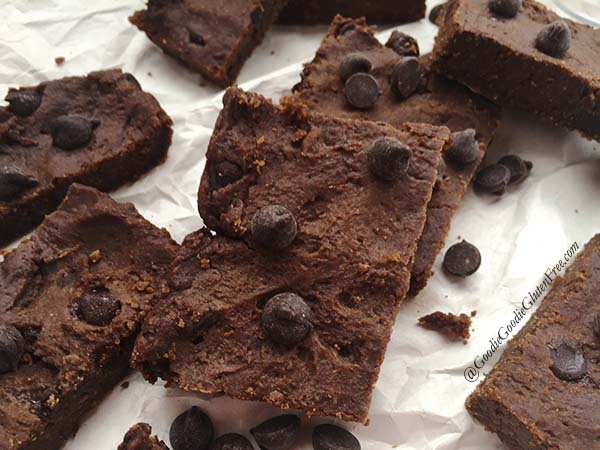 Love & Bean Brownies!