These Simple Gluten-Free Espresso Brownies are thick, dense, and incredibly rich.  Topped with chocolate chips that melt on top for that extra decadence.  15 minutes to make, and 15 minutes to bake!  Vegan, nut-free, totally delicious, and made with a hidden veggie.  The perfect brownie ever made.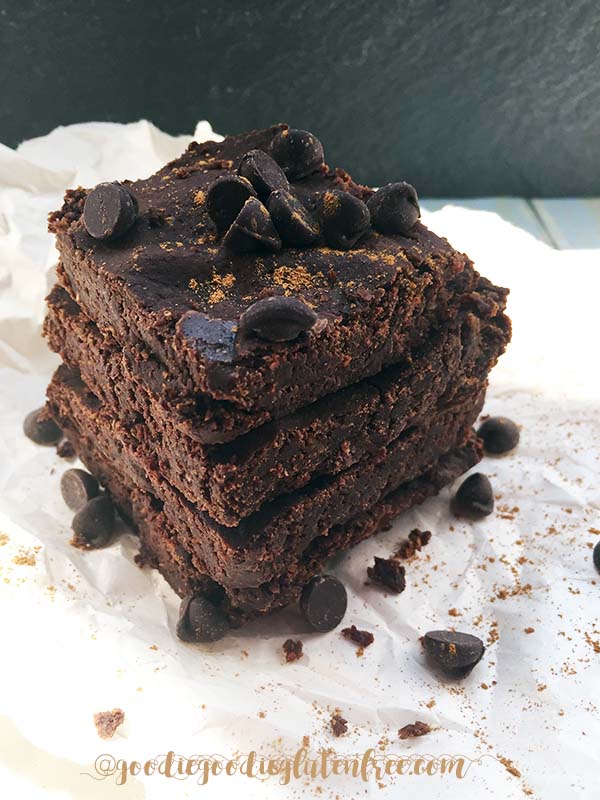 Chocolate lovers unite!  These Gluten-Free Espresso Brownies are the perfect treat for those who love the taste of dark chocolate, and also cannot live without it.  Using a medley of flavors like chocolate and carob to get that dark decadent taste that is forever remembered.
It's hard to believe but these double chocolate brownies are decadent in taste, and texture because of the star-hidden veggie inside this brownie!  Full of protein, rich in nutrition, and rich in taste, can you guess what it is?
Believe it or not, black beans are the magical ingredient and you would never know if I didn't tell you because they are just that good!  In fact, friends that have tried this brownie tell me that they can actually taste chocolate chips inside.  And just a secret?  There are no chocolate chips inside this brownie.  That's beans!
HOW LONG DO THESE BROWNIES TAKE?
The exciting part of these gluten-free espresso brownies is that they take 15 minutes to make and 15 minutes to bake. All you need is a food processor and an oven!  These are real food ingredients that you already have in your pantry, that you can easily buy at the market.
WHY ESPRESSO IN A BROWNIE?
I never knew the power of espresso in carob and chocolate.  A while ago I read in a cooking magazine that expresso brings out the flavor of chocolate in baked goods.  Naturally, I was intrigued and wanted to try it.  By adding this one ingredient I could create an even deeper, and more decadent brownie.  Who knew?
I was planning to make brownies for the upcoming holiday.  The recipe in mind was my insanely delicious Black Bean Brownies recipe sans espresso but last minute decided that this espresso idea needed to happen immediately.  Therefore, I went to the market and searched for the darkest organic bean I could find thinking that the darker the bean the deeper the flavor of the espresso.  I got a small bag of very, very finely ground decaf espresso.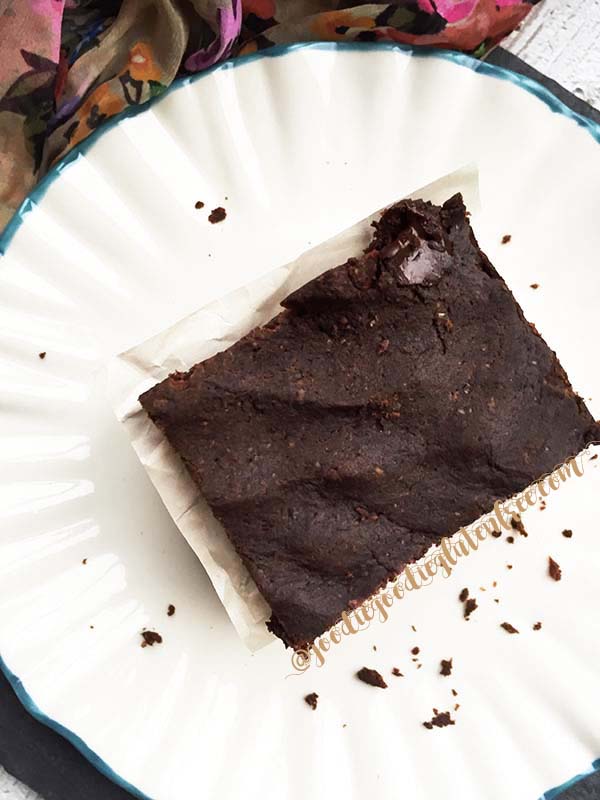 The espresso really amped up this recipe!!  It made the espresso the STARLET.  They were SO decadent.  So dense.  So dark, like eating fine dark 100% chocolate or eating a coffee bean.  It's a delicious flavor you will always remember.
These Gluten-Free Espresso Brownies are perfectly paired with biscotti, cappuccino, a little dessert liquor, or a full-bodied red wine.
GLUTEN-FREE ESPRESSO BROWNIE TIPS
I found that they were amazing both cold and at room temperature.

The colder they were the more you could taste the espresso.

The warmer they were the more you tasted the chocolate. 

Let these brownies fully cool before you even cut them into squares, for at least 20 minutes.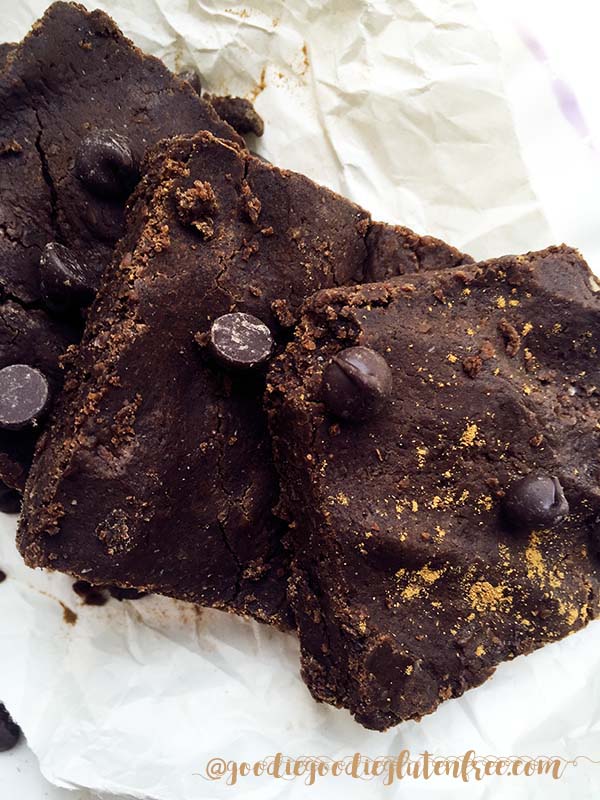 And guess what? By changing the oil, the flavor changed too!  Made with grapeseed oil, the original oil chosen for this recipe - it was sweet, decadent, chocolaty, and rich with the taste of espresso.
Made with avocado oil, this brownie was more subtle.  It had hints of espresso and hints of chocolate BUT it was less sweet and less rich.
Where grapeseed brings out the flavor, avocado oil blends flavors and I found that by using avocado oil, I needed more espresso (over sugar).
Since both versions were so good, you can use either grapeseed oil or avocado oil.
WANT MORE BEAN BROWNIES?
Ready to make beautiful music together?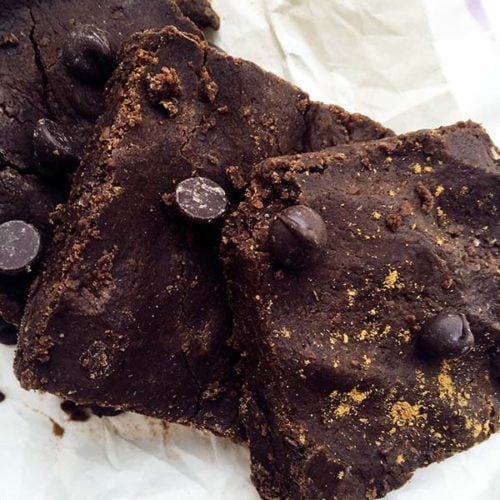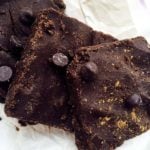 Print Recipe
Gluten-Free Espresso Brownies
These Simple Gluten-Free Espresso Brownies are thick, dense, and fully fudgy with chocolate chips.  15 minutes to make, 15 minutes to bake that is also vegan, nut-free, soy-free, totally delicious, and made with a hidden veggie!
Equipment
food processor

Oven

8x8 brownie pan
Ingredients
1

can

organic black beans, rinsed, salt free

⅓

cup

maple syrup

⅓

cup

grapeseed oil

½

teaspoon

baking powder

1 ½ - 2

tablespoon

quick-cooking gluten-free oats

2

tablespoon

carob powder

gluten-free

2

teaspoon

raw cacao or cocoa powder

¼

teaspoon

pink Himalayan salt or sea salt

1

tablespoon

ground flax seeds

1

tablespoon

finely ground espresso

½

cup

dark gluten-free chocolate chips

1

handful

dark gluten-free chocolate chips for garnish
Instructions
Preheat oven to 350 degrees F.

Using a food processor pulse together the gluten-free oats and the ground flax till its a fine blend.

Then add all other ingredients except the chocolate chips and blast together until combined and well blended. If the mixture is warm, put in the fridge for 15 minutes to cool, then proceed to the next step.

Transfer the dough to a bowl and fold in the chocolate chips.

Grease an 8×8 brownie pan add mixture into the pan, using a spatula or your hand to spread the mixture. If your hands get sticky simply wet your hands and push the mixture into the entire pan. You can even add a few extra chips on top.

Place in the oven on the center rack and bake for 15 minutes.

Let cool for at least 25 minutes! They need their cooling time or they will turn out too mushy.

Store in the fridge for up to a week. (Since black beans are used it is important to store in the fridge when not eating).
Notes
LESS SUGAR option: If you want a brownie that is less sweet use 2 tablespoons of avocado oil and ¼ cup of grapeseed oil instead of using only grapeseed oil. For this version, you will need 2 tablespoons of ground espresso. // MUST! You must allow these brownies to cool for at least 25 minutes otherwise they will fall apart and be too mushy. //
Love, Espresso & Chocolate,