An easy, no-bake treat packed with protein nougat!  These Everything but the Kitchen Sink Cashew Butter Cups are covered in dark chocolate, taste so silky, and are refined sugar-free.  Made with hemp seeds, Medjool dates, creamy cashew butter, watermelon seeds, and pure plant-based magic. vegan, paleo, and gluten-free.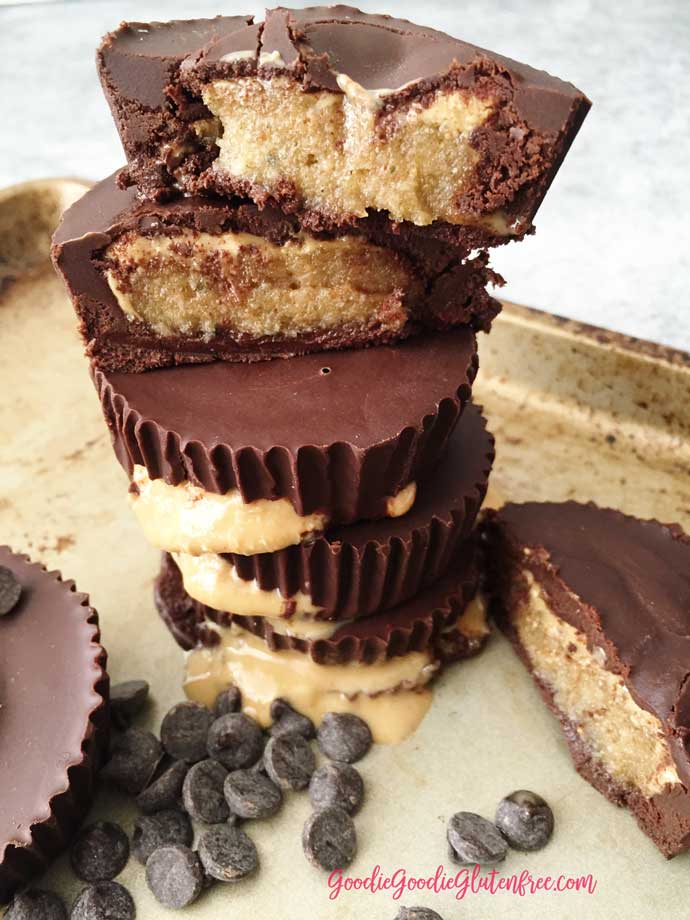 Where do I start with these chocolate cups of goodness? Picture a chocolate cup that tastes like caramel and cashew butter drenched in chocolate. These cashew butter cups are gooey gems!  I just wish I could come through the computer screen and hand you one.
WHAT DO THESE CASHEW BUTTER CUPS TASTE LIKE?
Neutral and creamy

Goes with anything

Doesn't overpower the chocolate the way a stronger flavored nut butter would taste - such as almond butter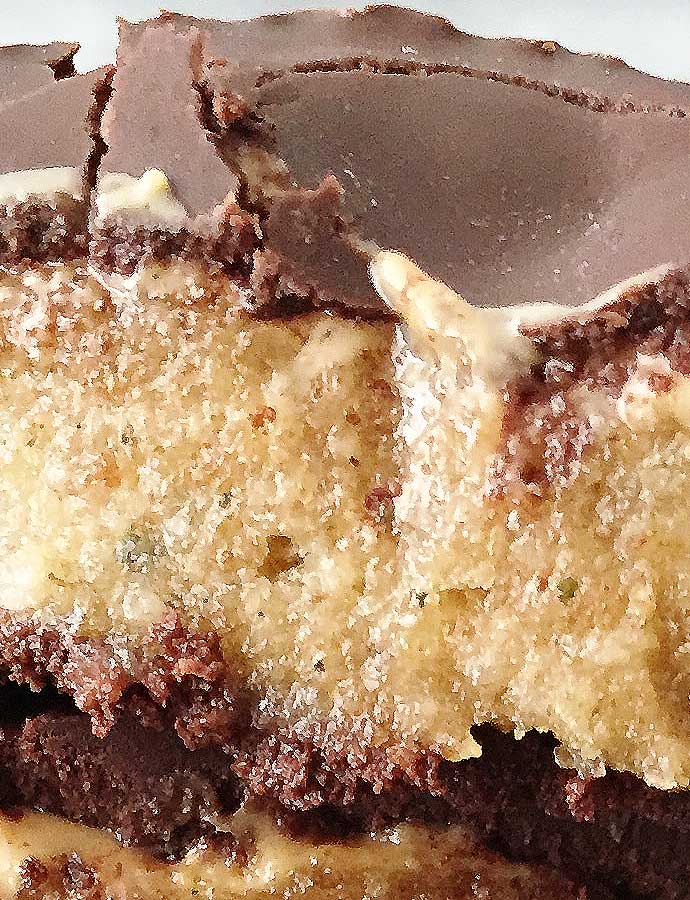 Creating these cups were really fun!  During the creative development of these cups, I knew I wanted to create some kind of wonderful in the no-bake department using ingredients I could eat that were paleo and gluten-free and made with natural ingredients.  I wanted outstanding and delicious with high nutritional value.  Hello, healthy indulgence!
I decided to experiment with all kinds of seeds creating a dense nutritional treat.  I came up with a medley of seeds and nuts and created an unreal nougat that tasted out of this world.  It was nutrient-dense just as I had desired and free of yucky artificial ingredients.  But tasted SO good.  If you are a nougat fan these were made for you.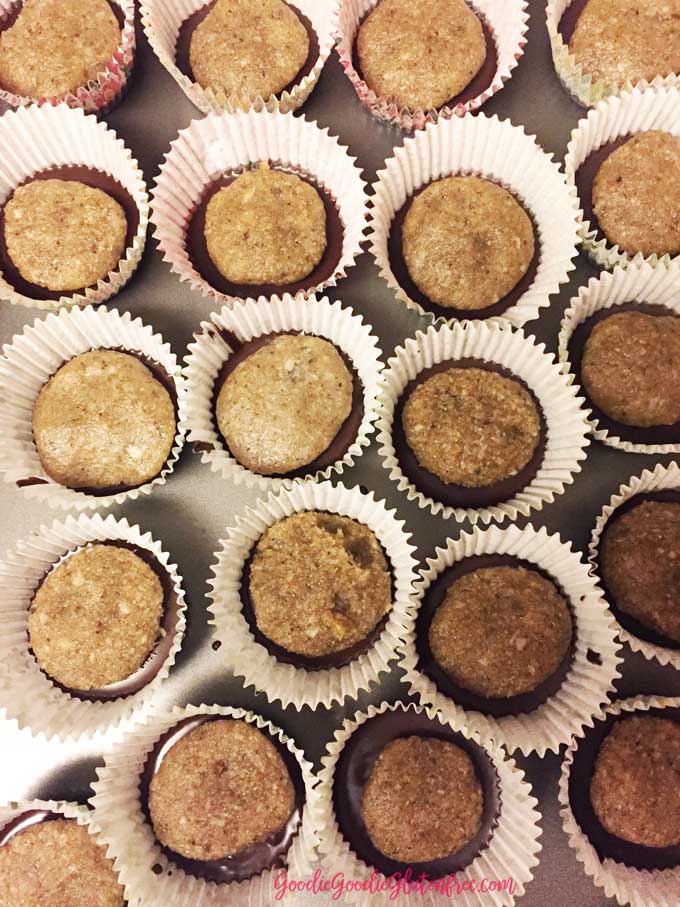 WHY CASHEW BUTTER:
Nutrient-rich: Contains iron, vitamin E, calcium, riboflavin, Vitamin K
Loaded with essential fatty acids (healthy fat)
High in protein
Contains no cholesterol
Excellent source of antioxidants
Mild-tasting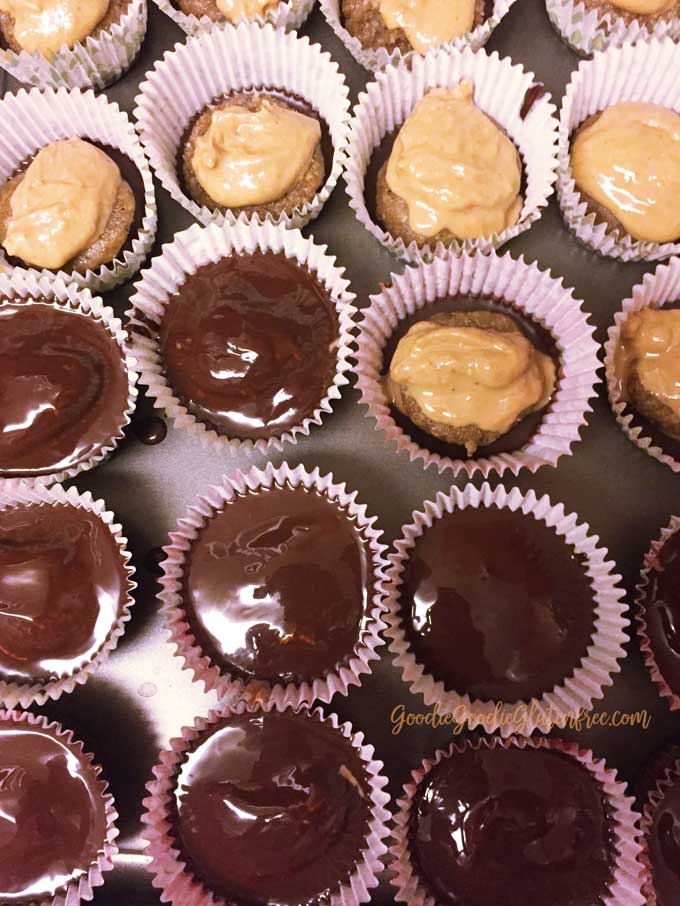 HOW TO MAKE CASHEW BUTTER NOUGAT
You'll need a food processor that works really well with a sharp blade
In a food processor, you'll add hemp seeds, salted watermelon seeds, juicy Medjool dates, maple syrup, water, and vanilla and blast on high until you get a soft nougat.  You'll probably need to stop the process a few times just to scrape the sides.
Take around a tablespoon of batter, roll it into balls, and then flatten with your hands.  Place these nougat flats into your chocolate cup as the middle layer. 

It doesn't stop there, add a dollop of cashew butter to each nougat flat.

Then cover in chocolate!!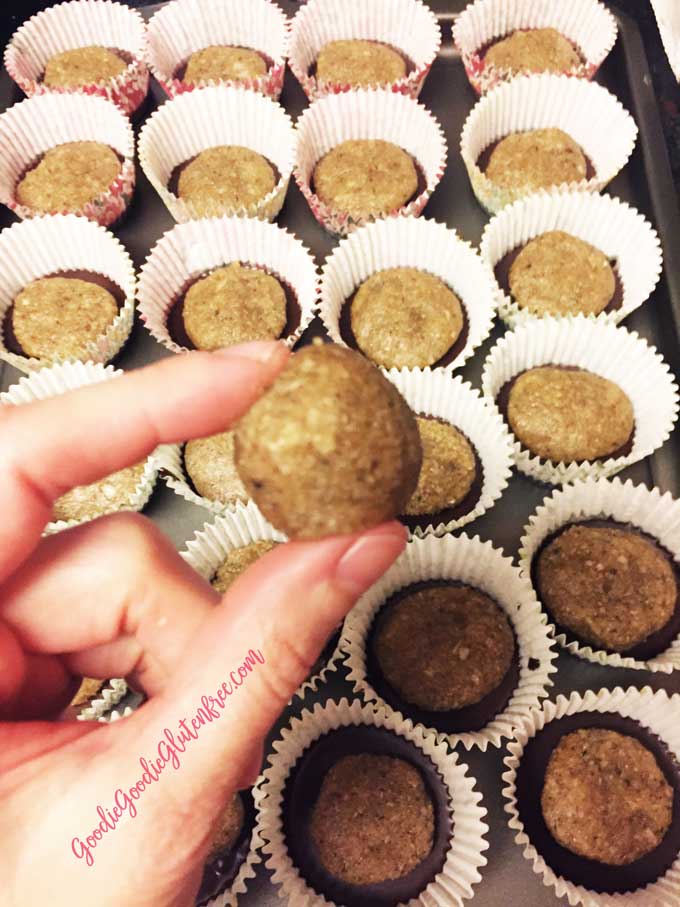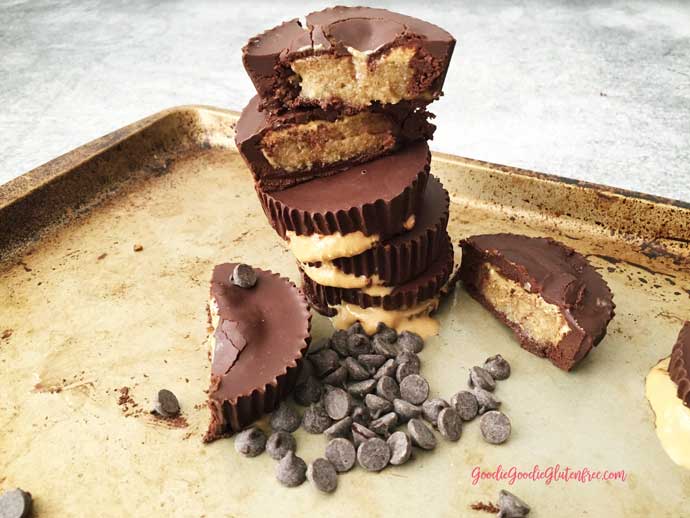 WHY WATERMELON SEEDS:
Great source of plant protein, iron, magnesium, zinc, potassium, and healthy fats
Watermelon seeds unroasted are mild in flavor.  These seeds taste like a flavorless nut
When roasted and salted they are strong in flavor with a nutty taste
And the combination of Medjool dates, watermelon seeds, and hemp seeds is a heavenly combination making the texture and taste unreal!
Grain-free because I get requests and sometimes life feels better grain-free
And yes, if you don't like or cannot get this seed, you can use sunflower seeds instead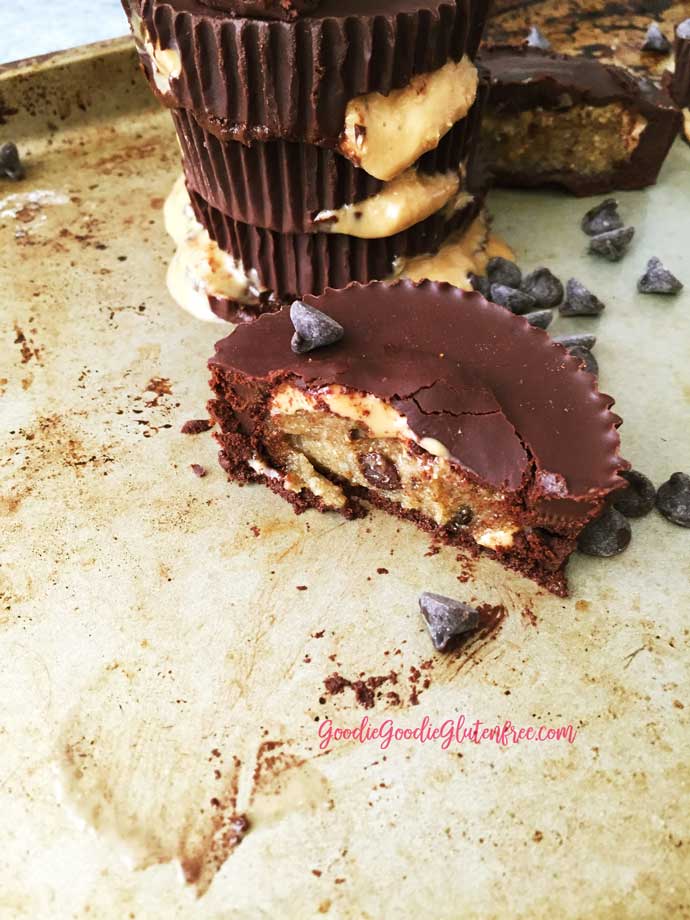 TASTE FACTOR:
I wasn't the only one who thought these Everything But The Kitchen Sink Cashew Butter Cups were out of this world! so either.  Everyone loved these chocolate cups.  No one could believe how amazing they were and how healthy they were at the same time.  And I created these originally to satisfy my sweet tooth.
I made so many trials during the development stage I had to get them out of the house.  It is seriously dangerous for me to have 36 Kitchen Sink Cashew Butter Cups in my apartment and that was just one batch! I gave them out to everyone I knew and everyone came back for seconds and thirds.  These chocolate cashew butter cups melt in your hands and melt in your mouth.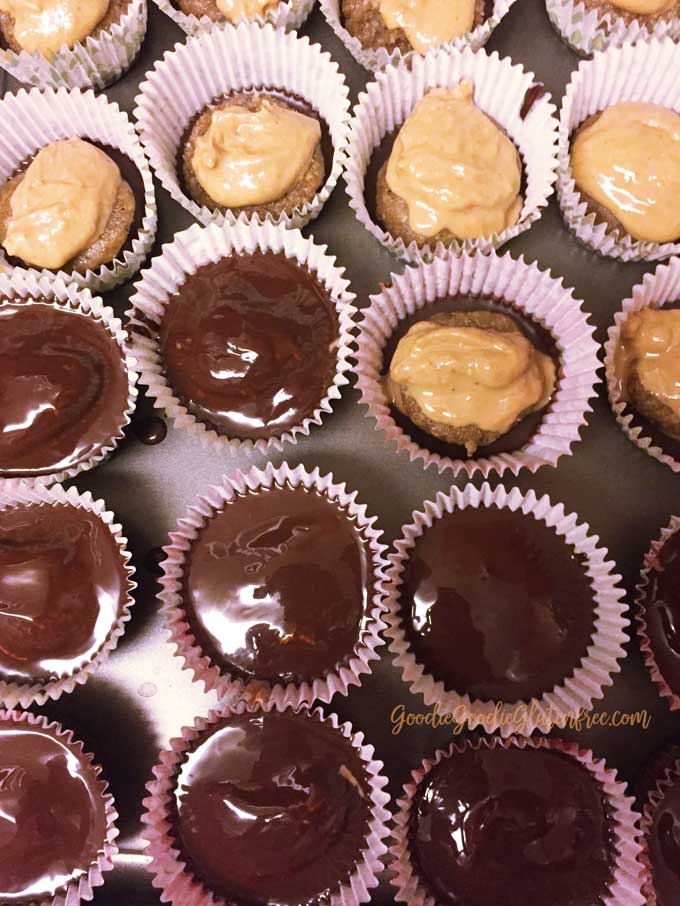 MORE CHOCOLATE CUP RECIPES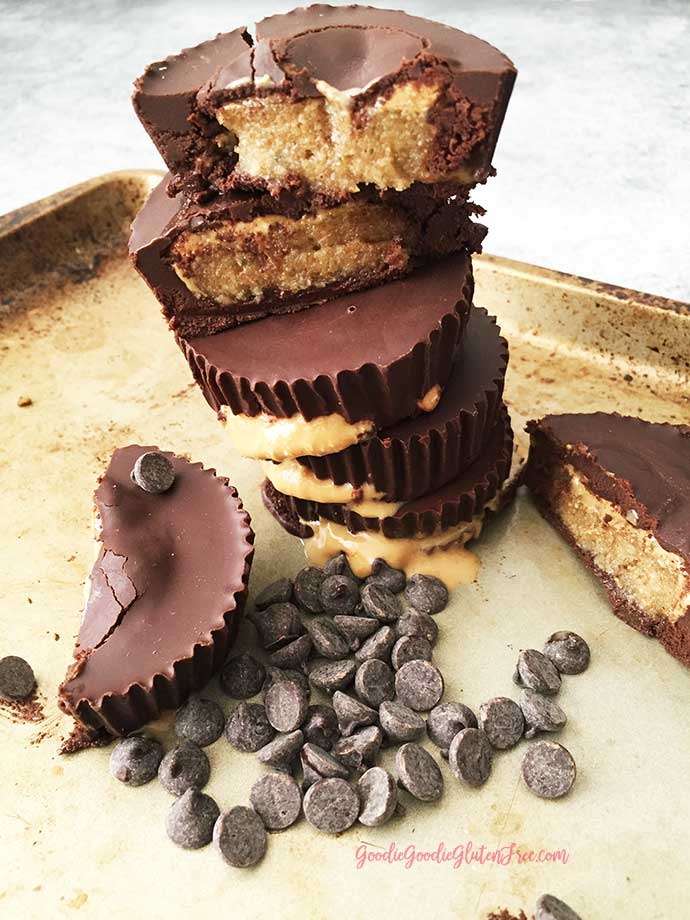 READY TO GATHER YOUR INGREDIENTS?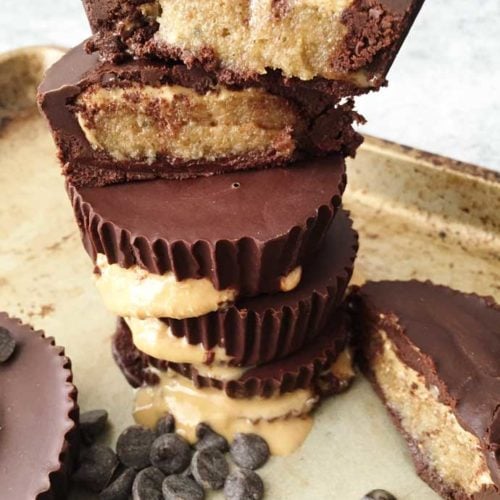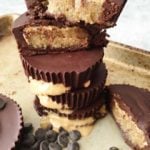 Print Recipe
Everything But The Kitchen Sink Cashew Butter Cups
An easy, no-bake treat packed with protein!  These Everything but the Kitchen Sink Cashew Butter Cups with dark chocolate are vegan, paleo, gluten-free and refined sugar-free.  Silky nougat, hemp seeds, cashew butter, and pure plant-based magic. 
Ingredients
1 ½

cups

hemp seeds

1

cup

roasted watermelon seeds with sea salt

I use Go Raw

¼

teaspoon

vanilla powder

2

teaspoon

pure maple syrup

12

whole

Medjool dates, soaked and pitted

½

tablespoon

water

if needed

5

cups

sugar-free chocolate chips

6

tablespoon

coconut oil

solid, up to 6 tablespoons, you can use less

½ 16oz

jar

creamy cashew butter

sugar and salt-free
Instructions
BOTTOM LAYER / CHOCOLATE
In a double boiler melt 2 cups of chocolate chips on medium to low heat.  Once partially melted add 3 tablespoons of coconut oil, and mix well.

Prepare cupcake liners on a baking tray. Pour melted chocolate into the cupcake liners about ⅛ – ¼ – inch full.

Place chocolate cups in the freezer for 20 minutes to harden.
NOUGAT
Pit your dates, and soak them in warm water for 15 minutes.  Strain and set aside.

Meanwhile, In a food processor, process watermelon seeds, hemp seeds, coconut and then add dates (in this order) and blend.

Midway through, add the maple syrup, water if needed, vanilla powder and keep processing till well blended and nougat consistency.

Place mixture in a bowl and set aside.

Remove chocolate cups from the freezer.  Add small to medium size rounded balls of the raw mixture to each chocolate cup and flatten with your fingers.  (Use water to prevent sticking)

Place back into the freezer to cool.
CASHEW & LAST CHOCOLATE LAYER
In the meantime, break out the double boiler again and melt the remaining 2 cups of chocolate chips and add the remaining 3 tablespoons of coconut oil.

Once melted, keep the double boiler on low heat.

Using a spoon take a dollop of cashew butter and place it on top of the nougat mixture.  

Then top each cup with the remaining melted chocolate and cover the cups.  It's gonna be messy and uneven.  That's the beauty of homemade, so don't worry about what they look like.  

Freeze for at least 4 hours before serving.

Store in the freezer at all times.  Best eaten melted from my point of view.
Notes
Nut-Free options:  You can either completely eliminate the cashew butter OR you can sub the cashew butter for sunflower butter.  I have eaten them both ways and they are delicious either way. // For the Bite Size Version: Roll raw mixture into medium/small size balls and cover them in the chocolate mixture.  Use a spoon to dip in the balls.  Freeze the balls before dipping them into melted chocolate. Then drizzle them with sunflower seed butter all on parchment paper on a baking tray.  Then freeze them and keep them frozen.  Worst lighting on the planet, but you get the drift with the pic below. // 
TIPS:
I get my watermelon seeds already roasted with sea salt from Go Raw.  If you choose not to use this brand, make sure you add ¼ teaspoon of sea salt to this recipe.
I get all of my seeds and nuts (except watermelon seeds)  and superfood powders at Nuts.com and Organic Living Superfoods.  Both companies measure at 5ppm of gluten.  Organic Living Superfoods is a gluten-free facility.
I have used both Lily's Vegan Gluten-free dark chocolate, Hu Kitchen, as well as Enjoy Life.  I love them all.  Enjoy Life is top 8 allergen-free & sesame-free.
Need these easier?  Make them easier by just rolling the nougat into balls and dipping them in chocolate.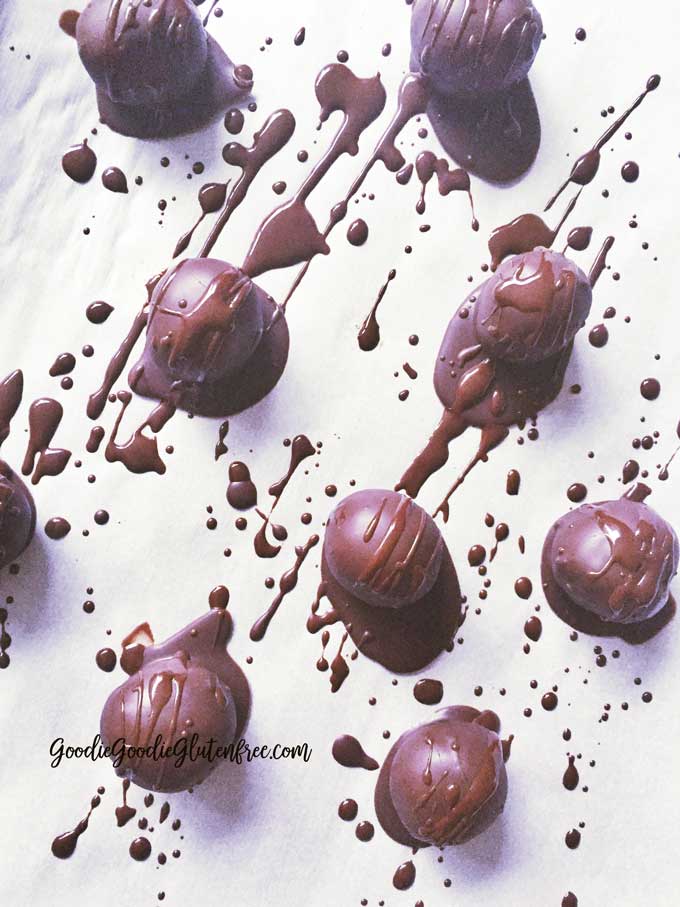 Health and joy,