Crunchy & chocolaty OMG everything gluten-free caramel crunch cups made with oozing sweet date caramel, quinoa, sunflower seeds, maple syrup, coconut, and more!  Crunchy & chocolaty, salty, and sweet all-in-one treat.  Gluten-free, nut-free, and dairy-free too!  Made with real food ingredients.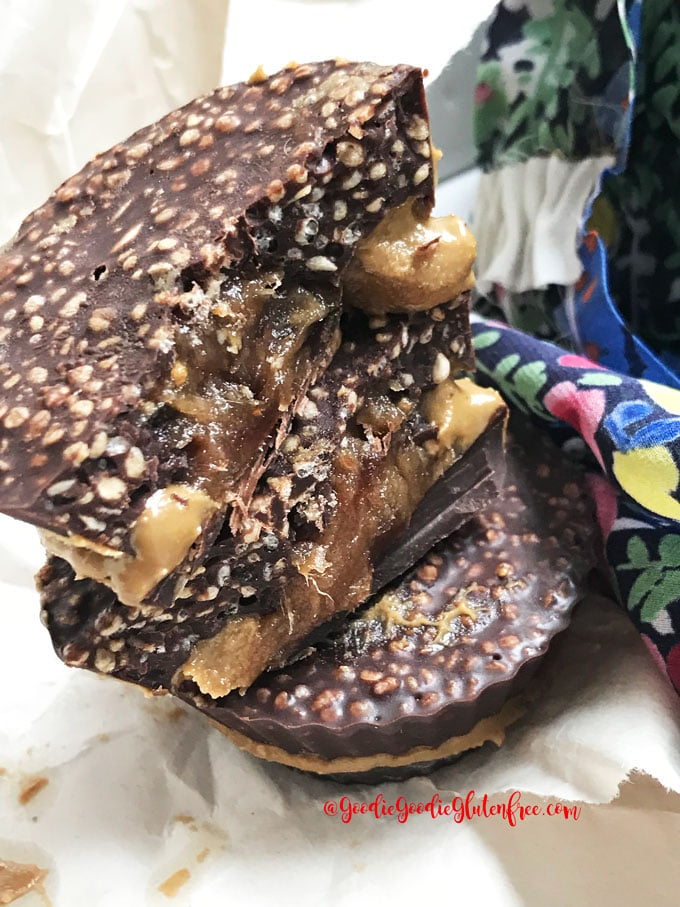 When I cut these OMG Everything Caramel Crunch Cups down the middle there were no words for the decadence that poured out.
Sticky, thick, gooey, melty, date caramel mixed with creamy sunflower seed butter and sea-salted chocolate.  And that's only part of this delicious cup!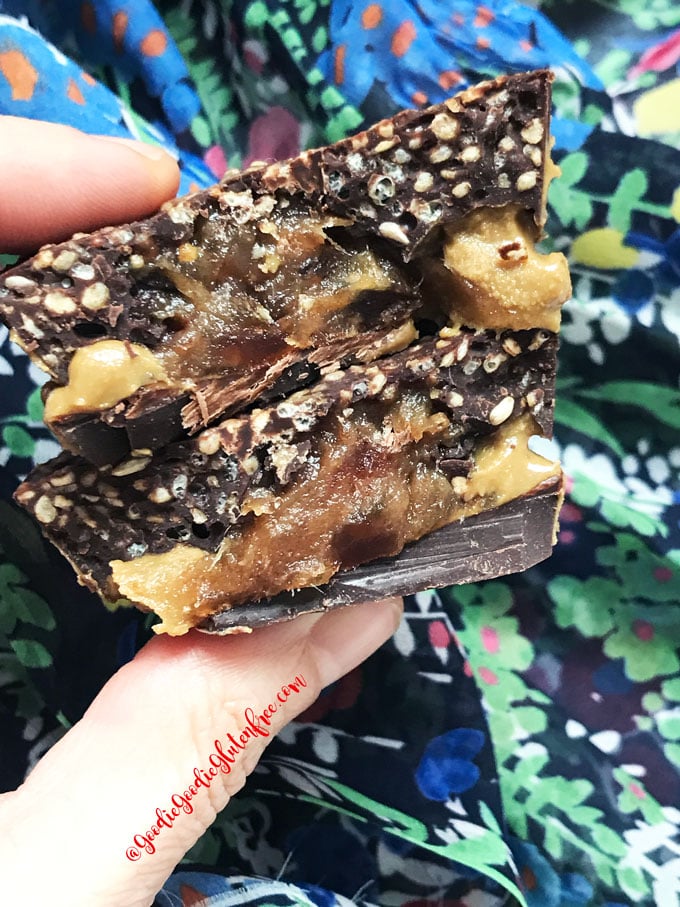 It's just the start actually.  Don't forget the crunch in every single bite made from delicious quinoa, sunflower seeds, and salted raw watermelon seeds.  Step aside old-time Crunch bars!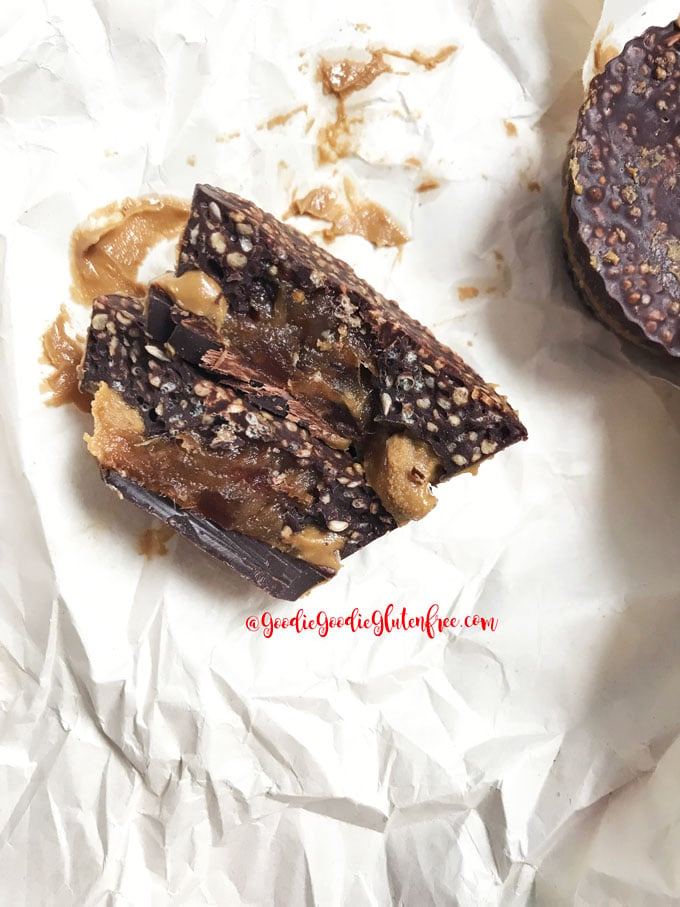 THE DIFFERENCE BETWEEN HOMEMADE CHOCOLATE & STORE-BOUGHT
You know the exact ingredients going in
It's up to you on the sugar content
Additives, thickeners, and ingredients you cannot pronounce are nowhere to be found
Better for you ingredients
More nutrients
Better taste
Non processed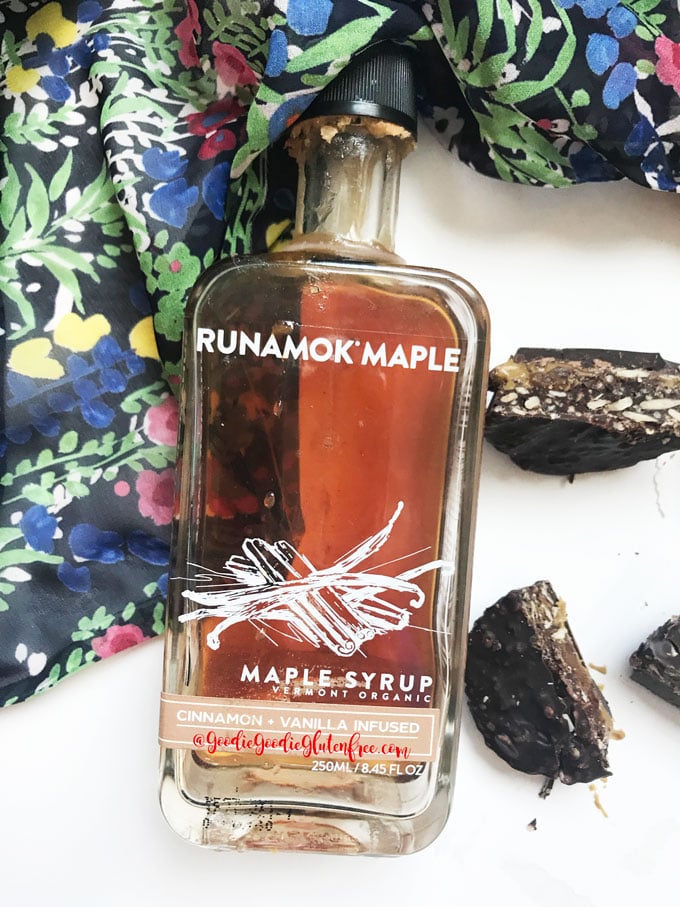 High-quality ingredients are number one when you are making your own treats.  That's why I love Runamok Maple Syrup and Lily's Dark chocolate.  Both use high-quality ingredients and care about their customers and community.  Indeed, these brands make products with nourishing nutrients.
*While Lily's is certified gluten-free, Runamok has gluten-free flavors, and not all are, so please be careful when ordering.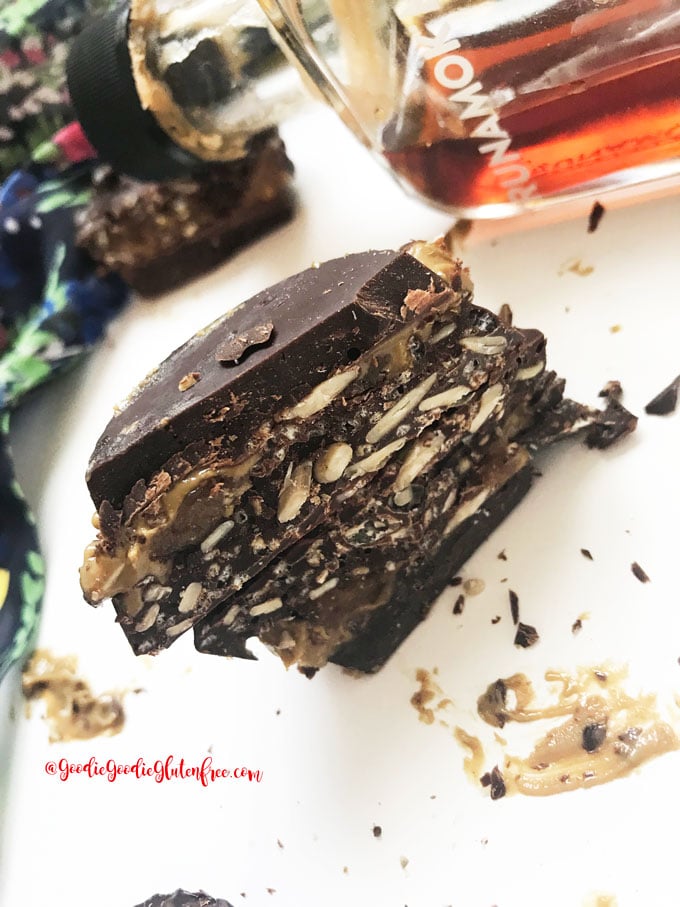 HOW TO MAKE EASY DATE CARAMEL
This recipe is a throw-it-in-a-bowl kinda thing
Soak 3 jumbo Medjool dates in warm water
Once soaked eliminate water, and remove the pits
Using a bowl with a guacamole utensil to beat/mash and make the date caramel instead of a food processor
Add milk, coconut oil, maple syrup, and sunflower seed butter and continue to mash into a blended caramel
Because this recipe is so addicting, it only makes 3 jumbo cups.  And as a tip, these cups are divine in this Cinnamon + Vanilla Infused Gluten-Free Oatmeal recipe!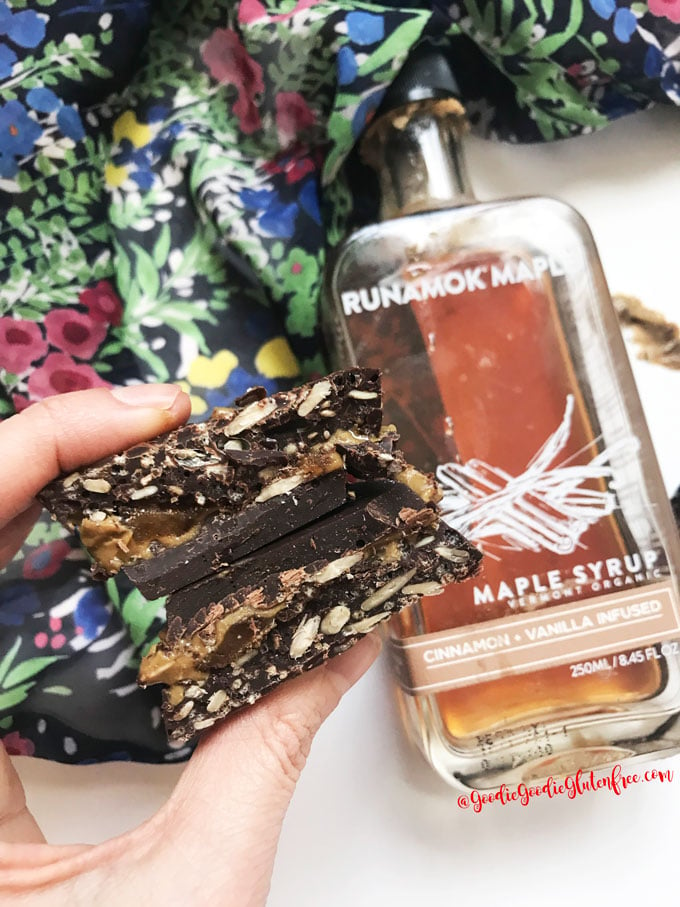 READY TO GATHER YOUR INGREDIENTS?
Print Recipe
OMG Everything Gluten-Free Caramel Crunch Cups
Crunchy & chocolaty with sweet date caramel and salty Sunbutter all in one mega crunch cup!  The dessert you'll never forget and dream about for days to come.  These OMG Everything Gluten-Free Caramel Crunch Cups are out of this world delicious!
Equipment
Freezer

Cupcake baking tray or

Silicone cups and a flat baking tray

cupcake liners
Ingredients
½

bar

Lily's Sea Salted Dark Chocolate bar

2 ¼

teaspoon

coconut oil

solid

3

Medjool dates

soaked & pitted

2

teaspoon

unsweetened coconut milk

¼

teaspoon

Runamok brand maple syrup

vanilla & cinnamon-infused

2

tablespoon

quinoa crunchies

½-1

teaspoon

roasted watermelon seeds

I use Go Raw

1

teaspoon

raw sunflower seeds

1 ¾

tablespoon

unsweetened sunflower seed butter
Instructions
BOTTOM LAYER
In a microwavable bowl add ½ dark chocolate bar with sea salt and 2 teaspoons of coconut oil and melt on high for 1 minute.  Mix well.

Add liners to your cupcake tray. Then add ¾ tablespoon melted chocolate into each cupcake liner to create the base of the chocolate cup. Pat the pan on the counter to even the chocolate.
CENTER - MIDDLE LAYER
Take 3 dates and add them to a bowl of warm water. Cover in water. Soak the dates for under 5 minutes. Once soaked, drain. Remove pits.

With a fork or avocado smasher, mash the 3 soaked pitless dates into a date paste. Then add the 2 teaspoon coconut milk, ¼ teaspoon coconut oil, ¼ teaspoon maple syrup, and ¼ teaspoon sunflower seed butter and continue to mix into a smooth and sticky paste.

Once smooth and sticky add 2 teaspoons date caramel to the middle of the frozen cups.

Then take a ½ tablespoon of additional sunflower seed butter and add that as well to the inside of the cup on the outer edges.
TOP - FINAL LAYER
Take the remaining melted chocolate mixture and add watermelon seeds, quinoa crunchies, and sunflower seeds and mix well.  Consistency will be chunky.

Fill the cup with a spoonful of crunchy chocolate, tapping the counter again for a smooth and even top layer.

Use the remaining mixture evenly. Freeze for 6 hours or overnight, then enjoy right out of the freezer!
Notes
Don't make this harder on yourself.  If you make a mistake, don't worry about it!  These cups can easily be tweaked a thousand times to suit your needs.  Have some fun!
The coconut oil makes these melt easily!  Have napkins on hand for that melt in your hand sort of treat.
If you don't use a sea salted chocolate bar, then just add a pinch of sea salt to your top base mixture.
If you don't use infused maple syrup, just use regular maple syrup.
You must pair this cup with my Cinnamon Infused Gluten-Free Oatmeal recipe, it's divine!  And a pair worth having together!!!!
Health and love,