Homemade Salted Sunbutter Cups.  3 ingredients.  Easy.  Simple.  Gobs of sunflower Seed butter plus chocolate is a match made in heaven!  15 minutes to make, and vegan, dairy-free, and paleo.  A perfect dessert treat or indulgent snack.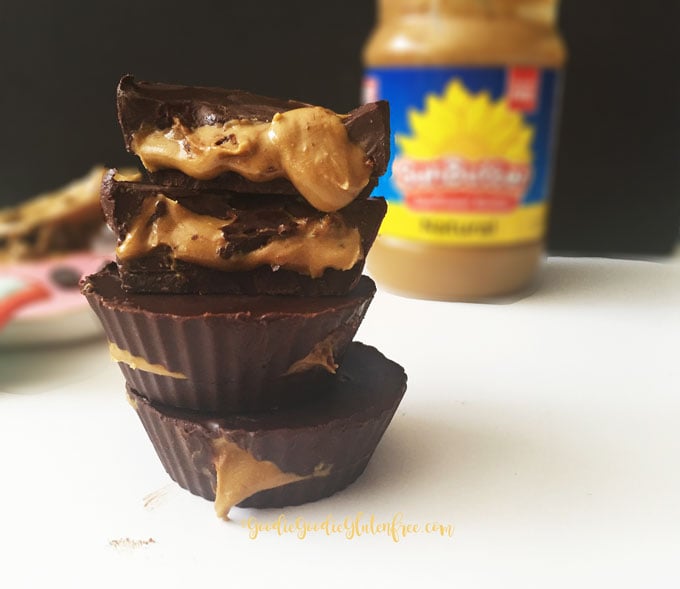 I grew up on Reese's Peanut butter cups.  They were my "candy".  I can honestly say mine are SO MUCH BETTER!
Wholesome ingredients and 15 minutes of your life.  That's it!  And the end result?  Well, you get a plate of chocolate sunflower seed butter cups homemade goodness.  Nothing store-bought.  All homemade, and simple to create.  Are you drooling right now?
WHAT IS SUNFLOWER SEED BUTTER?
Sunflower seed butter is also known as Sunbutter is a nut-free alternative to peanut butter.
Sunflower seeds are less sweet than peanuts making dark chocolate a perfect sidekick.
Sunbutter is a brand I use because they are made in a dedicated nut-free facility and are top 8 allergen-free.  That goes a long way in my book.  Safety.  They have quite a few options and for this recipe, we are going to use the salted Sunbutter because it's super salty and works really well with chocolate.
Loaded with protein and full of nutrients.  Seeds are just as nutritious as nuts.
Comes from the Sunflower flower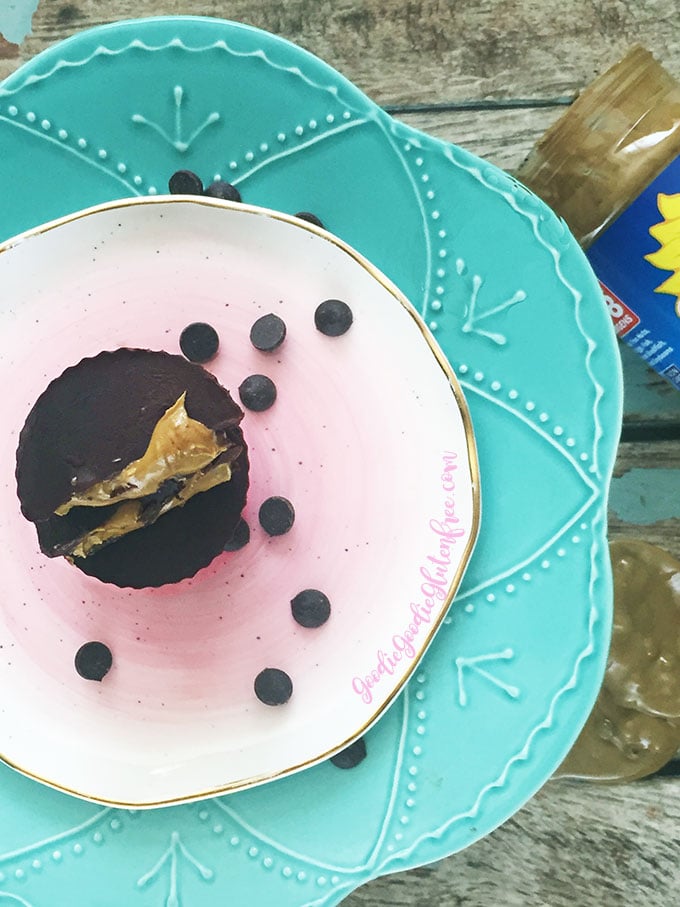 HOW TO MAKE SUNBUTTER CHOCOLATE CUPS
These are simple ingredients you can buy at your local supermarket. 

Nothing fancy.

All you need are chocolate bars of your choice, coconut oil, and sunflower seed butter.

You don't need any fancy appliances either.  You just need a microwave and a freezer.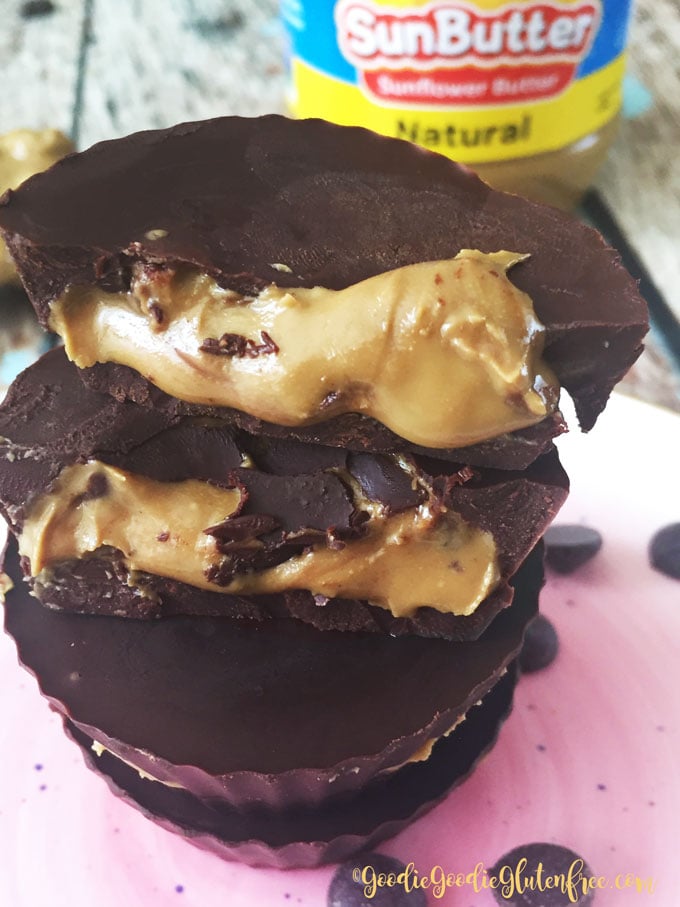 MORE SUNBUTTER DESSERT RECIPES
Plus if you are like me with tons of food sensitivities, and on tons of elimination diets, then this type of recipe works SO WELL for you!  Using no added sugar what-so-ever, no dairy, nut-free alternatives, and always gluten-free, decadent, and delicious.
READY TO GATHER YOUR INGREDIENTS?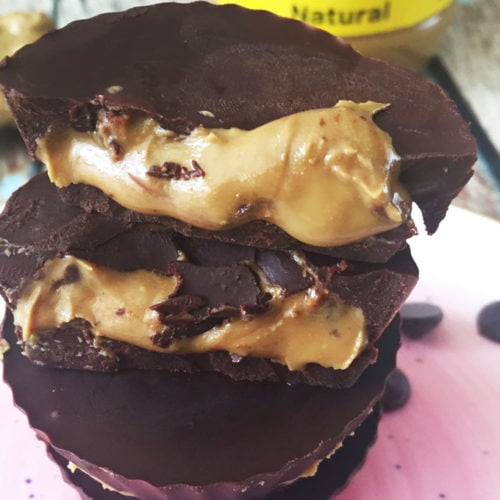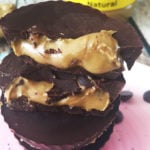 Print Recipe
Homemade Salted Sunbutter Cups
Homemade Salted Sunbutter Cups.  3 ingredients.  Easy.  Simple.  15 minutes of your life.  Sunflower Seed butter plus chocolate is a match made in heaven!  And made in a microwave. Gluten, nut, dairy, sugar-free and paleo.
Ingredients
½

cup

dark chocolate chips

3

teaspoon

coconut oil

4

tablespoon

salted sunflower seed butter

I like Sunbutter
Instructions
Line a muffin pan with 4 foil cupcake liners or use silicone liners.  Set aside.

Add chocolate to a microwavable bowl and melt for just under 1 minute in total.  Check on the mixture after 30 seconds and mix.  Then add back to microwave for another 10-20 seconds.  Add coconut oil and mix well.

Spoon the melted chocolate into the lined cups, filling each one about ⅛-1/4 full.  Place in freezer to set, about 5-8 minutes.

Take a heaping ¾ tablespoon of salted Sunbutter and place it on top of the set chocolate in a foil liner.  Repeat with remaining cups.

Spoon the remaining melted chocolate on top of the Sunbutter in the cups, being sure to cover each one completely.

Tap the pan on the countertop to even out and smooth the chocolate.  Place in the freezer until set.  Store these Homemade Salted Sunbutter Cups in the freezer in a sealed container or bag until ready to serve. Stores for up to 6 months.
Notes
For the candida or sugar-free style chocolate cup use 80% dark chocolate or gluten-free carob. //  Allergies to sunflower seeds?  No sweat!  Use any of the following: walnut butter, almond butter, cashew butter, hemp seed butter, pumpkin seed butter, tahini, and any other nut or seed butter of choice. // If you do not use salted sunflower seed butter you will have to add salt to each cup.  I would do a drizzle of salt on top before you put it in the freezer. // 
Health and joy,