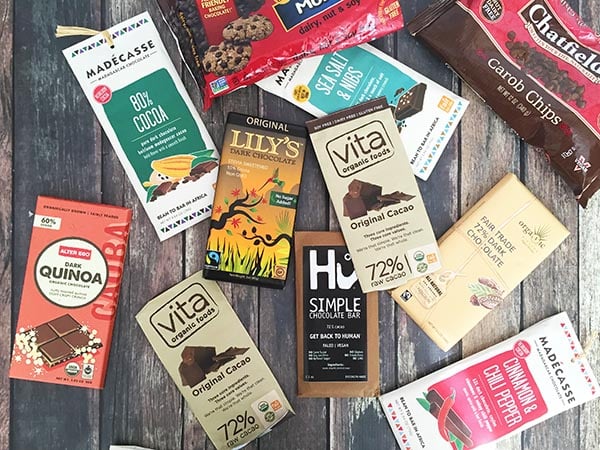 Holla lads!
I have been waiting to do a post on all the healthy, gluten-free + dairy-free chocolate bars I love and trust for the longest time!  (Oh, oh, oh, oh.  For the longest time...Billy Joel anyone?).  But I wanted to wait until Valentines Day! And since that dreamy chocolate holiday is approaching, this post is going viral.  It's so important to me that you all enjoy and eat safely everyday and on Valentine's Day, so I created this awesome list for you!
Let's get one thing straight now.  This isn't your typical run of the mill gluten-free candy list.  Snooze fest, there are hundreds of those online, being sent out in newsletters across the nation, and I'm even sure you can find a traditional candy list somewhere here on my blog from last year.  This is a more of a specific list of the chocolates I'll call Luxury.  I have included a few classics too, but these chocolates either use organic ingredients, low glycemic sugars or medicinal superfoods.  These chocolate bars will make you smile, and isn't that what you would want from your honey/boo/bae/main squeeze on Valentine's Day?
First before we get into it, I NEED to point out that not all chocolate is gluten-free!!!  I cannot stress this point enough!  Like everything else, you MUST read your labels.
Secondly, not all gluten-free chocolate is created equal.  And what I mean by this is that gluten-free chocolate can be tested at different ranges in different countries.  The U.S. standard is 20ppm, but many brands test lower at 10 and 5ppm.  In my book the lower the better, because 20ppm, 10ppm and even 5ppm is still gluten and over time can add up.  Anything over 20ppm is out of range, and not suitable for anyone following a gluten-free diet that has Celiac Disease, a gluten-sensitivity or other related disorders/diseases.
Please note that chocolate that is gluten-free here in the U.S. may not be gluten-free in Canada, and Gluten-Free Chocolate in the U.K. may not be gluten-free here in the U.S.  Each country has different standards, different methods of testing and different sanitation methods.  I had a really bad experience in 2011 with Cadbury Chocolate Bar in the U.K.  - It was NOT gluten-free and I didn't know because here in the U.S. it was.  When the bars were given to me as a gift from the boyfriend visiting from the U.K., I ate them.  I thought if it's gluten-free here, and it's the same brand, it must be gluten-free there.  So I ate it, and got royally sick.  After doing some online research and making a few phone calls I learned as my stomach had learned earlier, that some chocolates brands are not gluten-free from country to country.  Let my mistake be your learning experience without actually experiencing it.
When it comes to gluten-free chocolate bars there are a few things I consider, and considered before it ended up in my mouth and I am about to share with you.  I want to make you aware, because hidden gluten is a bitch, and it will whack you upside your head just as if you ate the darn gluten itself.
What I like to do besides read labels, is actually call the manufacturer (or contact them via social media and/or email).  As annoying as it is to have to worry about everything that touches your lips, including someone else's gluten lips (seriously, that's a thing!) I like to call and speak to someone directly and get my questions answered so I can feel safe about what I put in my mouth.  It's like using a condom. It's protection.
Here are the questions I ask when I call the manufacturer:
Is the chocolate Certified Gluten-Free?
Tested at what PPM? 20ppm, 10ppm, 5ppm?
Is the Chocolate manufactured on the same product lines as Gluten?
If so, are the lines cleaned in between.  Are Good Manufacturing Practices used? Are there inspections?
Is there gluten ingredients used at all in the manufacturing plant?
Is it a dedicated gluten-free facility?
If not, are the gluten-free chocolate products made in a separate room? separate line? Different floor?
In some cases there will be gluten-free brands that are not certified gluten-free, but are produced or made and packaged in a facility that doesn't have any gluten on the premise, in this case you will want to ask about their GMP - Good Manufacturing Practices and use your judgement on whether you feel this product is ok for you.
If you are traveling out of the country, make sure you research those brands as well, even if they are the same brands as here in the States.
Below is a list of my fav gluten-free chocolate bars with STATS all bullet pointed for your convenience.  These are the brands I trust and love.  They are not in any specific order, but I did comment on my ultimate favs.  : )
***
See's Candy Shop - Candies, Chocolates and Lolly Pops
100 percent Celiac safe and gluten-free facility
No high fructose corn syrup
Candies that use eggs are made with eggs that use humane practices on farms, pass a humane audit, and are recognized as United egg producers Certified or Animal Care Certified Suppliers
Has dairy-free and nut-free options - See Allergen list HERE.
Many products are kosher certified including: Lolly Pop Little Pops and Chanukah candies
There are also many sugar-free options
Vita Organics Bars
Sweetened with coconut sugar
Made with all raw ingredients - Raw means that the chocolate is cooked at a very low temperature maintaining the integrity of the nutrients provided, rather then killing the nutrients by cooking them at a high temperature.
Soy-Free, Dairy-Free, Gluten-Free and Vegan
This chocolate is made in a separate Gluten-Free room that is closed off from the rest of the facility!
Certified Non-GMO, Certified Organic, Certified Fair Trade
Low glycemic
Lily's Chocolate Bars, Valentine Pops & Chocolate Chips
Sweetened with Stevia, Erythritol and vanilla.
The 55 percent chocolate bars, chips and pops are made with Milk fat that is rBST free.
The 70 percent bars, chips and pops are Vegan and that means dairy-free.
Certified Fair Trade, Certified Gluten-Free, Non-GMO and Hexane-Free.
This product is manufactured on equipment that also processes milk, peanuts and tree nuts.
This chocolate does contain Organic Non-GMO Soy Lecithin.  This brand is Vegetarian with Vegan options.
Nibmor Chocolate (Bars, Drinking Chocolate and Seasonal products)
Sweetened with Organic Cane Sugar and Vanilla
Non-GMO Project Verified, Certified Gluten-Free, Certified Fair Trade Ingredients, Certified Organic, and Certified Rainforest Alliance Certified Cocoa, Natural, Vegan and Kosher
Uses Organic Non-GMO Soy Lecithin
Manufactured on equipment that also processes wheat, peanuts, tree nuts, milk and soy, but IS Certified gluten-free.
They even have a special Valentines Day Chocolate that is also Certified Gluten-Free and made with Superfoods.
** The Mint one is my favorite!  It is beyond!!
Organic Nirvana 72 percent dark chocolate bar only
Sweetened with Organic Cane Sugar
Certified Organic, Gluten-Free but not Certified, Dairy-Free, Fair Trade Certified Cocoa
Belgium Chocolate - Written up in Bon Appetit Magazine
This bar is tricky - although it is my favorite.  There are no gluten ingredients, and I spoke with them on the phone at length about their Good Manufacturing Processes.  There is no gluten whatsoever in the facility that makes these bars, however, the only bar I can eat without any issues is the 72% solid dark chocolate. It's possible for me that the nuts used in the facility cause me to react, since I have nut sensitivities, but just as a precaution I always like to stick with solid chocolate bars over the ones with caramels and syrups.
Uses Organic Soy Lecithin
Does not use Vanilla
**The creamiest, decadent dark chocolate you will ever, ever eat - It's addicting!
Madecasse Chocolate
Sweetened with sugar
Dairy-Free, Gluten-Free but NOT Certified Gluten-Free
Gluten-Free facility
I spoke with them directly and they said that they are not advertised as a gluten-free company but the manufacturing facility is 100 percent gluten-free.  However, I noticed that the other bars bothered me perhaps from nut contamination, so I only stick with solid dark chocolate bars over the bars that are mixed with other ingredients.
Made with airloom Chocolate, Fair Trade
Has a fruity flavor, not your average chocolate bar
Uses Soy Lecithin
Alter Eco chocolate bars and truffles
Sweetened with raw cane sugar
Certified USDA Organic, Certified Fair Trade, Certified FSC, Certified Carbon Neutral Product, Gluten-Free Certified at 10ppm and Non-GMO
Gluten-Free, Soy-Free, no Emulsifiers, no artificial flavorings and real ingredients.  Some products use dairy.  Some products are Vegan.
Bars that contain dairy are: Dark Coconut Toffee, Dark Velvet, Mini Dark Velvet, Dark Brown Butter, Dark Burnt Caramel and all 4 truffle flavors.
The equipment used to make this chocolates is also shared with products that have dairy, milk, tree nuts and soy, but GMP are taken to clean in between each chocolate run.
**My mom's fav is the Chocolate Quinoa
The Classics:
Endangered Species Bars and Pouches
Sweetened with Non-GMO verified Cane Sugar
Certified Fair Trade, (Some products) Certified Vegan, Certified Gluten-Free, Verified by the Non-GMO Project and Kosher.
Certified and tested Gluten-Free at 20ppm
Made with Ethically traded, shade grown cacao and natural ingredients
Soy Lecithin is used in the chocolate
Produced on equipment that also processes products milk, peanuts and tree nuts
**One of my favorite bars because it's so creamy!
Enjoy Life Baking Chocolate, Semi-Sweet and Dark Chips/Chunks/Mini's
(Bars are called out separately below)
Sweetened with cane sugar
Made in a dedicated nut and gluten-free facility
Certified Gluten-Free, Non-GMO Verified, Certified Kosher Pareve, Certified Vegan, soy-free, peanut-free, casein-free, potato-free, wheat-free, tree-nut free, fish free, sesame, dairy, egg, shellfish, sulfite-free.
Facility also processes dairy and soy, however the chips and bars are produced on a dedicated dairy and soy-free line.  Ingredients have been additionally tested to ensure strict allergen control standards are met.

Enjoy Life Dark Chocolate Bar

 is Certified Paleo Friendly in addition to all other certifications listed above, and all ingredients free of, above.

Rice Crunch Chocolate Bar

is sweetened with evaporated cane juice.  Is not Certified Vegan, but is Certified Gluten-Free, Non-GMO Verified, Certified Kosher Pareve, Soy-Free, Peanut/Tree-nut Free, Sesame, dairy, egg, shellfish, sulfite-free.  This bar contains Carrageenan which is an ingredient that irritates gut function.  **Contains rice.

Rice Milk Chocolate Bar

- is sweetened with evaporated cane juice.  Is Certified Vegan and holds all of the other certifications that the chips, chunks and mini's hold.  This bar is also free of all ingredients that the chips, chunks and mini's are noted in bullet point ⅔.  Also uses Carrageenan, a gut irritator.
**I will always and forever love the Enjoy Life Dark Chocolate chips.  I personally find the semi-sweet to be way too sweet, to the point that they taste artificial, but kids LOVE them.
Chatfield's Carob Chips and Powder
Both the Carob Powder and the Cocoa Powder is unsweetened
Carob Chips are sweetened with Beet Sugar
Not all Carob is gluten-free, which is why I trust this brand.  Chatfield's Carob is made in a dedicated gluten-free facility.
Vegan, Gluten-Free, Dairy-Free, Soy-Free, Kosher
Carob has no caffeine content, is completely natural and made from a natural fruit.  This is used in replace of chocolate for some that cannot have chocolate.
Made in a facility that processes dairy and soy, but strict sanitation procedures are followed between each allergy run as well as inspections.
All products are Vegan, including the cocoa powder and date sugar.
Addictive Wellness Chocolate (Medicinal Chocolate)
Sweetened with Stevia
Hand crafted and made in small batches in a dedicated gluten-free, egg-free, wheat-free, soy-free, dairy/nuts/sugar-free, Non-GMO, and fish free facility.
Made raw (not heated above 118 degrees to protect the integrity of the nutrients, enzymes and neurotransmitters which would get destroyed in the heat) with superherbs, and superfoods and made with high quality Heirloom Arria Nacional Cacao
Certified Organic.  Most products use vegan ingredients, with the exception of pearl powder.
Do not consume if allergic to mushrooms, pregnant or breastfeeding.
Suitable for Celiacs, Diabetics and patients with autoimmune diseases, Cancer and many other diseases.
This chocolate is only sold on the West Coast in Southern California and Oregon, but if you can get your hands on some, it's SO worth it.  You can shop through their website, or contact them on Instagram or Facebook.
Pascha Chocolate Bars and Chips
Sweetened with organic cane sugar and organic vanilla
Certified Gluten-Free, Certified Paleo Friendly, Verified Non-GMO, Certified Vegan, Certified USDA Organic, Certified through Celiac Support Association, Certified Organic by CSI, Fair Trade Certified by Fair Trade U.S.A.
Peanut and tree-nut free, wheat and gluten-free, dairy and egg-free, soy-free
Made in a dedicated allergen free facility / dairy/nut
Free of the top 8 allergens plus coconut, sesame, sulfites, sage, sorghum
Free from Soy Lecithin or any other emulsifier additive
Made with fine Aroma Cocoa Beans
Many bars are made with Superfoods such as Lucuma and Maca
99.9 Percent Fair Trade Ingredients
Hershey's Chocolate
I hope your Valentine's Day is filled with oodles of hugs, kisses, love and obviously CHOCOLATE!