Skip the Spa and give a little TLC to your face by using this DIY Hormonal Acne Matcha Spot Treatment.  Using Matcha powder, baking soda and olive oil on your skin will hydrate while combatting puffiness and redness.  Shrinking your zits down to nothing, and leaving your skin silky smooth using only whole foods.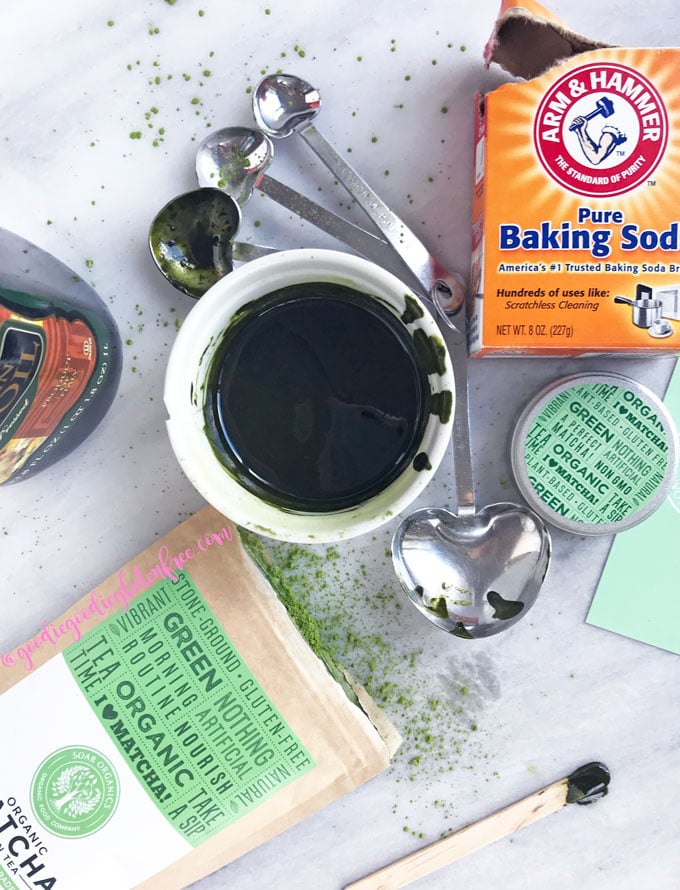 Ever notice how hormonal acne sneaks up on you?  It may not be spreading all over your face and only hanging out on your chin, but the cystic acne honkers that do show up ( I call them unicorns) feel swollen, big, and inflamed, and they hurt.
Ice pack hurt.
Cover-up only covers up.  What happens when you take your makeup off?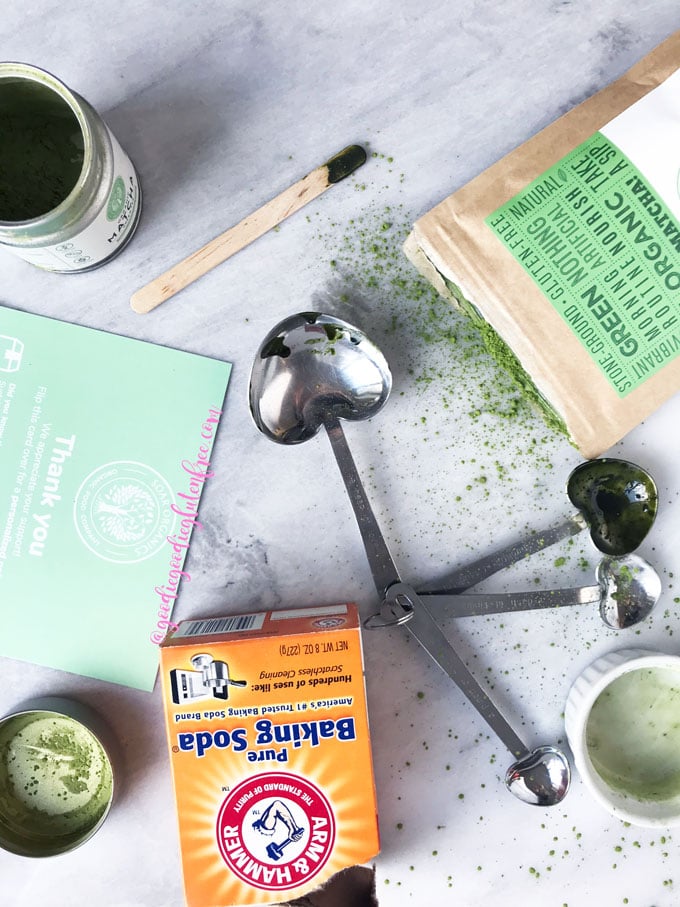 Hormonal acne is the pits and when you have it, you know that hormonal cystic zits show up faster than a Halloween shop in NYC and take longer to leave than unwanted family visiting for the holidays.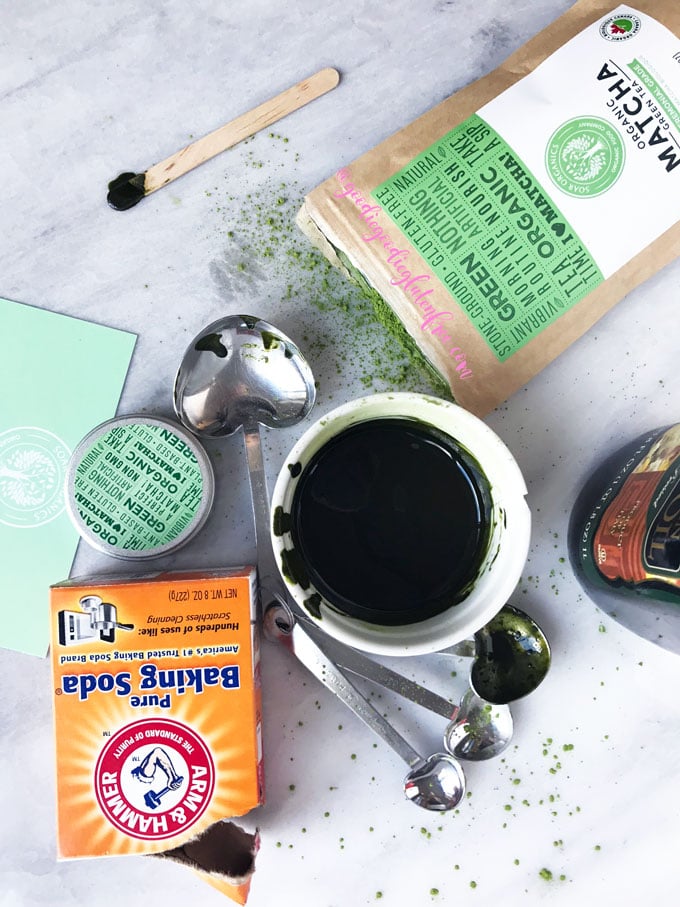 I had adult cystic acne as an adult.  And needless to say, I was not a happy camper.  I felt discouraged.
But now that I have my Hormonal Acne Matcha Spot Treatment I don't even bat an eyelash when that cystic hormonal chin acne comes around.
I'll tell you a secret.  I do NOT have acne like the below pictures anymore.  Maybe a few around menstruation, or during a food allergy flare-up, but they don't get as inflamed.  Taking care of my skin is a lifelong daily practice.  It's not just what goes on my skin, but what I eat and drink.  And now more often than not, my skin NOW if you saw me in person looks like porcelain.  But before it looked like porcelain, it didn't.
HORMONAL ACNE BEFORE PICS: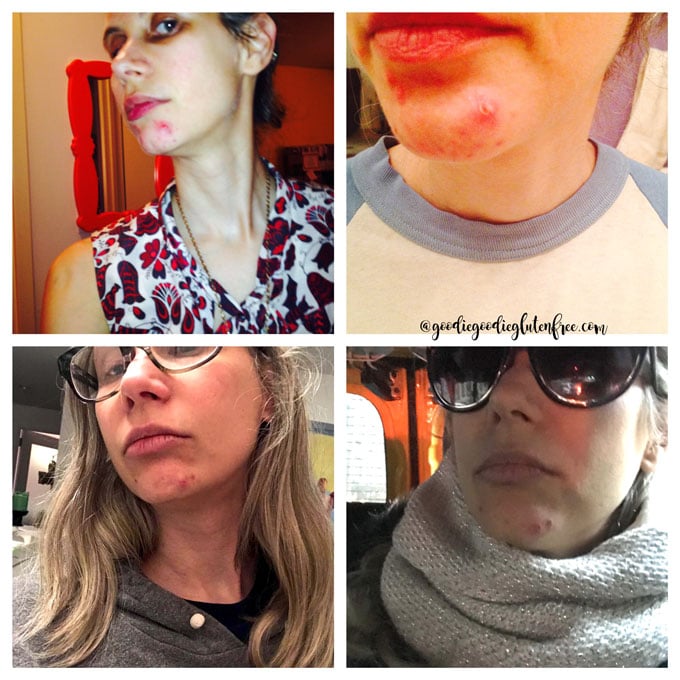 I'll be honest.  I first started using cortisone shots, by making multiple appointments with a dermatologist.  I thought these breakouts were going to be temporary, and when I realized I had adult acne due to hormonal changes, I realized I was going to have to treat this acne differently.
Accepting that this acne was a different type of acne than what I had before was the first step in healing.  Because that meant I had to look at these pimples differently.
Progesterone is known for causing cystic acne in some patients.  And I was on progesterone, which is a hormone that was used in my case to regulate my short cycle periods.  And when I realized that cortisone injections twice a week weren't going to cut it, I came to believe that I needed a SPOT treatment that would blast these cystic chin zit unicorns and turn them into poppable whiteheads naturally!  STAT!  Without harming or scarring my skin.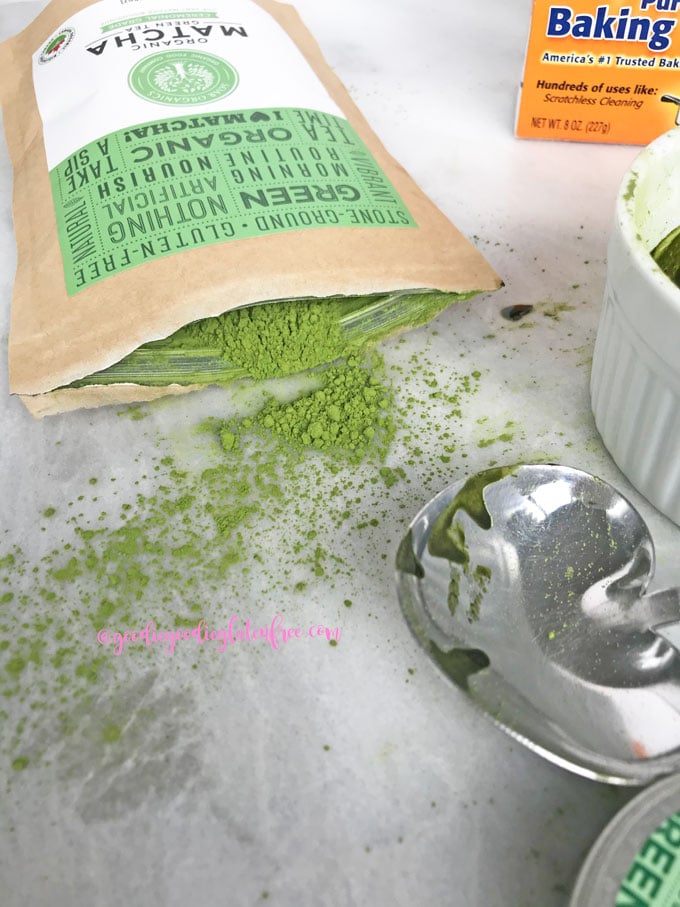 I needed a remedy that would concentrate specifically on sucking out the bacteria, bringing acne to a head, and decreasing puffiness instantly.  Plus getting rid of redness associated with acne swelling was high on the priorities list.  Above all else, it needed to be holistic, something that was nutrient-dense and made from mother nature's ingredients and could be found at the local store.
Last but not least I wanted something exceedingly more powerful that would only take 2-3 days max and the acne would be gone.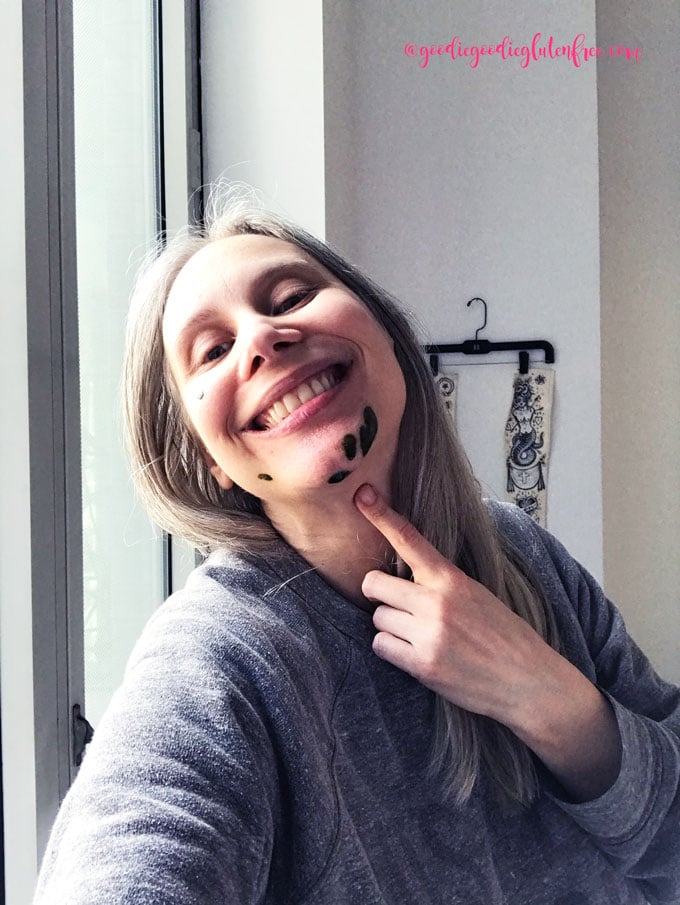 HORMONAL ACNE MIDWAY/AFTER PICS:
Showing you how this spot treatment works on me.  Each day the inflammation and swelling go down till it comes to a head.  Can you see how much the inflammation goes down?  It's miraculous.  By the third day, the cluster is gone.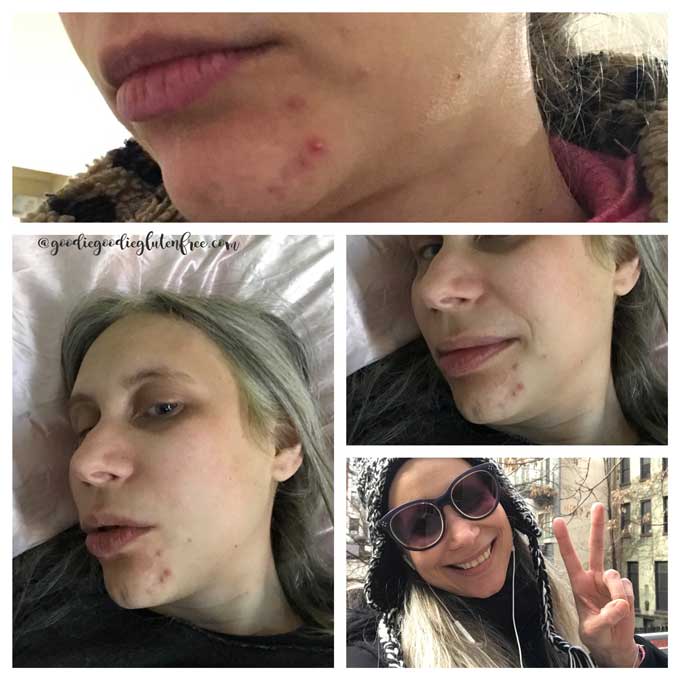 In comes Matcha.  Followed by Baking Soda.  Followed by Extra Virgin Cold Pressed Olive Oil.
3 ingredients.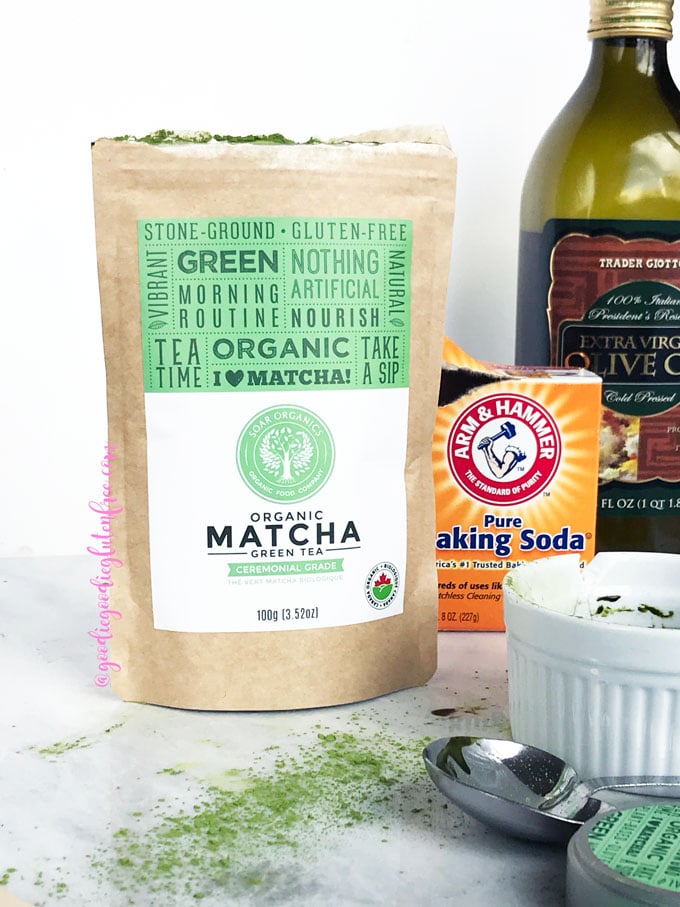 Why These 3 Ingredients Work with Acne
These three ingredients have powerful antibacterial and anti-aging effects when applied together to the skin.  This combination leaves the skin baby face smooth with no cystic acne unicorns insight.  And gone within three days of treatment or at least so significantly reduced in size that it's just a normal and manageable pimple that can be combated by my Easy Peasy Turmeric Mask.
This spot treatment is a miracle for cystic hormonal acne!
For me and my skin, depending on how inflamed the pimple is it may take up to three days of healing.  After that third day if those pimples haven't healed completely I then go to my Turmeric Mask and use it as a spot treatment.  Remember your skin is precious you don't want to overdo it.
And of course, you can always go to your dermatologist and let an expert tackle it but the least you can do is get that zit under inflammation control.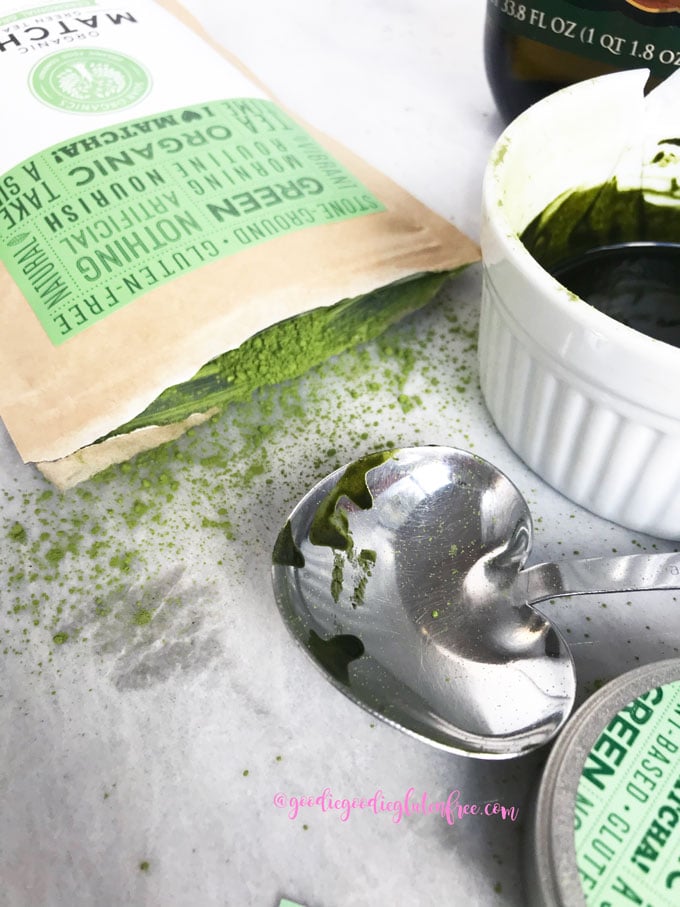 Matcha Benefits
Makes your skin glow
Soothes the skin lines
Hydrates the skin
Drastically reduces redness
Eliminates dead skin cells
Contains more antioxidants than spinach
Slows down the aging process
Protects skin from sunlight damage
Reduces dryness
Trims down or brings down inflammation
Combats dark circles
Antibacterial
Filled with potassium, magnesium, zinc, phosphorus, iron, and calcium
Zinc is a known mineral to aid in hair loss and skin issues
We drink Matcha in lattes, teas, and we add it to cookies, brownies, cakes, frostings, muffins, waffles, and pancakes for flavor and coloring.  Why wouldn't we be able to use Matcha for our skin and allow our skin to benefit from some of that goodness?  Matcha has healing benefits.
The only Matcha powder I'll ever use is by my dear friend Megan.  This husband and wife team created a beautiful matcha powder brand called Soar Organics simply because of their passion for the health benefits of Matcha tea and how healing it has been for their journey.  They have three different high-quality organic choices as Ceremonial, every day, and Culinary Grade.  Sourced directly out of Japan and all gluten-free.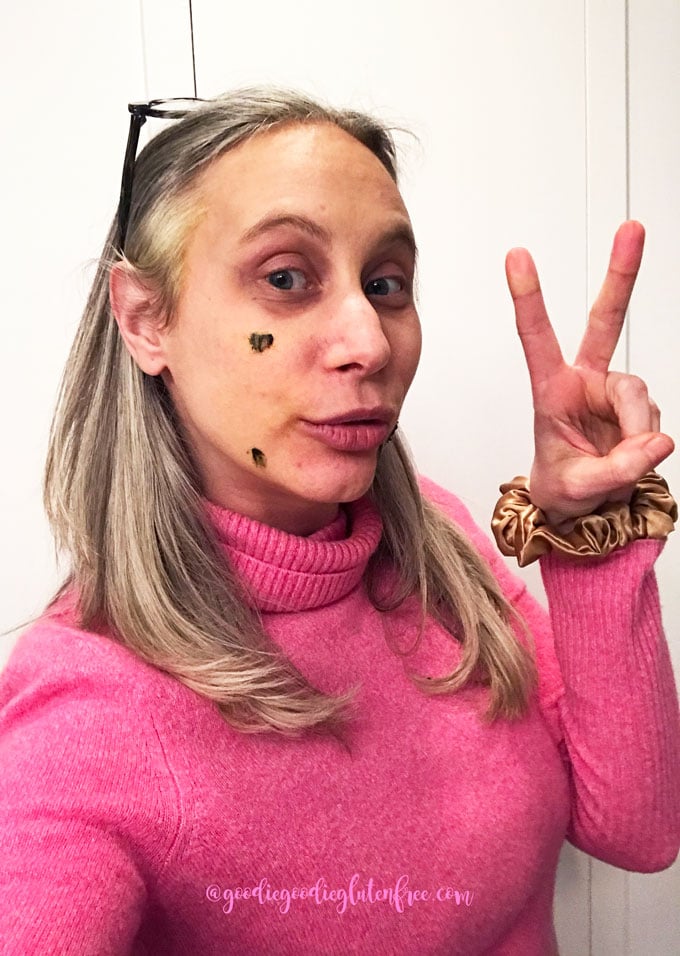 Baking Soda Benefits
Antibacterial
Exfoliator
Drastically reduces inflammation
Sucks out bacteria
Makes red inflamed swollen acne turn to simple small zits
Reduces redness
Prevents dirt from clogging
Alkaline helps manage PH levels from getting too acidic
Soothes inflammation
When you suffer from red swollen inflamed acne, Matcha to the rescue because Matcha powder and Matcha tea combat redness and dark coloring.  Adding Matcha with baking soda drastically de-flames and sucks all the bacteria out, therefore, eradicating redness while at the same time giving you smooth skin.
However, baking soda can get tricky.  If you don't use a carrier oil or a moisturizing agent baking soda can not only end up flaking your skin but it can also strip your PH balance from alkaline straight to acidic causing more inflammation, redness, and scarring.  That is another reason you only use it for 3 days max.  That is why it is SO important to use baking soda in a spot treatment only.  Additionally, it is important to use a moisturizing oil in your spot treatment.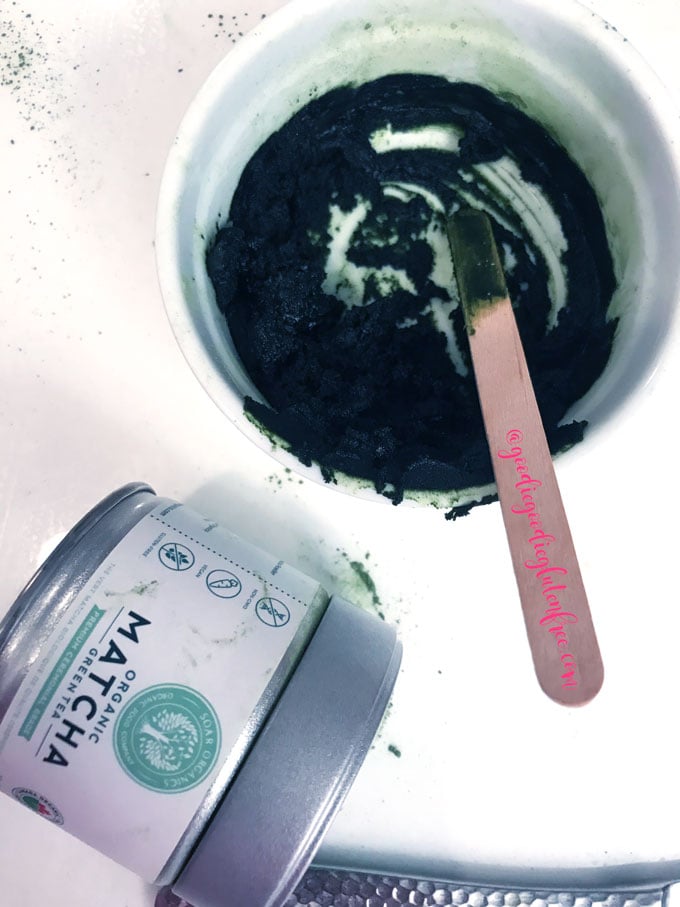 Extra Virgin Olive Oil Cold Pressed
Moisturizes skin
Smoothes skin lines and skin
Hydrates the skin
Tackles dry skin, scalp skin, & seborrhea dermatitis
Has a strong antioxidant palate which therefore slows down the skin aging process
Rich in vitamin E which is a fat-soluble vitamin that aids in moisture, moisturizing, and makes skin silky smooth
Plays a huge role in the nervous system and aids in boosting immunity
When I found out that Allergists and Dermatologists use Extra Virgin Olive Oil for infants and babies' Cradle Cap I forever knew that this oil would be used in all of my treatments simply because it is gentle and safe.
The Extra Virgin Olive Oil component of this spot treatment is to keep the skin hydrated while the skin is being treated to a dry-out treatment.  Otherwise, you will end up with a very flaky face.
Did you ever think that the foods you eat could be applied to your skin for acne healing?  Life is wild!
The baking Soda Rule:
When it comes to using food as medicine you have to follow instructions.  Because baking soda if used too much can strip away your good bacteria you must use excellent judgment when applying this treatment, and ONLY use it the directed amount of time.  Plus only use a a small amount each time the spot treatment is applied.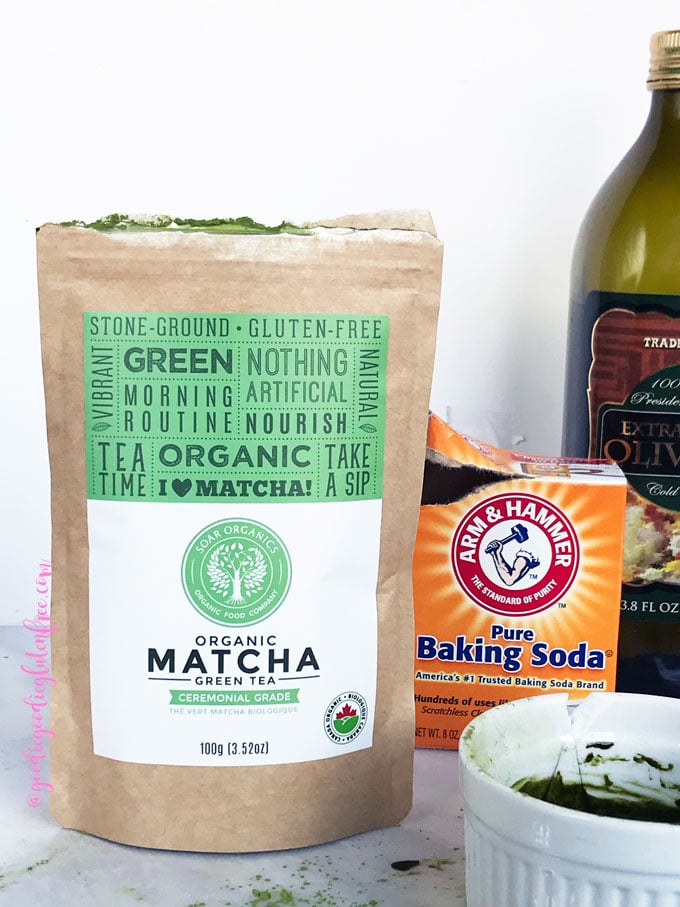 Ready to make beautiful music together?
INGREDIENTS:
1 teaspoon matcha powder (Ceremonial or Everyday grade)
½ teaspoon baking soda
1 teaspoon Extra Virgin Olive Oil Cold Pressed
DIRECTIONS:
Mix all three ingredients together until smooth in a small glass or ceramic cup/bowl.
Apply a small sludgy dollop amount to each pimple with a Q-tip or popsicle stick.
Leave on for 20 minutes.
Wipe off with a dry tissue.
Then wipe off again with warm water and a towel.
Soak the area with warm water to get all the baking soda off.
Moisturize before adding your concealer, powder, and makeup.
Keep stored in a cup covered (use plastic wrap) for a maximum of 1 week.
Reapply steps 1-7 the following day.
Reapply steps 1-7 the day after that.  Then stop.
Read ALL of the tips!
Use spot treatment for 1-3 days.  3 days MAXIMUM!!!
TIPS:
Small amounts of dark coloring from where the original zit landed will result.  You'll need to combat that with either an aloe mask, aloe spot treatment, or my Easy Peasy Turmeric Mask.
You don't have to use the spot treatment consecutively for three days.  You can, OR you can use it for 2 days consecutively.  Let it breathe for a day in between and then use it for a third time thereafter.  Or skip the third if you are happy with your healing.
As each day passes the spot treatment mixture may get darker and thicker.  This is all completely fine your mask will still work effortlessly.
Do not use it for more than 3 days.  This is because while baking soda is anti-bacterial it can also strip your skin of good bacteria if used for too long, and it can dry out your skin.
Don't forget to moisturize.  Baking soda is drying.
Massage your face with warm water to soak in the benefits.  Put your face in the towel and enjoy the warmth and flavor post-treatment.
Enjoy the benefits of this spot treatment!  You'll have shining skin in no time!